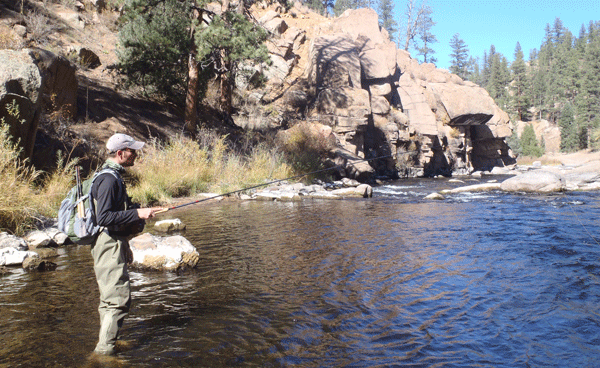 [/caption]
It was a beautiful bluebird day this fall on the South Platte when the revelation hit me like a miscast 4/0 Clouser to the forehead:  I have never really tenkara fished!  Now, before you use my own words against me and bring up the impotence of labels, let me explain.  I was fishing with Daniel from Tenkara USA and Karel from Tenkara on the Fly.  Of course, we all had our tenkara rods and were fishing tenkara flies but two things happened that lead me to my catharsis…
The first was a comment Daniel made.  He said that fishing dry flies with tenkara is pretty much unheard of in Japan.  That raised my eyebrows because up until a few months ago, I was a confirmed dry fly fisherman.  It was only recently that I started to fish the typical wet sakasa kebari so iconic of tenkara.
The second thing that really drove it home was when Daniel observed my presentation.  I was fishing a sakasa kebari, but not really making what would be considered a tenkara presentation.  Instead, I was twitching the rod tip very fast, giving the fly a very erratic action.  I had used this presentation before and had caught fish but Daniel explained to me that this presentation might attract the attention of some small fish, but a slower, more pulsating presentation would be more effective on larger and wiser fish.  Once he showed me the technique, I realized that the way I was presenting it must have made the trout think my fly was having a seizure due to an overdose or something.
The combination of these two things lead me to realize that all this time, I had really been "fishing with a tenkara rod" rather than "tenkara fishing".  In other words, I wasn't really thinking of tenkara as a technique.  I was thinking of tenkara as gear.  Basically, I was fishing the same way I always had–I just replaced my western rod and reel with a tenkara rod and thought that was it.  I was making the same upstream and downstream dead drift presentations and not even making an attempt to apply the presentations tenkara masters in Japan use.  It was enlightening, yet a little disheartening at the same time.
So, what is the takeaway from this?  Well, let me emphasize that this post is purely meant to be descriptive rather than prescriptive.  I would never condemn anyone for fishing their familiar techniques with a tenkara rod (after all, that's what I've apparently been doing for two years now!).  But, in light of these revelations, I am setting a personal goal for myself.
Now that I'm comfortable casting tenkara rods and have built up confidence in fishing sakasa kebari, I want to take it to the next level and start employing more traditional Japanese presentations.  Will I never fish a dry fly again?  Of course not.  But I will make an effort to understand and practice the techniques Daniel showed me that day in the interest of my own growth as a tenkara angler. And one day, I hope to confidently say that I went "tenkara fishing" instead of just "fishing with a tenkara rod".
Like this article? You might also like these ...