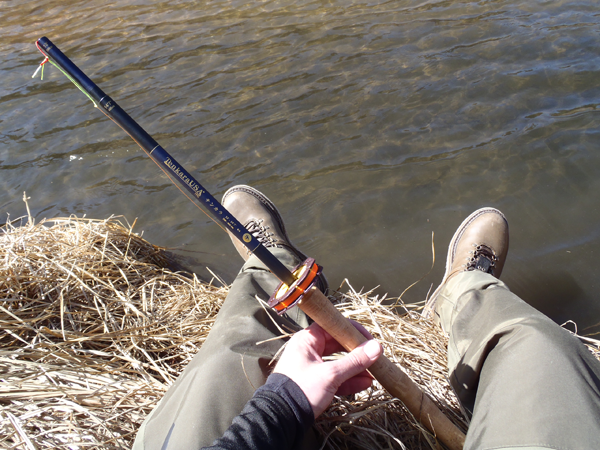 Sitting on the bank during one of those all-too-familiar fishless days on the South Platte, I started thinking about rod design.  With my current favorite in my hand (the Tenkara USA Ito), I began to think about what makes a rod "good".  I've done a fair number of tenkara rod reviews and if you've followed this blog for any significant length of time, you know I have a passion for good design.  It struck me that there are a lot of variables that have to come together in just the right combination for me to consider a rod "good".  Let's consider the Ito…
I like the Ito for a lot of reasons.  I love the soft 6:4 action in its default 13 ft. mode.  I love the fact that it's a zoom rod and can give me a little more reach when I need it.  The handle is just the right length and is very comfortable in my hand.  And, let's face it–it's a handsome looking rod (don't discount aesthetics).  So all these properties had to align in order for me to favor this rod.  Of course, nothing is "perfect" and everyone has their own idea of perfection so that begs the question…
What is the "ultimate" tenkara rod?
If you could design your ideal tenkara rod, what would it be?
Would it be a 5:5, 6:4, or 7:3 action?
What length would it be?
Would it be a zoom rod?
What type of handle would it have?
Would it have some kind of integrated line storage system?
What would it look like?
I'm giving you carte blanche to design your ultimate tenkara rod from the ground up so don't pull any punches.  Anything goes.
Like this article? You might also like these ...