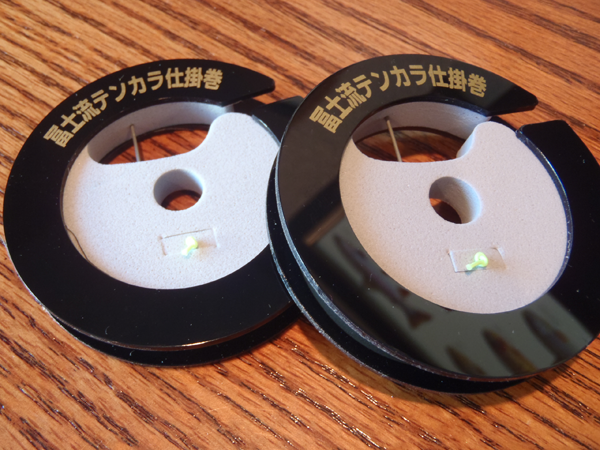 Tenkara line spools seem simple enough.  After all, they're basically just spools.  And this might lead on to believe that they're all pretty much the same.  But I've found that some actually better than others.  I've mostly been using spools from Tenkara USA and Leica and have been very happy with them but when I saw these Nissin line spools on eBay, the gear junkie in me just had to try them to see if they were any better.
The Nissin (pronounced "knee-sheen") spools are made of foam sandwiched between two, rigid plastic discs and like most line spools of this construction, float.  One feature I immediately liked was the metal rod inside the spool that holds fly in a cavity in the foam.  This prevents the fly from being crushed when being stored.  The Leica spools have this as well, but one nice addition is a channel that is cut from that cavity to the edge of the spool which guides the tippet out and facilitates winding the line.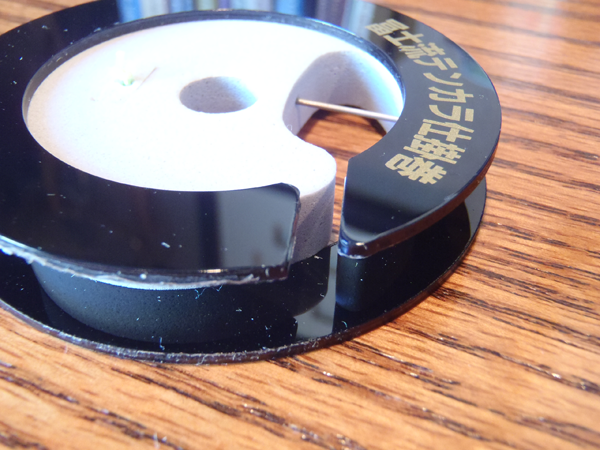 Other spools force you to make a somewhat awkward catch in a notch perpendicular to where the fly goes so I really liked this feature.  Unfortunately, it's the only feature of the Nissin spool that I liked.
One thing that I suspected before they arrived (and confirmed) was that the center hole is to small to pass a rod through.  I normally carry my spool on my rod this was so that was kind of a deal breaker.
The other problem this creates is that it make it difficult to hold while winding your line.  On spools with a larger opening like this Tenkara USA spool, I hook my index finger through the hole, and then press my thumb up against the rim to hold it tight.  This keeps your finger and thumb out of the way when winding: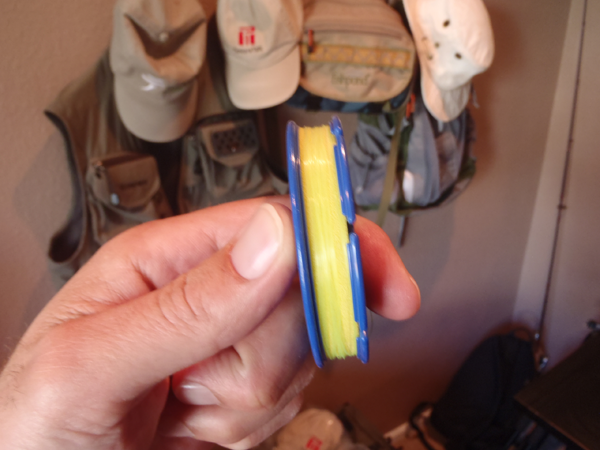 But on the Nissin spool, the hole is too small to get your finger through so you have to hold it by the edges.  This not only makes you feel like you're going to drop it at any second, but also puts your finger and thumb over the rim just enough to catch line as you wind: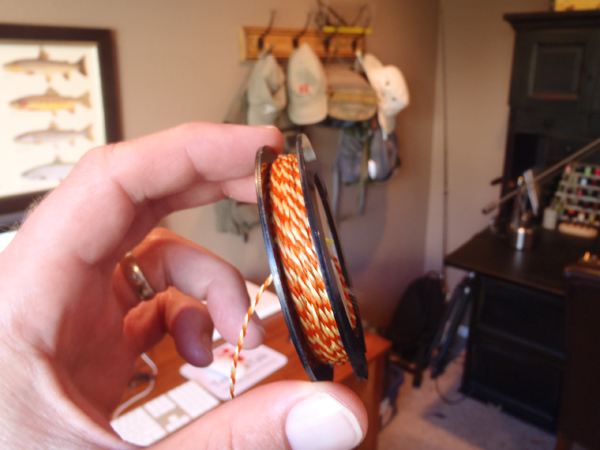 I know, I know.  You're going to say that you could just make the hole larger.  And you probably could.  But for the price, I don't think you should have to modify it.  Plus, there are too many other things I just don't like about the spool to make it worth the effort.
The main one is how the end of the line is attached.  Most spools use simple notches that you wedge the line into.  The Nissin uses an unnecessarily complicated method of securing the end of the line.  There is a small square cut out of the foam: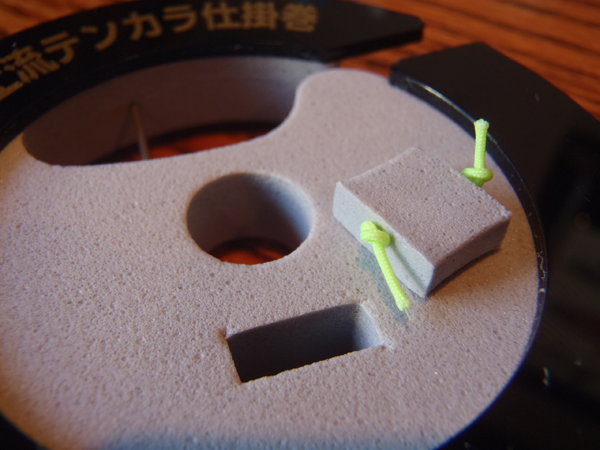 You remove the small block of foam, thread the end of the line through and replace the foam to secure it: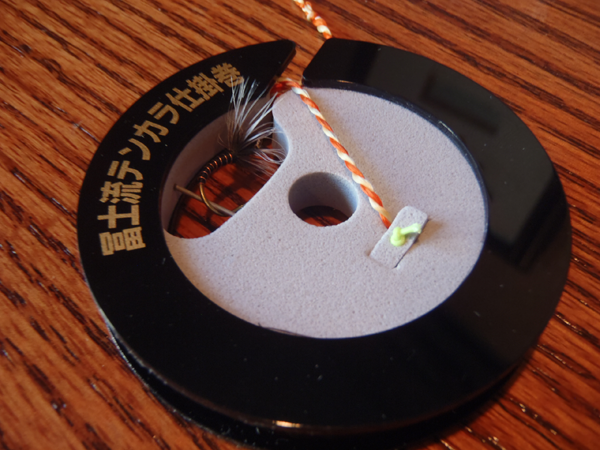 It boggles my mind why they would use this design.  First, it requires dexterity that won't be too fun with cold, wet hands.  And second, the foam block is so tiny and light, it would be extremely easy to lose, leaving you with no way to secure your line.  It would have been better if they had just used notches like other designs.  But guess what?  No notches!  Again, I could probably make my own but why should I pay more for a spool that I'd have to modify to work well when cheaper spools work perfectly out of the box?
Overall, I was disappointed with this design.  I wonder why people use them.  If you have used this spool and I'm missing something or completely misunderstanding how to secure the line, please let me know.  Until then, I'll remain astounded how a company that produces such great tenkara rods, could put their name to such a sub-par design.
Like this article? You might also like these ...