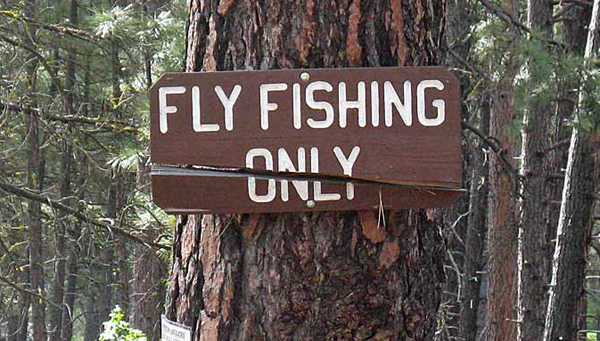 Ever since tenkara was introduced to the U.S., there has been quite a bit of discussion on whether or not it is legal on designated "fly fishing only" waters.  There seems to be quite a bit of confusion over interpretation of the law–even among govenrment officials since the legal definition often includes language dictating that a reel must be used.  But if you look at the spirit of the law and the basic elements of fly fishing, I think it is very clear that tenkara should be (and, in essence really is) legal on fly fishing only waters.
There are basically three reasons.  First, the use of a reel does not intrinsically define fly fishing.  What does a reel have to do with it?  If I took a normal fly rod, removed the reel and just cast the usual way with the line at my feet, would I be violating the law?  I think it would be hard to argue that I am violating the law, since my presentation and everything at the business end would remain the same.  On a trout stream, the reel is probably the least relavant piece of gear.  And in fact, people have been fly fishing without reels far longer than they have been with reels so the notion that "fly fishing proper" necessitates a reel seems inaccurate and needs to be reexamined.
Second, tenkara is fly fishing.  The main differentiator between fly fishing and other forms of fishing such as spin fishing or baitcasting, is that it is the weight and velocity of the line which propels the lure, rather than the other way around.  Tenkara meets that criterion so is by definition, tenkara is indeed "fly fishing".
Third, tenkara not only meets the spirit of the law, but surpasses it when compared to western fly fishing.  Some might chalk fly fishing only water up to snobbery, but the more generous presumption is that it provides a safe haven for our quarry free from the perceived unfair advantage of using bait or high tech lures such as spoons, spinners, or jointed plugs with treble hooks that might increase mortality rates.  As I understand it, the idea is to give the fish a fighting chance by challenging the angler more.  But if this is the spirit of the law, isn't tenkara actually more of a challenge?  You can't boom out a 90 ft. cast or effectively wield bottom dredging split shot and an egg pattern (which might as well be bait) with tenkara.  With tenkara, you're forced to put yourself in more risky situations, rely less on gear and more on skill, and fish flies that don't look like pellets or bait.  So, doesn't that decrease the advantage of the tenkara angler and give back some advantage to the fish?  I think it does.  And if that's the case, then tenkara actually adheres more to the spirit of the law than conventional fly fishing does.
For these reasons, I believe tenkara is actually more in tune with the current "fly fishing only" laws in most states.  The problem is that it isn't really being addressed, defined, or disseminated to the right people.  If tenkara is specifically deemed illegal in your state on such waters, I urge you to take action.  Personally, I have been checked out by many wardens, rangers, etc. while fishing tenkara and have never been issued a citation so it hasn't been an problem for me yet.  But as the popularity of tenkara grows, there will be a need to match the spirit of the law to the letter of the law.  And if you need any muscle, the above logic might have your back.