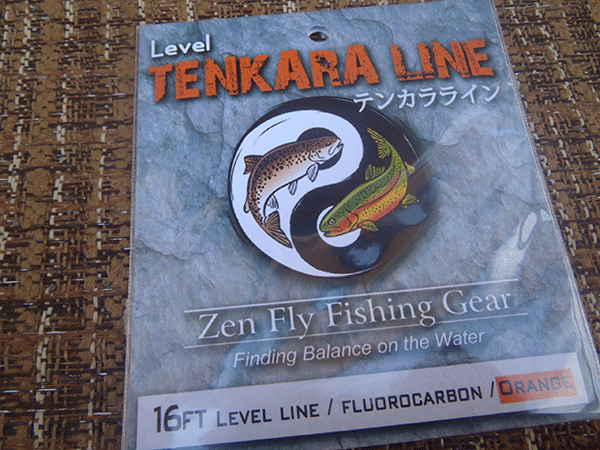 I'm always interested in unique tenkara line designs and materials. Recently, a new line from Zen Fly Fishing Gear caught my attention. At first, it didn't look like anything special. It was labelled "level line" on their site so I assumed it was just another orange fluorocarbon level line. But after Karin Miller from the company explained it to me, I realized these were anything but your typical "level lines". Here you can both the twisted and level parts of the line, plus the loop for a girth hitch connection to the rod …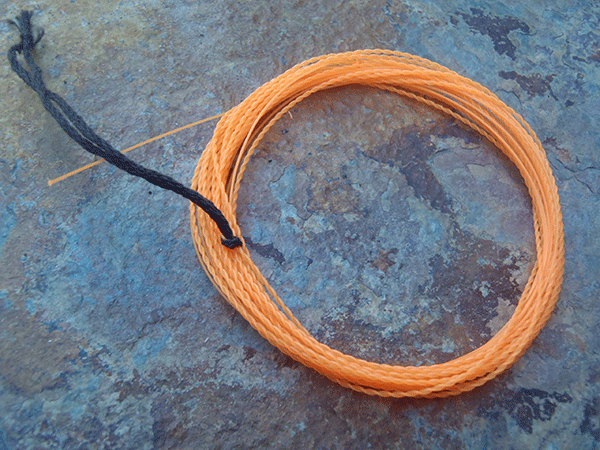 It may be called a "level line", but I think a more appropriate name would be a "hybrid line". Let me explain. The line is 16 ft. long. The first 9 feet are made using 2 strands of #3 fluorocarbon twisted together while the last 7 feet are a single strand of #4 level fluorocarbon. Because the first 9 feet are thicker than the last 7, that's essentially a taper (maybe in the loosest sense of the word) and that's why I wouldn't refer to it as a "level line" and think "hybrid" is more accurate.
The twisted section adds just enough mass to the butt of the line to give it great turnover without adding so much weight that it sags like a thicker, furled tapered line. It still sags a little. Just not as much as most furled lines. The line is very easy to cast and really does feel like a hybrid–it transfers energy like a furled line, but finishes out the delivery with the delicacy of a level line. And I imagine you could experiment with adding sections of smaller diameter line too if you needed increased delicacy.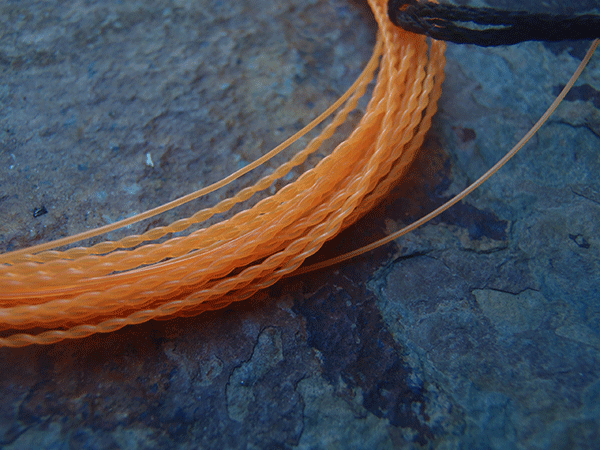 Aside from being a pleasure to cast, this line also has some side benefits. One is that unlike furled lines, the level section at the end allows you to adjust the length. Simply clip some of it off to make it shorter or add more to make it longer.
Another perk has to do with connection. I've always loved the girth hitch connection commonly found on furled lines to connect my line to the rod and the loop on this line allows you to do that. But I also love the stopper knot method used to connect the tippet to a level line. And since the business end is in fact a level line, you can use that connection. I'm not a big fan of the loop-to-loop connections on furled lines, but if you like them, you could also tie a loop in the end of this line. The point here is that now you're not forced to use one connection or the other. With this line, it's your choice.
My only nitpick is with the loop used to connect to the rod. It's made of a very soft, loosely woven material (maybe cotton?) that makes it a little unwieldy. I talked to Karin about it and suggested they use a different material. They're currently looking into it. The good news is that it's connected to the line with another loop, so you could easily cut off the original loop and replace it with Dacron or the material of your choice.
Overall, I think this is a very creative and versatile design. It kind of takes the best qualities of furled and level lines and mashes them together. I think there will be tenkara anglers out there who love certain qualities of furled lines (but not others) and love certain qualities of level lines (but not others) and might find this to be the best of both worlds.
For more information and pricing, visit the Zen Fly Fishing Gear store.
Like this article? You might also like these ...