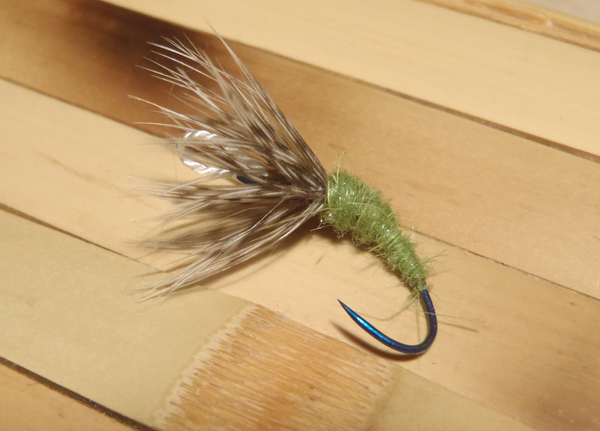 I got an email today from a reader who had the following comment:
"While crawling around the web researching the subject, I ran across some Japanese websites, and noticed the flies they have seem to be more sparsely tied than the American versions. Is there anything to this?"
It was an interesting observation–though (I think) not entirely true. If you research tenkara flies (both traditional and modern), you'll see that Japanese anglers tie in just as wide of a variety as we do in the West. Some tie sparse, while others dress their flies heavily with thick bodies and lots of hackle.
When I first started posting pictures of my tenkara flies online, I had a lot of people comment that I was using too much hackle and they'd be more effective if I tied them more sparsely. In fact, there's a philosophy among the soft-hackle crowd that, "the sparser, the better". While I can certainly see their point of view, I think an argument for the opposite can also be made.
I tie both sparse flies and more robust flies and in my experience, each works better in different conditions. Here are a few observations I've made as both a Western and tenkara angler.
Sparse Flies
In the view of the soft-hackle devotees I just mentioned above, a fly should have a very slim body (usually of floss or minimal dubbing) and just one or two turns of hackle. You'll find the same "less is more" design philosophy among many spring creek anglers, British anglers who fish spider patterns, and even some bonefish anglers.
These flies are wispy and impressionistic, leaving the fish to use their imagination and fill in the gaps between materials. In my experience, sparse flies work well in the following conditions:
In clear, slow moving water such as meandering meadow streams or spring creeks
Where the fish face a lot of pressure and see a lot of bulky store-bought flies
When the fish are spooky and highly selective
Shallow water
Heavily-dressed Flies
I recently wrote an article touting the virtues of tying more robust flies. The basic gist was that many insects that trout eat are either round and plump, or have a wide, flat profile offering more protein. But heftier flies can also spook fish in the conditions mentioned above. I've found more heavily-dressed flies to be better suited to the following conditions:
On big water as a searching pattern
In stained or muddy water where visibility is low
When fishing large, deep pools
In high water
When targeting larger fish (though sometimes the opposite is true)
In streams that harbor larger caddis or stoneflies
Sink Rate
Another thing to consider is that how heavily a fly is dressed can affect how quickly it sinks. A fly with a heavy hook and skimpy dressing with sink faster than a fly with a thick yarn body and 8 wraps of hackle. Basically, the extra material is creating resistance in the water. To compensate for this, you can choose materials that absorb water well or simply weight the fly with copper wire, lead wire, or a bead head.
Just as there's no one way to catch a fish, there's no one way to tie a fly. While die-hard soft hackle anglers preach the virtues of scantily-clad flies, my experience it's best to carry a mix of both. Just as with the changing seasons, there are times to wear a bikini, and times when it's better to bundle up in a parka. At least where I live, it wouldn't make much sense to wear the same thing all year round.
What's your experience with sparse vs. robust flies?
Like this article? You might also like these ...