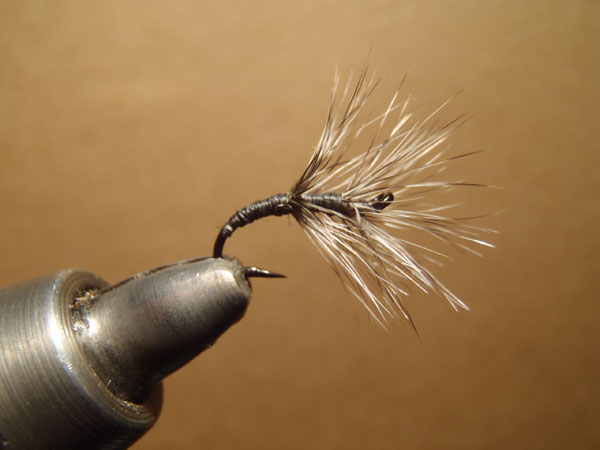 I don't know if this has been tried before or not but I had the idea to play around with the concept of a "double" sakasa kebari. Essentially, it's just a regular sakasa kebari with two sections of wrapped hackle separated by a "spacer" of thread.
My thinking was that if the main attraction of these flies is the hackle opening and closing, then doubling a good thing might not be a bad thing.  In all fairness, I haven't fished this design yet so I won't know until I put it in fron of the "judges".  But, I think it's an interesting concept to explore and one with a lot of possibilities. The fly above is just a prototype to test movement of the hackle.
I'm a little concerned that the extra hackle might impede the fly's ability to sink so I think I will make each section a little sparser since the number of fibers is doubled.  I might also use a wire body instead of thread. But I think if I can dial it in just right, I will get a design that has a extra motion and sinks well to produce an effective attractor pattern.
More to come…
Like this article? You might also like these ...