Over the course of the 2023 Tenkara Guides Oni School, I was fortunate to observe all sorts of Masami-san's presentation techniques, casting styles, streamcraft rituals, and of course, his fly tying. Specifically, his famous peacock and pheasant kebari.
He'll be the first to admit that his flies aren't works of art. Any competent tyer could reverse engineer them in about two seconds. But there is something special about them to me.
Perhaps it's merely some romantic notion that they're in some way "charmed". I do believe that there's a certain energy infused into a work of art by its creator that can be sensed by the beholder. And the same is true of our art: fly tying.
It might be illogical and whimsical, but I like to believe there is something of the tyer in each fly they create. Maybe it won't move you like a Monet, but it's there. Somewhere, in the mixed-media of "fur, feathers, and thread on steel wire".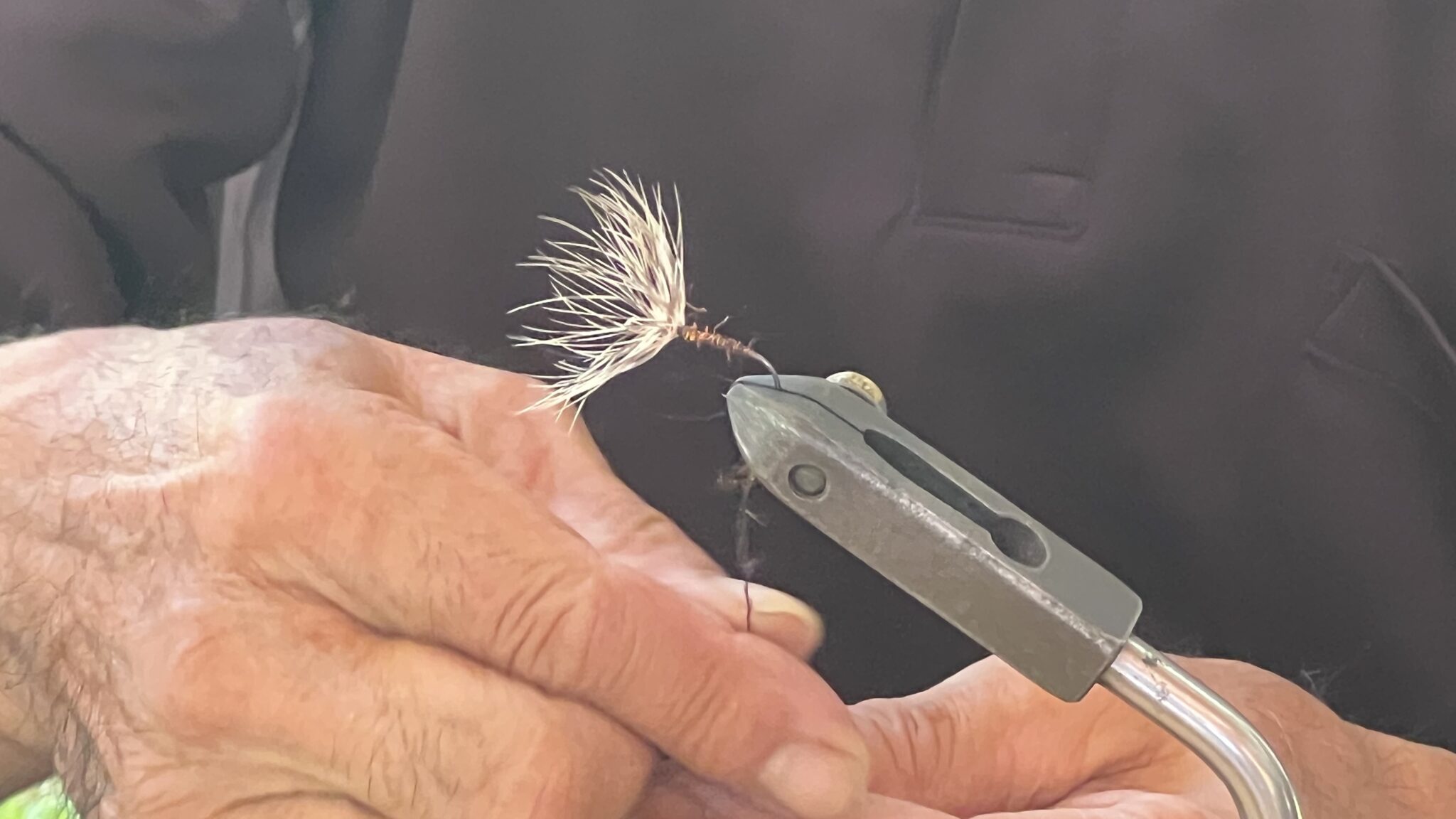 Let's Get Logical!
But let's switch gears for a moment and access our inner Vulcan. There is actually much to be garnered from this simple fly. If you pay close attention, there might be more to it than appears at first glance. After observing him demo this fly several times in person, here are some of the takeaways I thought were interesting and noteworthy. See if you have any of the same ones.
5 Fly-tying Takeaways from Tenkara no Oni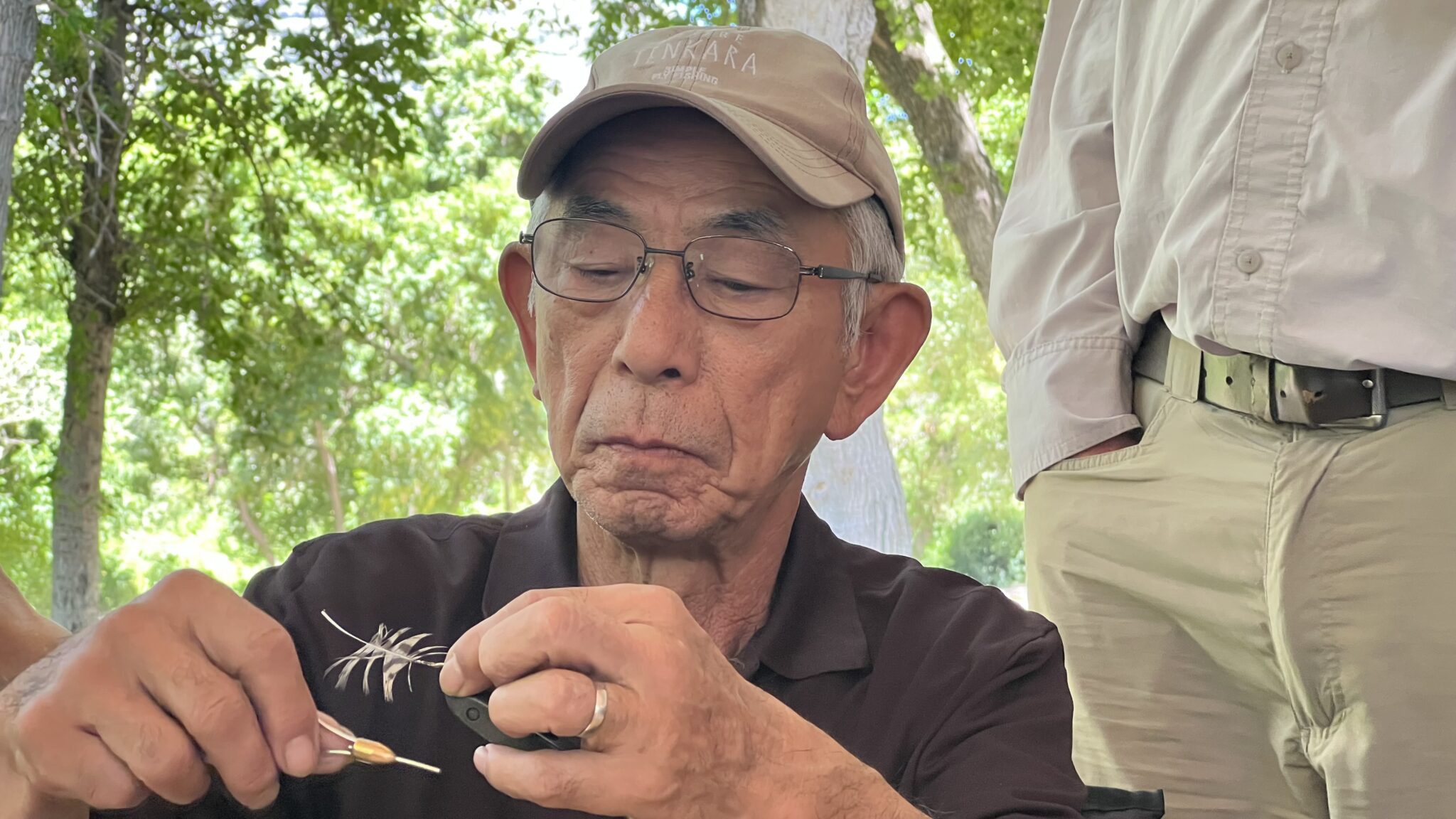 01:47
Notice Oni heavily hackles his flies, disregarding the old adage that "less is more" when it comes to soft hackle. Soft hackle enthusiasts are typically very adamant that hackle be sparse; sometimes only one or two turns. I've actually been criticized for it many times. And I've always disregarded it.
Well, partially. Of course I do tie some flies with sparse hackle and use them when the situation warrants. But not in the application Oni is using it for. His flies are unapologetically heavily hackled, employing the entire useable length of the feather! And it's for a good reason (which I'll explain in a forthcoming article). At any rate, don't be intimidated by the sparse-hackle mafia!
02:07
There are many ways to wrap the hackle on a kebari like this. Oni wraps his hackle from front-to-back with the thread behind it, then wraps the thread through the hackle and ties off in the front. He does this to increase the durability of the fly, helping prevent the stem from breaking due to stress or the fish's teeth. This is a common method but I personally don't use it because I feel it ruins the natural curvature of the fibers and the result doesn't look good. To me. I know the fish don't care and it probably does add durability; however, remember that as I said above, Oni's philosophy is "fly-as-tool", whereas mine is "fly-as-art" (that you can also fish with).
02:43
For some of his flies, Oni uses natural peacock. But here you'll see he's using synthetic peacock dubbing. This is simply because it is more durable and eliminates the extra step of having to reinforce it. He also says it's less expensive, but I'm not sure about that. I've never done a cost comparison. Regardless, I like the way it looks even though I generally prefer natural materials. It has all the magical characteristics of natural peacock herl, yet won't snap and unravel.
Unlike the conventional touch-dub method which starts in the back and winds up toward the front, Oni starts the dubbing behind the hackle, dubs back to the bend, then again back to the front. By creating an underbody first, it's easier to build up the bulk of the body, create a foundation that will smooth out the body, plus, all those extra thread wraps add even more durability.
03:17
Before weaving the thread through the hackle fibers, he spins it clockwise to tighten the braid up and make it thinner so it's a little easier to cut through the hackle down deep without trapping any fibers. It also helps form a smaller, neater head.
03:43
Rather than cutting the thread by snipping it, he holds the scissors open slightly (30º) and places the "V" gently onto the thread, then slides it up to the tie-in point on the head, and thrusts it forward, cutting the thread closely without accidentally cutting any hackle fibers. This is a trick I learned when I was tying commercially and still use all the time. Just make sure your scissors are nice and sharp.
Afterthoughts
This isn't a comprehensive play-by-play by any means, just a few things that stuck out to me. And I'm pointing them out now because they'll  eventually become germane to some forthcoming articles.
While I'm a pretty good forger of Oni flies, there's just something about they way he ties them that makes them undeniably "his". I don't know what it is, but my copies are just missing something. Perhaps it's that "charm".
What other details did you find interesting?