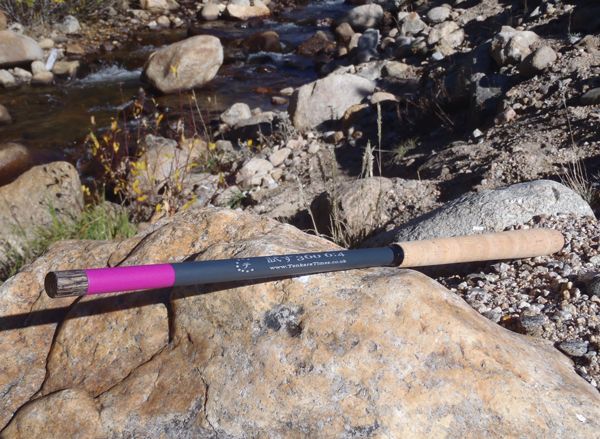 Tenkara Times is a relatively new player in the rapidly growing tenkara market and I recently had a chance to field test one of their rods.  Here's the good, the bad, and the ugly on it…
Specs
Length: 365 cm (12 ft.)
Closed length: 56 cm (22 in.)
Weight: 73 grams (3 oz.)
Handle length: 27 cm (10.6 in.)
Number of segments: 9
Price:  79.95 EUR (approx. $103 USD)
Action
The action of the 1st Step rod is a true 6:4 but it's slightly stiffer than I like.  If you've been following my blog for any length of time, you know that I prefer softer action rods such as the Tenkara USA Ito or Ayu.  That doesn't mean this is a "bad" rod.  It's actually a nice, crisp action.  Anyone who likes a little faster action rod with a soft tip and stiffer butt and mid section would like this rod.  The tip tracks well and is very sensitive which aides in accuracy and strike detection.
It's also surprisingly good in the wind.  When I tested it, the winds were howling and I have to admit that it was easier to slice through the gales with this rod than my beloved Ayu. I think fly fishers with a western background in relatively stiffer rods would also like this one.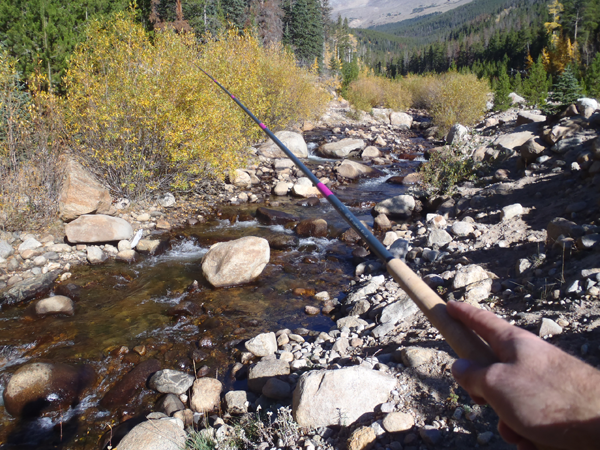 Ergonomics
One thing that is a little unique about this rod is the grip.  Unlike many rods that feature a bulge in the center of the grip, this one is shaped more like an elongated triangle–with the bulge at the end.  At first, I didn't think the grip would be comfortable because it would be too thin when gripped in the middle.  But that proved not to be the case.  And when held right at the end of the rod (the thickest section), it actually was very comfortable.  For those of you who like to grip the end of the handle, I think you'd appreciate this design.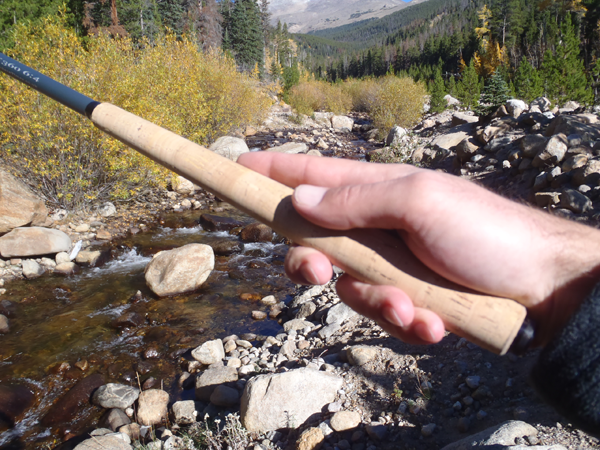 Hardware
The rod is equipped with pretty standard hardware common to many other tenkara rods.  The plug is a typical, tight fitting wood with rubber insert and the rod is tipped off with the familiar red lilian: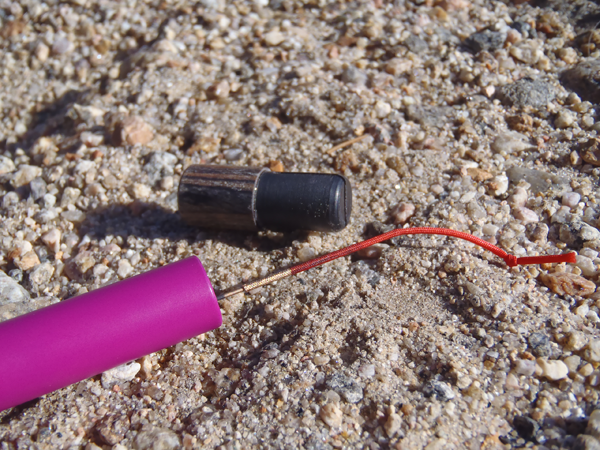 The end cap is a black metal and has a rubber pad to cut down on noise when the rod segments bang into it while moving from spot to spot: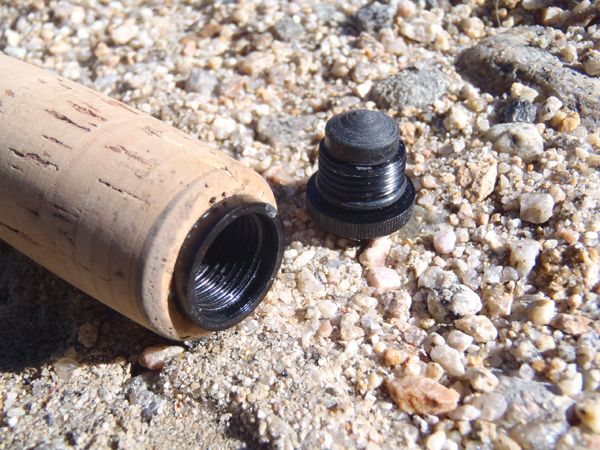 The cork is surprisingly good for a rod in this price point and it's topped off with a nice black winding check with no gaps like I've seen on some other brands: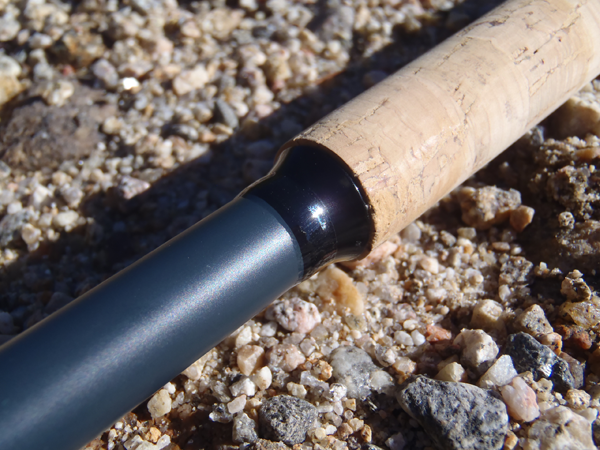 Aesthetics
The blank has a black matte finish that doesn't reflect the sun with tasteful silver labeling: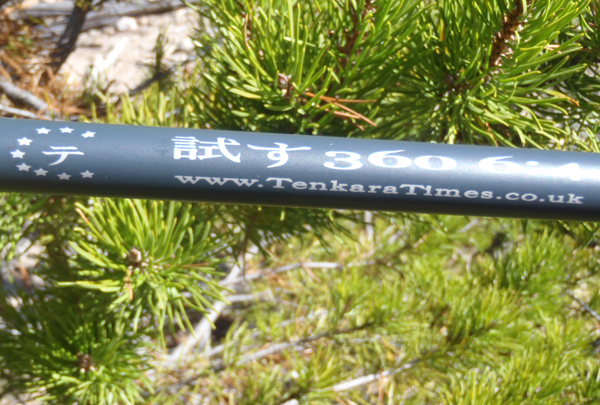 Unfortunately, the aesthetics are ruined with gaudy fuchsia accents on each segment.  I'm not sure why they chose this color (maybe to make the rod recognizable on the stream) but I think it's ugly. I would have preferred a much more subtle earth tone color like brown or green: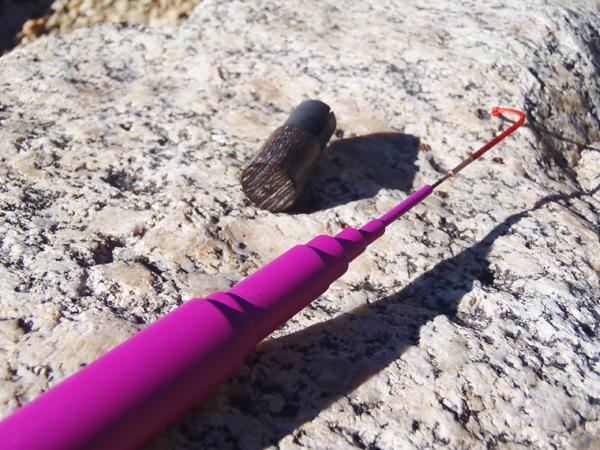 Rod Case
The 1st Step rod does come with a rod tube but it's a fairly thin plastic (if you squeeze it, you can pretty easily flex the walls) and is nowhere near as robust as the rod tubes that come with Tenkara USA rods.  Since I never use rod tubes anyway, this isn't an issue for me (to me tenkara rods create their own rod cases when collapsed).  This tube would probably be adequate protection in most cases, but I wouldn't trust the baggage handlers with it.  If you need serious protection, I'd recommend making a DIY rod case out of PVC, or slipping it in your Tenkara USA rod tube if you have one.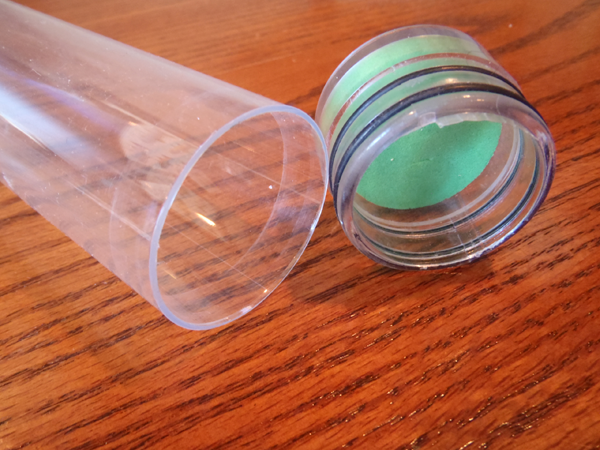 Conclusion
Overall, this is a great tenkara rod and if you like a crisper action, then the 1st Step rod is worth a try. If you can overlook the aesthetics (or if you happen to love the color fuchsia, LOL) then you'll like this rod.  The 1st Step is only one in a series of rods offered by Tenkara Times.  For more information or to see their complete lineup, click here.
Like this article? You might also like these ...