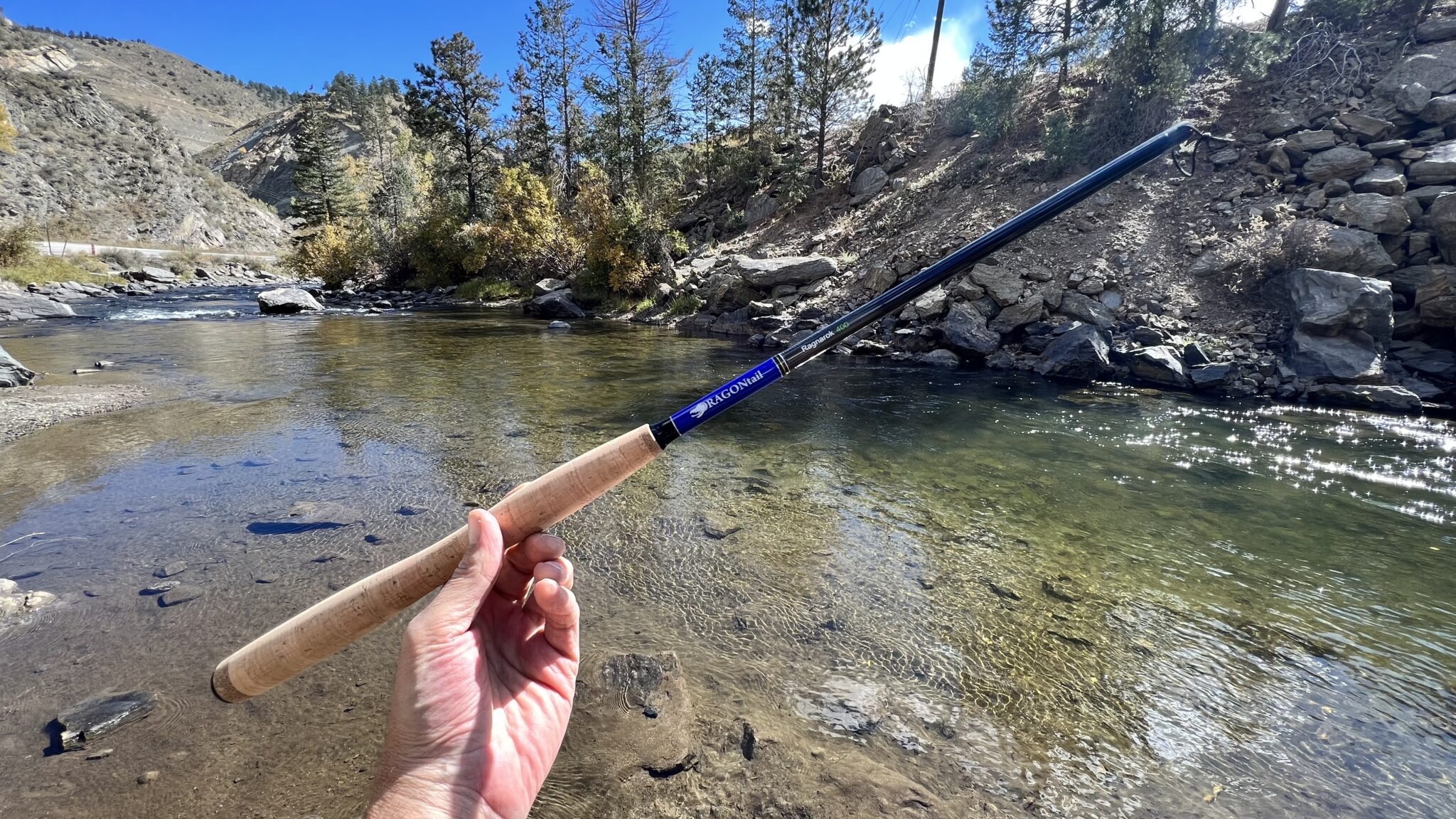 Over the last several years, DRAGONtail Tenkara has hit home run after home run with their new rod models and, in my opinion, has really become the frontrunner in American tenkara rods. It seems I can't go on any social media site these days without seeing a smiling angler holding their catch with a DRAGONtail rod in the background. Their consistently innovative designs plus outstanding customer service have made them one of the most beloved brands in tenkara today.
Over the course of two days, I had the opportunity to field test their new Ragnarok 400, which has replaced the very popular NIRVANA 400. While it employs the same IM12 graphite, this new iteration has a completely different action–one that I think might appeal to a broader audience.
Here are some of my thoughts on the Ragnarok, and the applications in which I think it might be best suited.
Manufacturer Specs:
Collapsed Length: 60.9cm (24 in.)
Extended length: 406cm (13.3′)
Weight: (without tip plug or cap): 90g (3.1 oz.)
Rod Tube Length: 26 inches
CCS/RFI: 16 pennies/3.9
Tippet Rating: 4x
Rotational Moment: 6.7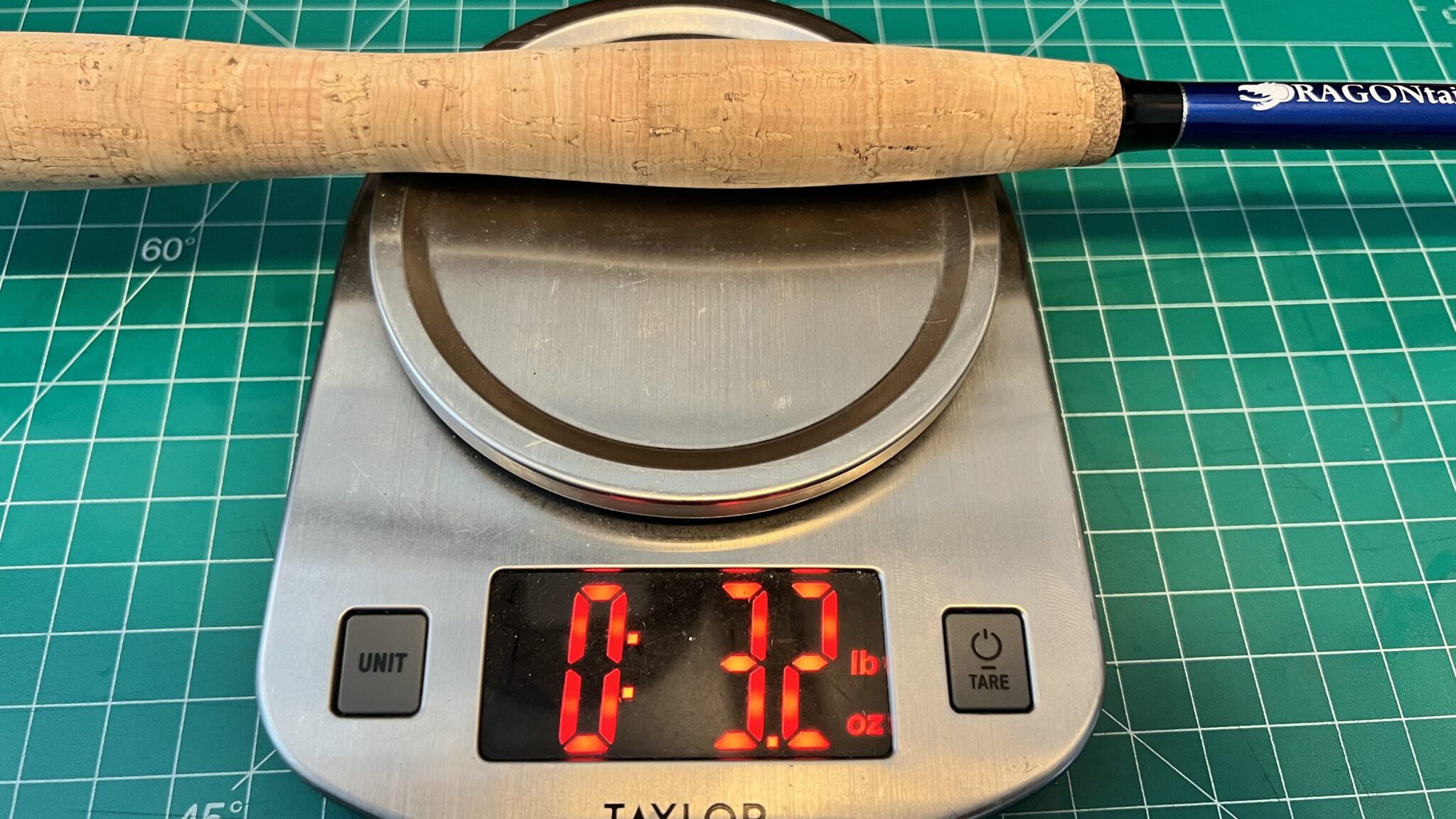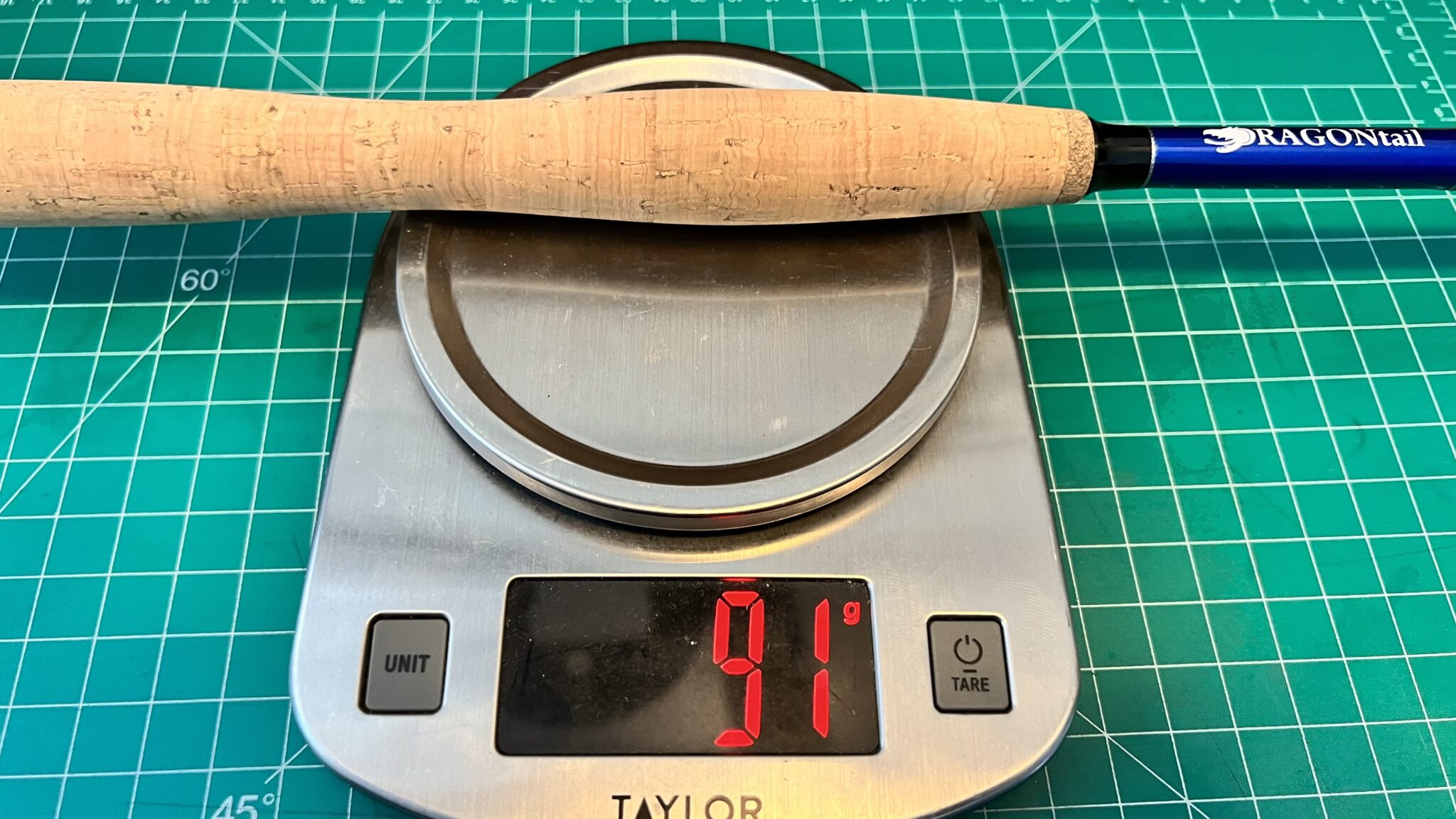 Hardware & Aesthetics
I've always liked the look of DRAGONtail rods. They're simple, yet beautiful in an understated way and such is the case with the Ragnarok.
One thing they do that I think is clever, is that their rods are "color-coded" so they're easily identifiable. The seemingly ubiquitous Mizichi has an orange band above the handle, the Mutant has a green one, and so on.
If you had a pile of DRAGONtail rods on the floor, you'd be able to instantly grab the one you want without picking each rod up and looking at the label. Not many people talk about this, but I really like this idea and am surprised more companies don't do it. It's just one more indication of the thoughtfulness and attention to detail in their design philosophy.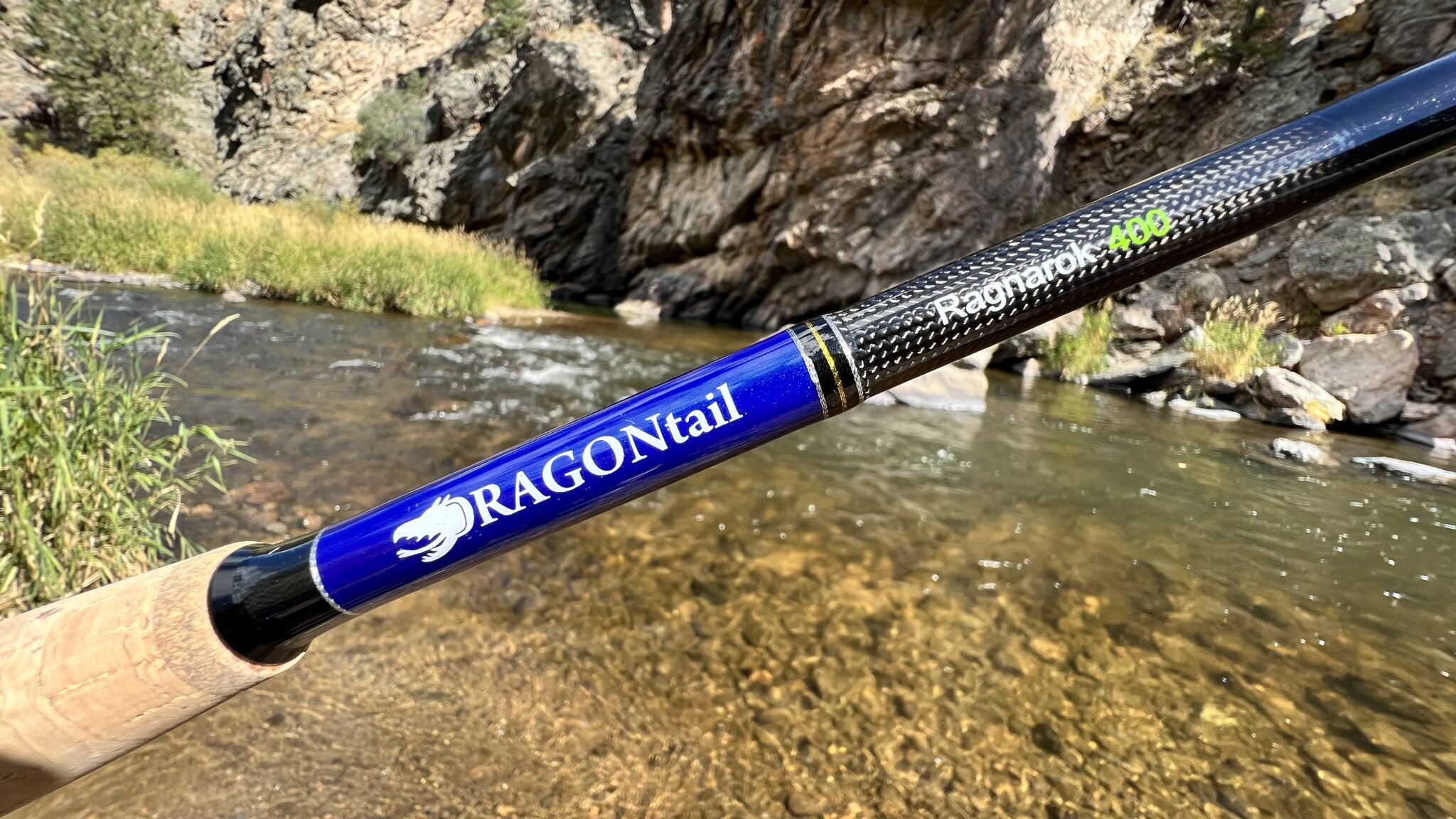 The Ragnarok's identifying color is a beautiful royal blue with gold accents that compliment the color of the graphite well and make for an overall handsome rod. Also, notice the "woven" look of the graphite. The weave is for duribility, but also make the blank gorgeous.
The grip is good-quality cork (rare these days in the tenkara market) with composite cork bands below the winding check and above the butt cap to prevent chipping.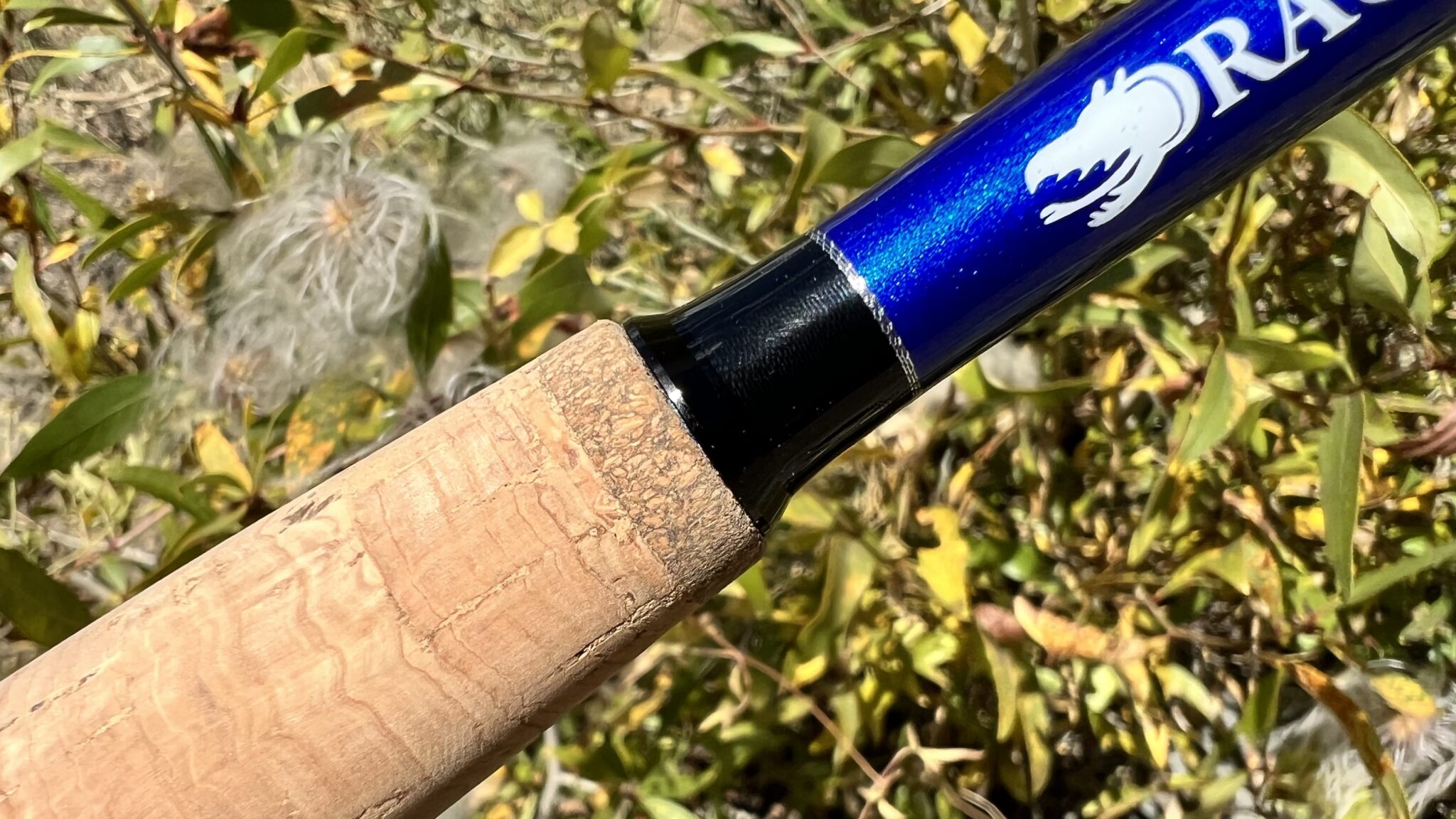 The end cap is aluminum with both knurling and a screw slot for easy on and off, but I was surprised to find there's no rubber or foam cushion. This means it rattles a little in transport which may bother some, but not me. All of my rods make some noise and honestly, I don't even notice it anymore. I did when I first started tenkara, but now it's just par for the course.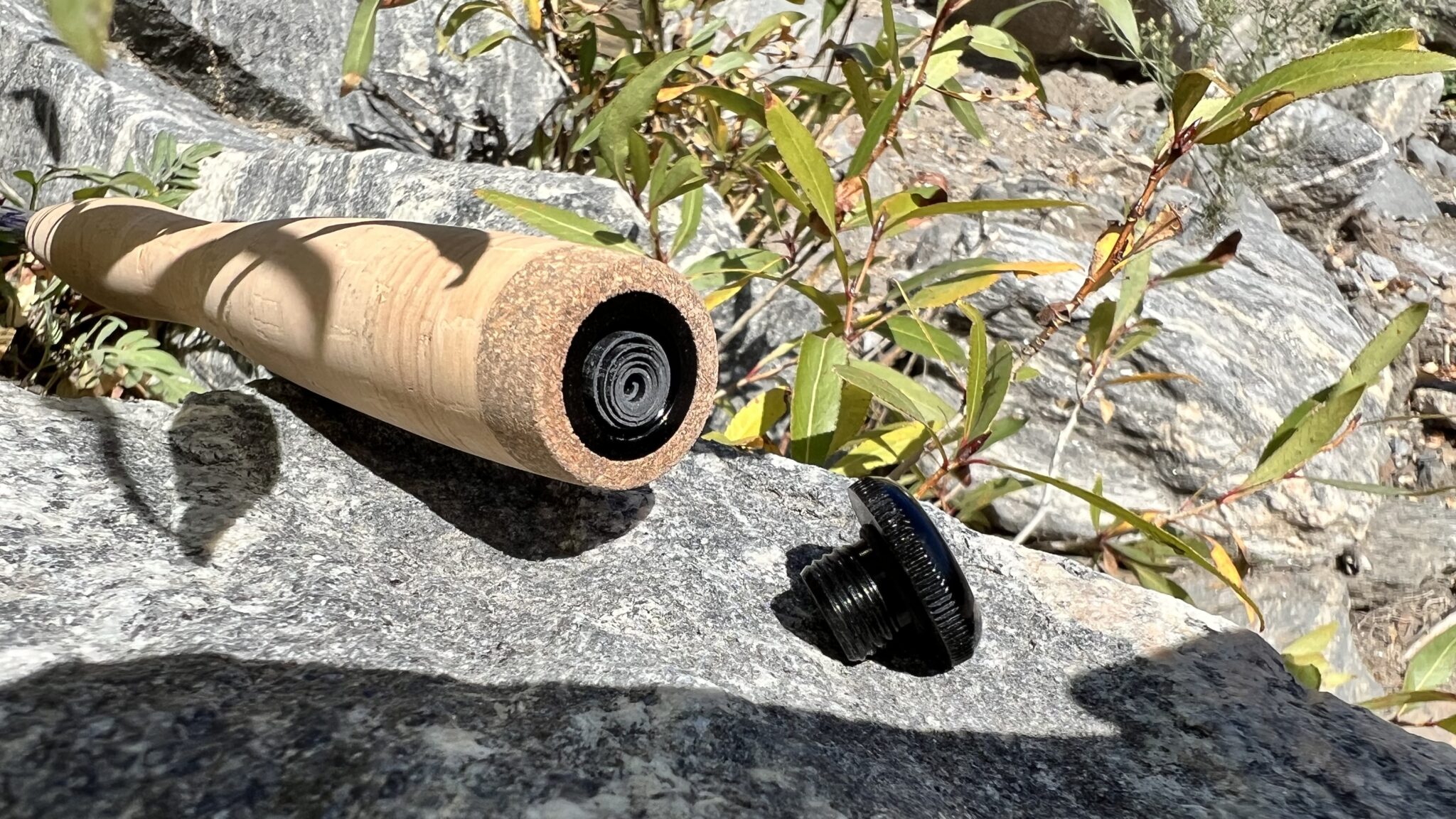 The lilian is pretty standard and the rod plug has a loop of spare lilian. And there's no swivel tip (thank you). 🙂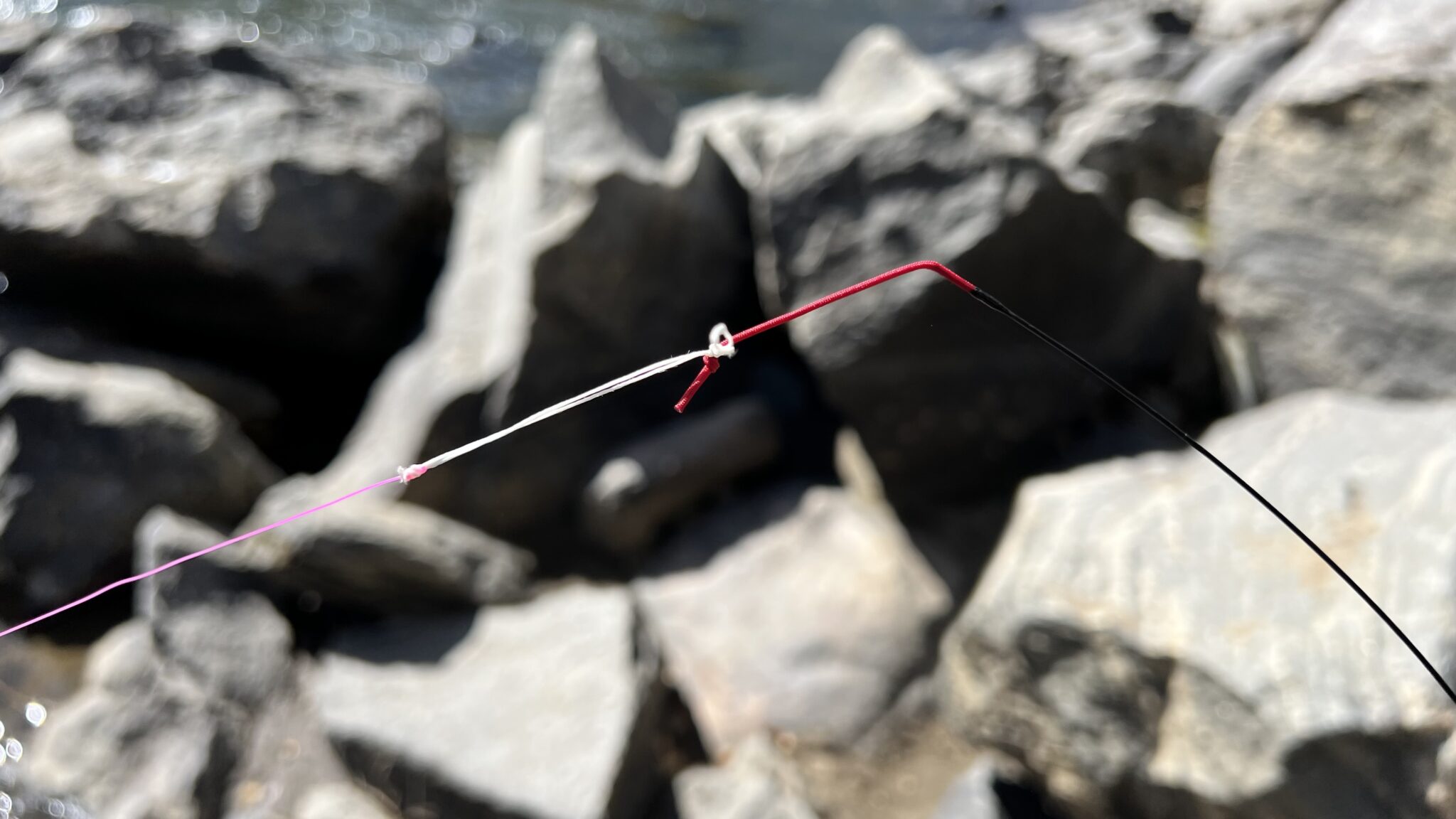 A nice addition and another thing I wish more companies did, is the included universal rod cap in addition to the stock rod plug. I prefer these because I inevitably lose the stock plug–and actually, I've already lost this one somewhere between the stream and sitting down to write this. The extra universal cap is a nice touch that not only shows DRAGONtail's commitment to providing good value, but also that everything they make is designed my true anglers who understand real-world problems.
And as with all DRAGONtail rods, a handsome silver aluminum alloy rod tube and stretchy rod sock are included (my favorite kind).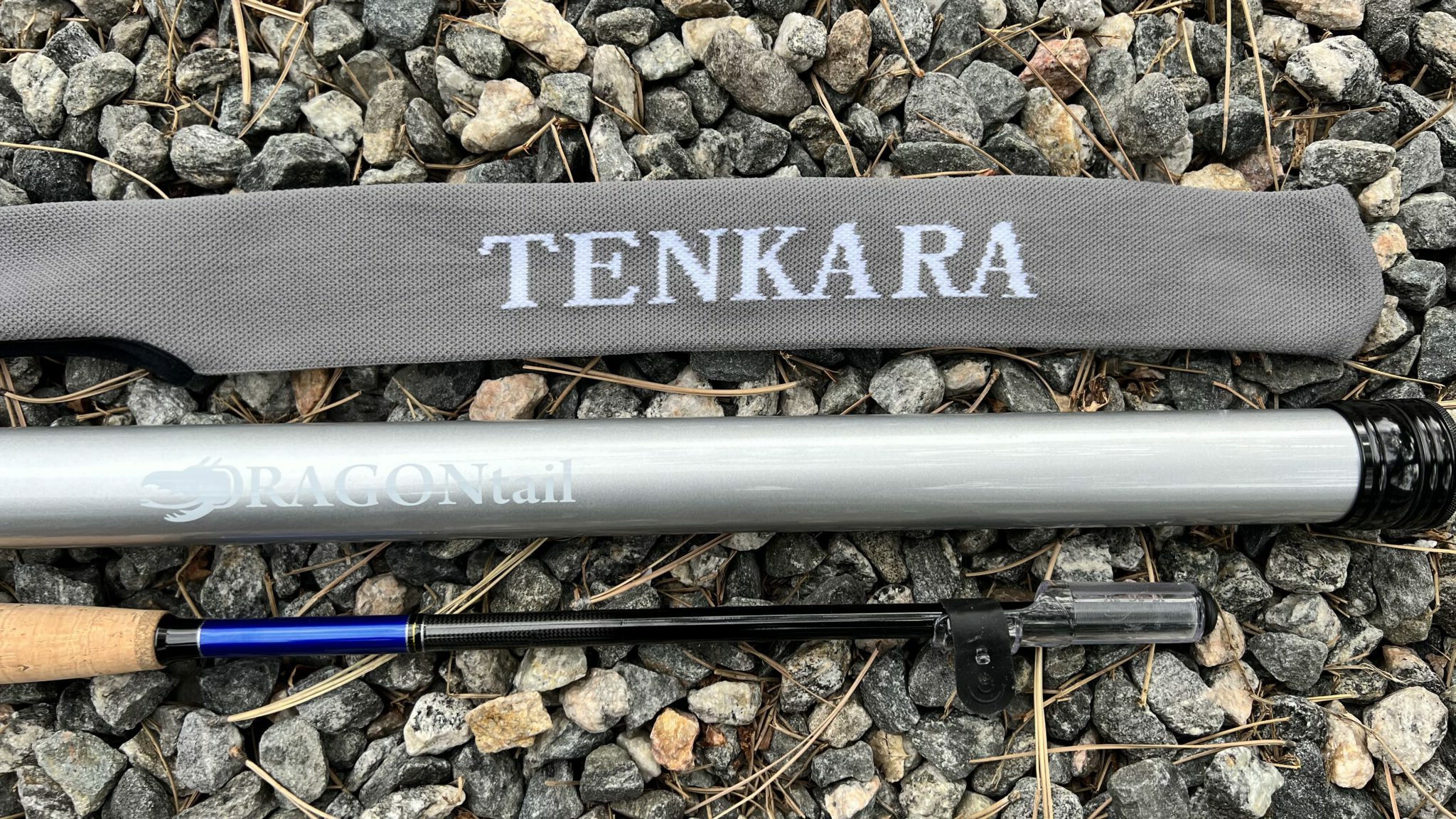 Action & Feel
I fished the Ragnarok with a 16′ #3.5 level fluorocarbon line since that's what I use most of the time and am most familiar with. Field testing was done on three medium-sized freestone streams in Colorado's Front Range with normal flows and depths from just a few inches to about four feet.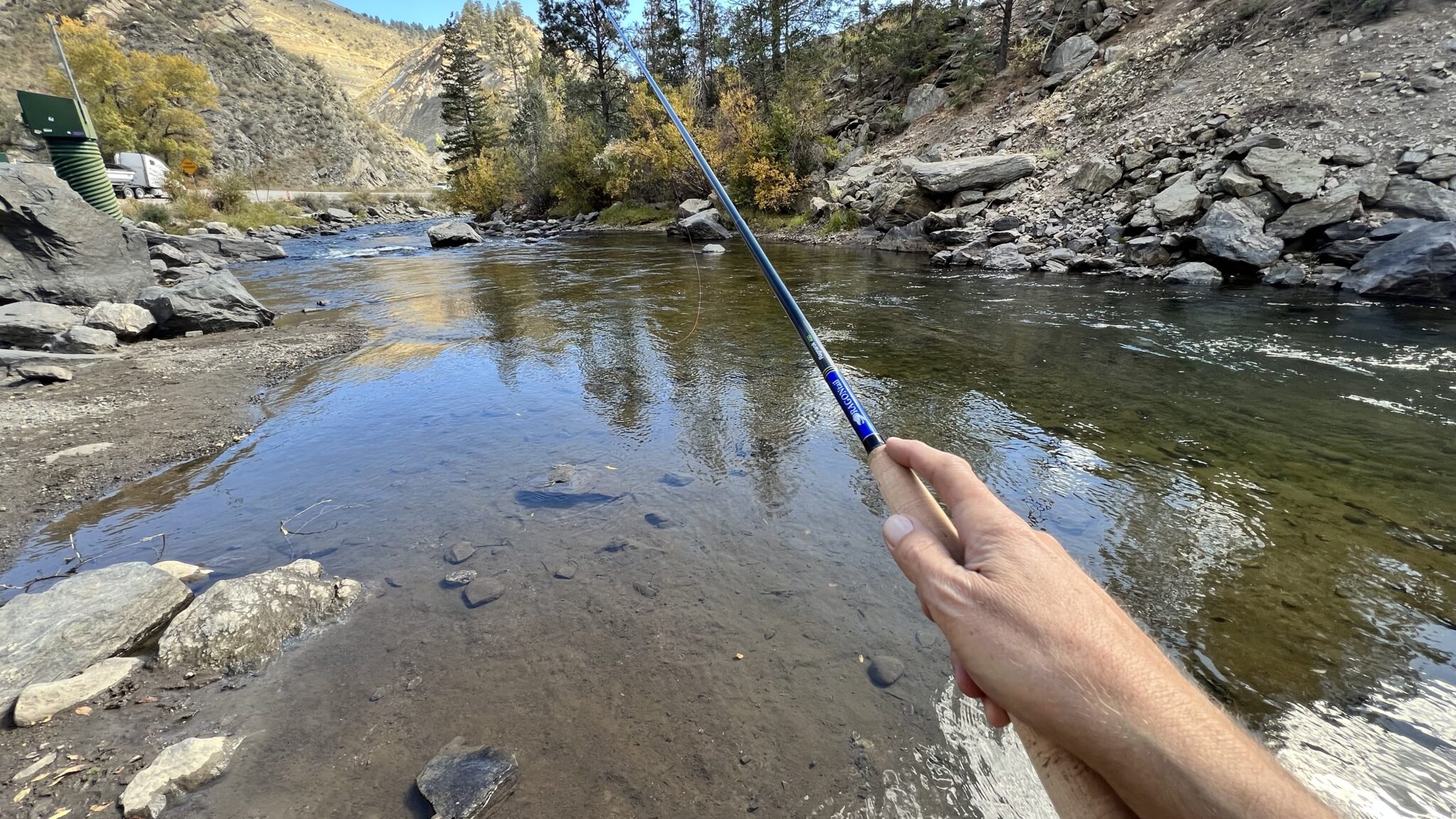 When I asked Brent (owner of DRAGONtail) what the differentiator was between this rod and the NIRVANA 400 it's replacing, he told me that it was that the Ragnarok has a softer tip. I had assumed this was accomplished by the addition of fiberglass because they've done that on other models. However, this is not the case. The real reason is a change of the carbon fiber blend and taper (which is proprietary) to achieve a softer flex. Anyone familiar with the NIRVANA 400 (or stiffer rods in general) will immediately notice the difference.
This means that the rod loads very easily and feels a little friendlier than it's predecessor. I felt that I could let the rod do more of the work for me and that took stress off of my arm and wrist. But being accustomed to faster action rods, I did have to adjust my stroke and slow down a little to accommodate. After a few practice casts, I had it dialed in and it was a just an absolute pleasant rod to cast!
Tip recovery was surprisingly good for a 4 meter rod with such a soft tip, but I felt that there's a little tip wobble so I wish it had better dampening. It's noticeable to someone who's compared a lot of rods, but not enough to have any significant impact on the energy transfer to the line (that I could tell). I felt that my casts were as accurate as any of my go-to rods and had no problem getting the fly where I wanted it.
So in addition to creating an overall pleasant casting experience, I really like the soft tip because frequently, I'll be in a situation where I'm focusing on fishing 20 feet out, and inevitably, a fish will rise right in front of me. This happened several times while testing and I was able to make a quick short cast close-in that would have been tricky with a stiffer rod.
Also, the softer action provided outstanding tippet protection. The rod is rated at a maximum of 4X but I happened to be fishing midges part of the day with 6x and was never once concerned about tippet breakage.
On top of that, when pushed, the rod will flex deep down into the blank providing even more protection. The largest fish I landed on the Ragnarok was only 12″, but I know it's capable of landing much bigger fish.
Just for the hell of it, I intentionally snagged my line on a rock and wrenched on it. I could feel the tip bend first, then flex more into the mid section and felt the reserve power in the butt kick in as it flexed closer to the handle.
This rod innately knows when to give and when to take. I can tell that you'd be able to steer large fish no problem and I was disappointed I was in a place where I wouldn't have that opportunity. But I would LOVE to take this rod down to the San Juan and test it on some 20″+ browns!
I do need to mention that the Ragnarok is a little tip heavy by my standards. That's to be expected once you hit the 4-meter mark. It's easy to make a short rod feel like an anti-gravity wand. But it's more challenging at greater lengths. It's not particularly bad and most people probably wouldn't even notice it. But if you're used to high-end Japanese rods, you'll definitely feel it.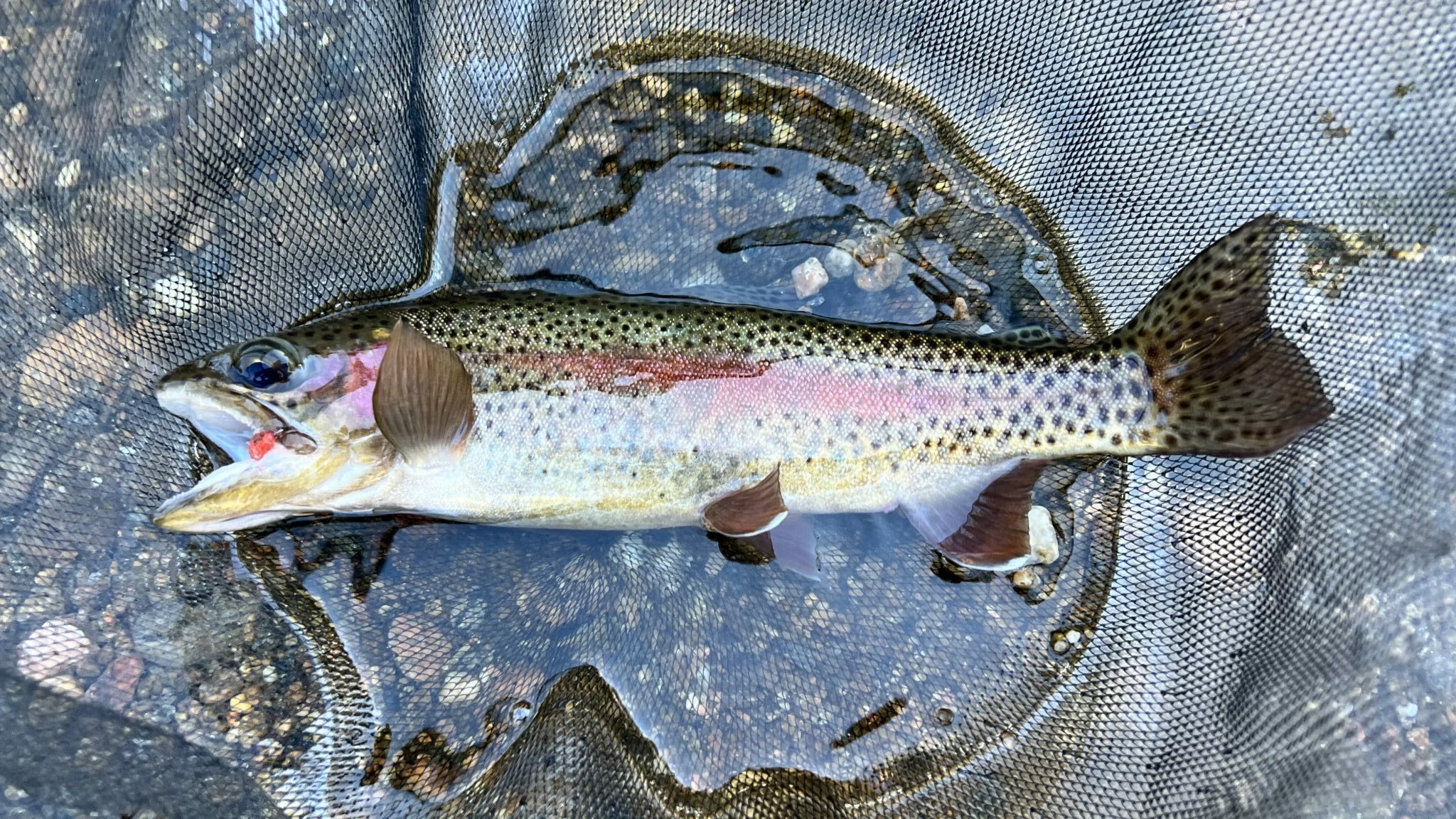 Applications
This is not a specialty rod–it's neither a big fish nor small fish rod. I think it's fair to say it's an all allrounder with the versatility to handle both well (If you have fly fishing experience, think softer action 9′ 5wt.).
I especially think it would be a great choice as a first rod since that soft tip gives you a lot of feedback when the rod loads and unloads making it easy (and fun) to cast. It also makes it more "forgiving". Since the rod is doing more of the work, you don't have to have a perfect stroke every time. The Ragnarok's action will compensate for a little sloppiness. 🙂
I think it really shines on medium sized rivers, but might be too long for smaller, brushy creeks, and overkill for tiny trout. But, if you want to have just one rod to cover most situations, the Ragnarokwill deliver. And the added durability of the weave will guarantee you'll have this rod in your arsenal for a very long time.
I consider this a stream rod and don't think it would be a good choice for lakes, only because lakes often have very windy conditions. In those situations, I'd much rather have a fast-action rod.
A tenkara rule-of-thumb is that you should fish the longest rod you can get away with, and if you fish streams that are open with little or no overhanging vegetation to thwart your backcast, the Ragnarok 400 is a solid choice!
What I love
Easy, smooth casting with a forgiving action
Outstanding tippet protection for larger fish
Loads well and provides good feedback to your hand
Surprisingly good tip recovery for a soft action rod
Included universal rod cap
CORK GRIP! I've never liked foam handles. I "tolerate" them. But in my heart, I will always prefer cork. And DRAGONtail is one of very few tenkara companies that still use it despite the industry's trend towards foam. So extra kudos to Brent for ignoring the trend!
What I'd change
Improved dampening to prevent tip wobble
Reduce tip heaviness
Add rubber or foam cushion inside end cap
The name. I know, I know. It has nothing to do with performance, but honestly, this would be the first thing I'd change. 😉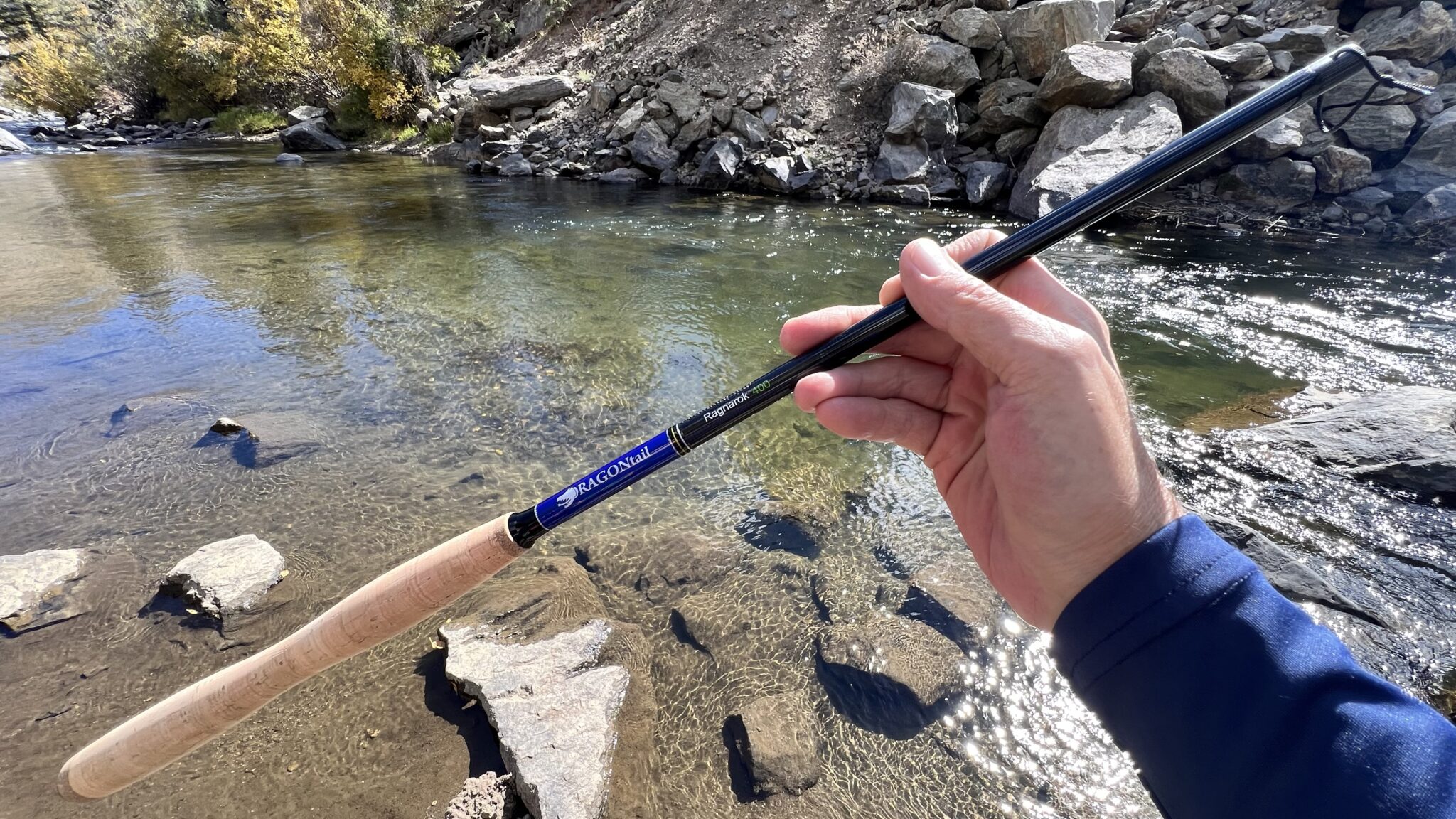 ______________________________________________________
The Ragnarok 400 is yet another solid addition to DRAGONtail's lineup and I think many people will really like the softer tip. If you prefer soft mid-flex rods or the feel of fiberglass and want a rod that will handle a wide variety of situations, I think you'd be wise to try the Ragnarok.
And typical of DRAGONtail, they offer all of this performance at a great price point. In terms of quality, "DRAGONtail" has become synonymous with "a lot of bang for your buck". And the Ragonrak is just one more example of that.
So, in short, love the rod, hate the name. I have yet to try a DRAGONtail rod I didn't like and in my opinion, this rod will provide a great ROI whether it's your first rod, an upgrade from another model, or you just love that classic, softer action.
For current retail pricing and more information, visit the DRAGONtail Tenkara Ragnarok page.
For another perspective with more technical info., read Tom Davis' excellent review on the DRAGONtail Ragnarok.