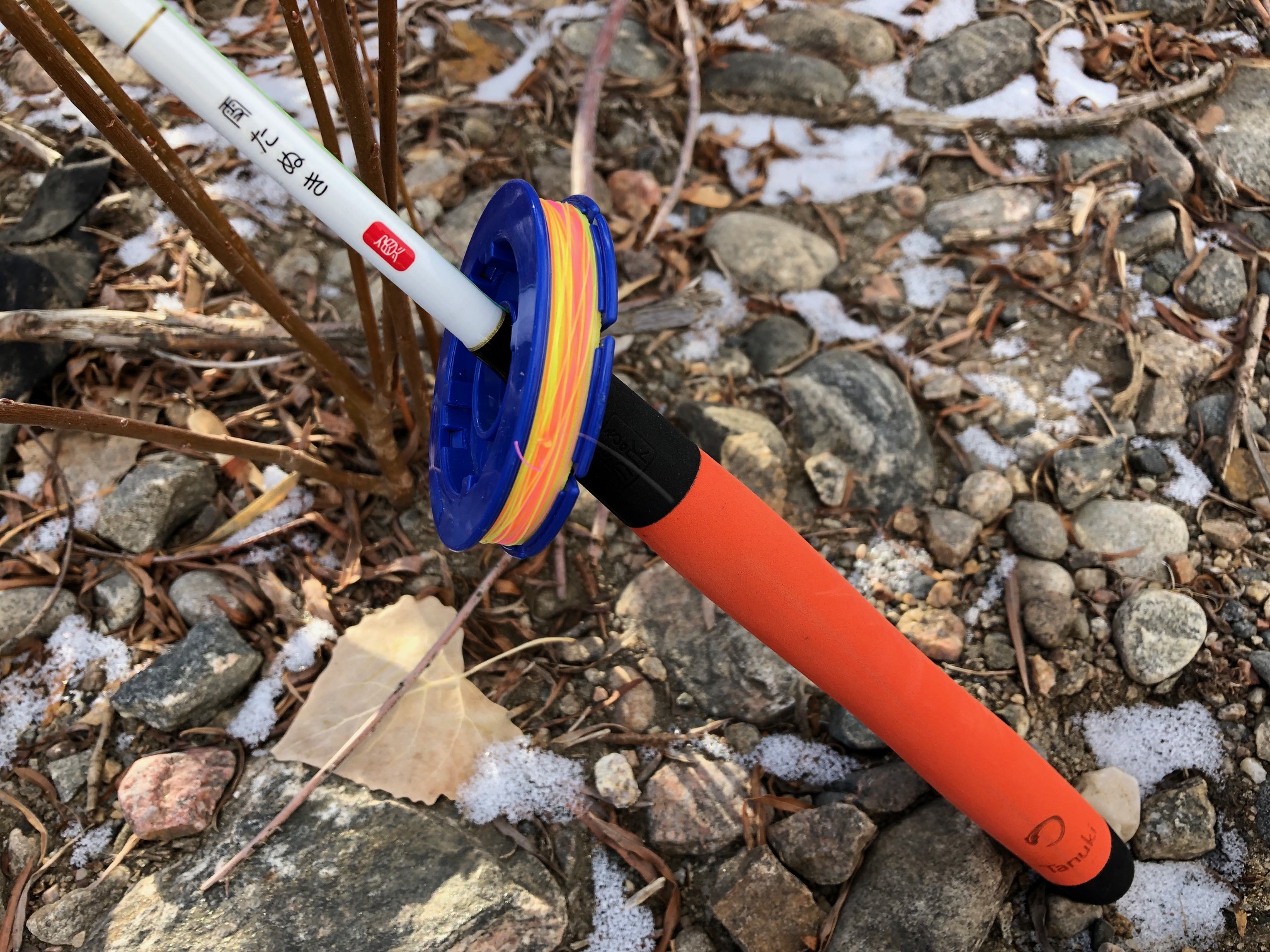 Ever since the 2017 Denver Fly Fishing Show when I first cast a Tanuki rod, I've wanted one. Though I had corresponded with the company's owner, Luong Tam, over the years, it was the first time we'd met in person and I got a glimpse into his unique and sharply honed tenkara rod design theory. I cast several models he had on display, but the one that struck me most was the Snow 325. With the dawn of the 2019 Fly Fishing show upon us, two years have gone by since then with the Snow in the back of my mind all the while. But, I finally got one! And now I wonder why I went so long without adding this amazing rod to my arsenal.
Specs
Length: 10′ 8″ (325 cm)
Closed Length: 23″ (59 cm)
Segments: 7
Handle Length: 9 1/2" (240cm)
Weight: 1.90 oz (54 grams)
Action
I've repeated my mantra many times that "a rod's action can't be described–it can only be felt". Unfortunately for us tenkara anglers, it's difficult to walk into a local fly shop and test cast a variety of rods so I try to do my best with words to give at least some sense of a rod's personality.
Ever pick up a rod for the first time and just feel a guttural reaction that it was tailor-made for your specific casting style? That's the way I felt.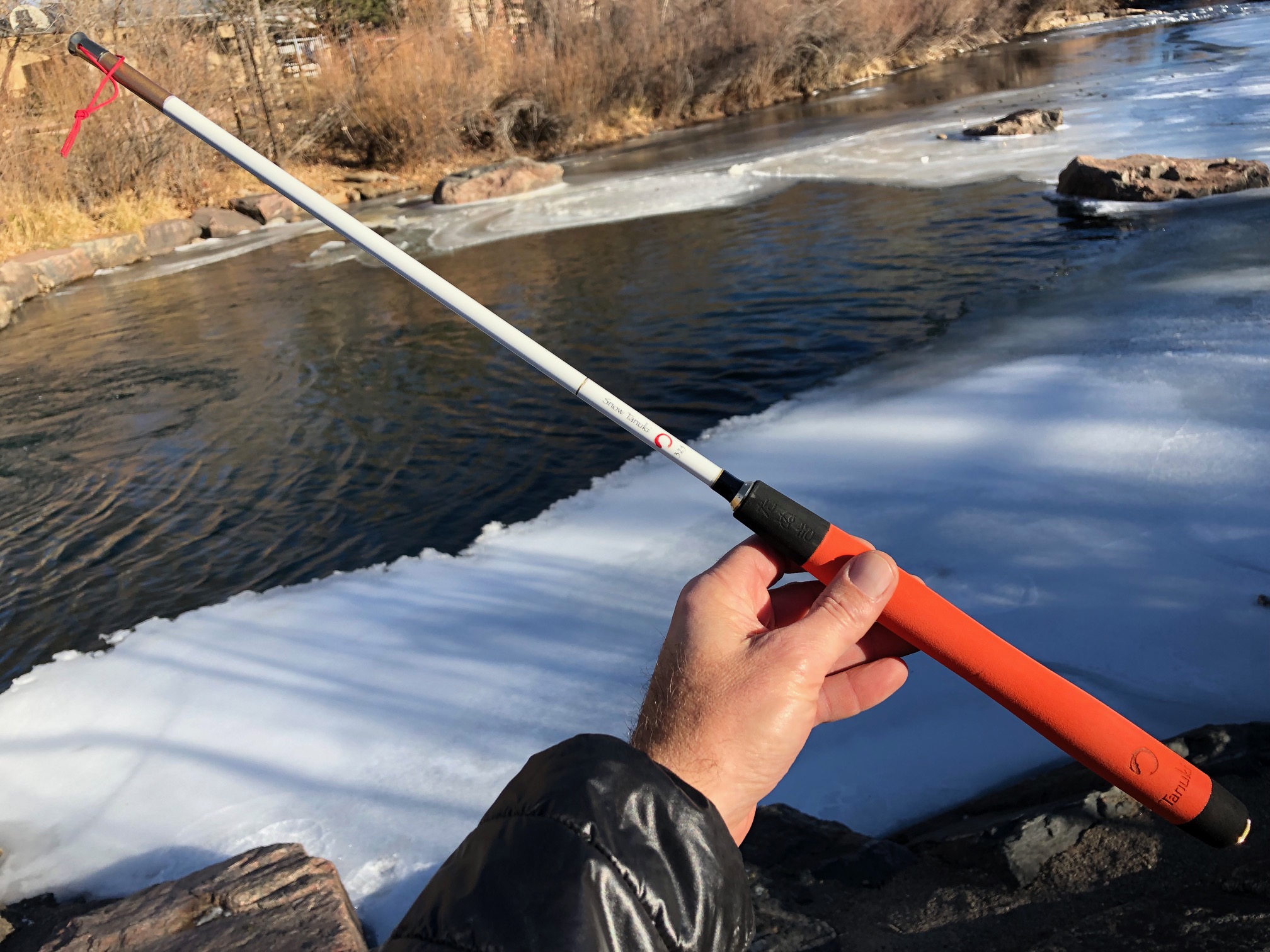 The first thing you notice is how light the rod is. Even for a relatively short rod (by tenkara standards), it's amazing how the weight of the tip is nearly imperceptible. The stated weight from the manufacturer is 1.9 oz, but this is without the rod plug. On my scale, with the rod plug, the total weight is actually 2.1 oz. Still ultralight by any account.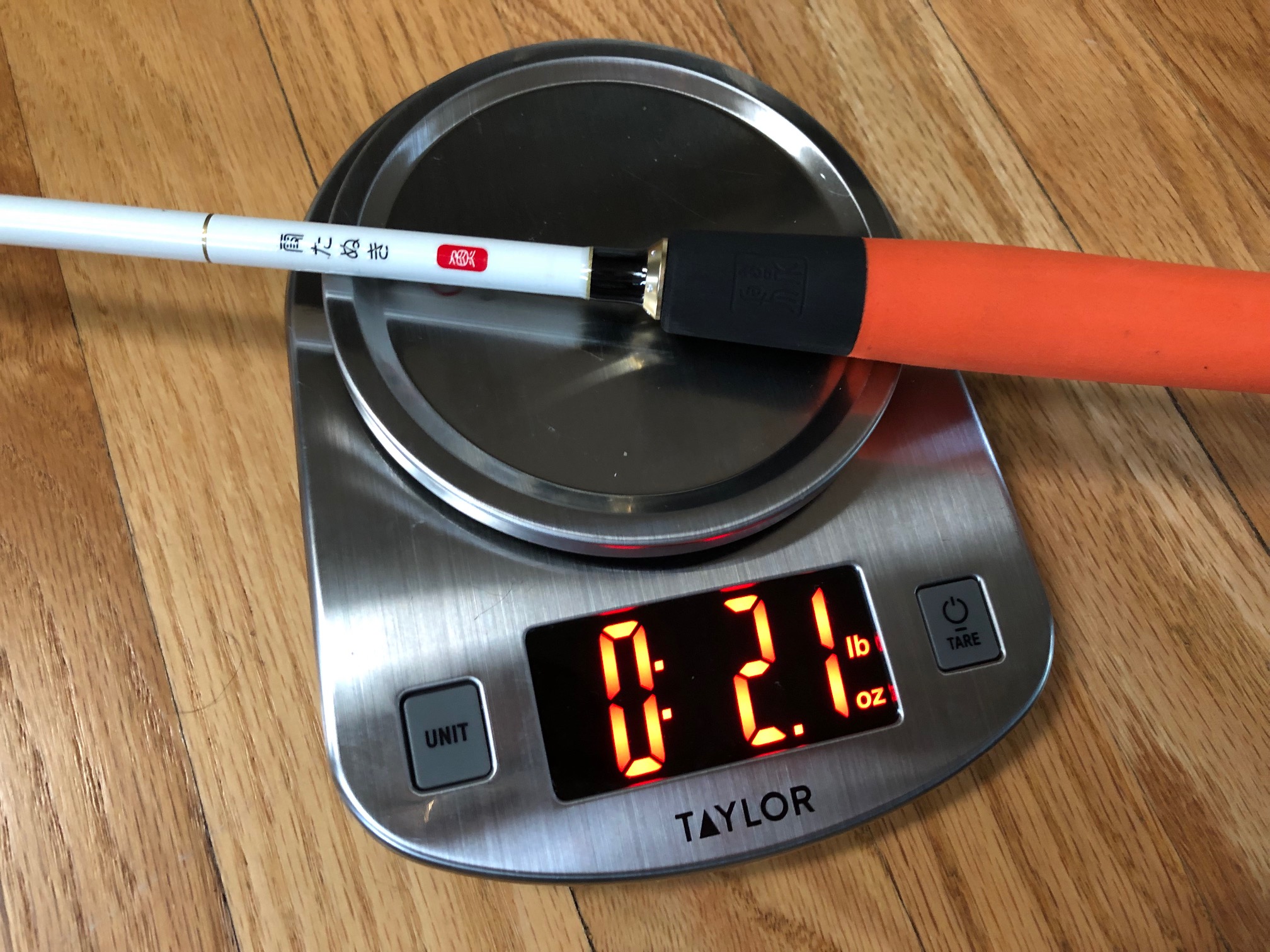 Nonetheless, physical weight is irrelevant–it's all about how the rod feels in the hand. And the Snow 325 won't disappoint in that respect.
Tanuki forgoes the conventional action rating system used by many manufacturers (i.e. "5:5", "6:4", "7:3", etc.) but if I had to translate it into this system, I would call it a soft-tipped 6:4 with a stiff backbone starting at the 5:5 point. The soft tip bolstered by the stiffer mid-section really gives you great accuracy and allows you to make delicate, precise presentations. It's a joy to cast and forgiving enough for those of us who aren't Tenkara no Oni.
I used it with both 12′ #2.5 and #3.5 level fluorocarbon lines (the diameters I usually fish). Of course the #3.5 casts more easily, but anyone who is accustomed to casting lighter lines might prefer the #2.5. This is an ultralight rod and will probably be best appreciated with an ultralight line. To put a heavy furled line on it would betray it's gossamer design–akin to putting Heinz ketchup on a fine steak.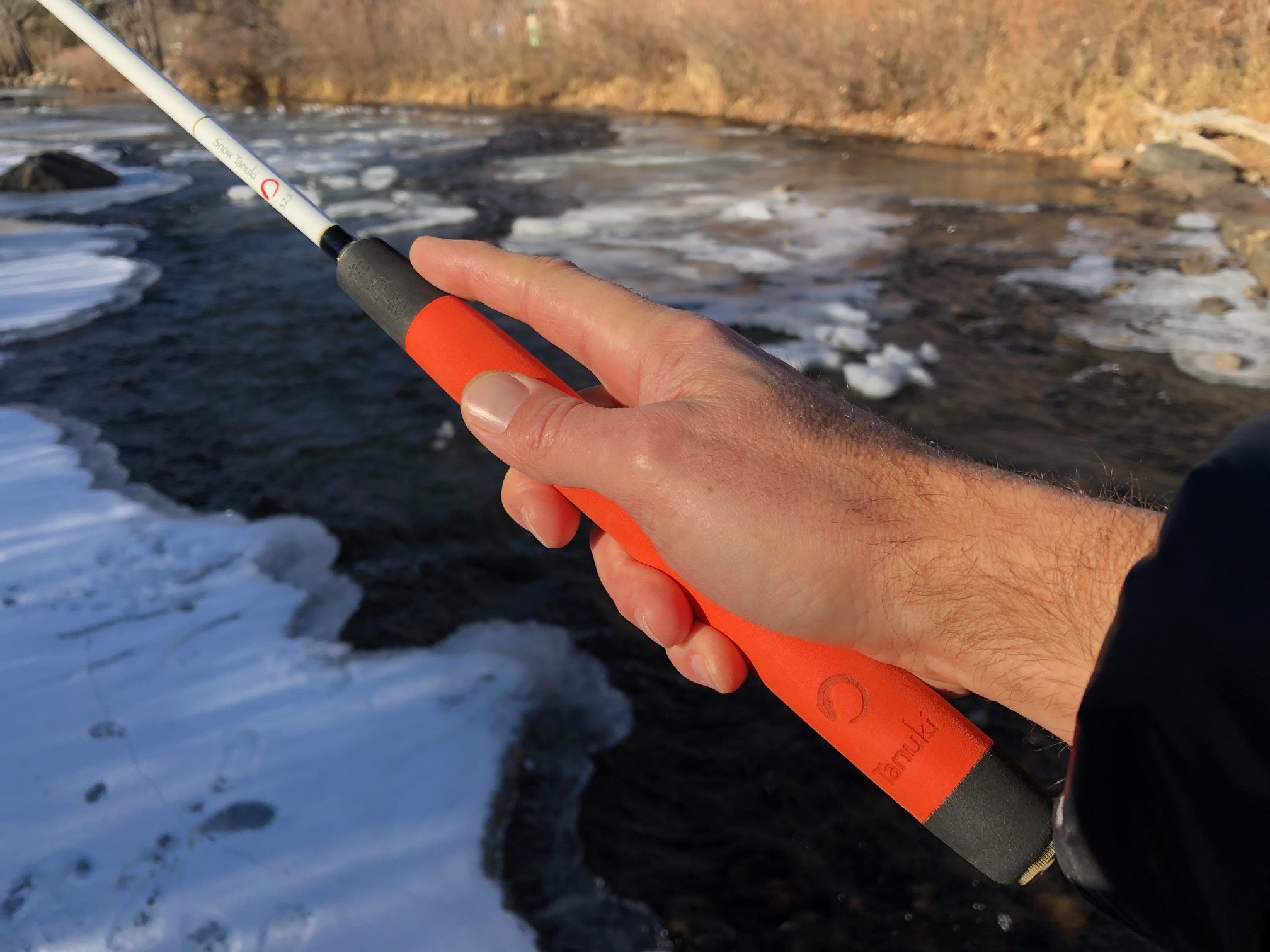 I wouldn't call the Snow 325 an "all-around" rod. To me, it's an ideal small stream rod for small fish, unweighted sakasa kebari, and dry flies. My local stream–the one I fish the most–is a perfect match. The average fish are about 8″-10″ and most of the time I'm fishing at close range so the quick-loading soft tip is exactly what I need there.
Ultimately, this rod just feels like it was made for me. I didn't have to "figure it out" or adjust my casting stroke. It was "plug & play" right out of the box. And no rating system can measure that feeling. I urge you … if you have a friend that owns one, get it in your hands and see if it was made for you too! In fact, if you happen to live in the Denver area, contact me to swing by my place and I'll gladly let you test drive it in my backyard. I don't make that offer often, but I like this rod so much, I'd like to help as many anglers as possible experience it.
Hardware & Aesthetics
With its white blank and bright orange grip, there's no mistaking the Snow for any other tenkara rod on the market today. 100 yards downstream, you could tell it's a Tanuki without squinting. The white blank is complimented nicely with gold accent bands, a gold winding check, elegant graphics, and the Tanuki logo and seal stamped into the foam grip. All around, it's a gorgeous rod.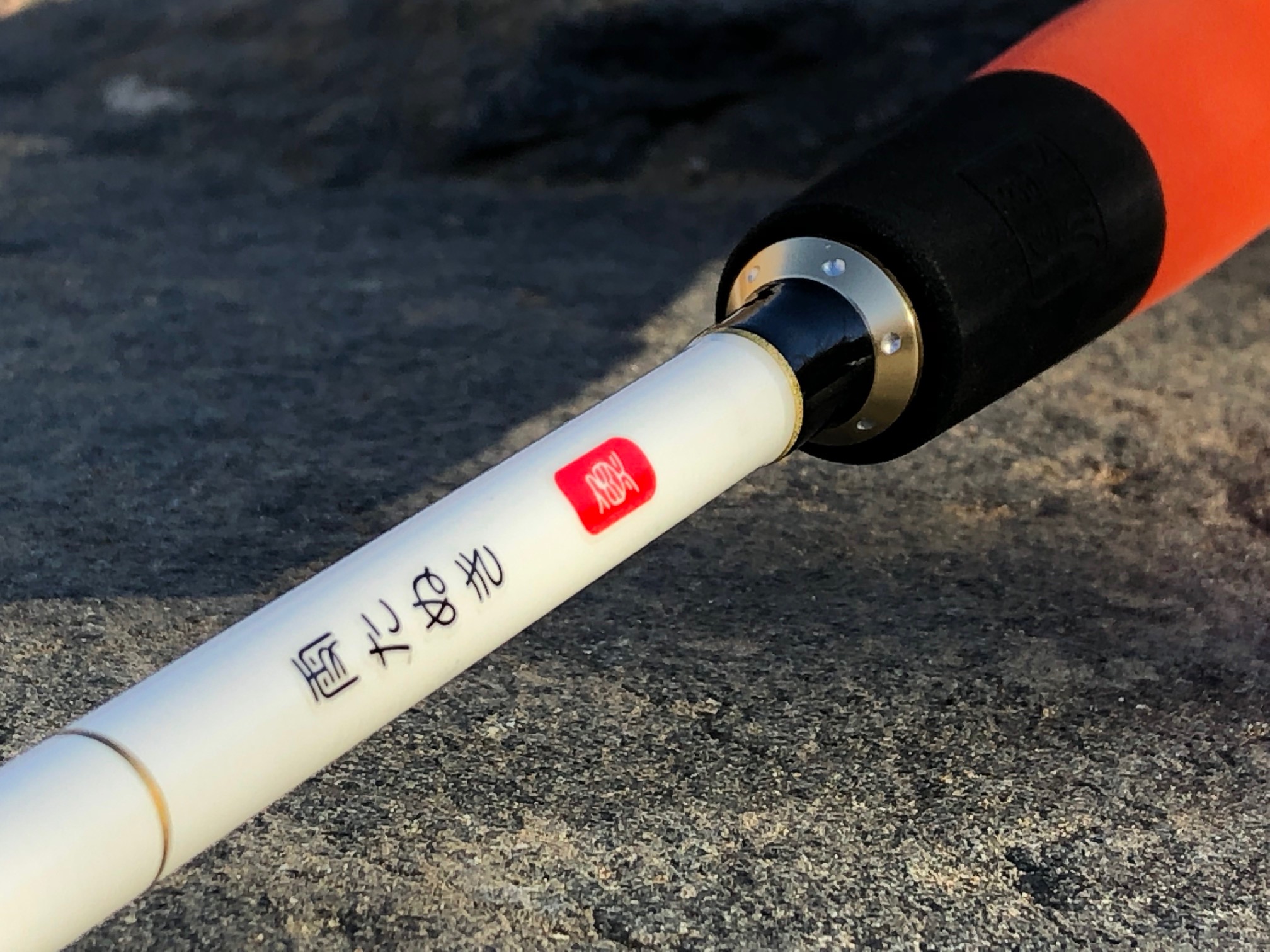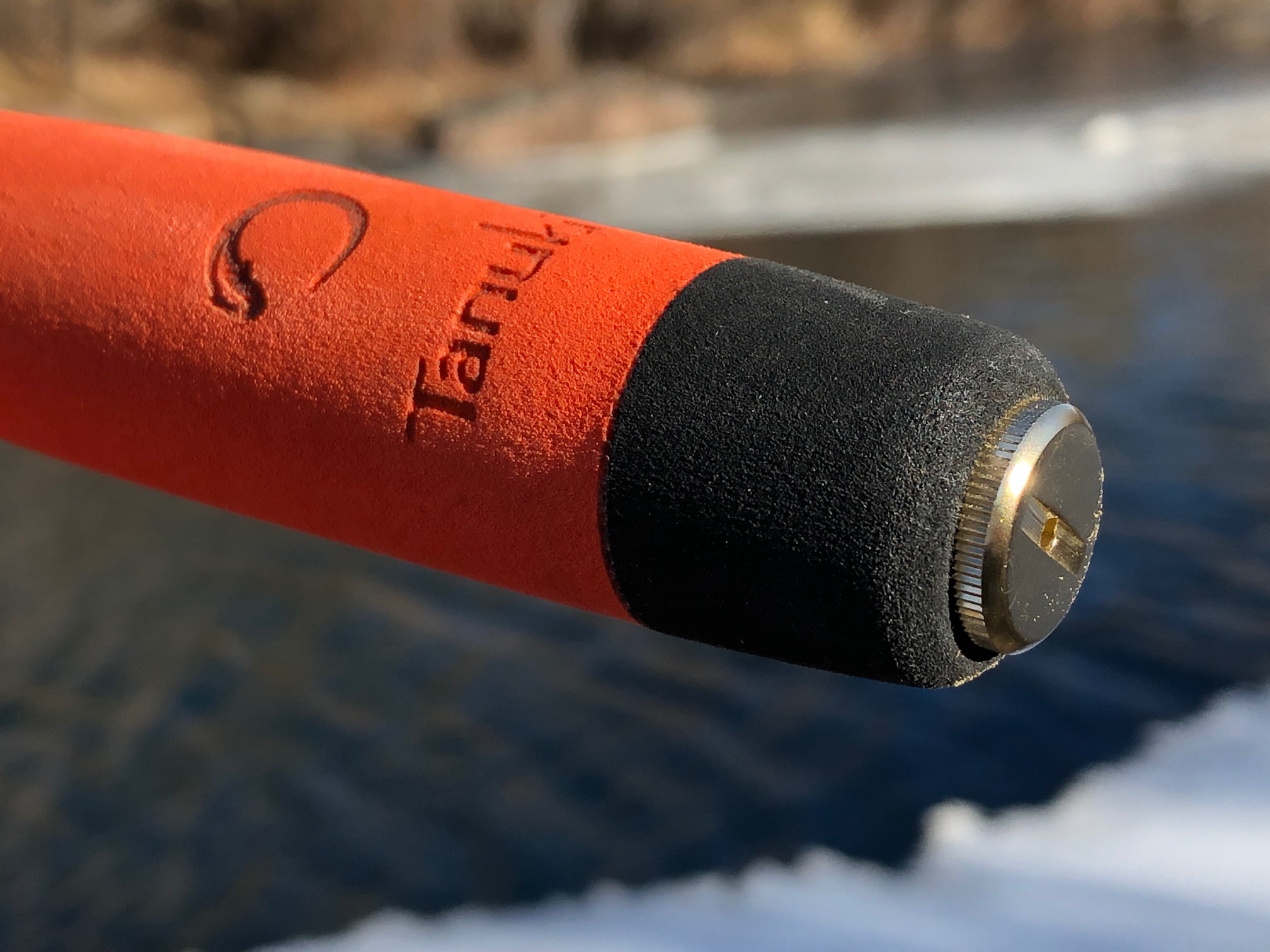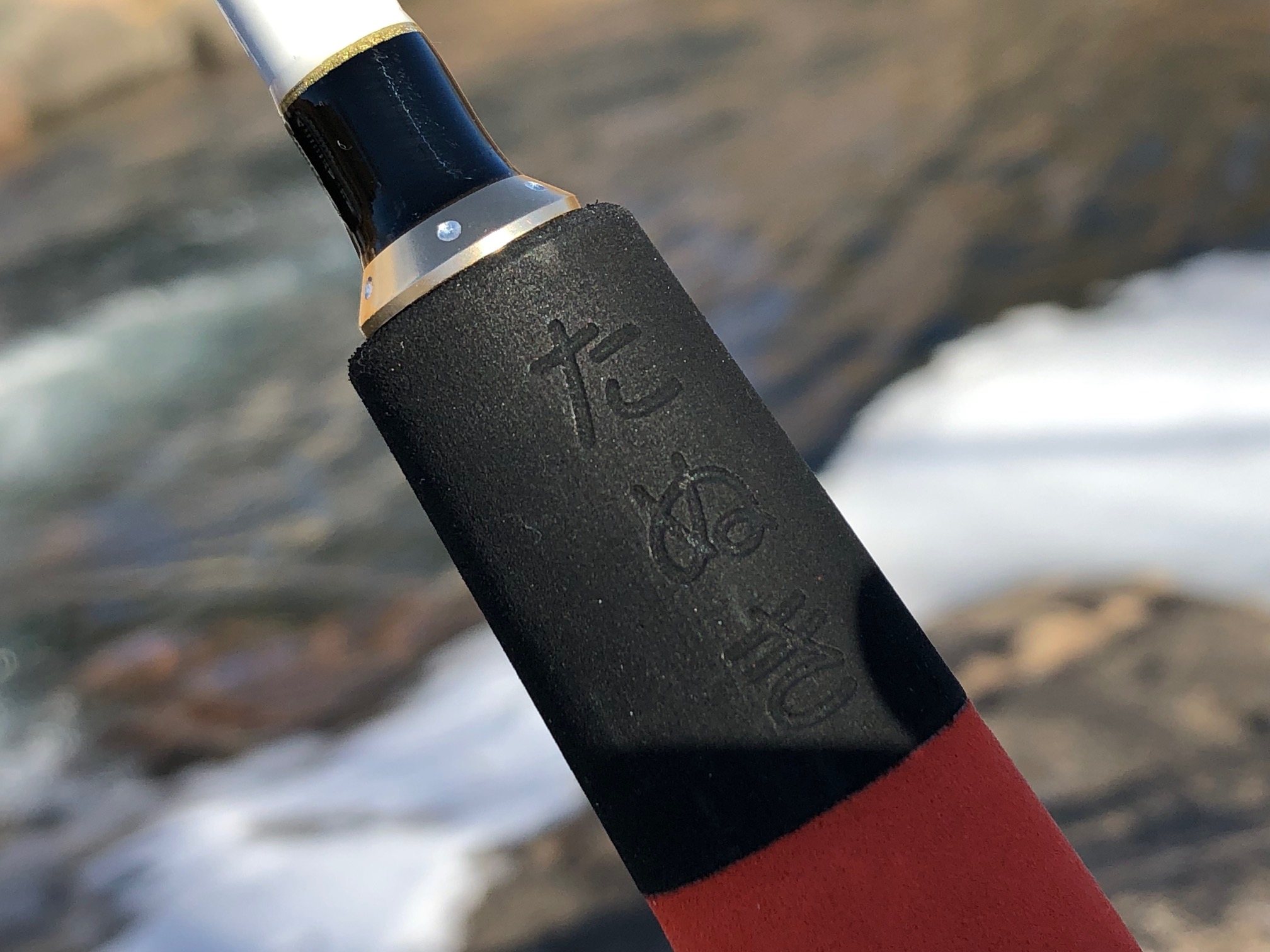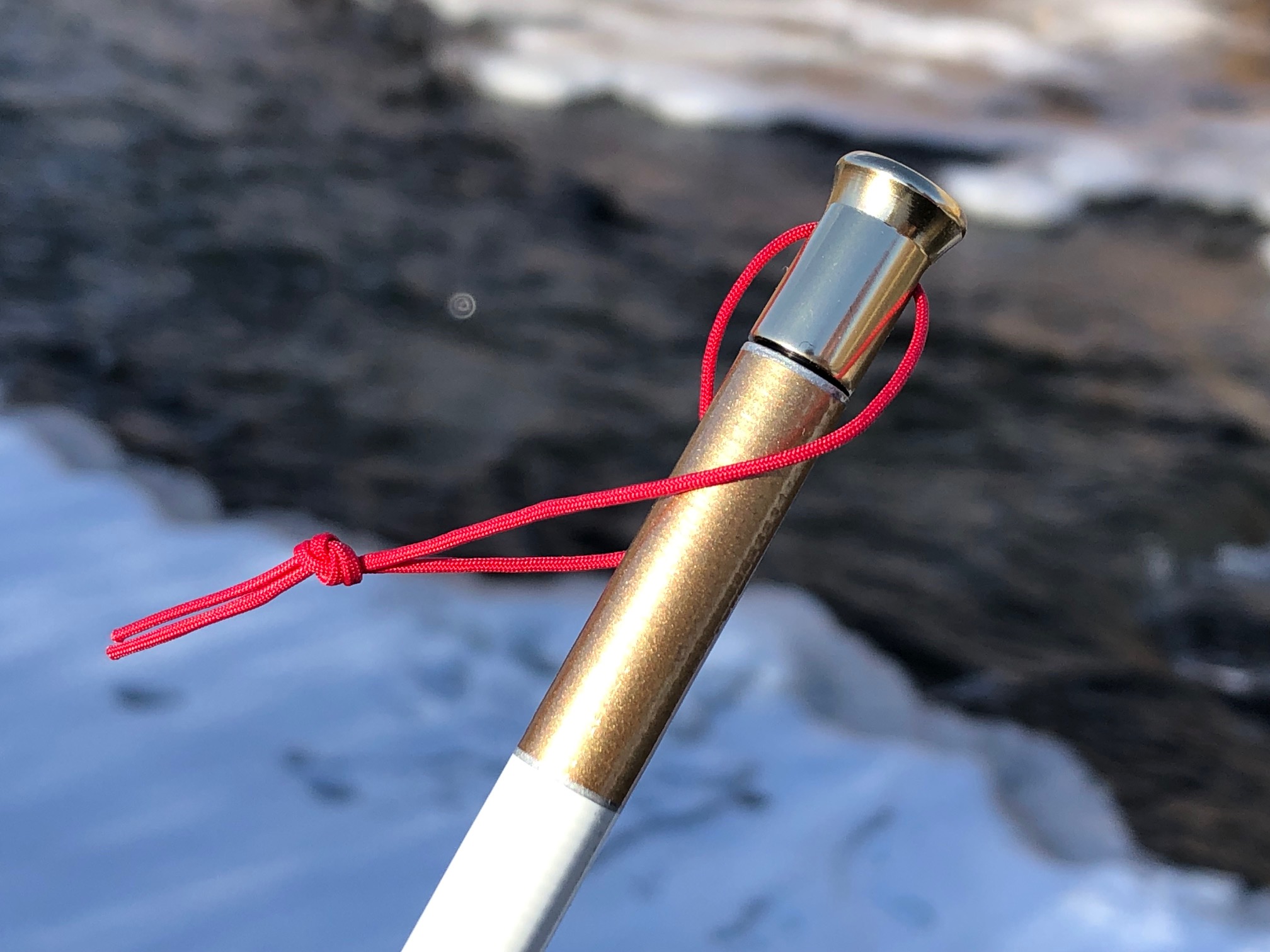 While the majority of the blank is white, the last two tip segments are naked black. This is because adding the paint used on the rest of the blank would make these sections too thick and inhibit the action.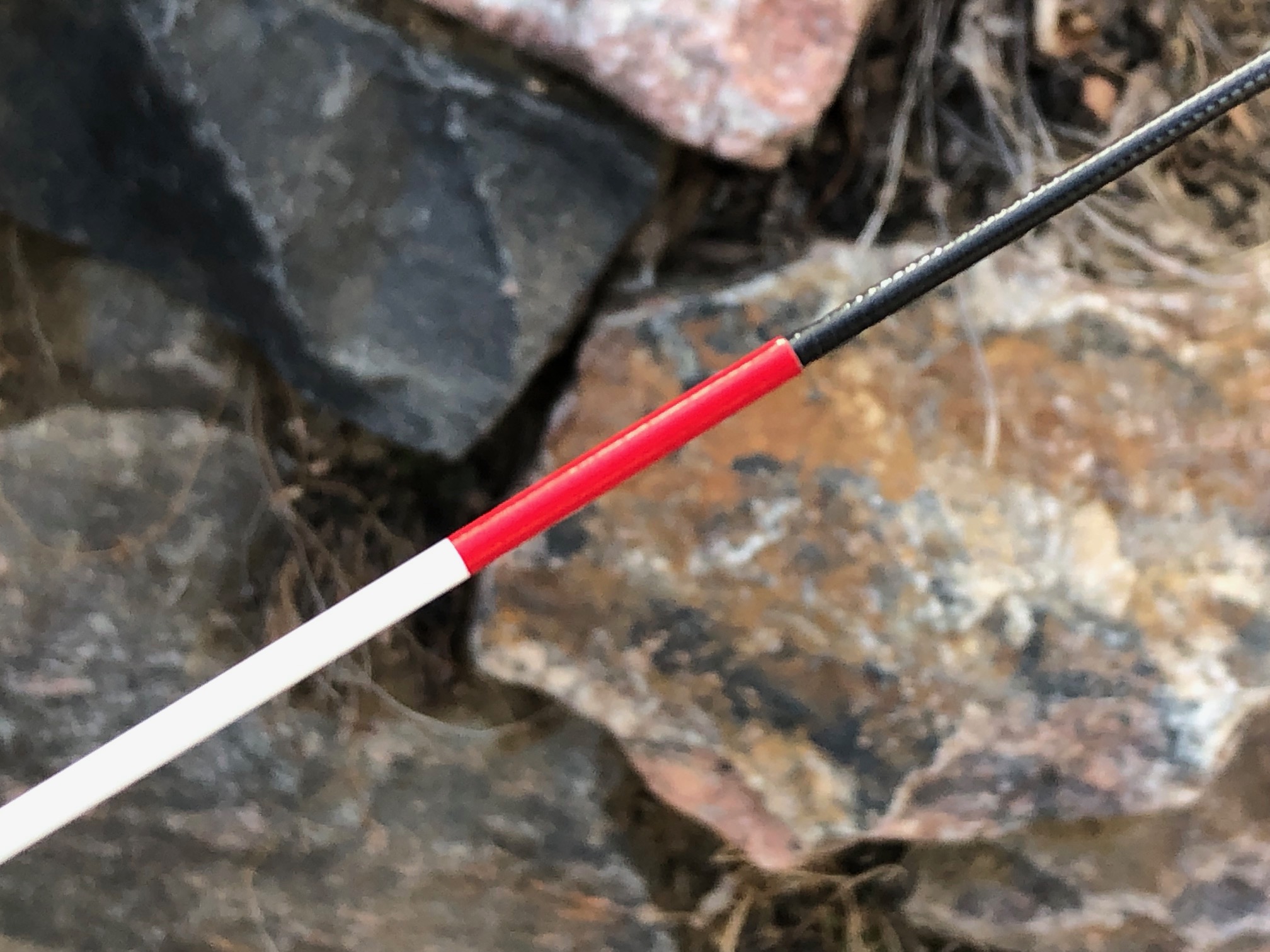 The iconic orange grip is made of hard foam with a slight concave taper. The length and diameter are very comfortable in my hand. A special note about the handle: the black sections at the top and butt are special high-density foam to better transmit strikes when nymphing whether you're hold the rod mid-grip (to your index finger) or at the butt (to your palm). This is a nice touch and shows Luong's meticulous attention to design detail.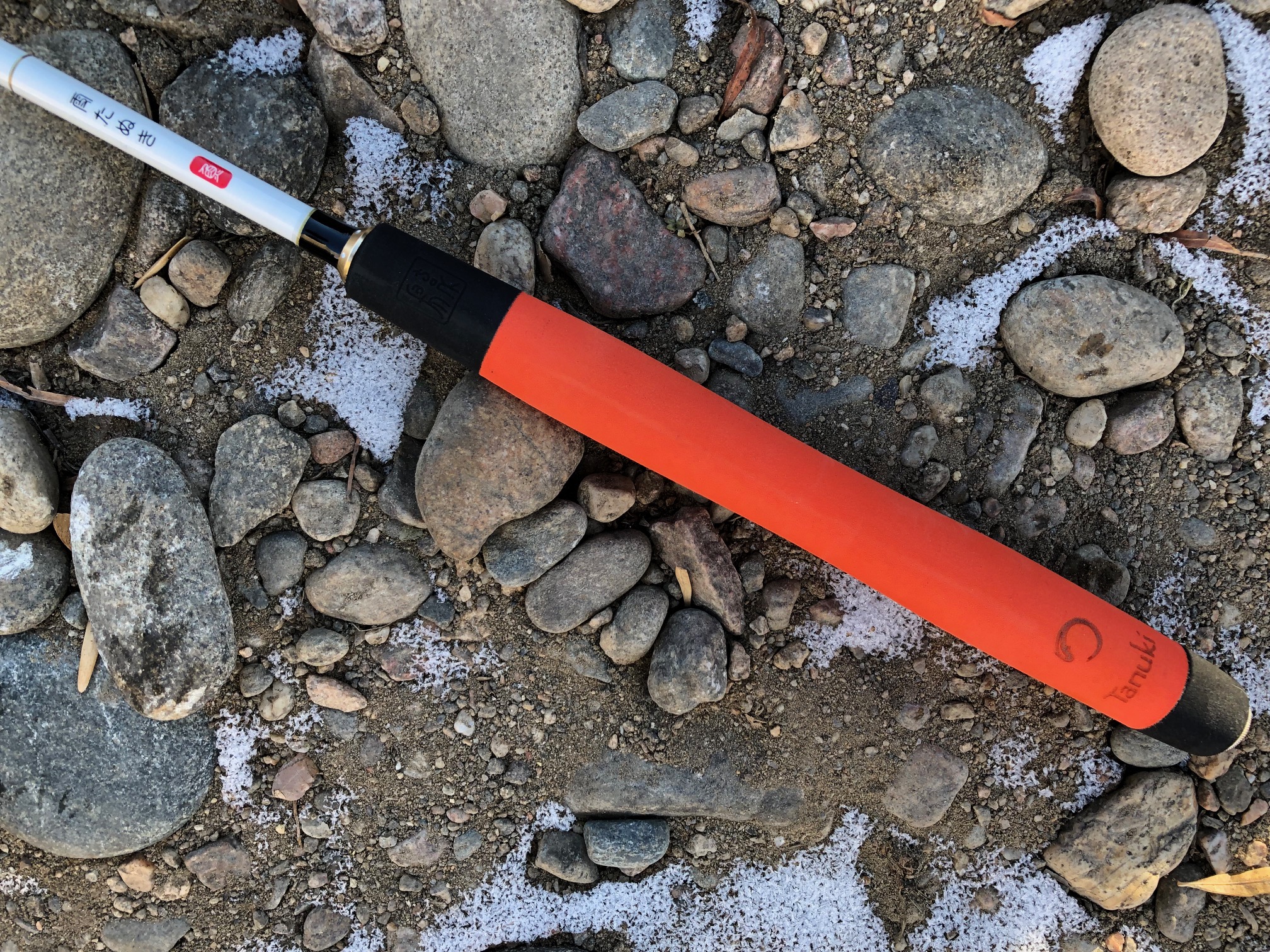 The lilian is pretty standard but the rod plug is a beautiful flared gold with a loop of spare lilian attached for emergency repair.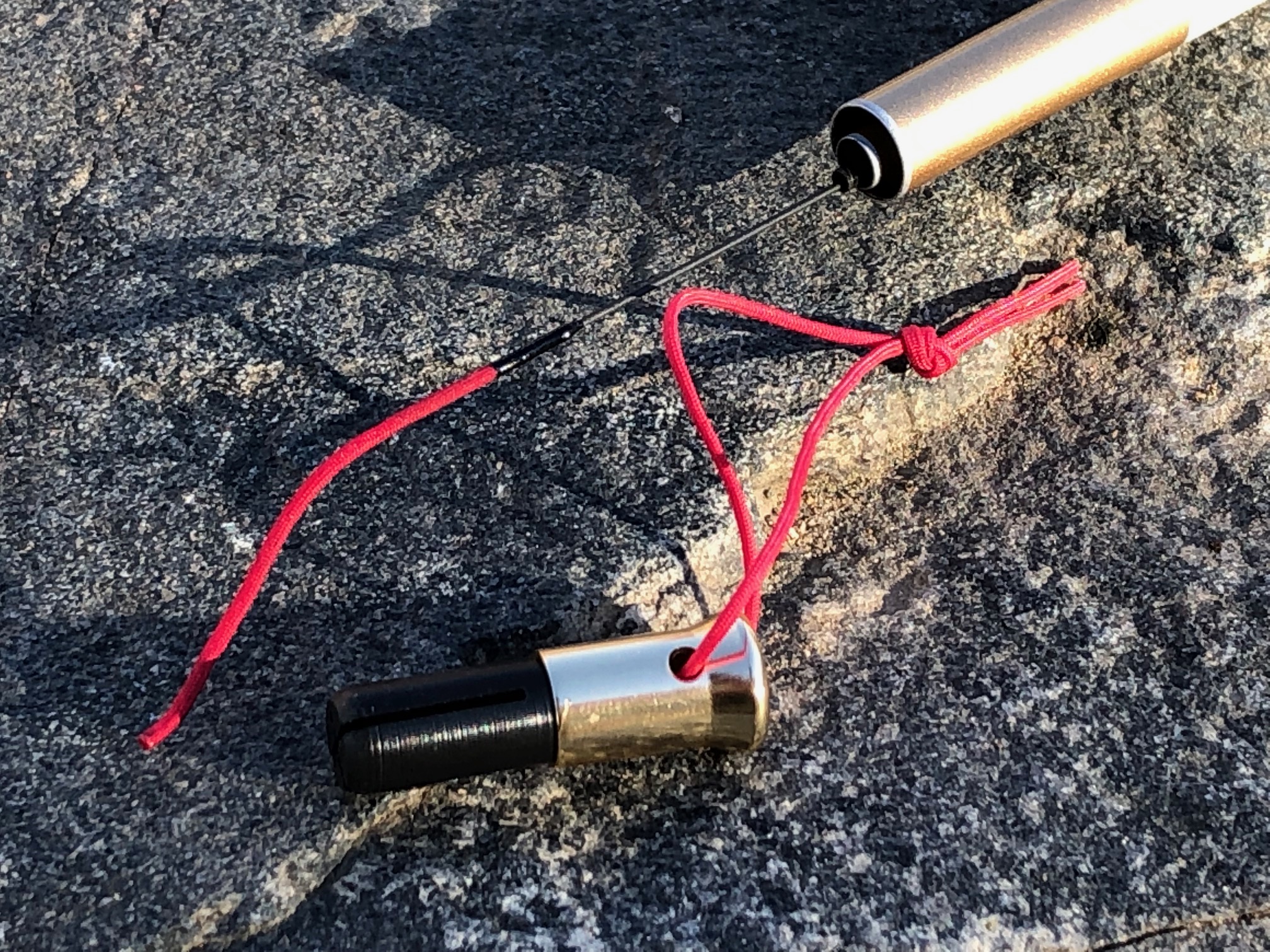 And the the matching metal end cap is both knurled and features a coin slot for easy removal and tightening.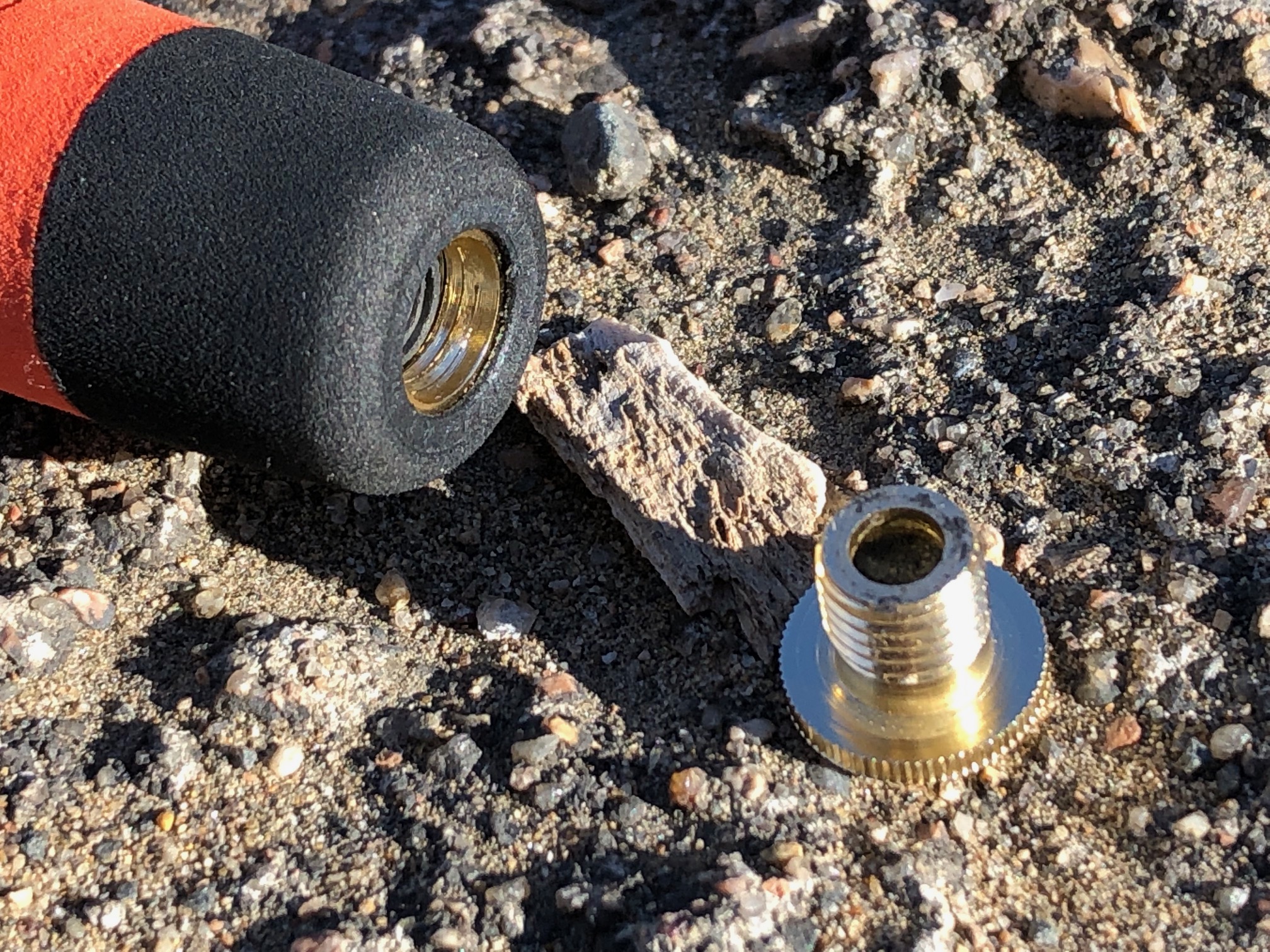 What it comes with
The rod comes in a plastic case and a nylon rod bag with the Tanuki logo and "tanuki" written in Hiragana. No tube is included.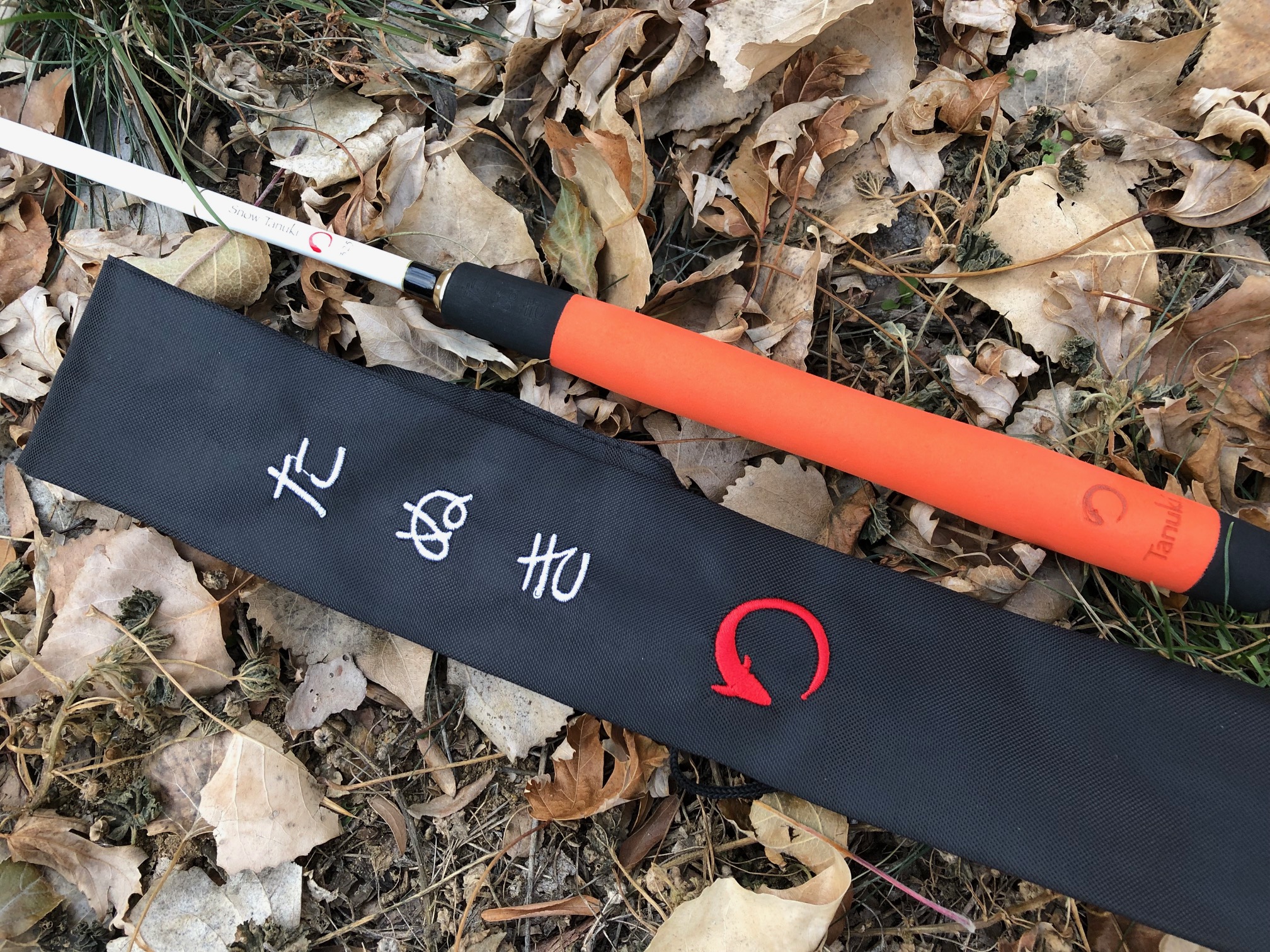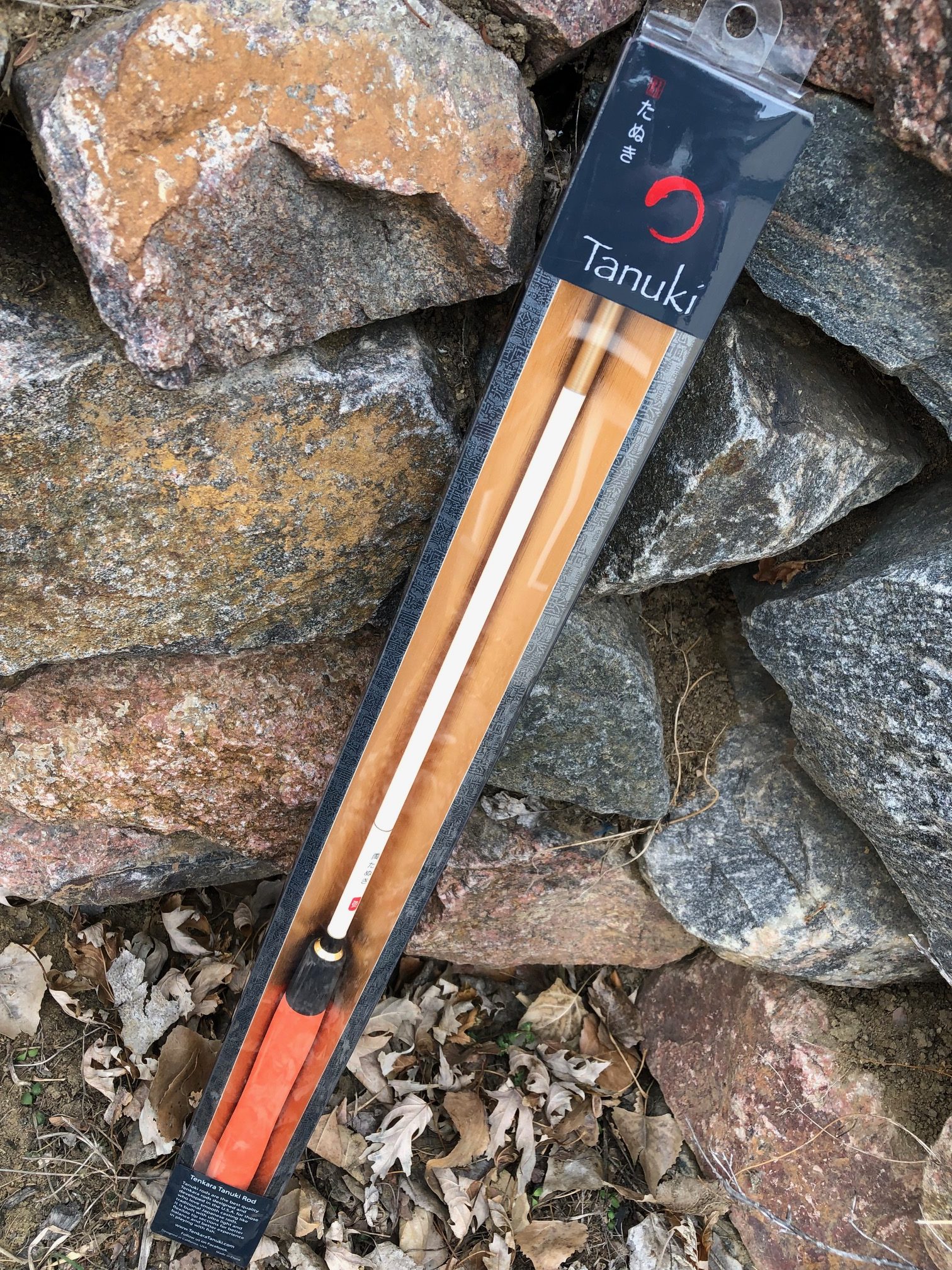 Conclusion
For those of you looking for a new premium rod for small streams and light lines, the Snow 325 should definitely be on your radar. I'd be willing to bet that anyone into finesse fishing will fall in love with this rod the way I have. And if you fish the types of streams I fish, it will surely become your go-to rod.
For more information, pricing, and specs, visit Tenkara Tanuki.