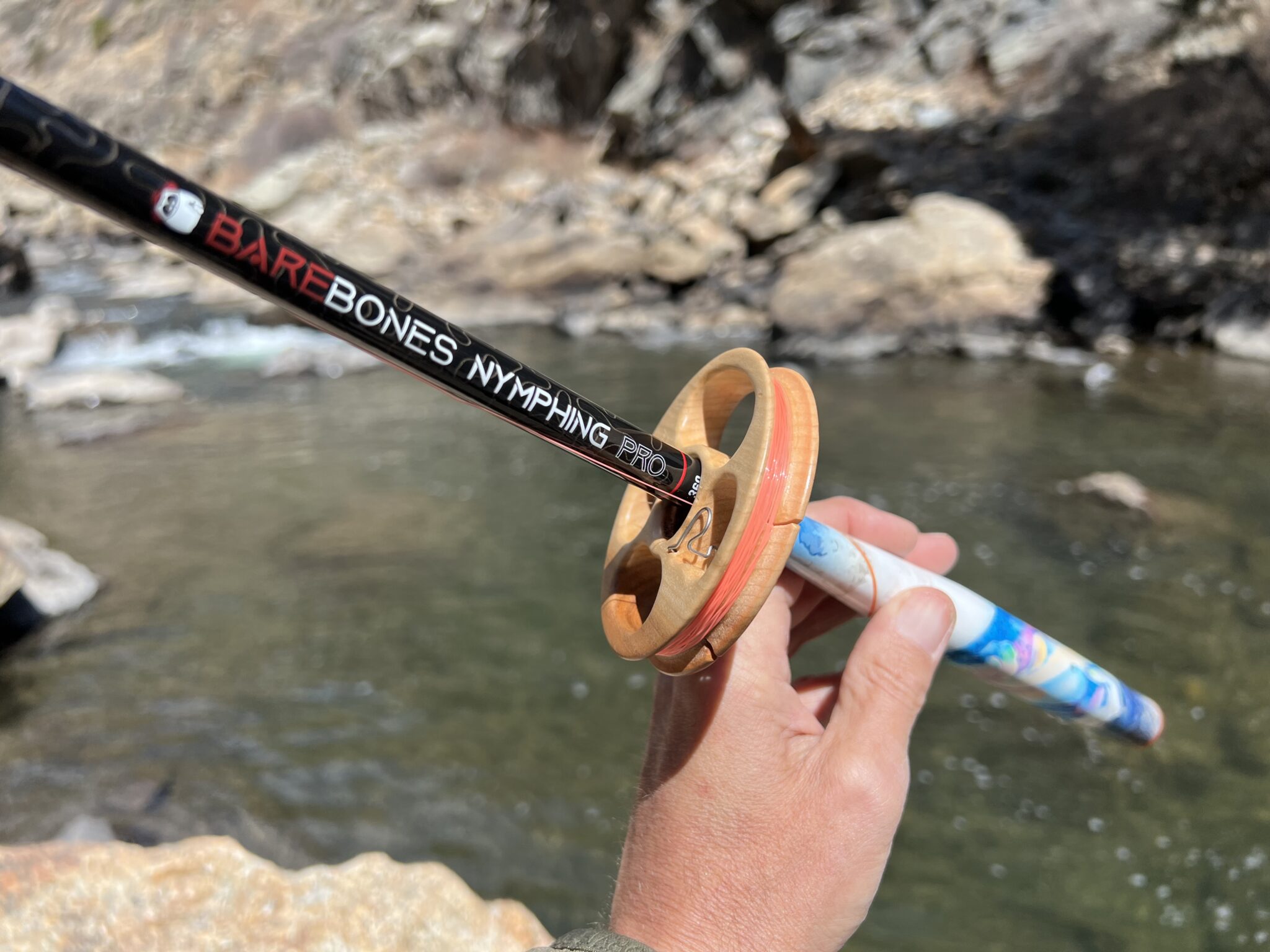 At the 2023 Denver Fly Fishing Show, I got to see some of the newer Tenkara Tanuki models in person. I recently wrote about the Headwaters 240, but the other one I was curious about was the Barebones Nymphing Rod (mostly because I wanted to see exactly what earned it its "nymphing" moniker).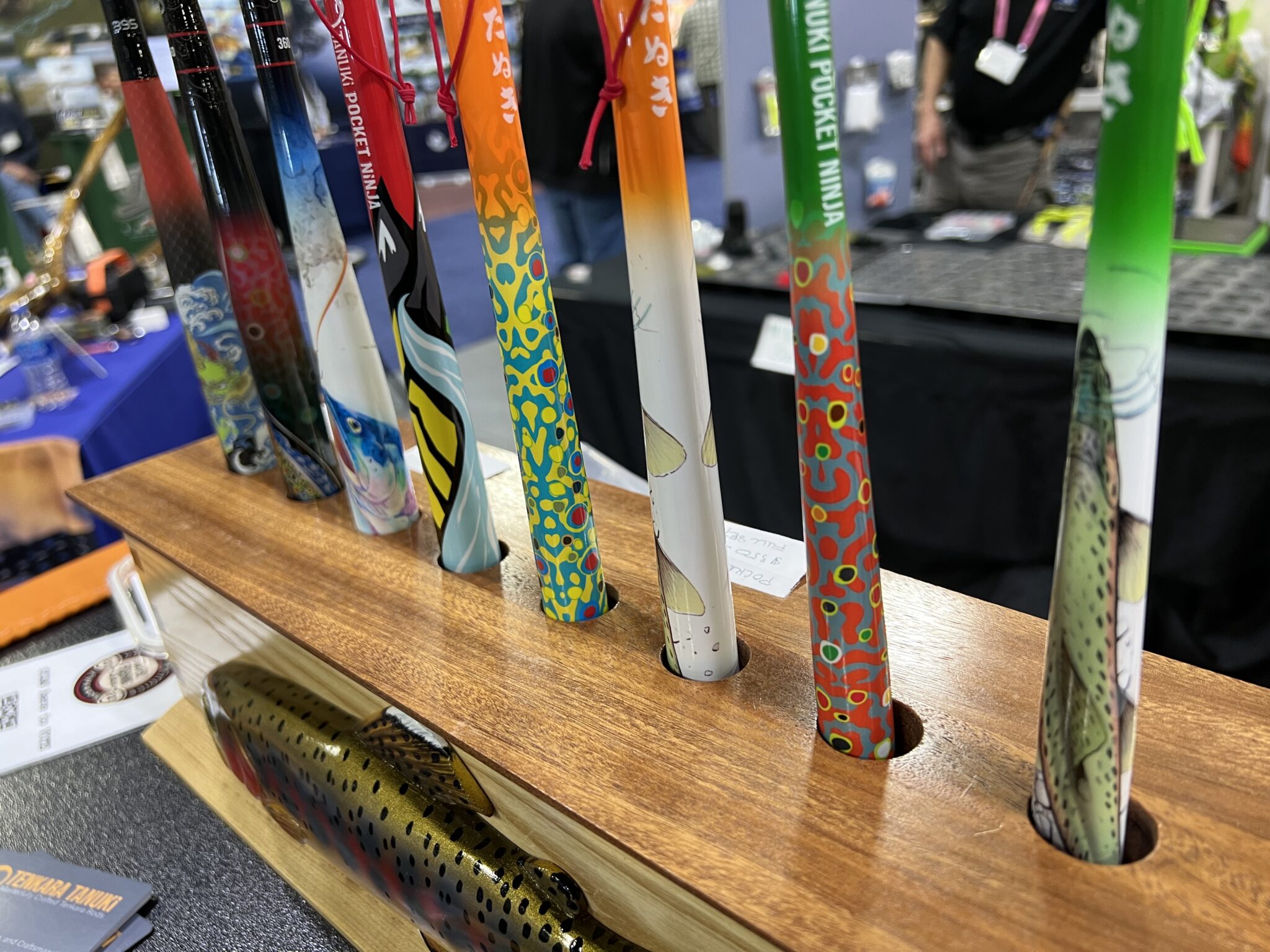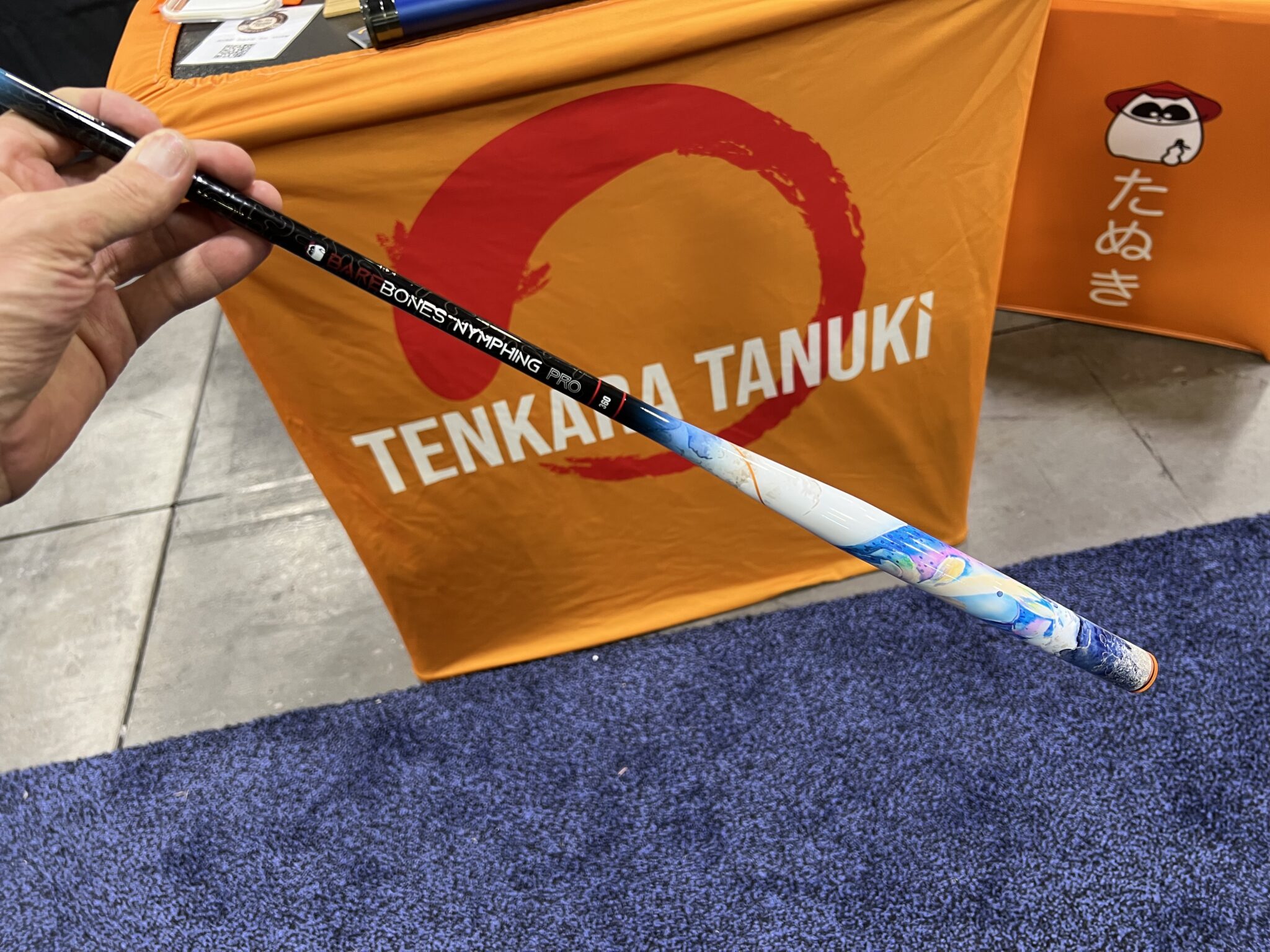 I was finally able to get the rod out on the water for 3 days and give it a thorough field test. And the results were not surprising at all …
Specs
Length:  11′ 8″ (360cm)
Weight:  2.8 oz. (78 grams)
Action: 6:4-ish (read on…)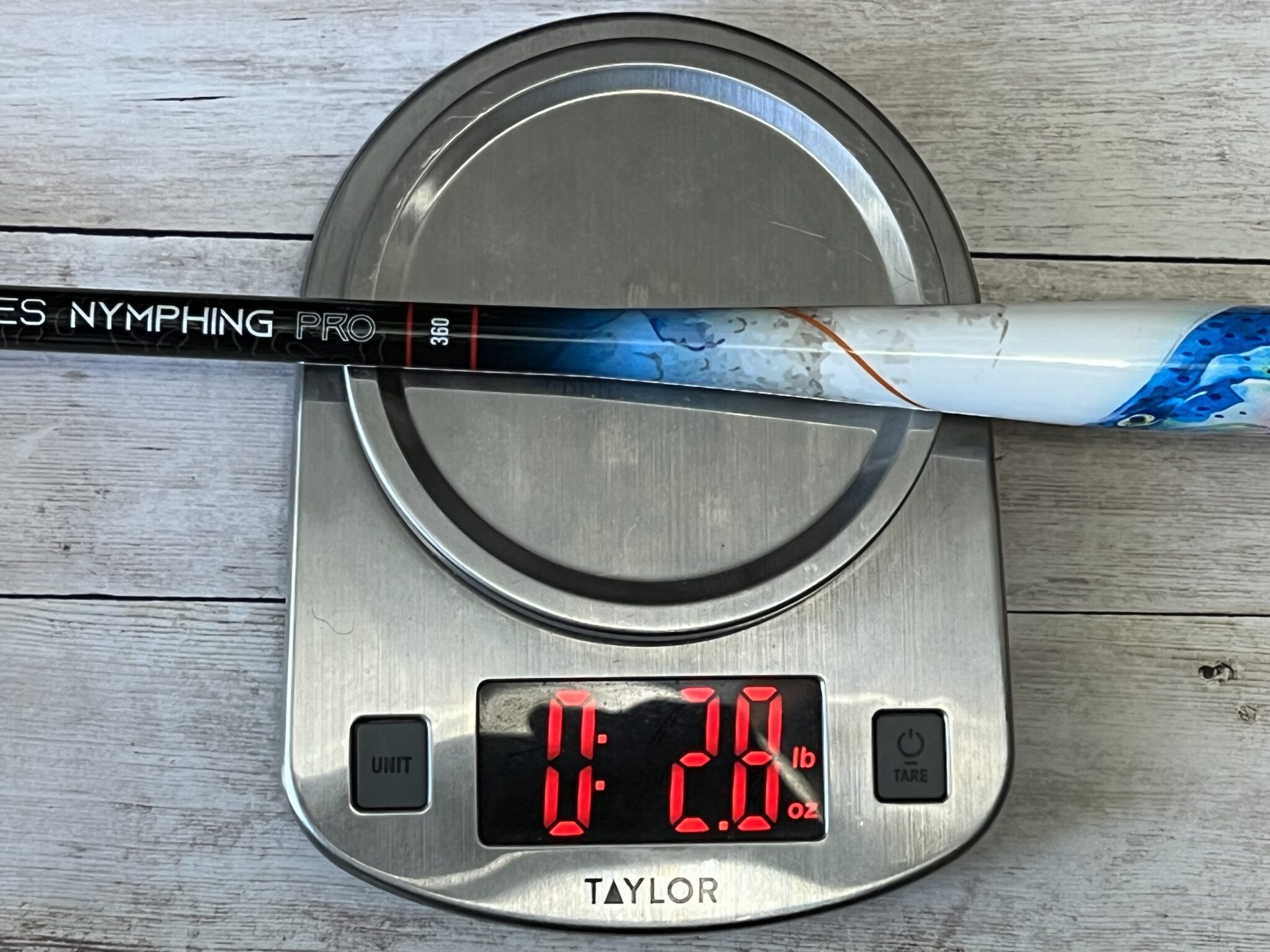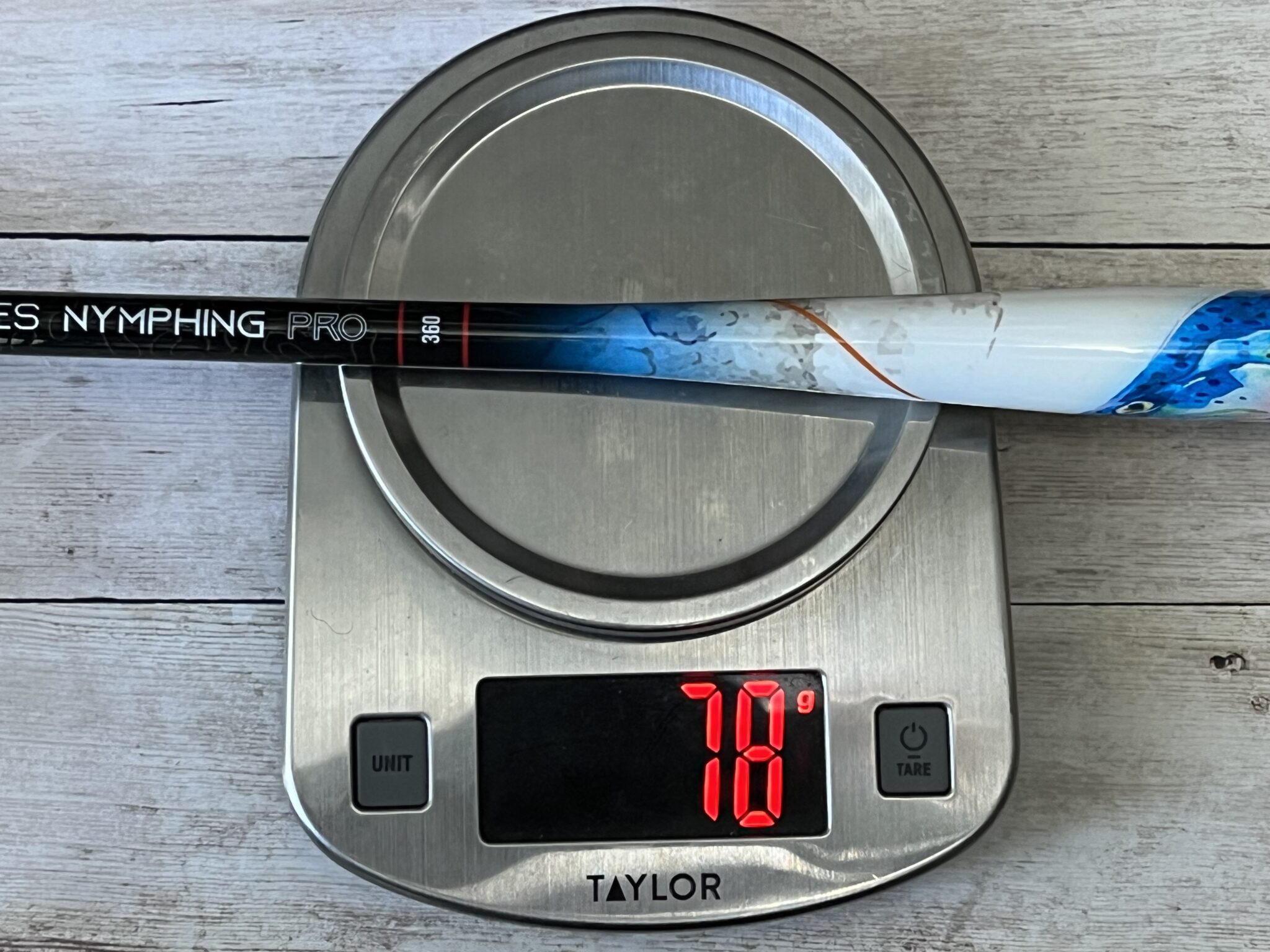 Hardware & Aesthetics
The Barbones sports the instantly-recognizable Tanuki carbon grip with a sharply tapered "half wells" handle. It's decorated with a rainbow trout taking a fly. I know a lot of people are enamored with this design; however, I am decidedly not. I much prefer the more abstract graphic on my Headwaters. It's not that I'm opposed to having art on handles. Just not this art. I just don't like the style of the artist. Luckily, my hand covers it completely while fishing. 🙂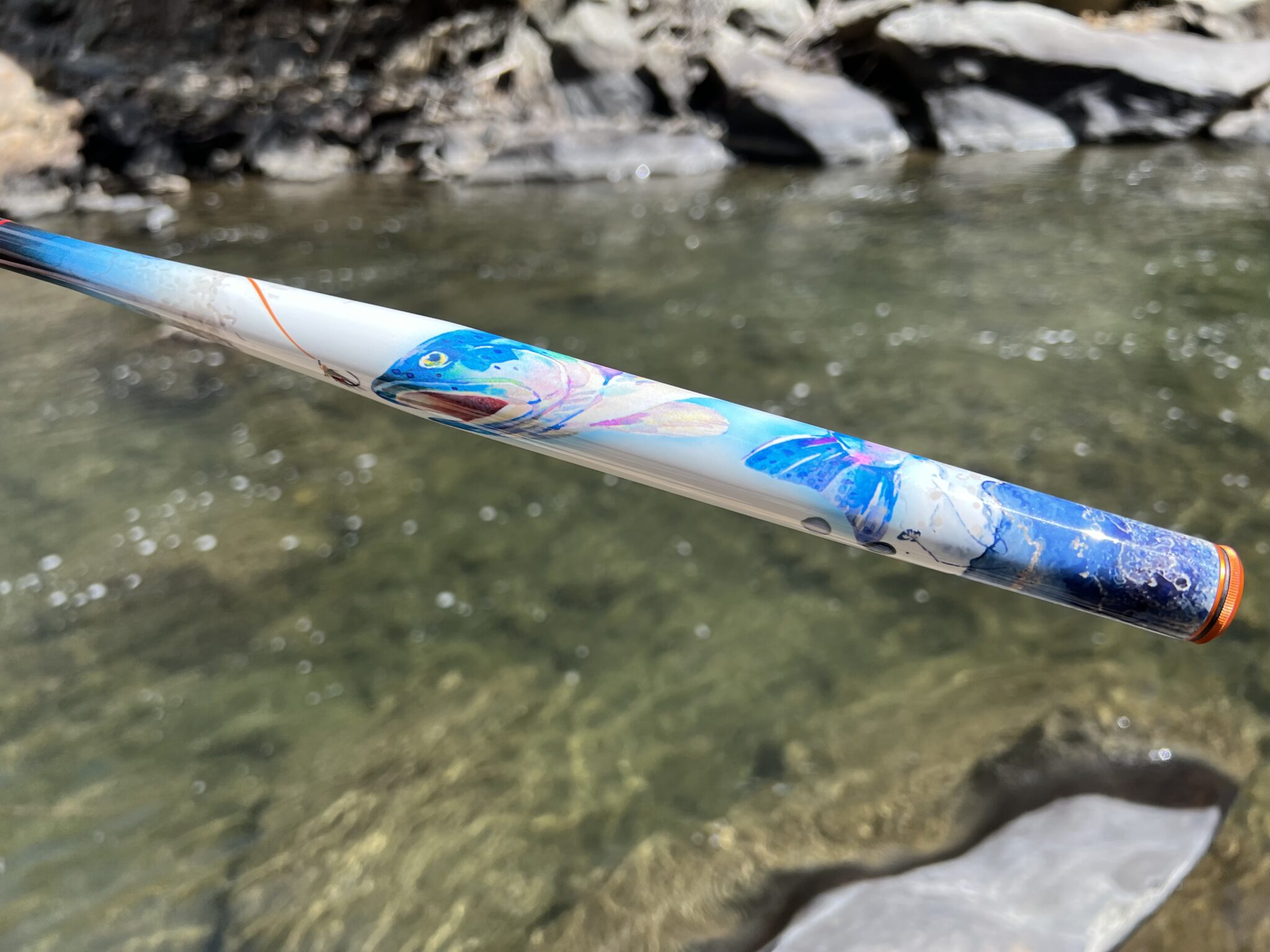 The Barbones has a rotating tip meant to prevent line twist, which you either like or don't . Some people say they cause more breakage. I haven't had that happen (yet). But the other thing I haven't had happen is any rotating tip actually preventing line twist! While I can't attest that rotating tips cause more breakage, I just don't think they really work. So in that case, I'd prefer to see manufacturers nix them altogether.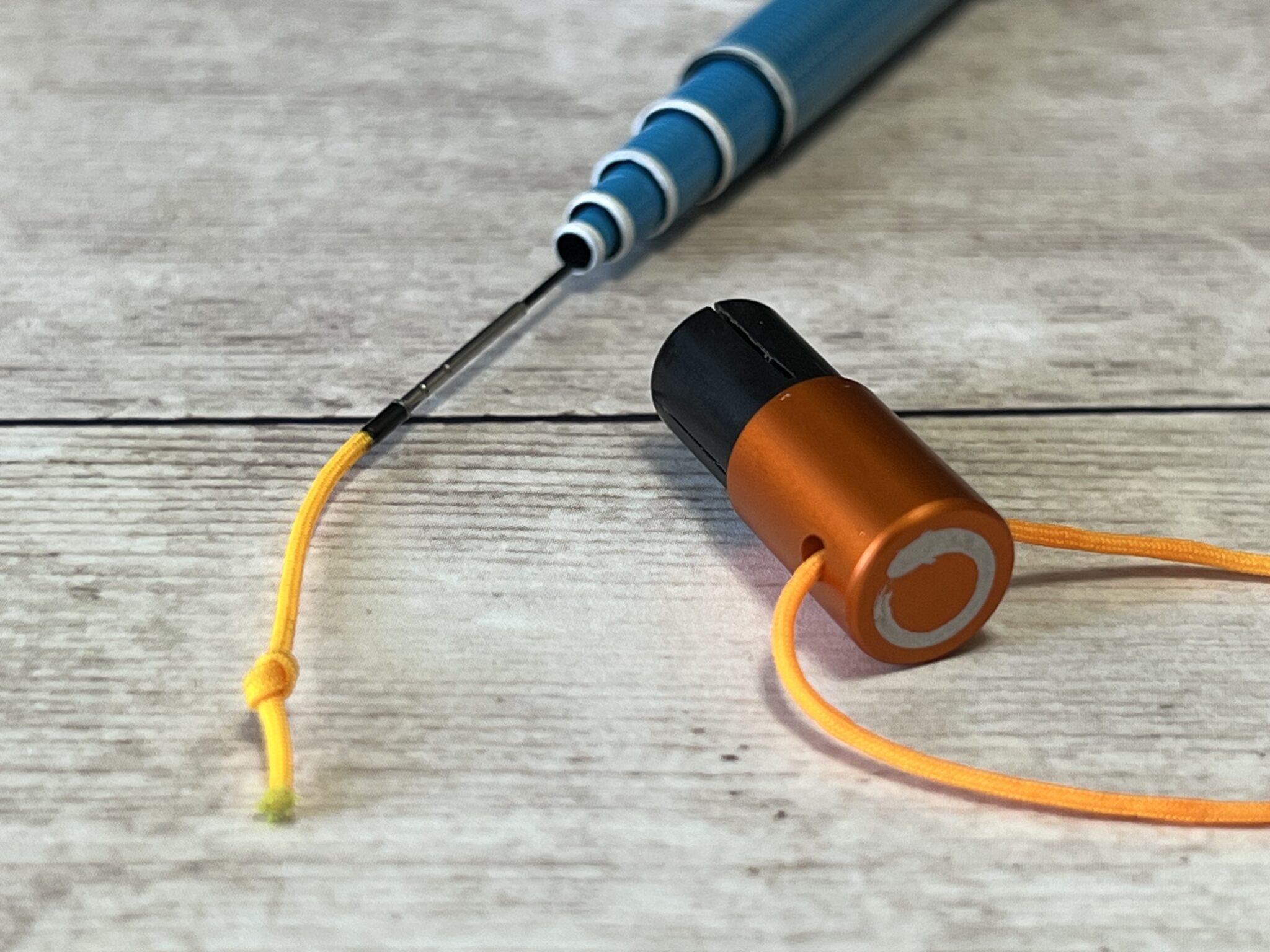 The end cap is a well-machined aluminum knurled knob with the Tanuki logo.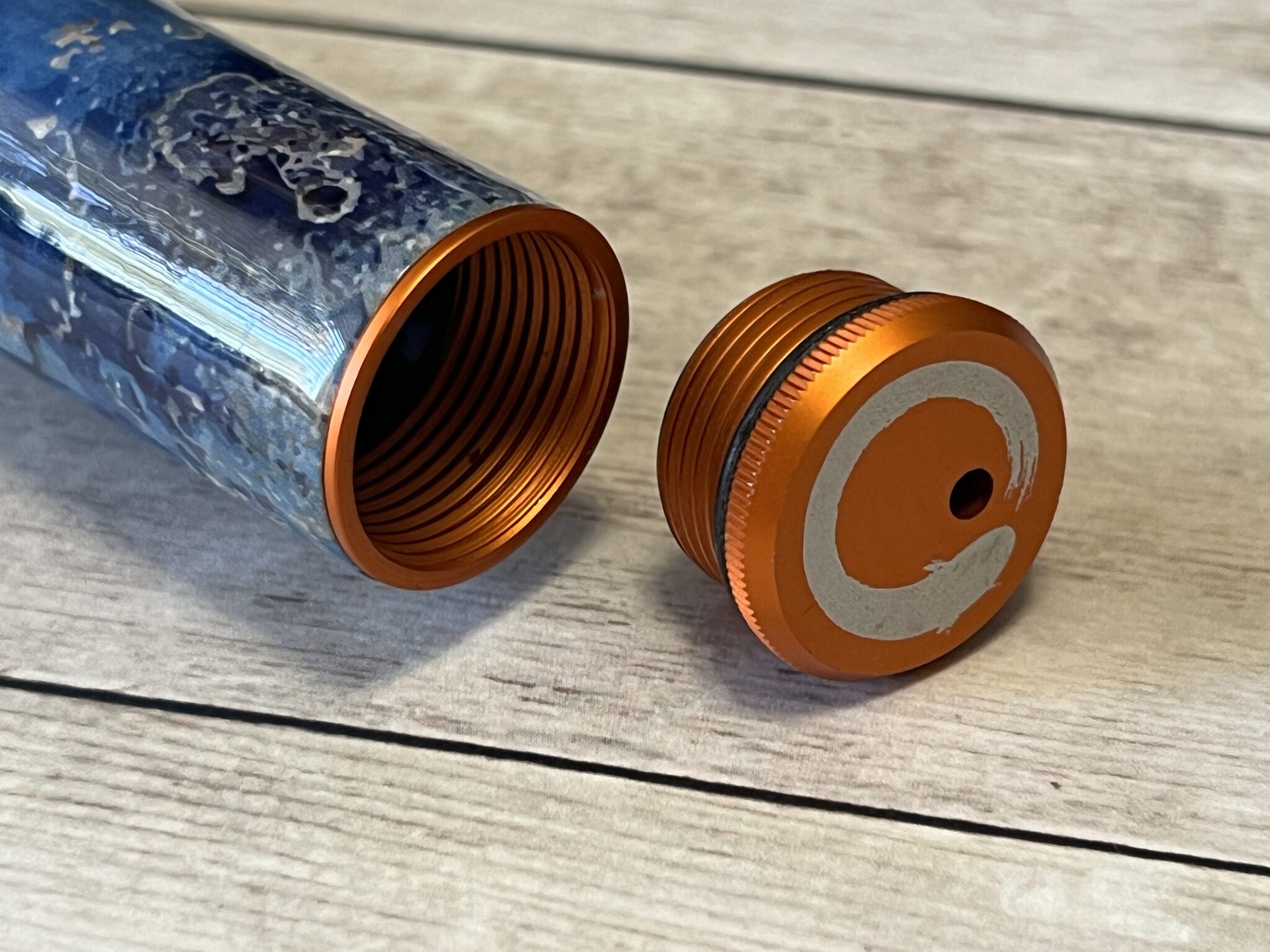 It always surprises me how comfortable carbon grips are. They just "look" uncomfortable. But once I get them in my hand, it's a perfect fit. And the same is true of my Headwaters, Pocket Ninja, etc.. To me, the diameter and contour of the grip are just right and I can fish it all day without fatigue.
The Barebones comes with a very nice red nylon rod bag with gold lettering.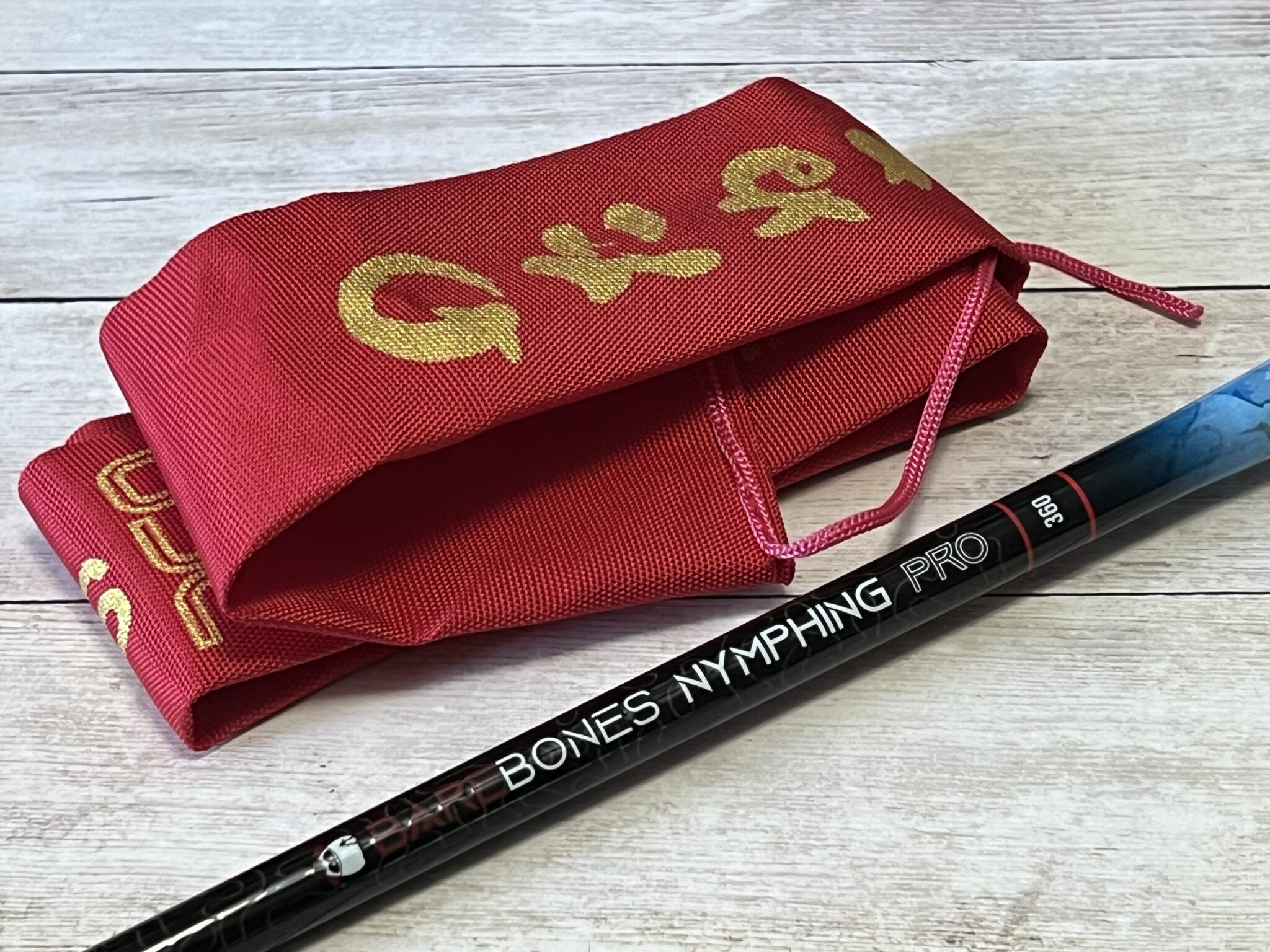 Action & Ergonomics
OK, so above I said the results "weren't surprising." That's because it's a Tanuki rod! That means all the usual characteristics we normally associate with Tanuki are embodied here: light, spry, responsive, good recovery, etc. But what I really wanted to know was:
What makes this a "nymphing" rod?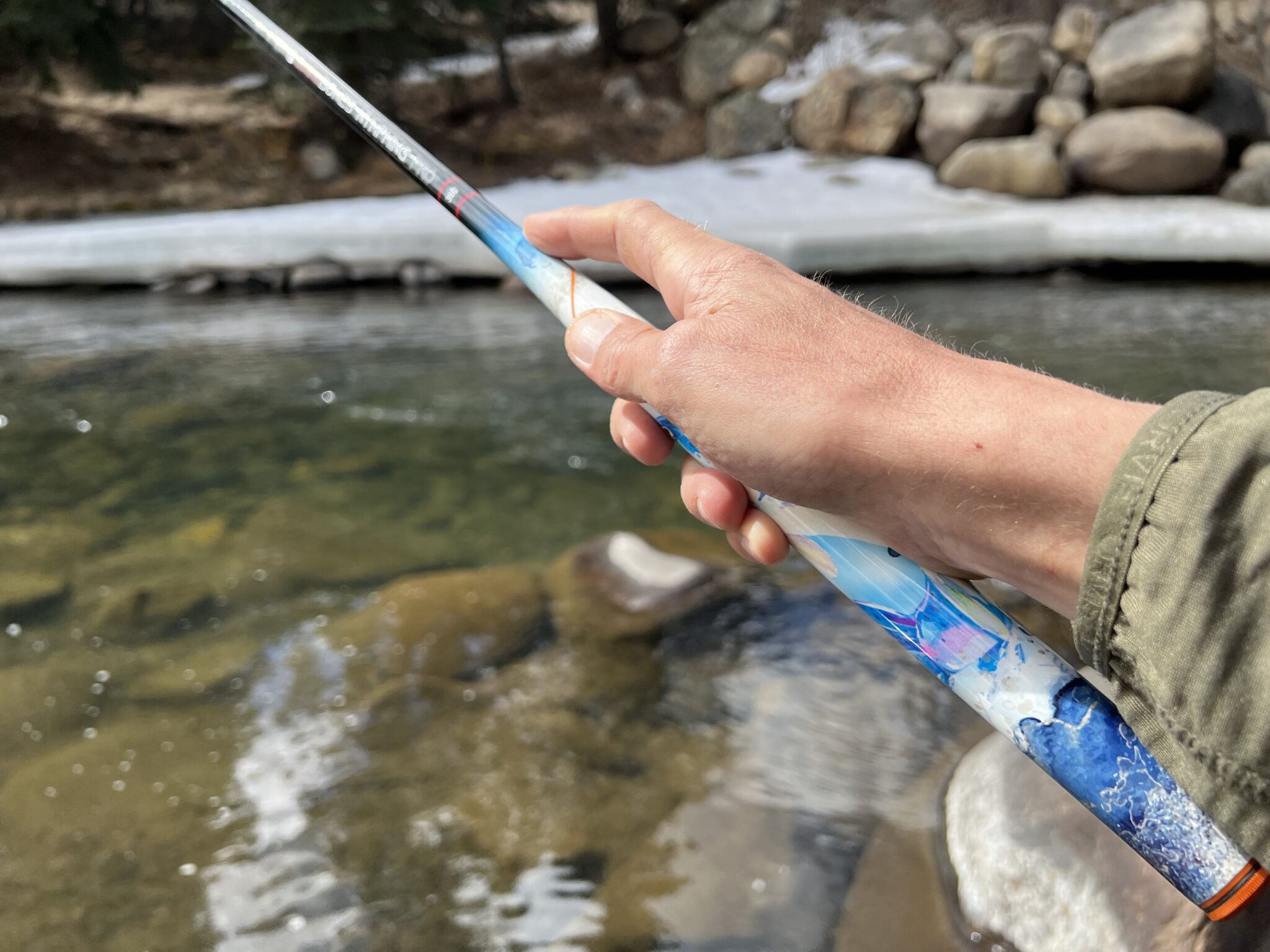 I'll admit, I mostly fished with sakasa kebari during testing but I had to put on a true nymph to really test its mettle. So, for me, that meant a Shetland Killer. It's weighted and I thought it to be a good representative subject for my experiment.
Right away, I "got it". You can really feel the backbone on this rod transmit strikes right down to the handle! When fishing upstream, almost all of my strike detection is visual, not tactile. But there are a lot of anglers who fish tight-line nymphing or Euronymphing that I think would appreciate this.
Under the specs, I wrote that the action is "6:4-ish". That's because that stiff backbone almost makes it feel like a 7:3, but when you cast, the bend profile is clearly a 6:4. It doesn't feel stiff when casting, but you definitely know you've got a lot of reserve power in that backbone. Speaking of which, two of the three days I fished the Barebones, it was extremely windy and I can say the rod handled it better than I expected, which is always a good quality to have in any rod!
The Shetland Killer is a heavy fly (by my standards). It's not only weighted with 7 turns of 0.030 lead wire, but the wool yarn also soaks up water, making it even heavier. The backbone may be stout, the tip is soft enough to absorb the weight and it doesn't feel unwieldy with a heavier fly like many rods.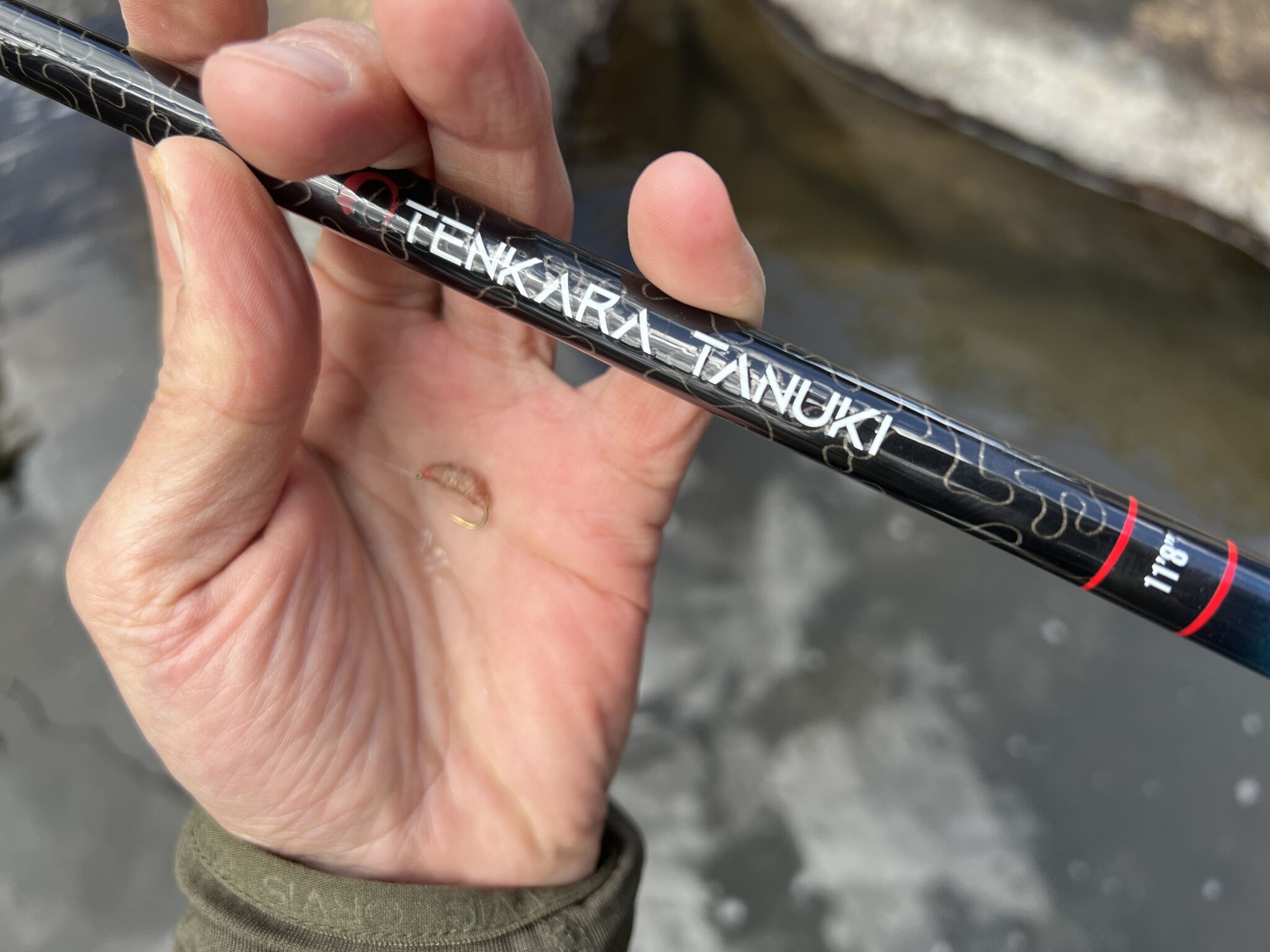 So, I surmise the answer to the question is that the combination of a soft tip with the strong backbone is what makes this a true nymph rod. BUT …
It would a a tragedy to pigeonhole the Barebones a just a nymph rod. As I said, I fished mostly sakasa kebari with it and even caught a few fish on dry flies! And there wasn't a moment when I thought, "it doesn't feel right to fish an unweighted fly on this rod." I'd have no problem recommending the Barebones as an all-purpose rod.
Whenever I field test a new rod, I usually fish with it for maybe half the day, then switch back to my go-to rod. But at the end of the day, I realized I had been fishing the Barebones the whole time!
I'd be remiss if I didn't mention that the backbone also really gives you better hooksets. As soon as you set the hook, you can feel the soft tip yield and instantly get into the backbone. And every wiggle of the fish is transmitted to your hand. It's just a fun rod to catch a fish on.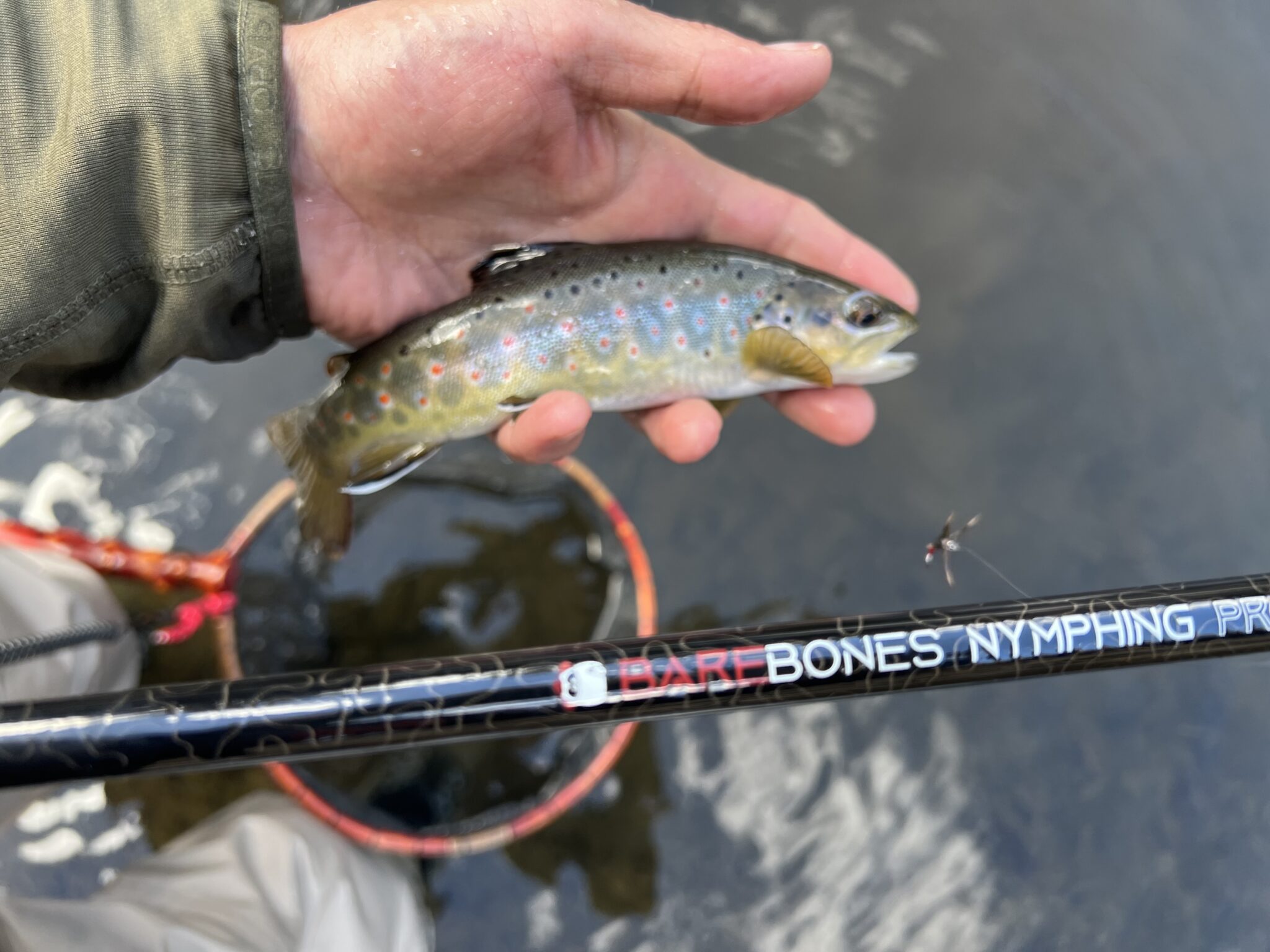 While I didn't catch any large fish with the Barebones, I imagine it would handle them well–affording you commanding leverage to turn the fish into slower water.
Should you get one?
I have yet to fish a Tanuki rod I didn't like. And the Barebones is faithful to the Tanuki design philosophy on every count. If you fish mostly upstream with a weighted fly (tenkara style or western style), this rod excels. You'll appreciate the sensitivity–especially if you prefer to tight-line fish and rely upon tactile detection. But just keep in mind that the Barebones is more versatile than its name suggests. So you'll also be able to cast unweighted wets and dries as well.
For more information or to get your own Barebones Nymphing Pro, visit Tenkara Tanuki.