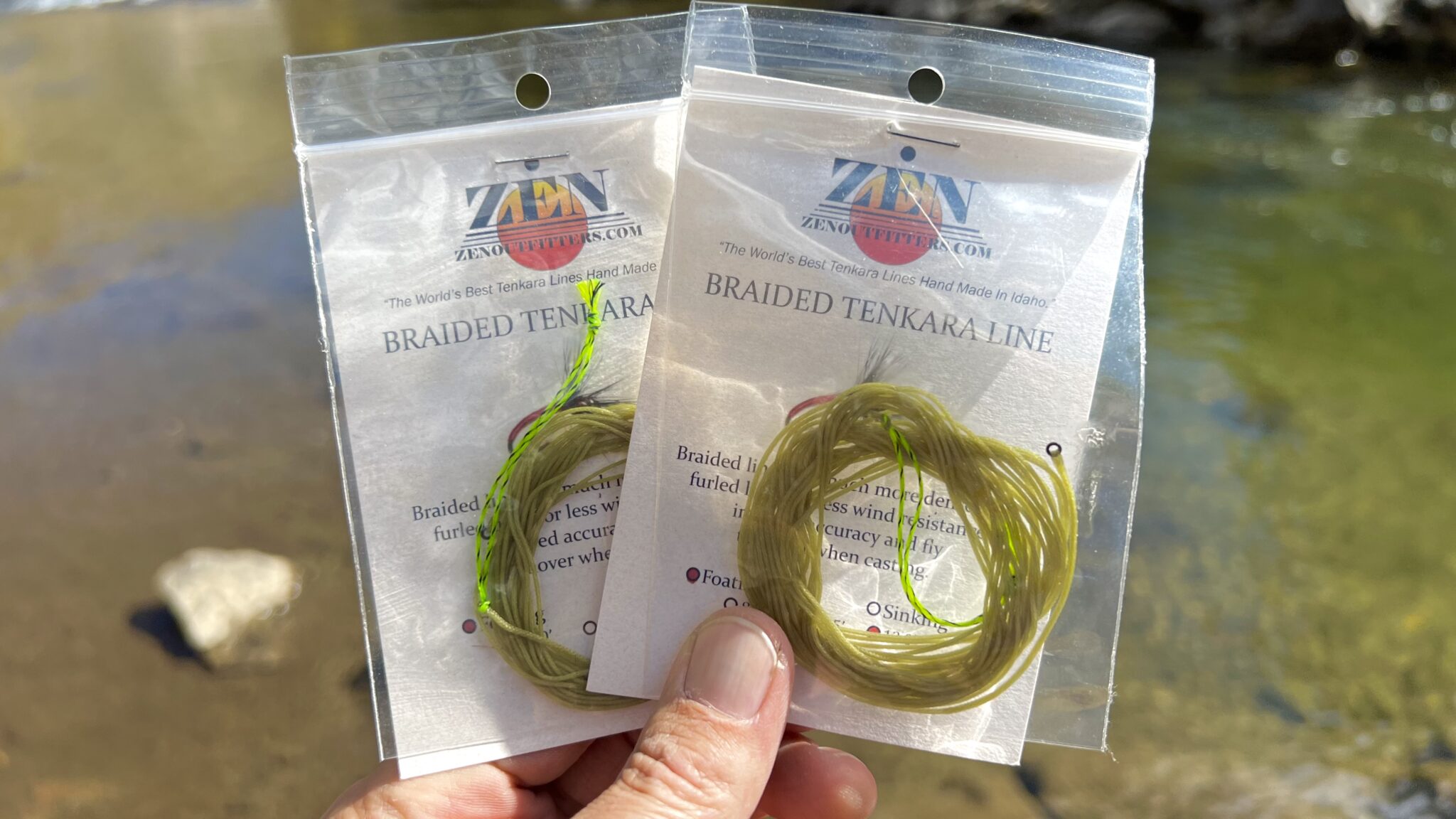 Get 20% off Zen Outfitters braided tenkara lines & wax!
Code: TENKARATALK
Ah, the age-old question: furled line or level line? Each have their pros and cons, and of course, we want all the advantages of both (without their respective disadvantages). Enter: braided level lines!
Braided lines strike a balance between the two: they're thicker and heavier than fluorocarbon lines so they they're easier to cast (and better in the wind). But they're not as thick or heavy as furled lines, so they're more delicate and easier to keep off the water.
I recently fished some of the new floating braided tenkara level lines from Zen Outfitters. I actually tried their lines back in 2014, and since then, they've made some significant improvements in their designs.
Owner Jaime Chriswisser mainly produces premium silk fly lines and furled leaders for western rods, so it's easy to see how that experience carried over to his tenkara line designs.
Their current lineup of tenkara lines includes a range of lengths and colors, and I field tested the 8′ and 13′ in sage (because I wanted a stealthy color).
Specs
Length: 8′, 10.5′, 13′
Colors: Red, yellow, sage
Construction: 16-strand braided polyester
Tippet Connection: Tippet ring
Lilian Connection: Girth-hitch loop
Density: Floating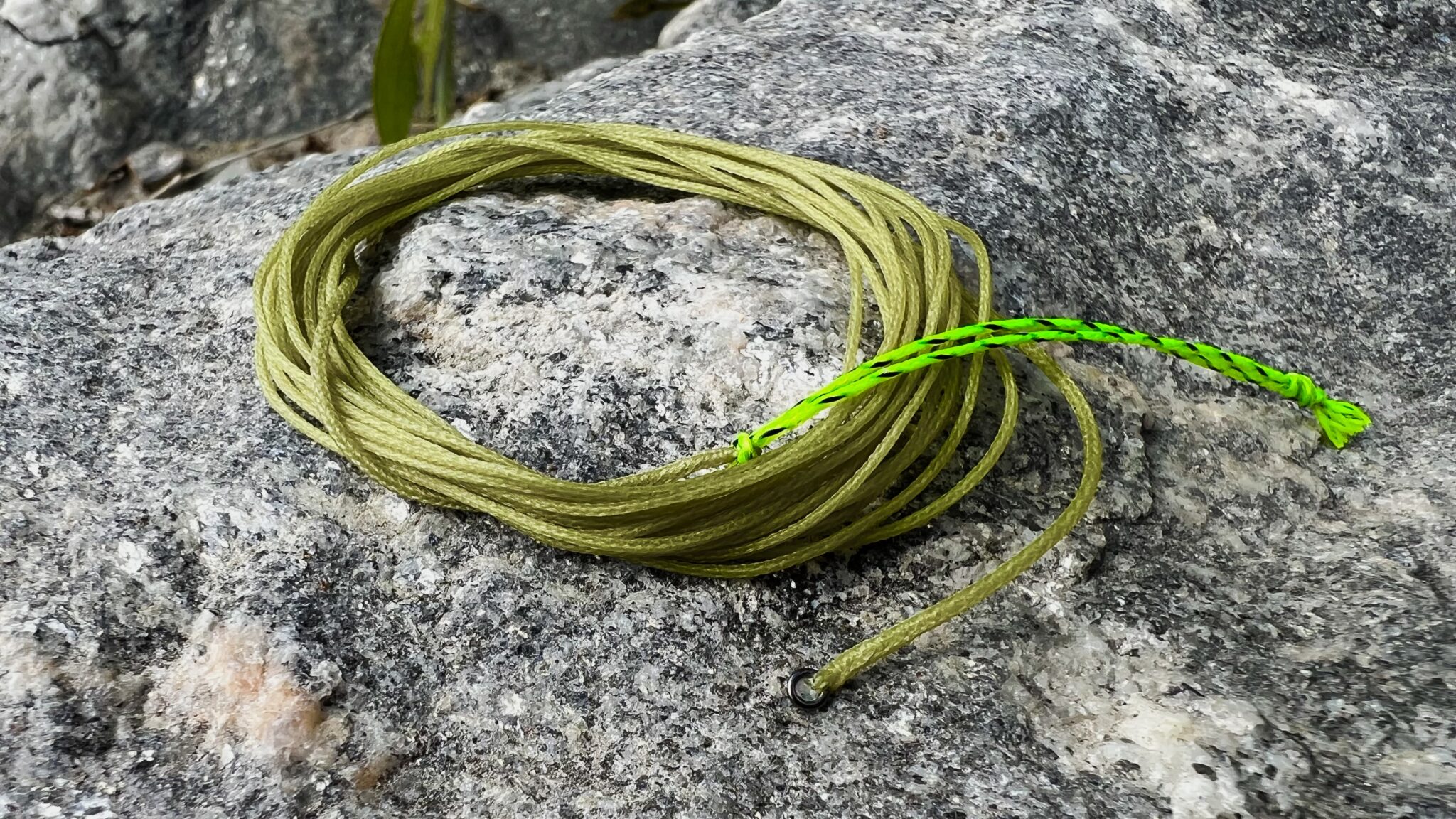 Out of the box
The first thing you'll notice when you initally pull the line from its packaging is that it's coated with a waxy substance. This is Zen Outfitter's proprietary wax that makes the line float and adds durability (much like a waxed-cotton jacket).
Next, you'll notice that it's ready to go right out of the box! With the built-in connection hardware, these lines are extremely user friendly. Simply attach the line to your rod with the girth hitch loop and connect your tippet to the tippet ring using a Clinch, Davy, or whatever your preferred knot is for flies.
Quality
I was immediately impressed by how well-made these lines were. The braid is flawless and all the components are top notch. I don't know much about the braiding process, but I know quality when I see it. And even as anal-retentive as I am, I could not find one defect after close inspection. Jaime is a very detail-orientated person and I have no doubt he wouldn't allow one line to ship out unless it were absolutely perfect. I deeply appreciate people like that.
Casting Performance
If you're used to fluorocarbon lines, these will feel incredibly easy to cast. Since they're heavier, they load the rod with less effort and even though there's no taper, they have enough mass to maintain the transfer of energy all the way down to the tippet to provide outstanding turnover.
In western fly fishing, silk lines are prized for their traditional, smooth feel, and that is echoed in these lines. They just feel "elegant" to cast and require less of your attention than a fluorocarbon line. The extra mass obeys yours commands more faithfully.
Turnover is picture perfect. I was able to get nice, tight loops with little concentration and, more importantly, with great accuracy. Over the course of my two of the days testing, I was sporadically fishing midges on slow, glassy water. Stealth was key and I was glad I had this line with me as one bad cast could have put down the whole pool.
Probably my favorite thing about these lines is that because they're so supple, they really reduce the drag on whatever line you have on the water so it helps get a drag-free drift.
It also makes life easier when winding your line onto your spool–it doesn't "jump" over the edges like a springy fluoro line.
I fished the lines with both stiffer (7:3) and medium fast (6:4) action rods and while they cast well on both, I think most people would find these lines pair best with a med.-fast rod.
Floatation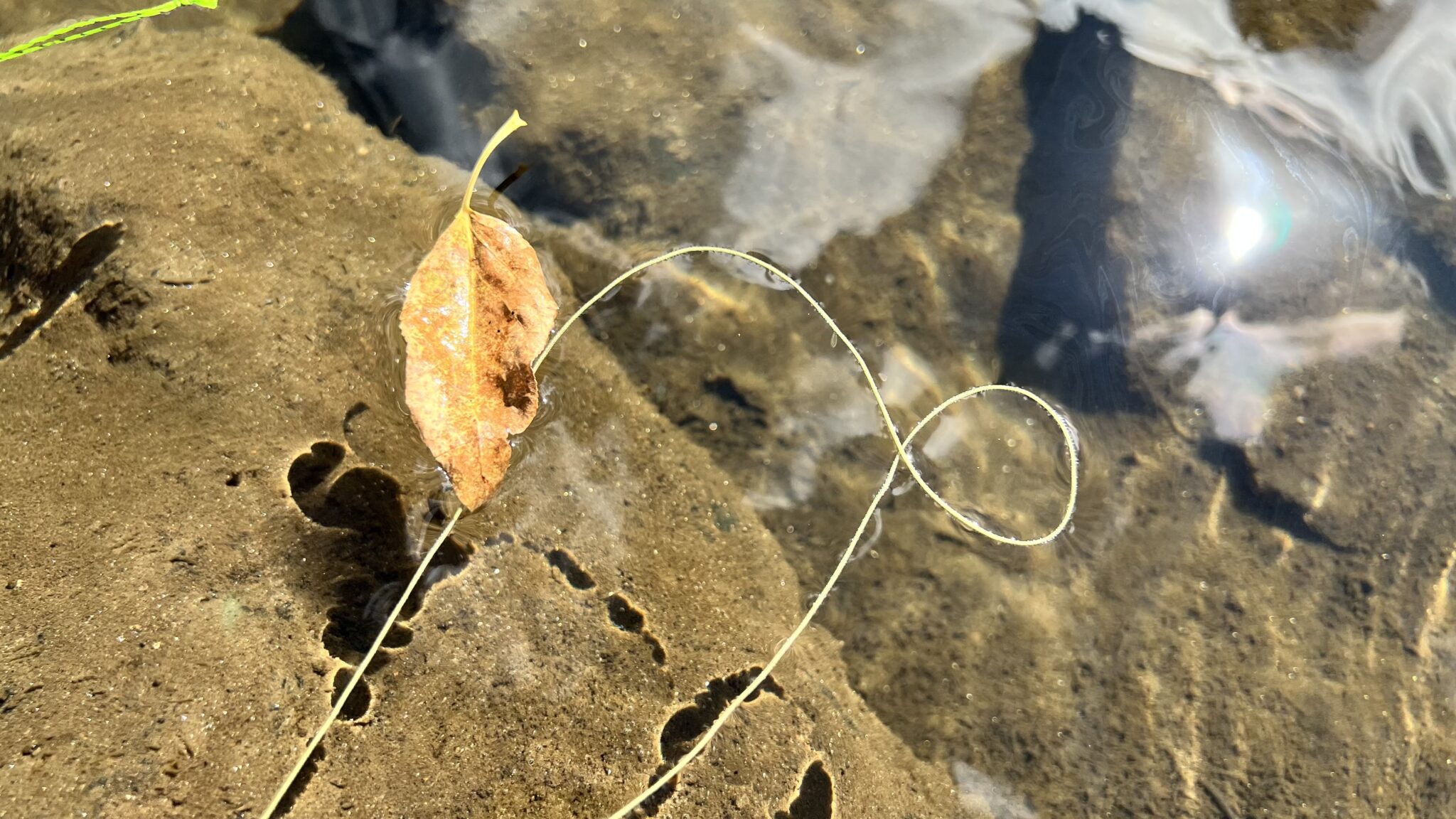 I have to admit that I was impressed with how well these lines float. I'd say they rival the buoyancy of a PVC fly line and I fished them all day with no signs of sinking.
Memory
These lines have about as much memory as a politician on the witness stand. You can forgo the level line stretching ritual and they don't twist themselves into a tangled mess like furled lines. They're extremely user friendly and eliminate the headaches of other lines.
Visibility
Due to their thickness and opacity, it's a given that braided lines like these are hi-vis even in stealthier colors like the sage I chose. But as mentioned, Zen O. also offers bright colors such as red and yellow. But no matter which color you choose, you'll have no problem seeing this line.
Despite my choice of muted color, I was able to track the line easily and strike detection was a breeze while fishing subsurface–I never once wondered where the tip of my line was the way I sometimes do with fluorocarbon.
Accuracy
I didn't notice that these lines were any more or less accurate than any similar line I've fished. I got the fly where I wanted to go every time. But I think accuracy probably has to do more with the rod and the caster rather than the line. So I have no concerns about accuracy here.
Presentation
I think probably the greatest advantage of these lines is their suppleness. By employing polyester rather than nylon or fluorocarbon, Zen Outfitters' braided lines offer a better drag-free drift because any line that is on the water will more cooperatively go along with the microcurrents on the surface and won't put up as much resistance as stiffer materials. This also means you can make a more delicate terminal cast and present the fly subtly.
And, when you do want to keep the line off the water, these are lighter than a furled line so you won't get as much sag and will more easily be able to maintain a direct connection to your fly for less drag, better strike detection, and solid hooksets.
Handling
I mentioned that a nice feature is that these braided lines are a little easier to wind on the spool, but another advantage I didn't even realize until I fished them was hand-lining. Because they're relatively thicker than fluorocarbon lines, they more comfortable when hand-lining the fish in.
Applications
I consider these general-purpose lines; however, there are a few applications where I think they'd be a particularly good choice.
Dry Fly Fishing
While I fished these lines with both dry and subsurface flies, I think they really shine for dries. Even though tenkara's credo is to "keep as much line off the water as possible", in real life, this isn't always desirable (or possible). Sometimes you need to anchor the line, or intentionally keep the line on the water, in windy conditions (for example).
While I'm guilty of fishing fluorocarbon lines with dries, it's more out of laziness. I mostly fish subsurface flies, but if I want to switch quickly to a dry, I don't feel like changing lines. But if I knew I were going to mostly fish dries for the day, I'd rig up with a line like this. OR, ideally, I'd have two rods rigged up–one for nymphing and one for dries. But that's sometimes not feasible.
Windy Conditions
Anyone who curses level fluorocarbon lines on windy days will love these lines. Their extra mass cuts through the wind much better, and without sacrificing delicacy.
Stealth Operations
Speaking of delicacy, on both days I fished the line, I mentioned that I happened to be on a few slow, deep pools and the fish were sipping tiny chironomids. I was able to gently land my fly right in front of the fish without spooking them. It also helped that the wax keeps the line from picking up water and spraying it all over the surface and announcing your presence to every fish in the pool.
Stillwaters
I haven't tried these specific lines on lakes yet, but I will and I know they'll be an excellent choice. Many people fish PVC floating lines for stillwaters because they're great in the wind, but they're not exactly delicate. And if you're facing spooky trout in small lake, your line can make the difference between hooking up and scaring the hell out of them. In many small lakes (especially alpine), trout don't have access to hiding places like they do in rivers. They're constantly en garde for arial attacks and will bug out at the slightest hint of something out of place. So you need all the stealth you can get.
While these braided lines aren't quite as good in the wind and PVC, they're much more delicate, so they offer a good compromise and are certainly a better choice than level fluorocarbon in such situations.
Maintenance
These lines do require minimal maintenance (see the instructions below). But the most important thing is to completely dry the line before storing.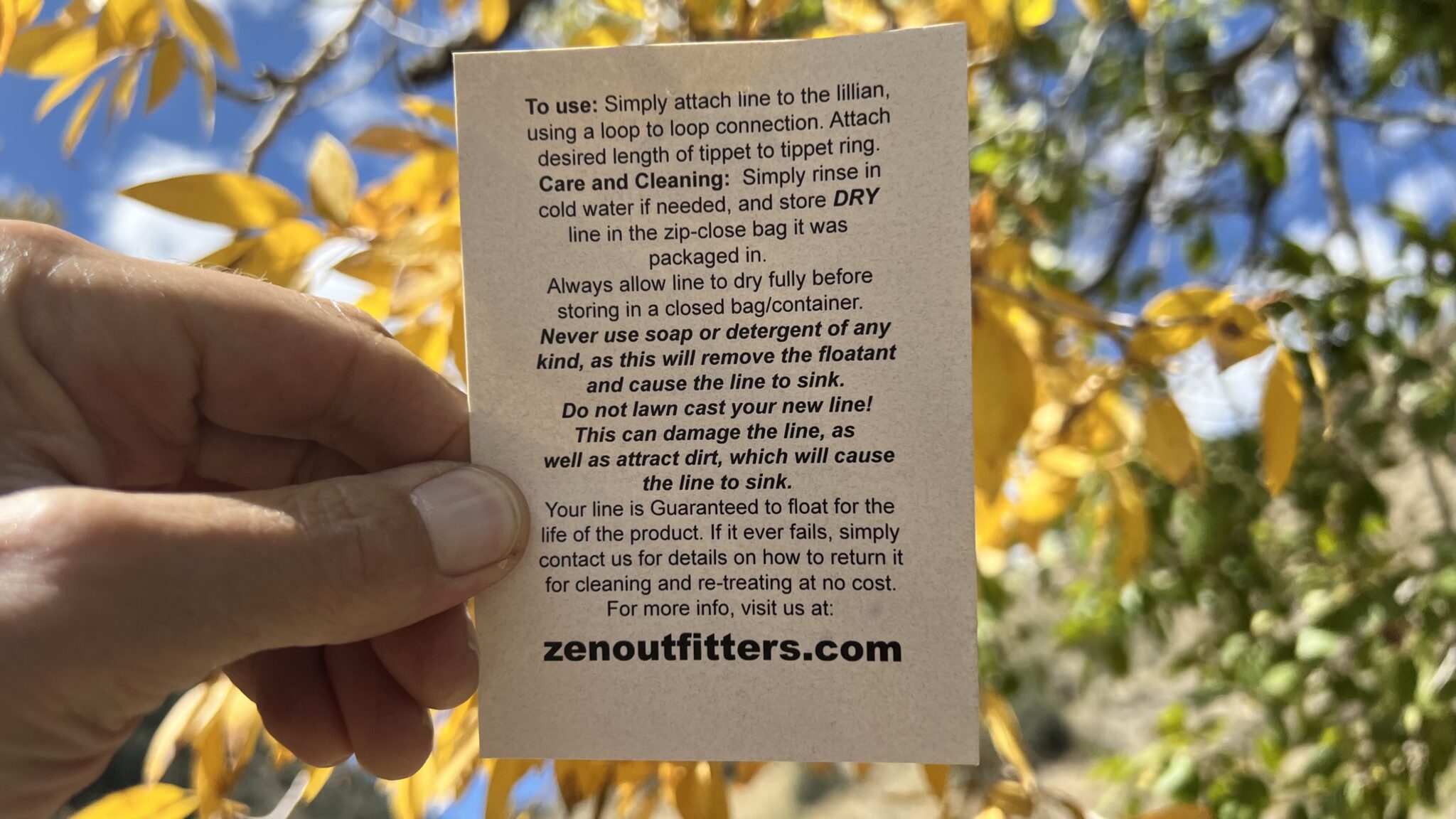 I obviously haven't had the lines long enough to see how long the wax coating lasts, but you can easily re-treat yours with a tin of Zen Outfitters' Snake Oil (their proprietary wax that makes it float and adds durability) sold separately. One tin will be a lifetime supply.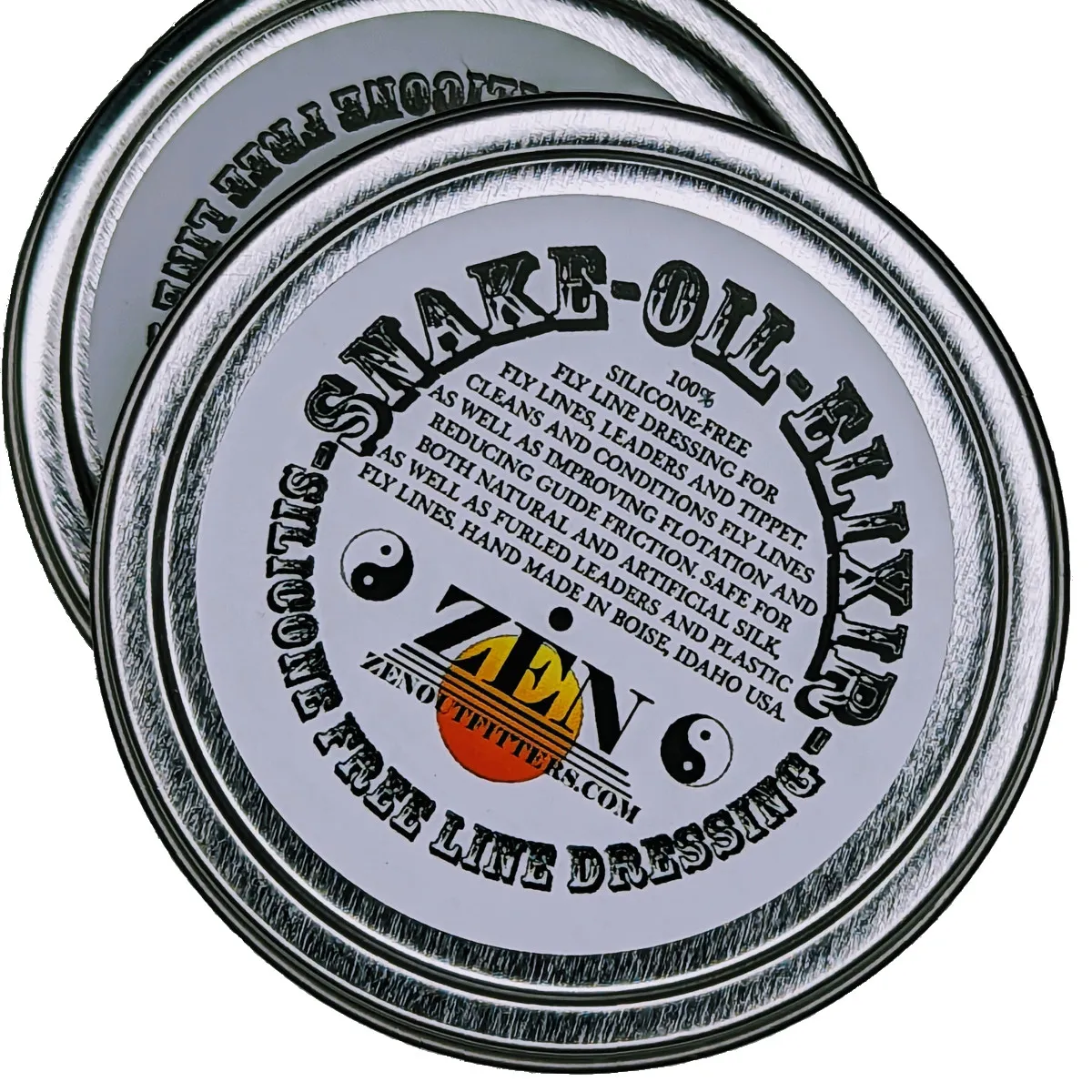 Advantages of level braided lines
No memory
Suppleness reduces drag
Easier to keep off the water
Easier hand lining
Less spray
High visibility
Excellent floatation
Harkens back to tradition
So to summarize, these are great all-around lines for beginner or expert alike. Whether you're on a quest for the best line for you, are a level line luddite who wishes you had a little more power or a furled-line fisher who wishes you had a little more delicacy, you owe it to yourself to give these a try.
They're about half the price of most furled lines so that means if you somehow destroy one, the replacement cost is less painful and your can buy double the number of lines for the same money. So that means you can buy a few in different lengths or colors so you're prepared for a range of situations.
There isn't much discussion about braided level lines in tenkara, but there should be. And I'm good glad Jaime reached out to me and made me revisit them. I've been fishing level fluorocarbon so long now that I've ignored alternatives and this was a great wake up call for me.
i'm not saying I'll give up my fluorocarbon, but field testing these lines made me realize I've been selling my fishing short by being so narrow-minded in my line choice. And if you give them a shot, you might have the same epiphany.
Get 20% off all Zen Outfitters braided tenkara lines & wax!
Code: TENKARATALK
all arounf