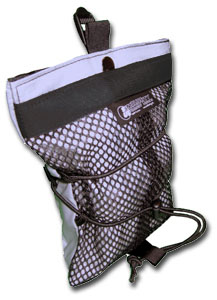 I'm one of those people who likes to fish my way up to my campsite.  I'm usually not wading so leaving my pack on while I hit pocket water along the way is my typical MO.  Yet, I want quick access to my flies, floatant, nippers, and tippet.  Here's a great little pouch you can affix to the shoulder strap of your pack that will keep all of the essentials readily accessible:  The UnSlack Pack.
While not specifically designed for fly fishing, it will keep the essentials at hand for minimal weight.  But I'm working on a design with a manufacturer that is specifically designed for backpacking fly fishers that will allow you to keep all of your flyfishing gear in one place, attach it to the shoulder strap of your pack, or, wear it around your neck if your want to leave your pack or camp behind.  It will be more functional, yet ultralight.  What do you think?
Like this article? You might also like these ...