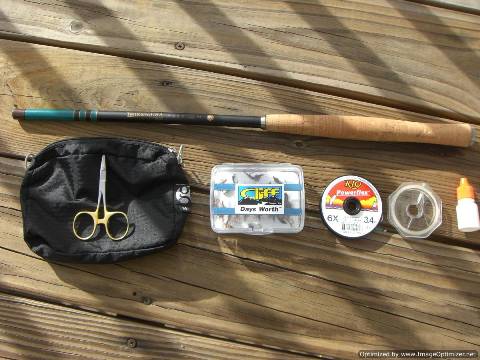 To me, one of the most interesting challenges of fly fishing on multi-day hikes is coming up with a system that allows you to carry all of the essentials without lugging a 15 lb. vest up the trail.  Although my system is constantly evolving, here's one that I found works well.  Total weight (including rod):  7.3 oz.
Contents (from top, then left to right).
1.  Tenkara Iwana 12' rod.  I don't carry a case.
2.  Gossamer Gear Hip belt pocket.  This can be worn on my belt, hip belt, or I can tie paracord around the loops on each end and wear it around my neck.
3.  Stream Works Micro Forceps.  These also have scissors built in, eliminating the need to carry nippers.
4.  Cliff Day's Worth fly box.  Great organizational features and customizable.
5.  Tippet spool.  I change the size depending on where I'm going but it's usually 5x or 6x.
6.  Tenkara fly line and spool for storage.
7.  Micro dropper bottle containing floatant.  I don't need to carry the full-size bottle.
All in all, this is a very compact system and I haven't felt the need to add anything yet.  Keep in mind, this is for small stream trout fishing only.  So what does your system look like?  I started a thread in the forum for you to share.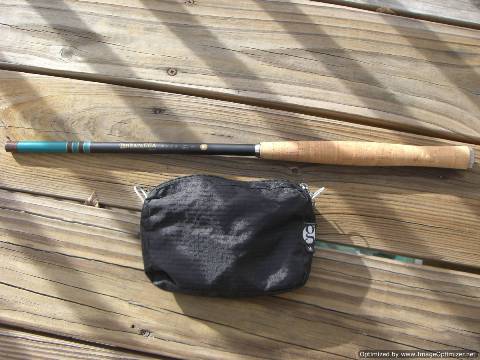 Like this article? You might also like these ...