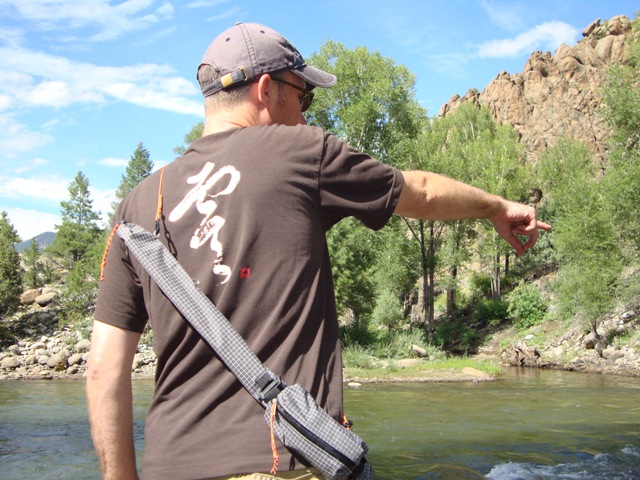 [/caption]
While Tenkara fishing is often pigeonholed as being only for small streams, I've recently fallen in love with Tenkara fishing in lakes.  Just as the lack of a reel and the ability to shoot line force you to change your technique on rivers, so too does Tenkara force you to adapt your method in stillwaters–posing a fun challenge for fly fishers looking to put their skills to the test.  Here are some observations I've made when fishing lakes with Tenkara fly rods.
Gear for Tenkara Lake Fishing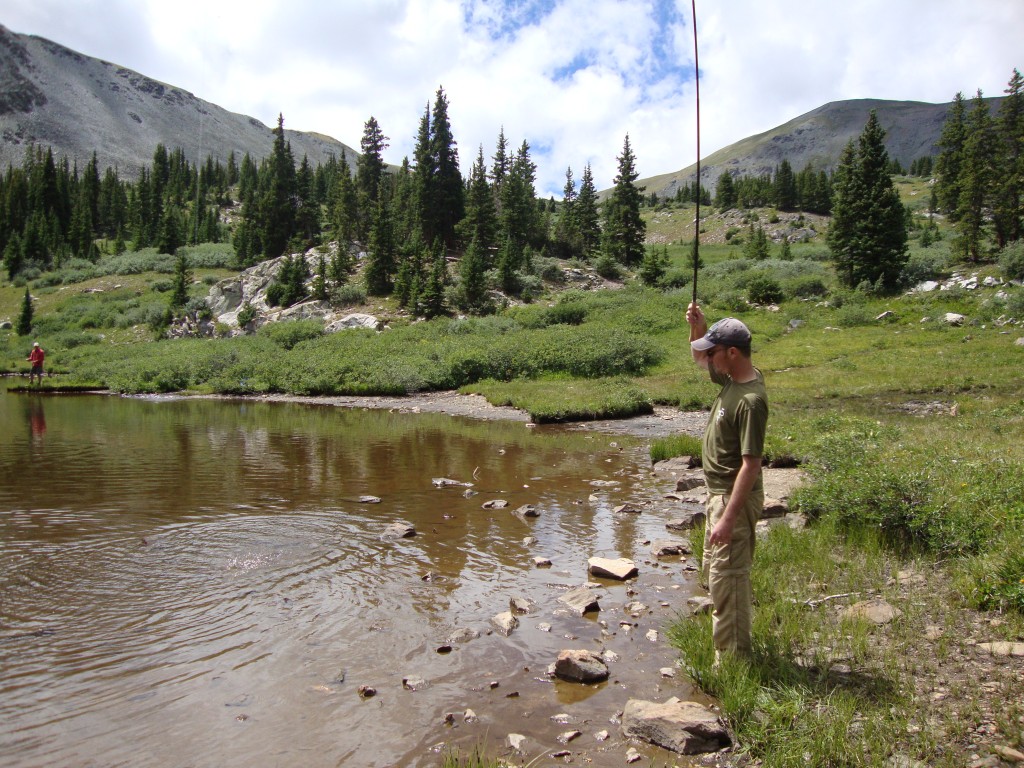 In my opinion, the Tenkara USA Amago is the best choice of rod for lake fishing.  The 13' 6" length extends your reach considerably (especially if you're not wading) and I find the action to be just right for throwing small flies with a long, fine tippet.  I have had the most success with #20 or smaller midge patterns on a 6X or 7X tippet.   My favorite pattern is a #22 Griffith's Gnat with a pearlescent Flashabou tag.  A close second is a #20 or #22 Blue Winged Olive Comparadun.  Using a Tenkara USA standard 10' 6" fly line, I typically attach a 5 ft. tippet.  This not only gives you a ittle more distance but also delivers a gentler landing to spooky fish.
Tenkara Lake Fishing Strategy
Other than the fact that you can't boom out a 60 ft. cast, Tenkara lake fishing isn't that different than stillwater fishing with a conventional fly rod.  All of the lake fishing I do is in small to medium size lakes where I can sight fish so what I'm about to describe wouldn't apply if you're blind fishing in Lake Michigan (for example).
People new to fly fishing in lakes often make a common mistake:  they move too much.  Changing spots makes sense in streams, but in lakes, it rarely does.  In fact, it's usually the opposite:  when lake fishing, the fish move–you shouldn't.  Unlike fish in streams that tend to stay put in a good holding spot (forcing the angler to move), lake fish cruise.  They're constantly on the move looking for food, mates, or a place to hide from predators.  In other words, the fish come to you (if your patient enough).
I typically stand in one spot and wait for cruising fish to swim near shore.  Then, I predict their trajectory and cast my fly 4 or 5 feet ahead of them (where I think they'll be in a few seconds).  If I've calculated correctly, they'll intersect with my fly and (hopefully) take.  If they don't, I make a second "Hail Mary" cast right on their nose while they're swimming away.  Sometimes, the impact of a fly hitting the water triggers an instinctual response to grab a potential meal before another trout gets it.  In this case, they have less time to inspect the fly and if it looks buggy enough, they'll take it out of sheer competitiveness. If that doesn't work–no worries.  I simply wait for the next fish or pod of fish to come cruising along.  Anyone who has ever bonefished will know what I'm talking about.  Instead of relentlessly casting, you wait, and only cast when you see the opportunity.  It's more like hunting than fishing.
Those are my experiences with Tenkara lake fishing.  What are yours?
Like this article? You might also like these ...