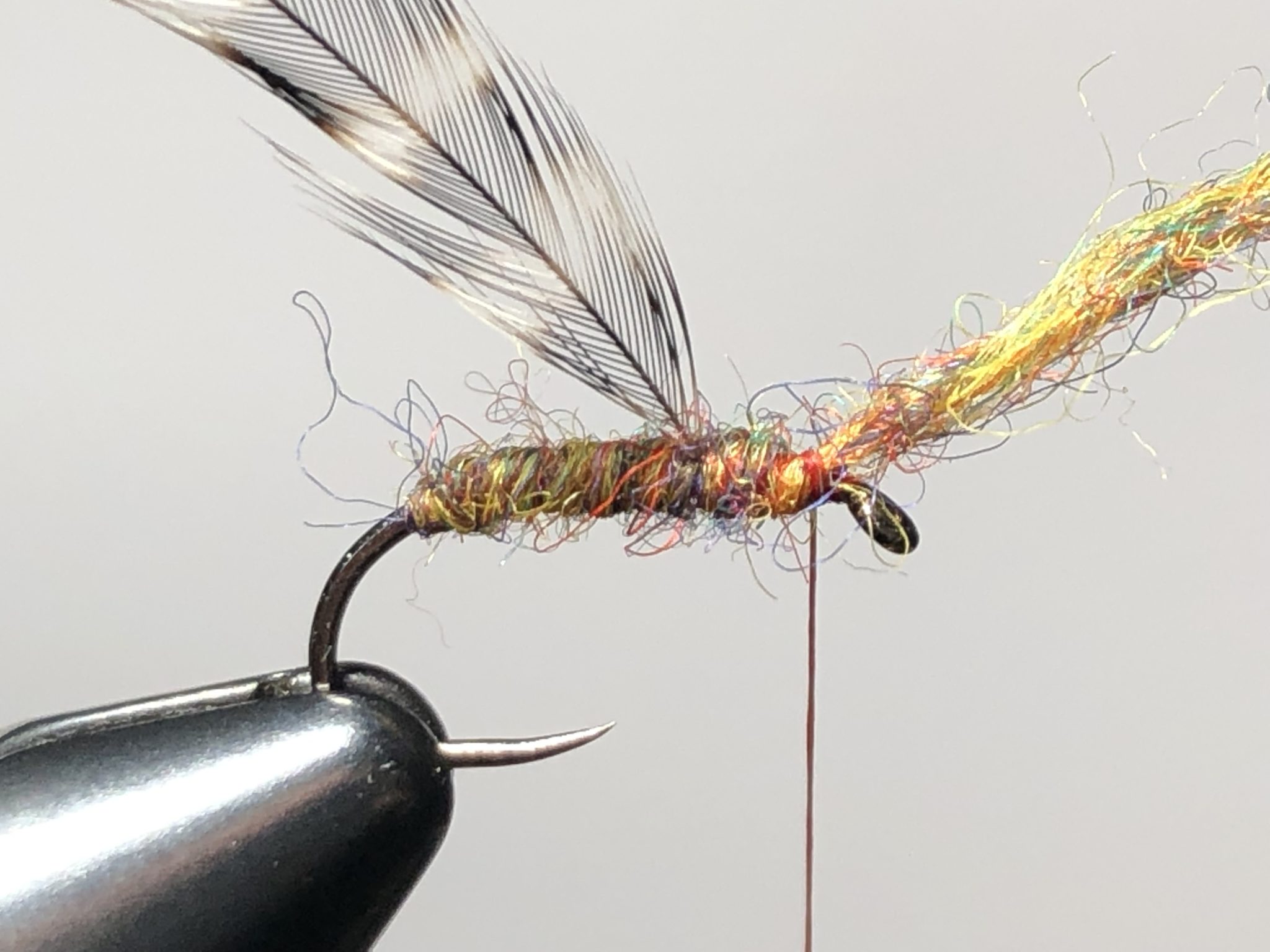 Every angler new to fly fishing and tenkara will inevitably ask themselves the question, "should I learn to tie my own flies?" Usually, the impetus behind this is a perceived cost savings over buying flies. And that certainly seems like a valid reason once you peruse the prices in the fly bins of your local fly shop and realize that, ultimately, every one of those flies will end up snagged on the bottom, stuck in a tree, or lost to a fish (or, perhaps, simply fall apart). But when pondering this question, rather than cost savings, I think the beginning angler should instead consider some other reasons that I think are much more important. Everyone has their own reasons for tying their own flies, but here are a few I think are are worth examining and will lead the novice to answer the question with a resounding "yes!"
1. It's rewarding
I started tying almost immediately after I started fly fishing. For me, the reward of catching a fish on a fly I tied myself was enamoring and completed the circle of the sport I so romanticized. Think about it … here is this highly discerning creature that has evolved to be an expert at entomological discrimination–like a celebrity chef with too-high standards–and YOU fooled it with something you created out of unlikely, alien materials such as feathers, tinsel, and some fur. What a sense of accomplishment! Of course, fish aren't as smart as fly fishing lore has made them out to be. But still, there's a sense of pride when a pattern you tied yourself is accepted by a trout. You'll "get it" the first time it happens to you.
2. It gives you freedom
There are literally millions of effective fly patterns. Some recipes are published, some are kept secret, and some still haven't been tied yet–they lurk in the imaginations of countless unknown fly tyers (maybe even you). But if you don't tie, you are limited to what is commercially available. Granted, there are probably thousands of patterns that you can buy from a fly shop, catalog, or online, but your imagination is more expansive that the offerings fly companies deem as "salable". I can't tell you how many times I've had customers that came in and described a fly that their guide or fishing partner gave them that they wanted to buy but that I knew wasn't commercially available. After determining that they didn't tie, they were crestfallen. Especially after I told them it would be quite easy to replicate. If they did tie, I could have simply handed them the materials they'd need and they could go home and easily reproduce the pattern. And that's what you can do too if you start tying. You can not only copy the standard patterns, but create anything you want. You're free to let your imagination run wild and be creative: substitute this material for that. Change the dimensions. Adapt the color scheme from one pattern to another. You can do anything you want and are not a slave to the paltry selection most fly shops offer. You are limitless.
3. It gives you an edge
And that brings us to competitive advantage. Since you're free from the standards of the fly shops, you have the edge on highly pressured fish. While everyone else is presenting a #16 Adams to fish that have seen that drift overhead 25 times already, and that they've already been caught on, YOUR fly is unique. Fish might not have PhDs, but they are able to be conditioned. And when you've been traumatized 10 times after eating something that looks like every other Adams #16 from the fly shop, you're probably not going to take the next one that floats by. But what about something different that looks buggy and you haven't been tricked by before? Trout are opportunists. They can recognize patterns based on repetition and will avoid ones they've been conditioned to learn lead to negative experiences. But they're willing to experiment. So if your fly looks different than the 100 other standard patterns those pressured fish have seen that day, you have an edge. Even on tough waters.
4. It broadens your horizons
Joining the ranks of those who tie will give you a backstage pass into circles that you might not otherwise access and ultimately make you a better angler. Through tying events, forums, and Facebook groups, while you're learning to tie, you're also networking with people who will share all kinds of information about presentation techniques, new spots, and more. You've joined a club who's members take care of their own and it will take your overall fishing to a new level.
5. It's fun!
I've always said that if every river on Earth dried up, I would still tie flies. It's a creative endeavor that can be relaxing, exciting, and just plain fun! As I mentioned above, there really is no limit to what your imagination can do by substituting materials, changing color, and inventing your own patterns. It can certainly be addictive, but it's a good addiction to have! And sometimes the funnest part is coming up for the name of the pattern you just invented!
What about cost?
I alluded to the cost question earlier. And I'm going to answer that question the same way I answer every question in fly fishing: it depends. Like I said, the first thought most novices have is that they're going to save a lot of money by tying their own flies. And their spirits are quickly diminished once they realize that there's a substantial upfront investment to getting started. You need a vise, some tools, thread, materials, etc. It all adds up. Probably to a price tag you won't like. But like anything in the fishing world, you can take take it to whichever level you want. You can get started with a second-hand vise, some roadkill, and your mom's sewing thread. Or, you can go for the Renzetti vise, esoteric feathers and silk thread. And there's everything in between. I've gone all routes and the best advice I can give anyone is to choose their own. Don't feel intimidated by people that have $300 vises and are tying with fancy tools. I've done that and it wasn't fulfilling. Today, I tie with cheap yarn and materials that would make the artisan guardians of the art cringe. But I don't care. I enjoy my time at the vise just as much as my time on the water and I catch just as many fish than they do.I'm not arguing that cost shouldn't be a factor in your decision or that you can't save a few dimes per fly, but to me, the reasons above far outweigh $$$.
Conclusion
Now back to the original question: "Should you tie your own flies?" I hope you've decided that you definitely should. The very first fish you catch on a fly that you've tied yourself will be an epiphany and from there, you'll never doubt it again. Not only that–it will lead to a lifelong passion and add a new, deeper, and more personalized dimension to your craft. If you have any questions or need help getting started, contact me. I'd love to help you get into what could be the most rewarding decision you've ever made (as it has been for me).
What are YOUR reasons for getting into tying?
Please share in the comments section below to inspire future tyers.