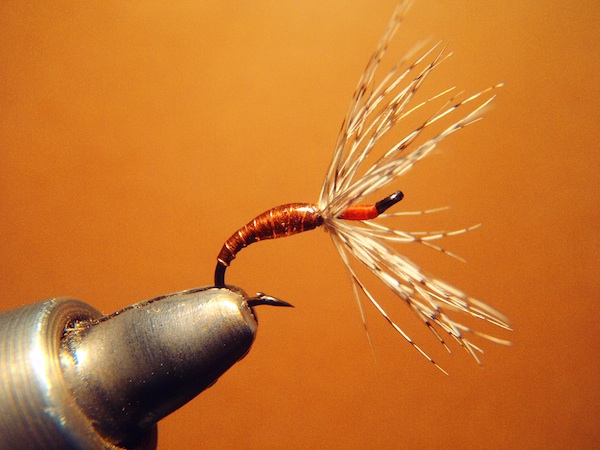 Several years ago, I started tying epoxy midges to fish a very tough local spring creek in Western New York.  The flies themselves were developed in the UK and were brilliantly simple, yet deceptively effective.
Across the pond, they're called "epoxy buzzers" and are mostly fished in larger sizes on big reservoirs.  But I started tying them in sub #20 sizes and they absolutely killed on my notoriously impossible local spring creek.
The epoxy buzzer design is relatively simple–a tapered thread body, wire rib, and floss wing buds all covered in (you guessed it) epoxy.
The epoxy gives the body of the fly a lot of unique properties that I think make it successful and set it apart from other fly designs:
The added weight and slick coating help the fly sink better by penetrating the surface of the water faster
The gloss and translucence just make it look "buggier"
The smooth coating also gives the fly better hydrodynamic properties that allow you to get a more drag-free drift (if you want it)
It creates a nearly indestructible fly allowing you to keep fishing the pattern that's producing longer
So, I thought, "why not apply the same design to some sakasa kebari?"
Epoxy Sakasa Kebari
Here is the basic recipe but by switching out the colors of wire, thread, and hackle, the color combinations are nearly limitless:
Hook:  I used #12 Partridge McHaffie Masters hooks but any wet fly hook will do
Thread:  Uni 8/0 (color of your choice)
Wire:  (color of your choice)
Hackle:  Hen, Partridge, Pheasant, or Starling
Epoxy:  I like Devcon 5 minute epoxy but you can use any clear drying epoxy
Here are some examples of color variations:
A Tip for Working with Epoxy
An epoxy turner is a nice convenience.  If you are thinking about making a lot of epoxy flies, it's worth the investment.  If not, you can just spread the epoxy around the body of the fly with a toothpick and juggle gravity for a few minutes by holding and rotating it in your forceps or hackle pliers while it dries.  It may feel dry to the touch after 15 or 20 minutes but I recommend letting it sit untouched overnight just to be safe.
Further Experimentation
I think I will keep experimenting with different color combinations and see what I can dial in.  I'm also thinking of borrowing a few tricks from my saltwater fly tying and trying things like mixing glitter into the epoxy to get different effects.  I think there is a lot of room for experimentation and while epoxy might not appeal to Tenkara purists, I think it opens up a whole new dimension for sakasa kebari fly patterns.
Like this article? You might also like these ...