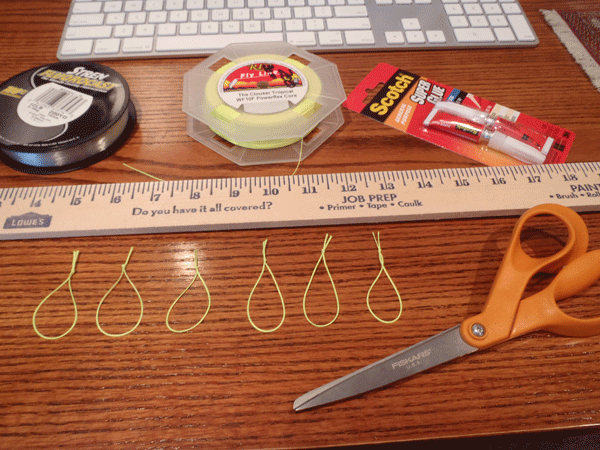 Many people talk about high visibility fluorocarbon level lines for Tenkara fly fishing and I've recently gotten into them.  As a predominantly dry fly fisher, I really don't "see" (get it) the need for this. And, I think in certain situations, it's best to have a line you can cast over the fish without scaring them.  So I made some experimental level lines using clear fluorocarbon and the braided loop method I recently posted about.
[/caption]
Within 20 minutes I was able to produce 6 level lines with braided loops and using fluorocarbon from both Tenkara USA and Gander Mountain.  Not bad.  I made two 0.13″ lines in an 11′ length, two 0.11″ lines in a 12′ length, and two o.14″ lines in a 13′ length (for lake fishing).
I have to admit, I'm getting hooked on making my own level lines and playing around with different materials and terminal tackle in combination with different rods.  They're more economical and versatile than furled lines in my opinion and I like the fact that they cast better in the wind (Of course, furled lines still make the most delicate presentation so I'm not totally abandoning them).  I'm still developing my perfect line but in the meantime…
Have you ever used a clear Tenkara level line?
Like this article? You might also like these ...