One of the nice things about tenkara wet flies is that while they're very simple in design, they allow for a lot of experimentation in body construction. This is probably the main thing that keeps me interested in them as a fly tier.
Recently, I've been experimenting with wire bodies and epoxy bodies.  Now, I'm playing around with a tying technique I used to use on Western-style nymphs:  twisted bodies.
I used to tie a fair number of nymphs that used twisted camel hair for the abdomen.  Camel hair comes in a hank and you basically pull off a length, tie it in, twist it into a "rope" and then wind it around the hook shank.  The result is a nicely segmented body that is durable, yet absorbent enough to help the fly sink faster.
Here is an example of how this technique could be incorporated into a traditional tenkara wet fly pattern.  I call it "the Twisted Camel".  Think of it more as a template rather than a dictated recipe.  You can substitute any colors or materials you like.
How to Tie the Twisted Camel
Hook:  Any wet fly hook will do
Thread:  8/0 Contrasting color behind the eye, black behind the hackle
Hackle:  Hungarian Partridge
Abdomen:  Twisted Camel Hair (color of your choice)
Thorax:  Peacock Herl
Step 1
Tie in your contrasting thread and wrap a nice head.  It can be any color you want that you think goes well with the other colors of materials you choose but it should be something brighter than the body color. Depending on your overall color scheme, the contrasting thread could be chartreuse, red, yellow, etc. In this case, I'm using orange thread.

Step 2
Whip finish the contrasting thread and start a new bobbin with black thread on the hook shank.

Step 3
Tie in a partridge hackle feather and strip off one side of the barbules so it looks something like this.  Advance the thread back into the thorax a bit to where you'll want to eventually secure the hackle.

Step 4
Wrap the hackle 4 or 5 times back toward the hook bend and secure with the thread.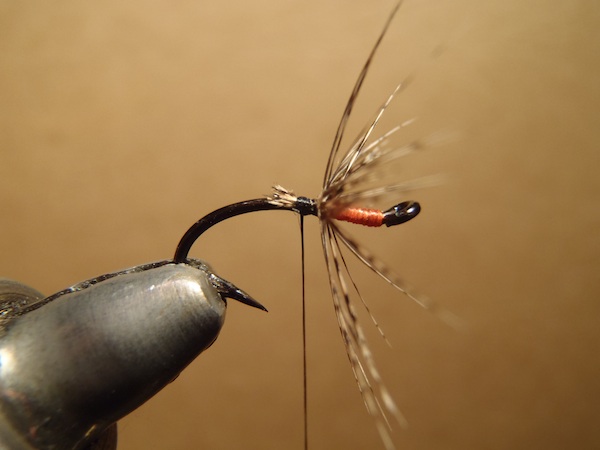 Step 5
Pull a length of camel hair from the hank (the amount will depend on how big of a fly you're tying and how thick you want the segmentation to be).  Tie it in behind the hackle and wrap your thread back down the hook toward the bend forming a slightly tapered body.  Make sure you return the thread back to the thorax.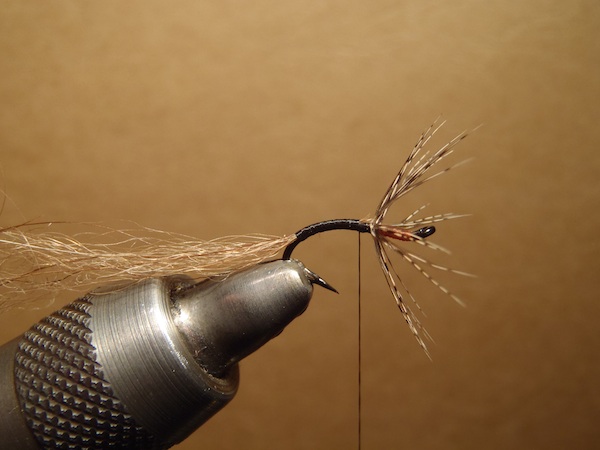 Step 6
Using hackle pliers, grab the loose end of the camel hair (making sure you get all of the strands) and twist them into a "rope".  Wind the "rope" toward the hook eye forming tight segments and tie off at the thorax.  Be sure to leave enough room to build a thorax of peacock herl.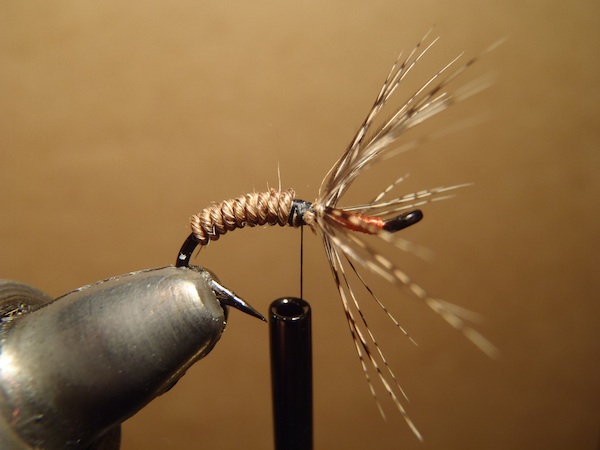 Step 7
Tie in one or two strands of peacock herl and wind forward to form the thorax.  Optionally, you can twist two strands of herl into a "rope" just like you did with the camel hair.  This offers a little more durability and bulk (if you want it).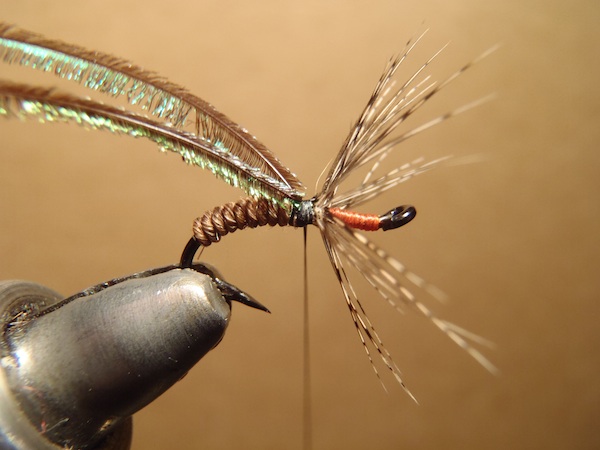 Step 8
Whip finish just behind the hackle and cut the thread.  You're done!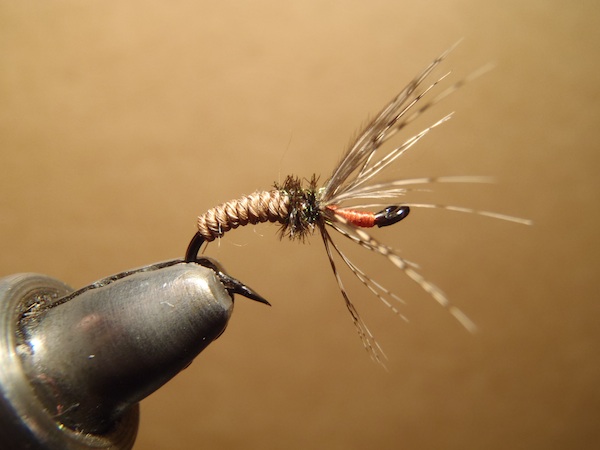 Variations on this pattern are endless.  I like to use camel hair because it sinks well and is a natural material but you could substitute anything that comes in a hank such as Antron, SLF, knitting yarn, etc.
Basically, any material you can twist can give your tenkara flies a touch of more realism and fun.
What other materials work for twisted bodies?