Tenkara Bum is now offering their own line spools and I got my order for 3 of them today.  They're essentially identical to the Meiho blue spools sold by Tenkara USA but are a shrunken down version.
[/caption]
The smaller diameter would be good for a tenkara minimalist or the backpacker who wants the convenience of a spool with the absolute minimum in weight and bulk.
While the outer diameter of the spool might be smaller, the inside diameter of the hole is the same as its larger cousin, meaning that you can still carry the spool by slipping it over the blank and handle of most tenkara fly rods:
And, as an added bonus, the Tenkara Bum spools come with stickers to help you keep track of line lengths and weights: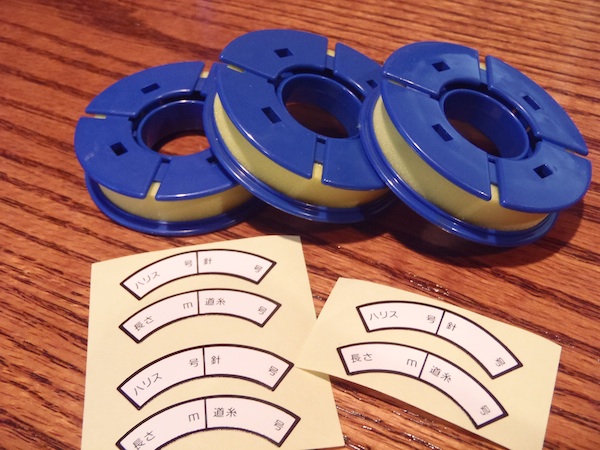 While both spools are good, as a backpacker, I can see the niche appeal for this smaller and lighter convenience item.  If you'd like to try the smaller spools, you can get them here.
And, oh…you might be wondering if the smaller diameter of the spool increases coils and line memory on level lines.  Well, not any more than on the larger T-USA spools.  You still have to stretch out your line either way so I don't see it as a problem.  Think of it more as a pre-fishing ritual you have to go through anyway than a chore.
 How do you store and transport your tenkara line?