In my ongoing experiments with hackle and materials for sakasa kebari, I've found an unlikely source for hackle that looks promising:  jungle cock.
When most tiers think of the prized jungle cock, they think of the gorgeous yellow and black "nails" or "spears" often used for the cheeks of classic salmon fly patterns, streamers, or the wings of the venerable jassid.  Most people ignore the "spade" feathers (the feathers on the sides of the neck); however I've found these to be great for sakasa kebari: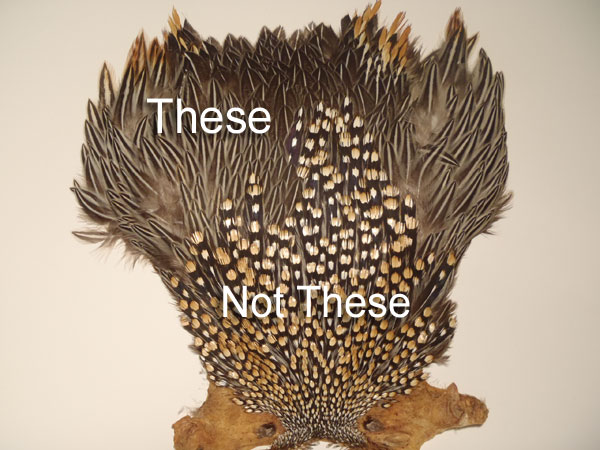 They're usually black and white which makes for a good contrast and the fibers move well in the water. While many tiers consider these "trash" feathers, I find them to be the perfect size for sakasa kebari.  If you happen to have a jungle cock neck, you'll find a lot of good soft hackle there in the #16 – #12 range.  One of my jungle cock capes probably has enough #12 feathers for a few dozen flies.
Jungle cock is relatively expensive so if you don't have a cape or don't want to shell out the Yen for one just to tie some tenkara flies, try asking someone who has a cape and is primarily using it for the nails.  I'm sure they'd have no problem giving you a bunch of the "trash" feathers.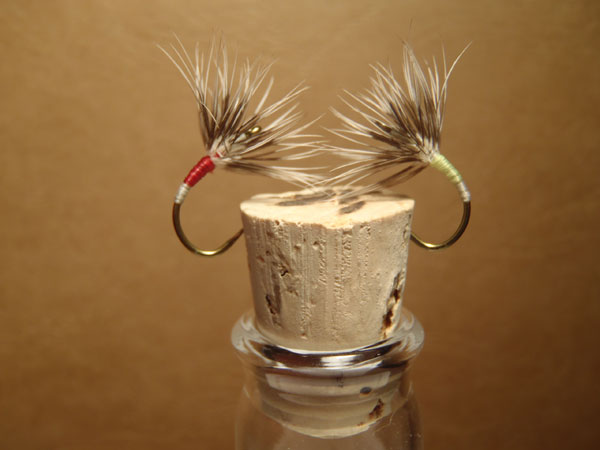 More on Spectra Tenkara Lines
If you saw my recent video on the new spectra lines from Tenkara USA, you already know I'm very happy with the fact that they don't tangle after being pulled out of a snag.  Well, I recently complimented my 13 ft. line with a 10 1/2 ft. line thanks to a trade from a fellow tenkara angler.
Sydney Jenkins wanted a 10 1/2 mono T-USA line and I happened to have one.  I wanted the 10 1/2 new spectra line and she happened to have one.  So, we decided to trade.  Sydney was nice enough to send me the line along with a nice postcard: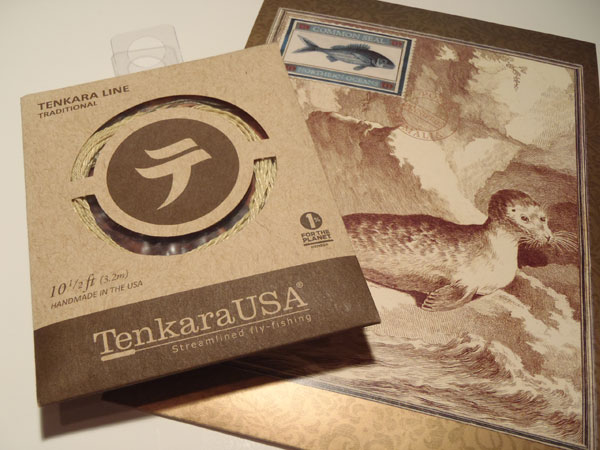 Thanks Sydney!  I love trading and I love it even more when people throw a little something extra in the box.  The packaging is the same as the old lines with the exception that the line spool it comes with is a grey color instead of clear.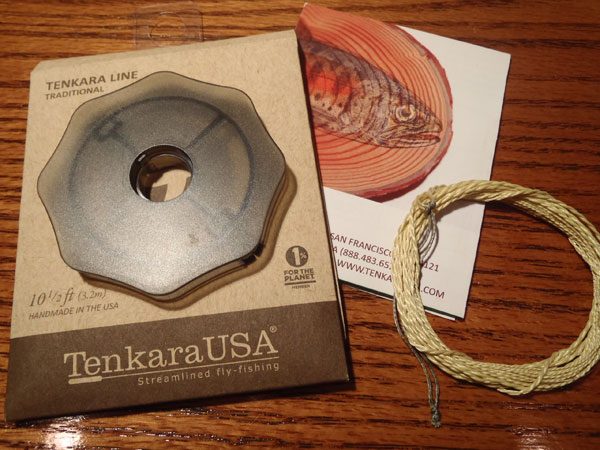 The lines that are currently available are being redesigned to be lighter in order to make a more delicate presentation.  They will be marked as "high wind" lines until the new ones are available.  So, I'm glad to get the heavier version in both lengths for now until the new lines come out.  Thanks Sydney!
Other than that, planning a few days on the stream Christmas.  Can't wait to try out some Utah killer bugs on the lazy fish of winter while freezing my ass off!