In the photo below, there are five #14 hooks.
Can you pick them out?

If you had trouble picking them out, you wouldn't be alone. In fact, there are actually more than five and by now, you've probably already figured out that this is a trick question. All of the hooks in this photo are designated as size "#14" by their respective manufacturers. However, they're clearly not the same size. Some aren't even close. Just look at the huge one in the middle! So, if someone tells you they're using a "#14", which one of the above do they mean?
It used to be if someone said, "I'm using a #14 dry fly hook" you knew exactly what they were talking about–you could picture it in your head. And the universal standard was the venerable Mustad #94840. But today, there are so many variables in hook designs that it's completely negated what #14 used to mean.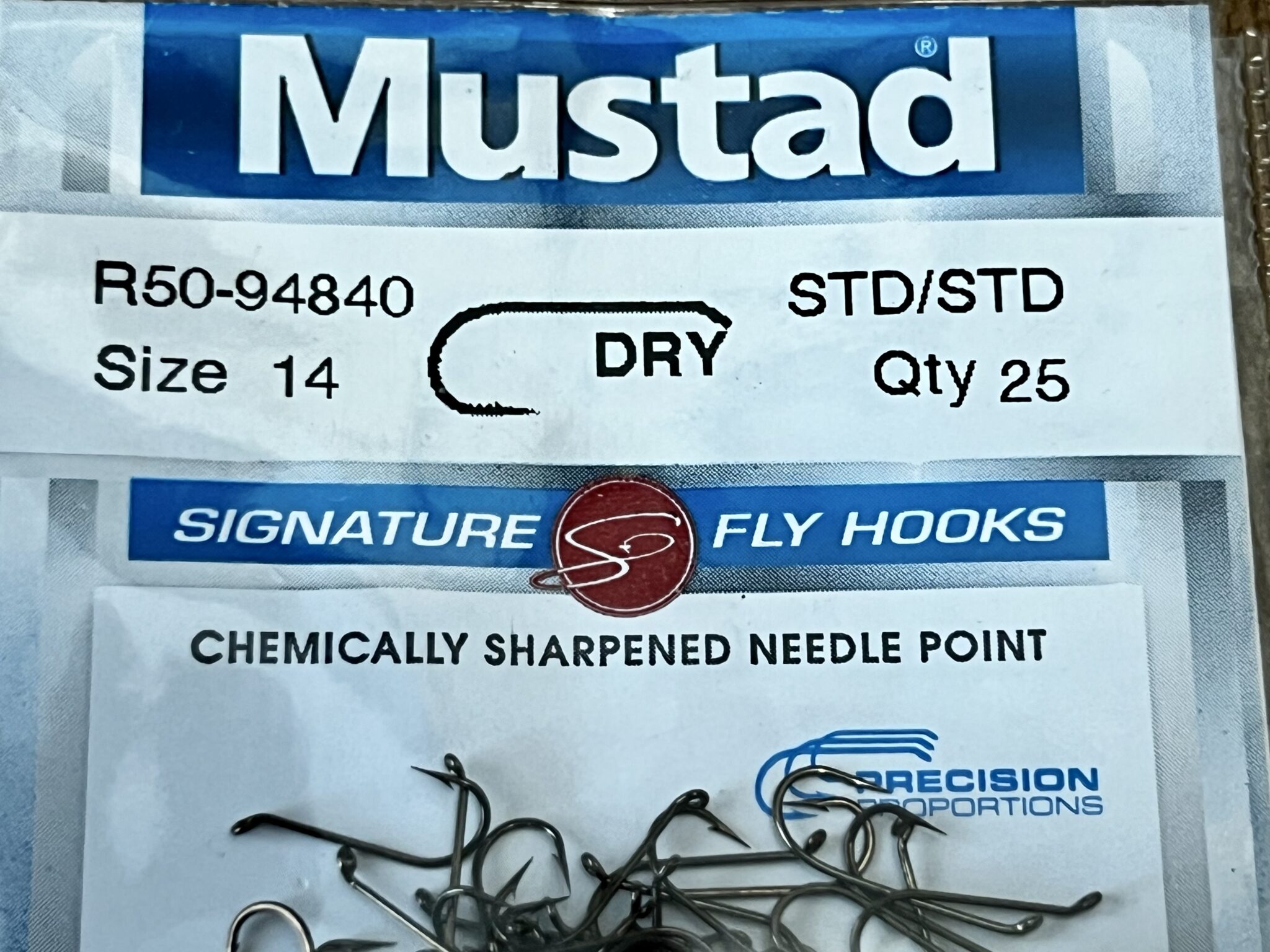 At one time, pretty much all hooks were straight and there might have been some minor variations in the bend (such as sproat, round or Limerick) but that was about it.
If you walk into a fly shop today though, the variations seem endless: long shank, short shank, extra wide gape, etc.. It's come to the point where to tie a pattern faithfully to the original, it's not enough to know the manufacturer's stated size; you also need to know which particular model!
So how did this happen?
Just like a frog in slow-to-boil water, it happened so gradually that no one noticed. Two things influenced this:
Shank shape
Gap width
For one, the advent of things like curved hooks distorted the perceived length of the hook shank. Back when there weren't a lot of choices, tyers started bending straight hooks themselves to breathe more life into their creations.
Seeing this, manufacturers recognized an opportunity and slowly started offering simple curved designs, then more and more radical, refined, and nuanced styles of bends. It wasn't long before other companies followed suit and soon, catalogs were flooded with pages and pages of all sorts of unique shapes.
But if you take a straight #14 hook and bend it, the perceived length becomes shorter. So to compensate for that, you need to make the hook shank a little longer. And there are all kinds of shapes today that alter how long or short the silhouette appears. So now, a hook that would be a #14 straight might appear more like a #16 when bent.
The other was the introduction of various hook gap distances. While this used to be standardized, now you can find hooks with 1X, 2X, and 3x wide gaps. And maddeningly, they're all still called a #14!
Part of this was to improve hook setting by widening the gap between the hook point and the shank. That surely helps, but if also further obfuscated hook sizing.
The Current Hook Rating System is Meaningless
These innovations in new hook designs that were once esoteric have become ubiquitous. And unfortunately, our hook rating system didn't keep up–still relying on an archaic set of criteria. I've seen alleged #12s that look like #8s and #22s that look like #18s. The numbers mean nothing without adding modifiers (which can be even more confusing).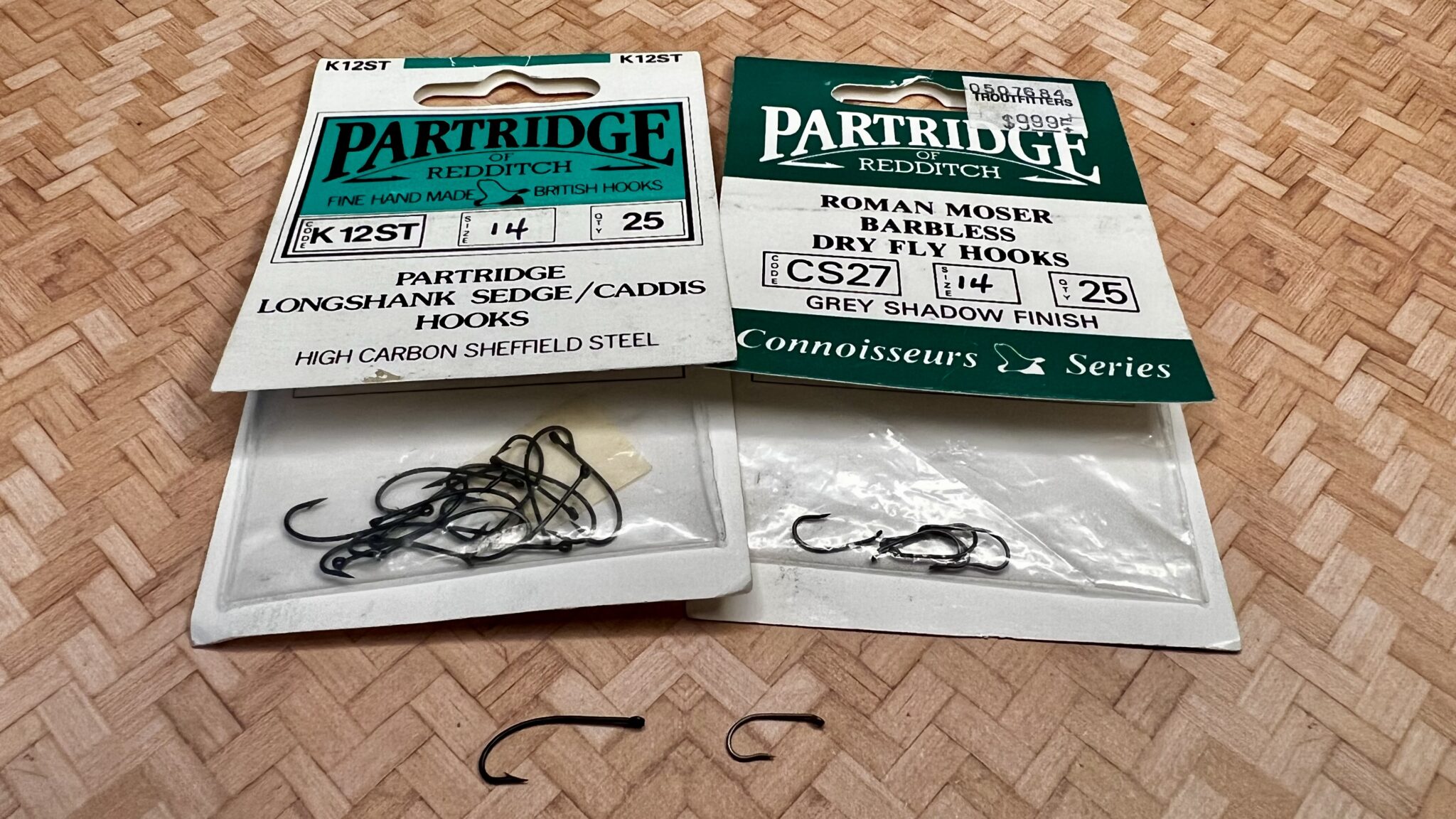 And don't get me started on the Asian rating systems, where depending on which one the manufacturer deicides to use, a "#7 could either be small or huge!
A Quick Fix
In an effort to try to clarify, hook manufacturers started adding specs to their packaging such as "3X-Long, 2X Wide" (a hook shank three times standard length with a hook gap that's twice as wide). This is somewhat OK, but isn't quite as clear to picture in the mind as just saying something succinct like "size #14".
And while the intention is clarity, it can actually lead to further confusion.  For example, a #16 straight hook with a 2x long shank and a 2x gap is essentially a standard #14 straight hook. So why does that model even exist? Why don't they just call it a #14?
I suppose these modifiers give us at least some reference point from which to gauge our measurements, but it's unwieldy and arbitrary. So, maybe we need a new system to better describe our hooks that's more concise and intuitive.
A Better System?
Mind you, I don't think I have the answer. I just feel like the current system is lacking and needs to be updated to reflect the new hook designs new technologies have afforded us. We did this with the fly line rating system, so why not with hooks size? I highly doubt that the majority of fly anglers today could tell you what the hell a 300-grain line is. (Arguably, the line rating system has its own problems but that's a different discussion).
One possible solution might be something as simple as just using standardized units of measurement such as inches, centimeters, or millimeters.
For example, instead of saying the fly is "a #14 with a 3XL shank and a 2x gape", you might say the overall fly is "1cm x 0.5 cm" or something like that. After all, it's the ultimate size of the fly that is critical so it seems it would make sense to use already familiar units of measurement rather than having to learn an arbitrary system and try to force-fit it to describe hooks that didn't exist when it was invented.
The Oni is in the Details*
Of course, there are other variables in hook design. The solution above doesn't tell your everything about the hook. You'd still need to know if it's curved, a jig hook, up-eye, down-eye, straight-eye, etc..
But as I mentioned above, overall fly size is the most important so it covers the most crucial information and shape can be garnered visually or just by adding "straight, curved, etc.." Those details are secondary to size in my opinion.
I actually found using standard units of measure very helpful in a recent discussion regarding the size of Tenkara no Oni's flies where I compared the 4cm Oni Kebari to the size of my signature Ichiban Kebari, showing that I could fit three of mine in the same length as one of his.
*For non-tenkara anglers, "oni" = "demon/devil" in Japanese.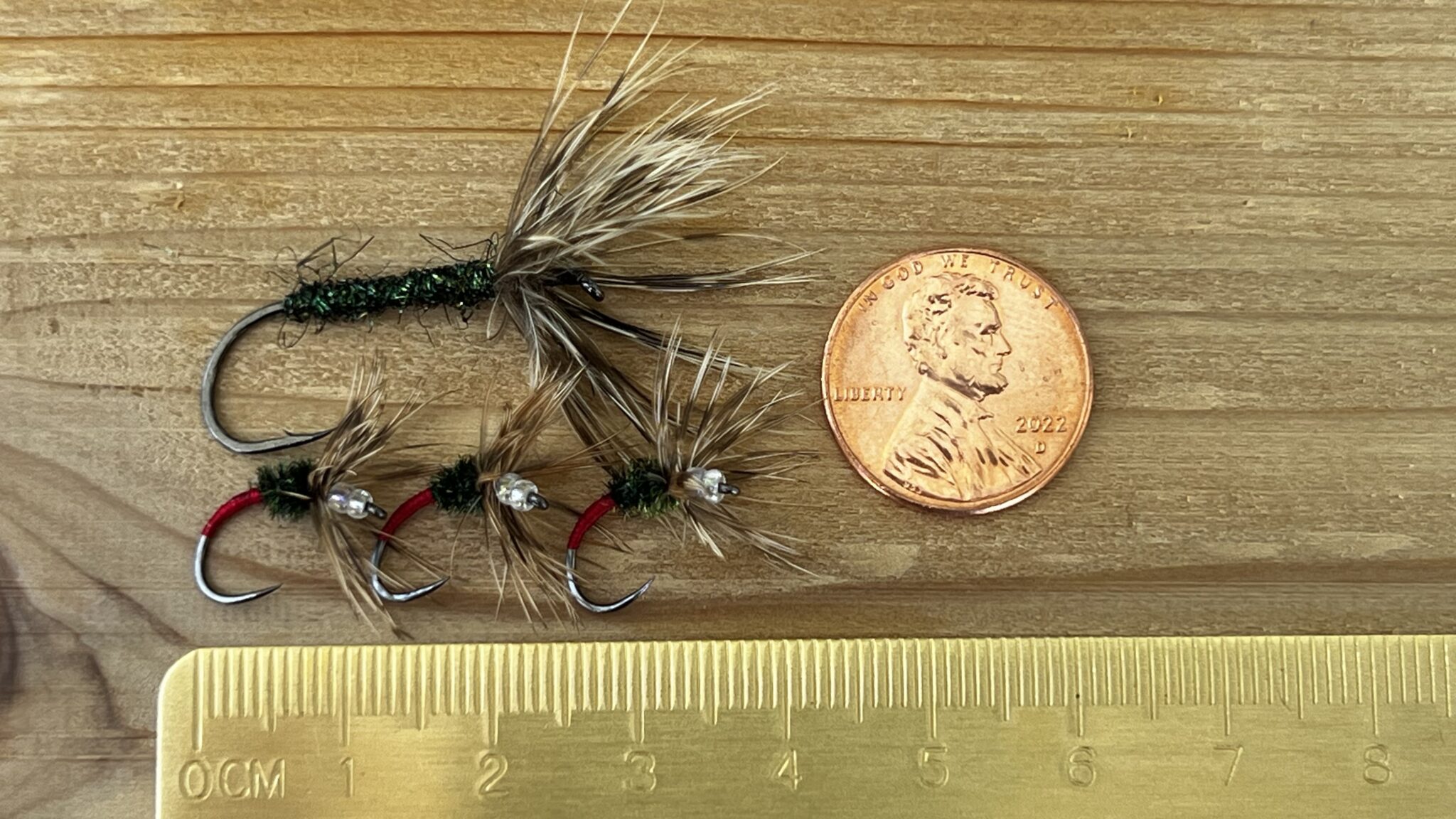 Tenkara tends to not use as many different hook shapes as technical western fly tying so maybe this is OK for us. Also, we're generally not as picky about our proportions. If the hackle is 2mm "too long", the tenkara angler is OK with that, but for the technical western tyer, that's unacceptable.
That doesn't mean we're less discriminating or "sloppy tyers", just that our tying and presentation styles are different–ours is more impressionistic so precision isn't as critical. We don't believe that a tail that's a millimeter too short is going to mean a refusal because our approach relies on technique rather than exact imitation.
The majority of tenkara flies seem to be tied with either simple straight hooks or curved caddis-style hooks so centimeters and such might work better for us than someone who is a fanatic match-the-hatcher. Anyway, I think it's adequate for my tenkara patterns at least.
Start Making Sense
As an experience tyer, I now know what all these hook designations mean and can fathom them. Being that frog in the water for so long, I've had time to adapt and it's become natural to me.
But I wonder that it must be like for a beginner today to walk into a fly shop looking for the "#14" hook they saw in that pattern book, only to be disheartened when confronted with an intimidating wall of 45 different "#14s" that all look completely different. I'm glad I don't have to sort through all of that.
So what will happen? Will some new system emerge that will simply and more accurately describe our hooks? Or, as even more new hook shapes evolve, are we doomed to continue modifying the existing broken system until it takes a paragraph just to explain which type of hook you're using?
This would be easier if there were some regulating agency to standardize hook size, but there really isn't. Organizations like the I.F.G.A. only set guidelines for competitive fishing and have no jurisdiction over manufacturers. So hook companies pretty much have carte blanche to describe their hooks however they want.
Part of me wonders if there's ego involved. In western fly fishing tying or fishing minuscule flies is considered bragging rights. People love to make sure the whole fly shop hears how they regularly catch 24″ fish with #22 flies. But, in reality, that particular model in "#22" because of its shape and gap is actually a #18 (which doesn't sound quite as sexy). So it entitles anglers who care about such things to aggrandize and exaggerate their accomplishments.
At any rate, our hook rating system seems to be as flawed as our rod rating systems. I don't know what the solution is but I think since my tenkara flies are so simple, I'm going to experiment and start incorporating measurements into my recipes to see if that makes more sense–at least until something better comes along.