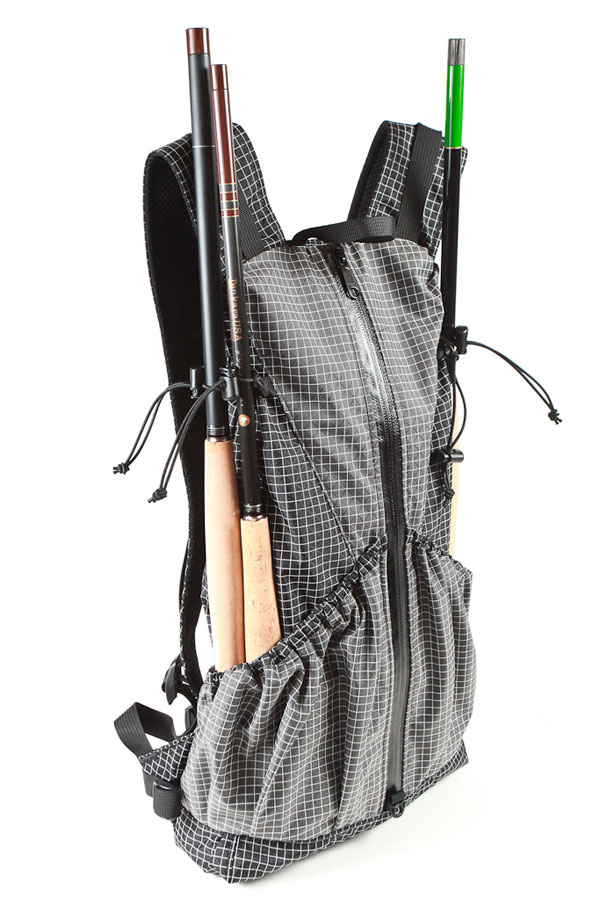 I just got word that the newly redesigned Stream Pack from TrailLite Designs will be available next week on the Tenkara Bum website.  If the name TrailLite Designs sounds familiar, it's probably because you know them as the creator of the Ebira Rod Quiver–an ingenious tenkara accessory which happens to have been named by yours truly.
The new design replaces the previous "sleeve" rod holders with cords and cordlocks which makes the side pocket carrying options more versatile.  The vertical zip main compartment give you easy access to everything you'll need for a full day of fishing.  It also features a detachable shoulder strap pocket to keep your essential fishing gear close at hand without having to remove the pack.
Specs:
Material: ultra light and durable dyneema-x fabric.
Weight: 10.5 oz complete with attachable shoulder strap pocket.
Volume: 700 ci +/-
Size: one size fits most
The Stream Pack is 100% Made in America
I haven't gotten my hands on one yet but will soon and will have a review.  If this pack is anything like the quality and innovation of other TrailLite Designs products I've tested, it's sure to be another home run.
Like this article? You might also like these ...