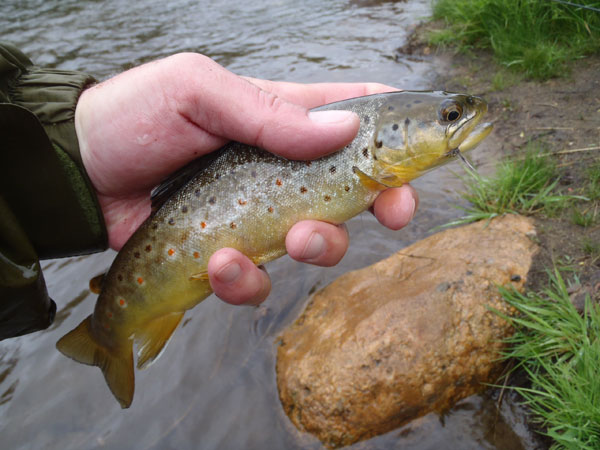 They say there has to be a first time for everything.  Well, today, the old cliche materialized in triplicate (two good, one not so good).  And while people also say, "two out of three ain't bad", I'd summarize today as an all around great day despite the fact that one of these firsts just as easily could have turned out to be a bad omen.
The 1st First:  Rain
Believe it or not, today was the first time I have ever fished tenkara in the rain.  I mean, REAL rain, not just a sprinkle or thundershower like we're used to in Colorado.  It was a pretty steady downpour for the first couple of hours–one of those rains where everything is just drenched.  My "waterproof" jacket was soaked through and turned to an unrecognizable color, my neoprene gloves might as well have been sponges, and everything in my chest pack was waterlogged.  When I lived back east, rainy days were universally considered the best time to go fishing and we'd jump at the chance to hit the river when the forecast called for rain.  But since I moved here, I guess my sensibilities have changed.  I'm not really used to fishing in wet weather anymore, but something inside me wanted to rise to the challenge today and maybe see if I still had it in me to brave the elements.  I'm glad I did.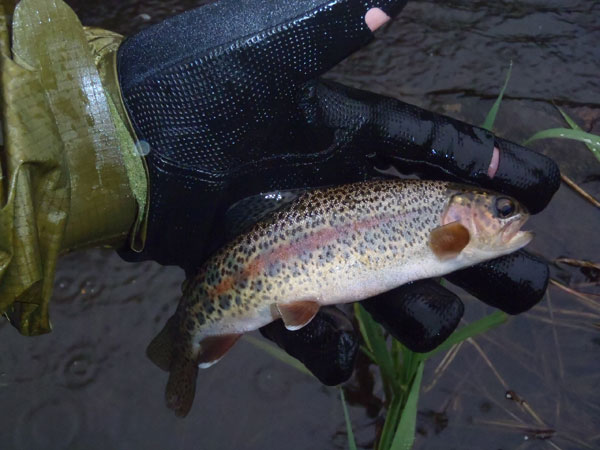 I started out fishing a Utah Killer Bug thinking the rising water levels from the rain would have churned up a lot of nymphs that the fish would be having a hay day feeding off the bottom.  I caught asmall rainbow and a brown right off the bat so I must have been on to something.  But then, it happened…
The 2nd First:  Broken Rod
On what must have been the fifth or sixth cast with my brand new Tenkara USA Ayu, I heard a faint snap sound on the backcast and suddenly, my forward cast seemed a lot more effortless than usual.  For a split second, I have to admit that I actually attributed this to my great strength.  But then I realized that I don't work out, am a smoker, and wouldn't win an arm wrestling match with a turtle.  So it must have been something else.  When I turned around, sure enough, my backcast had snagged a tree behind me and my rod had snapped.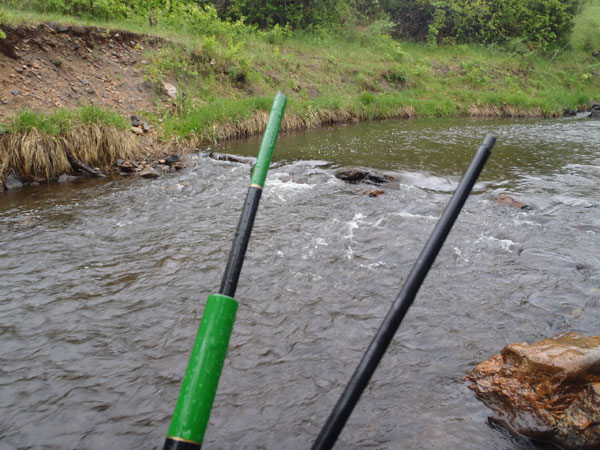 Until that split second, I had prided myself on the fact that I'd never broken a rod.  But, today was the day.  I suppose it had to happen sometime.  Luckily, I had a couple of other tenkara rods in the car as backups.  I switched to my trusty Iwana and continued fishing…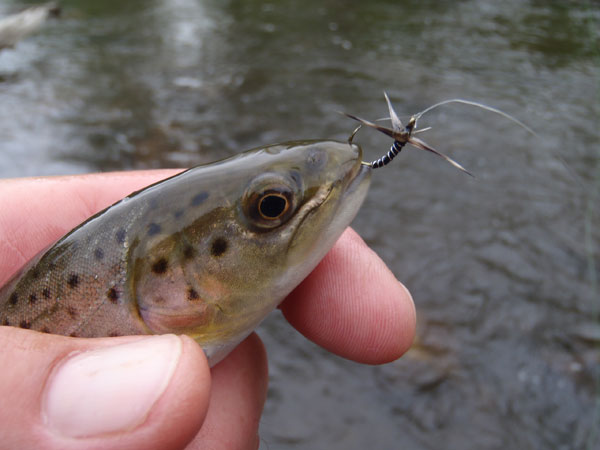 I switched to a sakasa kebari and the fish were all over it.   Now I remembered why I used to look forward to fishing in the rain so much.  The action was hot and every fish I got for the rest of the day was on a light or dark kamikaze sakasa kebari.  It was probably the best day (in terms of numbers of fish) I've ever had on Bear Creek, and the first time sakasa kebari outfished the killer bug.  If I had any lingering doubt about my confidence in sakasa kebari, it was shattered today.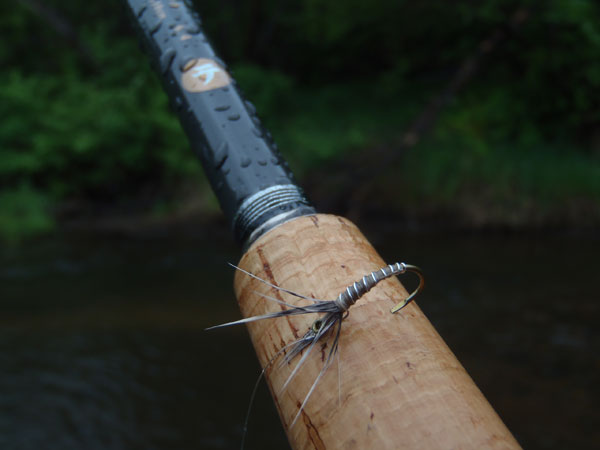 The 3rd First:  First Fish Ever!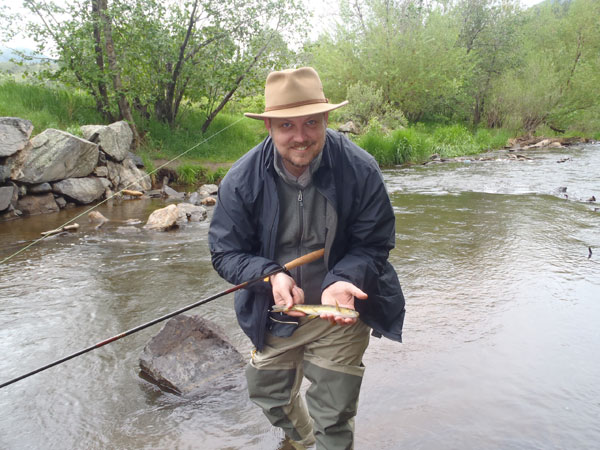 As if all this weren't enough, later in the day, I was supposed to meet TenkaraTalk reader Matt Archer for a day on the river to give him instruction.  It turned out that he didn't need much.  Some people just have an intuitive fishing ability and Matt was a natural.  A little background on Matt…not only had he never fly fished before–he had never FISHED before or even caught a fish!  But after a brief casting lesson, he was good to go and caught a nice brown that was not just respectable for a first fish, but respectable as a Bear Creek fish.  Way to go Matt!  BTW, you still owe me $84 for that killer bug!
Before heading home, I gave Matt a quick primer on stream entomology and caught a few nymphs and larvae to show him.  Bear creek is teeming with caddis like the one in the picture below (which I believe is a rhyacophila larva).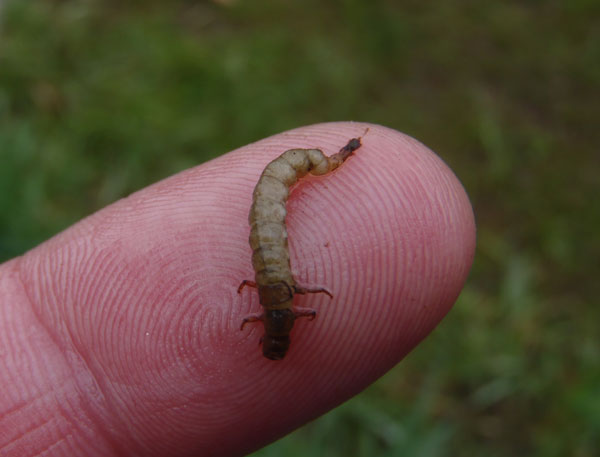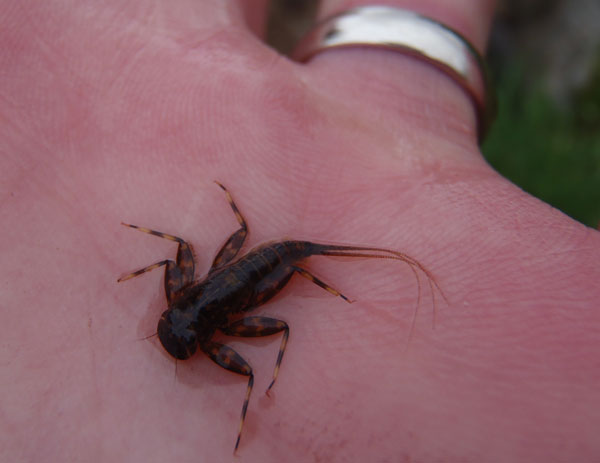 So, it was another magical day here  on Bear Creek. Lots of fish were caught.  Lots of firsts were realized.  And lots of discoveries were made.  It just goes to show you that fascinating things can happen even on humble streams.
Like this article? You might also like these ...