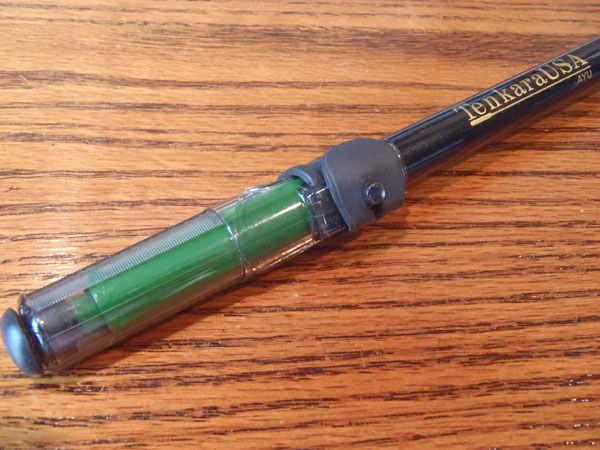 While fishing with some of the Japanese anglers the day before the summit, I found myself admiring a strange looking contraption at the end of Masami Tanaka's tenkara rod. It was a clear plastic sleeve with a black strap around it. Much different than the wooden rod plug most of us in the West are familiar with (and sometimes curse for its unrivaled ability to go AWOL). I made a quick inquiry about it and went back to getting rigged up. But very unexpectedly, Japanese generosity was about to shine in my favor (again).
While I was rigging up my rod in the trunk of TJ's FJ Cruiser, Eiji Yamakawa walked up to me. He noticed that I took a liking to Tanaka-san's rod cap and said that he would give me one. I graciously accepted but felt a little bad because I didn't have anything to give back. Tanaka-san brushed it off saying that they were cheap and it was no big deal but it really meant a lot to me.
I've seen pictures of these caps before but never in person. Right away, I can see the advantages. First of all, they're bigger than the ubiquitous wooden rod plugs and thus harder to lose (if you've ever tried to find a dropped wood colored rod plug on the forest floor, you know what I mean). Second, they're very secure. The rubber strap holds the cap very tightly and there is no chance of escape.
They come in different sizes to accomodate different rod diameters. Unfortunately, you can only get them in Japan but if anyone is interested in a group purchase, let me know and I can put one together.