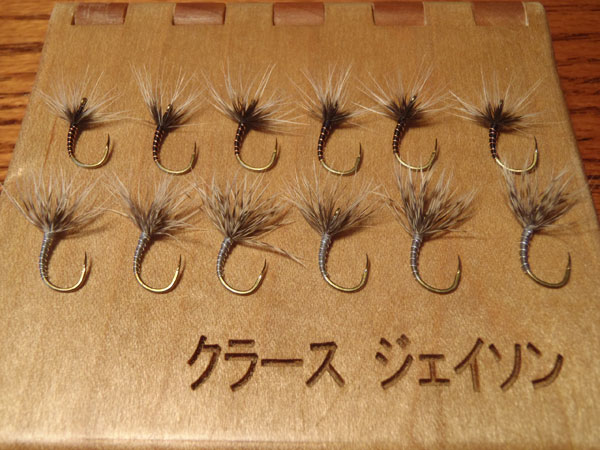 In western fly fishing, a lot of emphasis is placed not only on the fly pattern, but also on fly size.  It's considered standard practice to carry both a wide variety of patterns and a variety of sizes of each pattern.  The mentality seems to be that if you don't have a good selection, you're underarmed.  You brought a butter knife to a gun fight.  Yet many Japanese tenkara anglers only carry one pattern in only one size.  And they catch just as many fish as their western counterparts.  So, it begs the question:  does fly size really matter?  And if it doesn't, which size is the best all around choice?  As someone who used to carry at least 3 or 4 sizes of each of the 50+ patterns in my vest but who now basically only fishes one size, I have come to some conclusions…
The last three years of fishing for trout exclusively with tenkara have taught me that you don't have to match the hatch to catch fish.  Hyperbolically then, I say that the size of the fly doesn't matter.  But what I really mean is that it doesn't matter as much as we think it does.  If you want to catch every single fish you come across, then sure–you could sit there and keep tying on different patterns and different sizes over and over again until you finally get that stubborn trout to take.  But that's now how I prefer to fish.  I like to move a lot, cover a lot of water, and have no problem forsaking a fish that refuses my fly after three or four casts and moving on to the next one.  Another thing tenkara has taught me is to not waste so much time trying to catch every fish I see.  It's better to move on to a more cooperative fish than flog the water to death on one that doesn't like the particular fly I happen to have on.
So if you want to end the madness of carrying a million sizes of each pattern, which size is the best choice?  In my experience, it's a #12.  And here are some of my thoughts on why:
It's a satisfying potion for trout.  If you're hungry, what would you rather do:  eat hundreds of individual grains of rice one by one or get one big slice of pizza and shove it in your mouth?  There are probably more size 22 and 24 midges in most of the creeks we fish that trout could spend all day picking up but just like us, they prefer to get a more substantial meal in one sitting.  From an energy expenditure standpoint, it just makes more sense to chase after a few bigger morsels than 200 minuscule ones.  Trout probably aren't smart enough to do the math but I do believe they are "programmed" to have this instinct.  Dr. Ishigaki once pumped the stomach of a trout and found that the majority of the insects it had eaten were about a size #12 and that's what convinced him that that is the best all around size for a fly.  Of course, that's not scientific proof, but to me, it just makes sense that given the opportunity, a predator will choose a larger, easier meal over several tiny ones that they have to work more for.
It sinks better.  More metal = more weight that will help you sink your fly.  I don't use bead heads or split shot.  I like to try to fish semi-traditional unweighted flies (though from the picture above you'll see that I do sometimes cheat a little a use a copper wire ribbing to add a touch of weight).  So if you're not using weights to get the fly down, a larger, heavier hook helps get you into the zone.
Not too big, not too small.  I think this is really the main reason a #12 sakasa kebari is so versatile.  It's just large enough to make it an attractive meal and to be easily seen in fast or murky water, yet not so big that it will put off trout in skinny or crystal clear water.  Plus, lots of insect species could be about that size so it's not unnatural looking.  That's why I call a #12 the "Goldilocks" size.  I recently fished the exact same Kamikaze Sakasa Kebari in the picture above in size #12 on a spring creek where my pre-tenkara instinct would tell me to fish a 7X tippet and #22 midges.  And I caught so many fish that I lost count.  I've used the same on freestone streams in runs, riffles, pockets, and pools.  They always work and I never switch sizes.
As an added bonus, #12 flies are a comfortable size to tie and even with failing eyesight, I can crank out a dozen #12 sakasa kebari to replenish my fly box without it feeling like a chore.  Probably 99% of the sakasa kebari I fish are #12 (or the Japanese hook equivalent of about a #7 or so) and so far, I haven't found the need to obsess about fly size like I used to.  To date, the empirical evidence that "fly size doesn't matter" has been liberating.
What is your favorite size for sakasa kebari?