After several months of patiently waiting, my Oni tenkara rod has finally arrived!  For those of you who don't know what an "Oni" rod is, it's the rod designed and used by Masami Sakakibara (a.k.a. "Tenkara no Oni"), who is widely considered to be the best tenkara caster in the world.  He is notorious for being able to cast a very light level line (eg. a #1.5 or #2) in extremely long lengths with total accuracy and delicacy.  While this is of course due to his great skill, it doen't hurt if you use a rod with an action that facilitates this type of casting.  And that's exactly what he designed it to do.
While I can pretty much tell if I like a rod or not just by casting it, there's no substitue for actually fishing it.  Unfortunately, my fishing plans were thwarted by weather this weekend, but I have had ample opportunity to do some test casting with the rod and offer some first impressions.  Once I get it on the water, I will post an update.  But for now, here is my initial review.
Aesthetics
Upon unboxing, one thing became immediately clear:  this is a very spartan fishing tool.  There aren't any fancy bells or whistles as found on many rods today.  It's design is the essence of utilitarianism.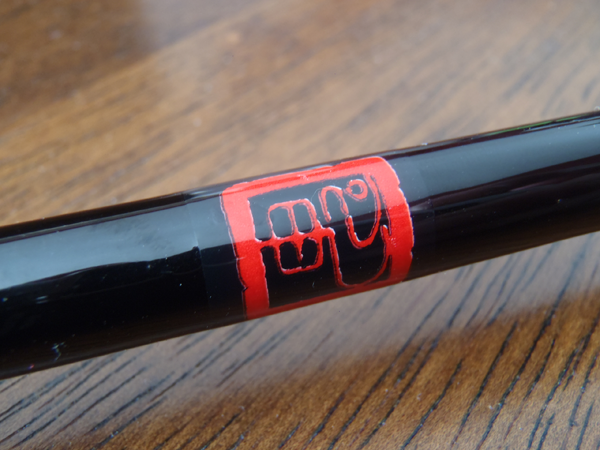 For one thing, the only marking on the rod is the Tenkara no Oni seal.  There aren't any flashy graphics or colors.  It doesn't even list the length, weight, or action.  But of course, it does have the apparently requisite lightning warning sticker (I wonder how many people have actually been struck by lightning while using a tenkara rod).
Aside from that, the blank is a nice unsanded black.  There are very thin gold accents between the segments but they're subtle.
Hardware
The 11 3/4″ handle is an EVA black foam, which at first I wasn't convinced I'd like.  I've been fishing with cork-handled fly rods for 20+ years and never liked foam.  I asked Tenkara no Oni why he chose foam over cork and he said it's difficult to get good quality cork right now because of the worldwide shortage and that foam is more durable and environmentally friendly.  That made sense even if I still felt a little leery.  But I can say the foam is actually pretty comfortable–it's about as firm as cork.  I could probably get used to it.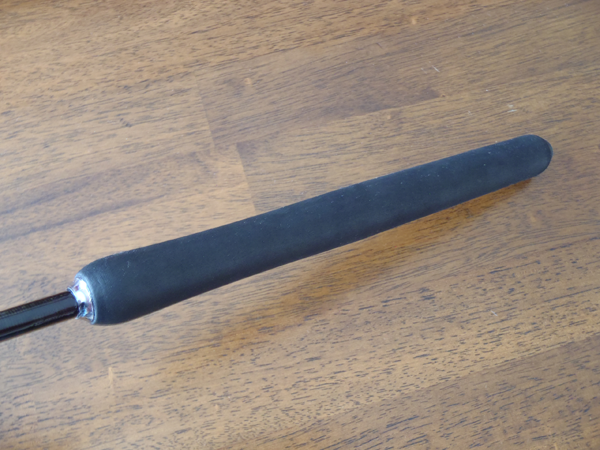 At first, I thought the grip was straight (like the old Tenkara USA Ayu), but after a closer examination, there actually is a slight indentation toward the top of the grip where you might place your index finger.  Apparently, Sakakibara-san makes each grip himself, which accounts for one of the reasons why there's such a long waiting list.  While the grip is comfortable and will no doubt prove to be more durable, I would still have prefered cork, if for nothing else than aesthetics.  But then again, this rod isn't about looks.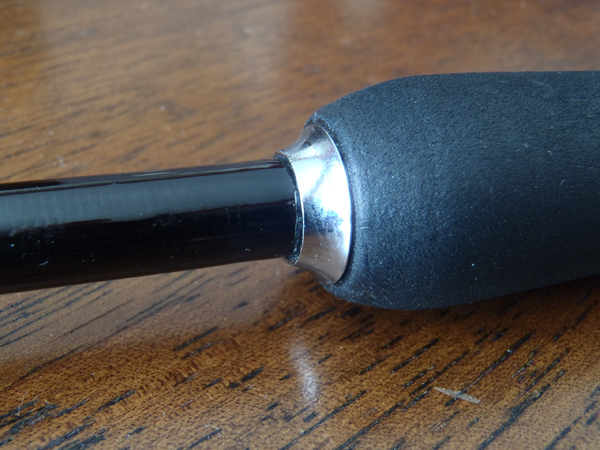 The rod plug is black plastic and rubber and is tight fitting.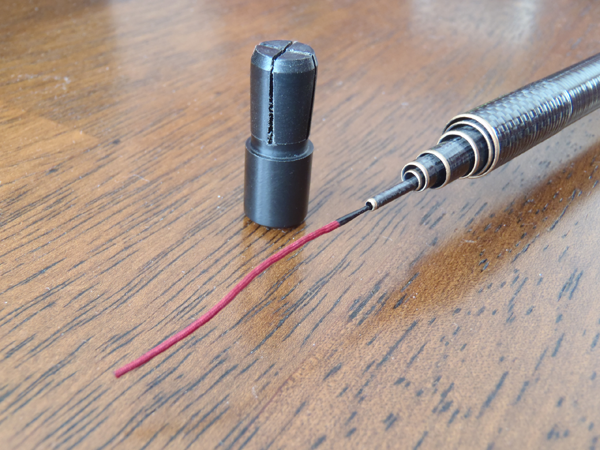 The end cap is plastic rather than the typical metal used on many tenkara rods and has a foam insert to eliminate the clanking sound of the segments smacking up against it when the rod is collapsed.  I can only assume the choice of plastic was to help reduce overall weight.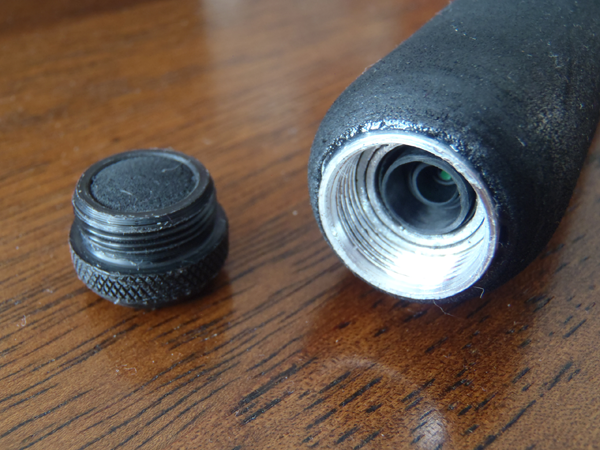 Accessories
The Oni rod doesn't come with a tube (which is fine with me because I never use tubes anyway.  What it does come with is a beautiful (very Japanese looking) rod bag with a simple tie closure at the top.
Action & Feel
On paper, the 3.2 ounce rod wouldn't raise any eyebrows for its lightness.  That seems to be a pretty common weight for a rod of this size. But in the hand, it's a different story.  The 4-meter rod feels incredibly light (probably lighter than any other rod I've tried).  I'm not sure how that was achieved from a design perspective, but I was extremely impressed.  After all, to me it's how light the rod feels rather than how much it weighs on a scale that matters most.
Now, for the most important part:  the action.  Any reservations I had about the Oni rod due to its lack of glitz were immediately gone with the first cast.  It cast so effortlessly, I had to ask myself, "did that really just happen?"  A few casts later and I could tell that the action was unlike any other tenkara rod I've ever tried.  At first, I tested a #4 16 ft. line (a line I use a lot) and that cast beautifully.  It seemed almost too easy to make pinpoint, delicate presentations.  I was able to cast with minimal movement and just let the rod do the work for me.
But since the rod is really designed to cast lighter, longer lines, I then switched to a #3 20 ft. line.  Amazingly, I was able to keep about the same accuracy despite the fact that I don't fish a #3 that much.  I really wanted to drop it down to a size more like Tenkara no Oni uses (like a #2) but discovered I didn't have #2 any laying around so that will have to wait.  And when I do get to it, it will probably take some practice since I'm not used to casting that light of a line.  But for now, I know I can fish it confidently with a #3 or #4.
It's always difficult for me to describe a rod action since it's so subjective (much like describing a wine's bouquet or flavor), but this rod is very responsive and feels crisp despite the intentionally delicate tip.  As I said, there are no markings on the blank to denote action, but if I had to guess, I would say it's probably a 6:4.  What really amazes me is that it seems nearly impossible to overpower the rod even with a longer or heavier line.  It communicates loading and unloading very clearly and just does what you want it to do (almost like it's reading your mind).
Conclusion
The Oni rod won't win any beauty contests and I know it won't magically make me cast like Tenkara no Oni, but I can already see a lot of synergy between it and my casting style.  It's a rod I didn't have to "figure out".  I picked it up and cast it as if I had been fishing it for years.  This is a no-nonsense fishing tool that was designed by a master to focus on what's most important: a good presentation.  Obviously, I'll have more to say about it once I get it on the water, but it's already evident that in the hands of the right angler, it would be able to do amazing things.
Update:  Oni rods are now available for purchase in the U.S. here