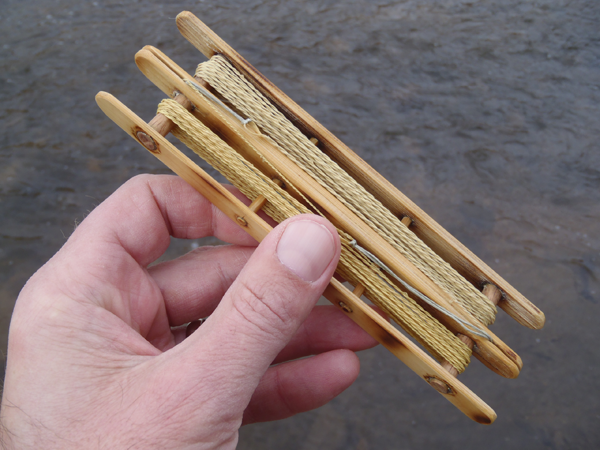 While I certainly appreciate the advances in technology that have allowed us to have high-performance fishing gear, I have always also had a fondess for rustic, traditional gear. There's something special about traditional, handmade gear that I just can't resist. It could be nostalgia, but I think for me, it's more about aesthetics.
Modern gear is mass manufactured and has no personality. The manufacturing process has been perfected so that 100 rods that just came off the line are all identical. This makes it difficult for me to have any any affinity for a particular piece of gear beyond being a cold tool. But each piece of handcrafted gear is unique. Whether it's a rod, a net, or a fly box, each piece is one of a kind. Each has its own variations and imperfections–its own soul. And I feel like part of the soul of the artisan who made it haunts it.  If there's anything that gives a "thing" value, that does.
I've posted about several pieces of hand made tenkara gear that I've got, including my wooden fly box, bamboo fly box, moose antler line spool, wooden line spool, etc. But now I have one more to add to my collection: a bamboo line winder from Tenkara Fly Shop.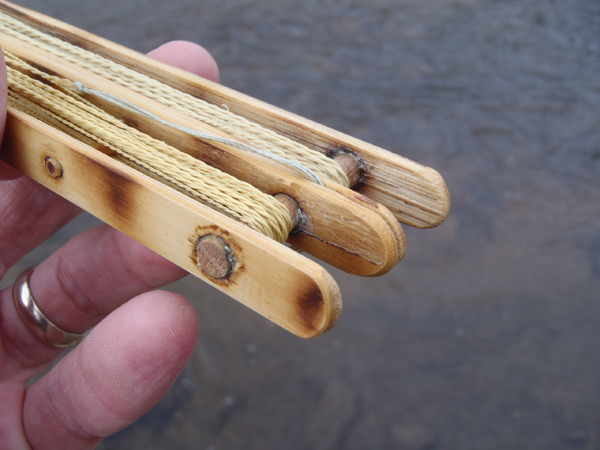 This winder is 6″ long by 1.5″ wide and will hold two lines. It has pegs to hold a fly as well as slots to secure the end of the lines. A long time ago, I wrote about another bamboo tenkara line holder I have but I like this one much better. For one thing, it's a lot bigger, meaning you can wind the line faster. But the main thing I like is the aesthetics. The bamboo is lighter colored with dark accents and is beautiful to look at. Holding it in your hand almost makes you feel like you've stepped back in history.
Since I normally fish level lines, spools are more practical. Because they're round, spools don't put kinks in level lines like winders do. So to me, winders like this are more suited to more supple, furled lines like the Kevlar lines from Tenkara USA. On the other hand, (as Karel recently pointed out to me) you still have to stretch out a level line on a spool anyway so if the winder puts kinks in your line, it's really the same process as if you had used a spool. So maybe this is a non-issue.  At any rate, I think this line holder is as functional as it is beautiful.
There's always a delicate balance between aesthetics and practicality when you're talking about gear like this. In this case, I think aesthetics wins.