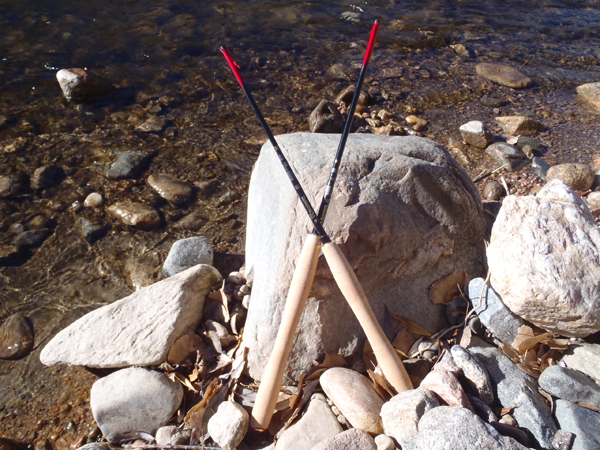 Tenkara USA has just released two new rods that are a complete departure from any design they've done in the past. So much so, that when I first laid eyes on them after opening the package, I had to double check the sender's address to make sure they weren't from a different company! Forget everything you know about Tenkara USA rods and take a closer look at why their new models for 2014 are real game changers.
Sato Specs
The first surprise was that both rods are 3-way zoom rods, meaning they can each adjust to three different lengths. The longer "Sato" is named after Ernest Satow who is accredited with the first written account of tenkara and adjusts from 10′ 8″ to 11'10" to 12'9″.
Weight: 2.6 oz (73.7 grams)
Closed length: 22 ¾"(57.78cm)
Open lengths: 10'8"(330cm)/ 11'10"(360cm)/ 12'9" (390cm)
Handle length: 10 ½"(26.7cm)
Segments: 9
Rhodo Specs
The shorter rod named "Rhodo" is a nod to the Rhododendron-choked streams where a shorter rod is required to keep your casts under the canopy. It adjusts from 8'10" to 9'9″ to 10'6″.
Weight: 2.1 oz (59.5 grams)
Closed length: 21"(53.3cm)
Open lengths: 8'10"(270cm)/ 9'9"(297cm)/ 10'6"(320cm)
Handle length: 9"(22.9cm)
Segments: 8
While these are very, very different rods, their features, materials and components are identical. So in the interest of time, I'll go over those similarities first before talking about the differences in rod action.
Blank
Right away, you will notice that these rods have very thin blanks compared to other Tenkara USA rods (even in similar lengths). This is due to the use of a higher modulus graphite which allows the walls of the blank to be thinner while maintaining strength. It also makes for a much lighter rod. At 2.6 oz. for the Sato and 2.1 oz. for the Rhodo, these are the lightest rods the company has ever produced. And they're not only light on the scale, but incredibly light in the hand.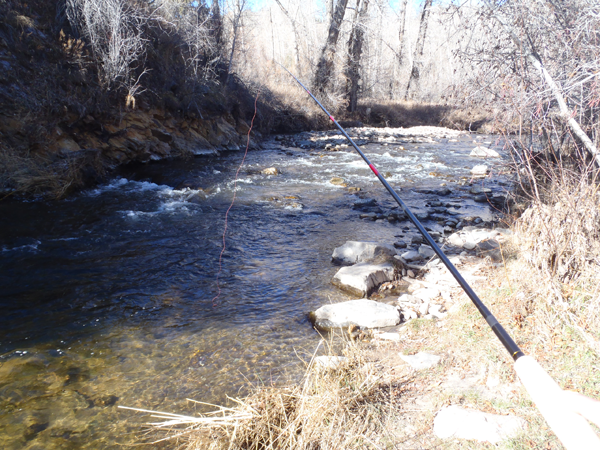 I anticipated that like my Tenkara USA Ito (which is a 2-way zoom rod), these rods would become exponentially tip heavy as they reached their maximum length. But they didn't. Whether you're in the shortest or the longest position, the rods maintain their airy feel without tip heaviness. This is no doubt another benefit of the higher modulus graphite.
Unlike most of the current Tenkara USA rods, these blanks are not sanded or painted and are a beautiful black color with red bands between the segments. The blank features markings for each stage so you know at which length you're fishing …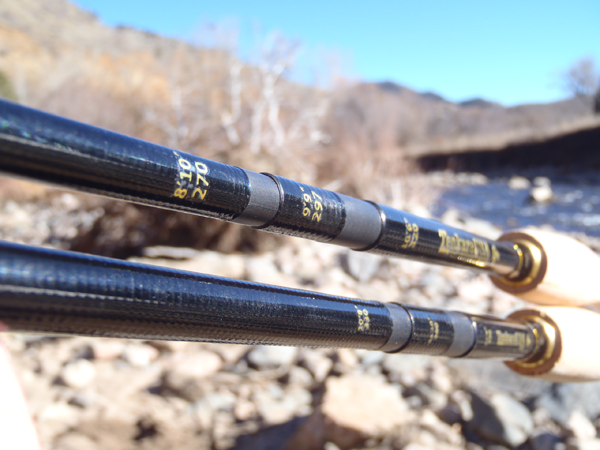 Handle
While the grip is a little shorter on the Rhodo, both have the same shape. There are ergonomic bulges near the top and bottom that make for a very comfortable grip in either position. I frequently hold my rod right at the bottom so was glad to see the handle flared there and in just the right thickness and length to fit the palm of my hand as if it were made for me. The cork also appears to be of better quality than some of the current Tenkara USA models. Sato grip (top) and Rhodo grip (bottom) …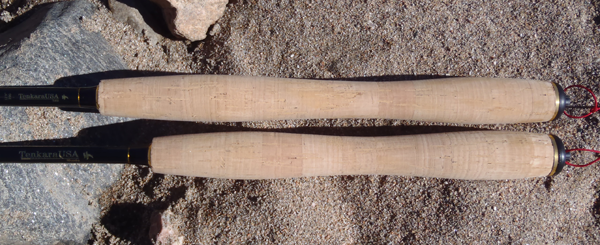 Rod Plug & End Cap
Unlike the wood/rubber rod plugs the company typically uses, these rod plus are completely wood with an attached red cord loop (the kind that first rolled out with the now discontinued AYU II).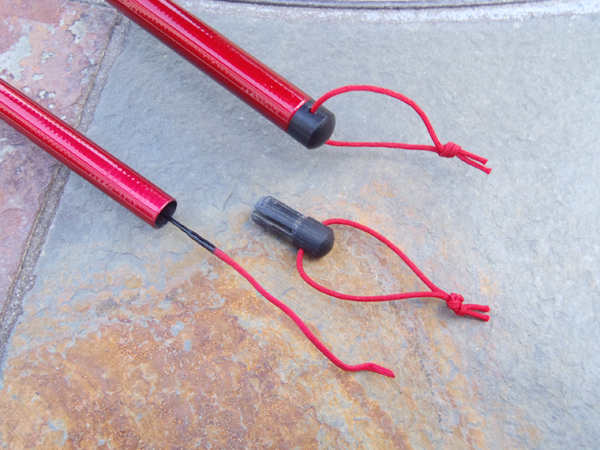 The cord serves 3 purposes: it makes the rod plug easier to find if dropped, it gives you a way to attach it to your chest pack or other gear so you won't lose it, and it serves as a backup lilian if yours falls or breaks off.  Click here for a video on how to do a quick field repair.
Most wood-colored rod plugs would be impossible to find when dropped but the red cord makes it stand out …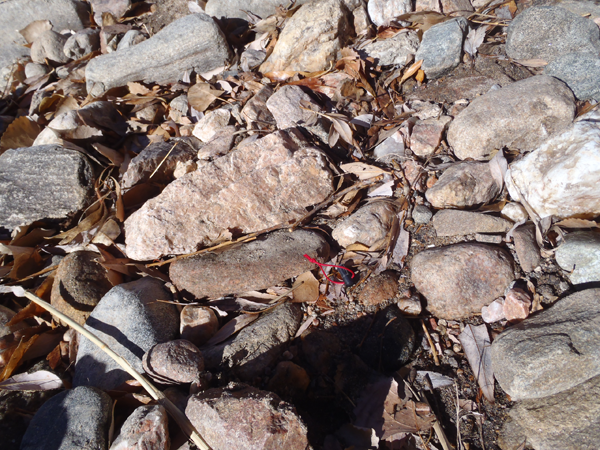 This rod plug design may not be revolutionary, but the new patented end cap is. It holds another rod plug so that if you do lose yours, you've got a spare. And, it's also got another spare lilian. Brilliant! So now, every time you take your rod out you've got two rod plugs, and two spare lilians. It would have to be a pretty disastrous day if you had to use all four of these redundancies but if you did, you'd be glad you had them.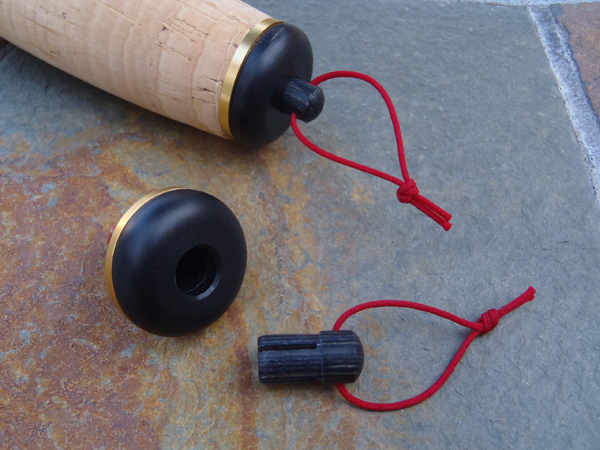 I also see another benefit to this design that maybe wasn't intended. If you wanted to, you could remove the spare rod plug and keep it somewhere else (eg. attached to your pack) and use the hole in the end cap as a handy place to store the original one you take off while you're fishing. In case you're wondering, when you remove the spare, there is a hole left but the rod segments don't slide out because it is sealed by a cushion. I'm probably more apt to use it this way than to leave the spare in there all the time since I rarely lose a rod plug, but am always looking for a place to store it while on the stream.
In addition to this clever feature, another difference from current Tenkara USA models is the material. All of their rods employ a metal end cap but this one is nylon. I imagine this is probably for weight savings. At first I thought it looked cheap but then I realized that it would be a lot more scratch and dent resistant than many of my metal end caps that now look like they went through a demolition derby so it seems like a practical choice of material to me. My only complaint about it is that it doesn't have any knurling around the perimeter which might make it difficult to remove if you've screwed it on too tight or have wet or cold hands. Seems like that would be an easy thing to add to the molding process and wouldn't add any cost.
Case
Both rods come with the standard-issue Tenkara USA green fiberglass rod tube with aluminum caps that open at both ends though it looks like they've added rubber cushions inside the caps for added protection and to cut down on noise. A Velcro closure "velvet" rod bag is also included.
Action
Now for the tricky part. As I've recently written, I think rod action is something that can't be accurately described objectively—it really has to be experienced. Keeping that in mind, imagine how difficult it is to try to describe two different rods, each with three different lengths!
I'm sure at some point, someone like Tom Davis will put these rods through a more scientific analysis such as the common cents system, but for now all I can do is give you my unapologetically subjective impressions and observations.
The Rhodo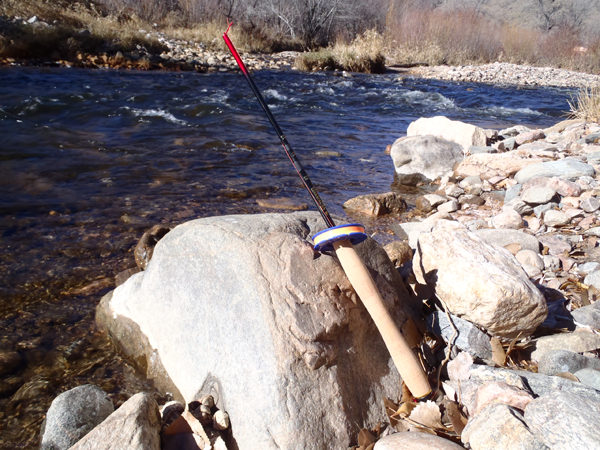 The first time you hold the Rhodo, it's immediately apparent that it's a small fish/small stream rod. It's so light in the hand that unless you give it a good wiggle, you could almost forget that you're actually holding something. Overall, the action is very responsive. It's "fast" in the sense that it recovers quickly when loaded, but definitely doesn't feel "stiff". It's a very delicate feel that makes fighting even a 4" brookie a blast.
I fished this rod with a variety of fluorocarbon level lines as well as a 10.5 ft. furled line. To me, this rod starts to get a little overpowered with heavier lines like a 4 or 4.5. I think it really performs best with a 2.5 or 3 level line. You also need to consider that with longer lines you'll want to use a smaller diameter to avoid overload. To me, the Goldilocks line for this rod is a 2.5 level line between between 10 ft. – 13 ft. though those who prefer traditional tenkara lines will be glad to know that it casts very smoothly with a tapered furled line. I think people who fish dries on small streams would find that the ideal combination.
Here are some of my impressions at different stages of zoom:
8'10"(270cm)
At its shortest length, the Rhodo feels like a delicate full flex rod. This is because the two thickest segments are still in the handle. The rod loads and unloads very easily and I felt that I had to slow down my cast a little to allow longer (i.e. 13 ft.) lines to turnover. You don't have to slow it down if you use a line the same length or shorter than the length of the rod. This stage is truly a small stream rod and it would seem to me that you'd naturally want to use shorter/lighter lines anyway.
This is the length that will put a smile on your face. It's just plain fun to cast and land fish. But that smile will quickly turn to a frown once the wind picks up. It just doesn't have enough backbone to overcome a strong gust. For that, you'll need to zoom it out.
9'9"(297cm)
Once you zoom out to the next position, the rod has a little more backbone and you can speed speed up your casting stroke. It's a very subtle change, but noticeably different if you're really paying attention and gives you the ability to throw a punch back at the wind or fish longer lines. While I like the action in this mode, I kind of miss the playful delicacy of the Rhodo in it's 8'10" mode. But like giving up childhood for adulthood, it might just be something you have to do at a certain point when the conditions demand it.
10'6"(320cm)
At full zoom, you've now got the two thicker butt sections of the blank to leverage against the wind and longer lines. It also helps balance out the rod length to line length ratio (i.e. it picks up some slack line) which will help with turnover. Surprisingly, when the Rhodo is fully zoomed out, it doesn't feel tip heavy at all. In fact, it still feels lighter than many non-zoom rods of equal length that I own.
But at this point, it feels less like a dainty small fish rod, and begins to take on a more all-around (dare I say 6:4) action. The combined extra length and added backbone make this stage more versatile, whereas at its shortest length, the Rhodo is really what I would consider a specialty rod for small, brushy streams.
The Sato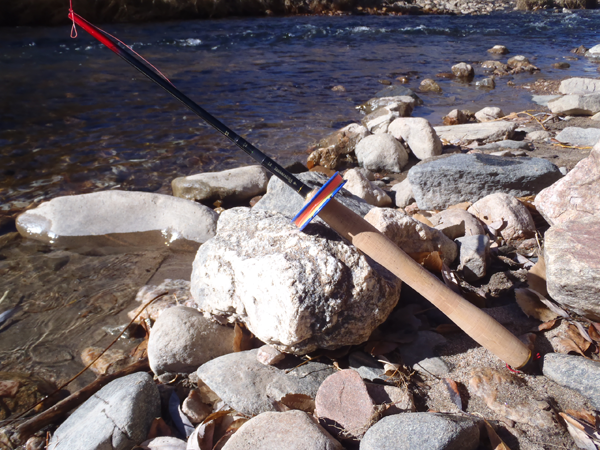 Despite its anorexic blank and ultralight weight, the Sato is very obviously a more all-around rod than the Rhodo and its personality immediately won me over. Its action reminds me very much of my beloved Oni rod—unbelievably light, crisp, and very accurate. I fished it mostly with a #3 16 ft. level line (because that's one of my go-to lines) and the rod performed perfectly.  It executed every cast as effortlessly as my Oni rod does and I felt that even though it was a brand new rod, it was already familiar.
While I really like using a #3 with the Sato, it can also handle lighter lines or even a heavier line like a 4.5 if you need to punch through the wind. But I feel like this rod was designed to perform well with lighter lines as the Oni rod was and that's really where it shines.
If I had to classify it according to the Japanese rating system, I'd have to say it's probably a 6:4. Like the Rhodo, the Sato is crisp and responsive without feeling too stiff—it's just a bigger rod.
Here are some notes on the Sato at its different lengths
10'8"(330cm)
Here the rod feels its softest, but definitely more powerful than the Rhodo, and definitely not like a specialized small fish rod. With a line about the length of the rod, you won't have to worry about wind, but when I used a 16 ft. line, I felt I had to zoom the rod out to get better turnover. I think a lot of people will like the "default" action of the Sato in this mode but will also appreciate being able to zoom out to longer lengths when needed.
11'10"(360cm)
Again, like the Rhodo, once you get a little backbone in the rod, it can turn over longer lines and overcome the wind while still remaining very light in the hand. For the streams I fish, the shortest stage doesn't really give me any advantage so I prefer the extra length and backbone. This is where the smiley face when you first cast the rod gets serious and turns to two dots and a straight line. OK, I've had fun, now, let's take it up a notch…
12'9" (390cm)
This is the length I found myself fishing the Sato in the most (probably because I'm used to fishing a 13 ft. rod). I actually prefer its two longer positions to its shortest. While the short mode is fun and I could see myself using it in certain situations, I feel the little extra backbone is better at turning over the longer lines I use and the extra length is an advantage on the wide open streams I typically fish. Since there's no weight penalty for fishing it at its maximum length, I will probably use the full length 90% of the time and will zoom it in only if I need to shorten up my casting distance a little.
An interesting phenomenon
I was having a conversation with Anthony Naples about these rods, and we both noticed something interesting. It's going to be hard to explain but I'll try. The aforementioned Ito feels like a completely different rod depending on if it's zoomed out or not. But on the Sato and the Rhodo, we didn't experience that. Even between the minimum lengths and maximum lengths, they don't feel like "different" rods. They just feel like different lengths of the same rod. That probably doesn't make a lot of sense, but if you reread this passage and then go actually cast each rod at all three lengths, I think you'll know what I mean.
Part of this could be the different graphite, the different lengths, or the fact that these rods don't become tip heavy like the Ito does. But I thought it was worth noting.
Final Thoughts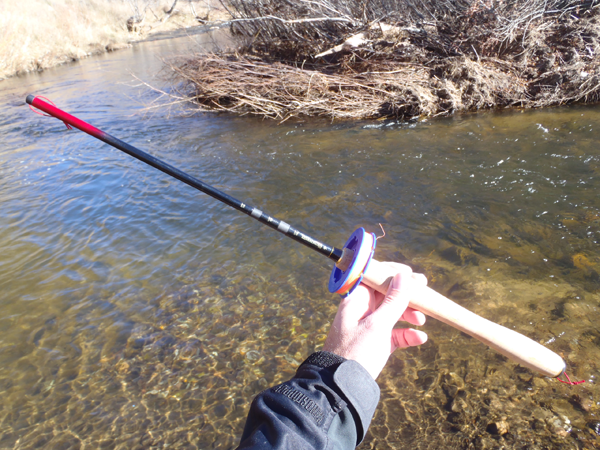 I still think that rod reviews (including the one I just wrote and you just read) can only tell part of the story. You have to get a rod in your hand to feel it. You can read all the reviews and other people's stats you want but that will never tell you if you'll like any particular rod. So, take this review for what it's worth–just my opinion. As much as I would like to, I can't put the Sato or Rhodo in every tenkara anglers' hands. But, if your in the Denver area, I'd be more than happy to bring them out to a Starbucks for some parking lot casting so you can see them for yourself. Contact me here.
I've decided to make the Sato my new go-to rod. I love the action every bit as much as my Oni rod, but if I break it, it's easy to replace so I won't have to be nervous about fishing it. Plus, I like the contoured shape of the grip better than the straight, foam handle on my Oni rod. I'll still fish my Oni on special occasions, but since the Sato does everything I want it to with the same finesse and feel of the Oni rod, it just seems to make more sense.
I probably won't use the Rhodo that much, only because the streams I fish don't require a short rod. However, I will take it out once in a while just because it's such a fun rod to fish. I also see many bluegill in its future.
I have to be honest. When I first heard Tenkara USA was coming out with new rods, I really expected something more like a minor update to the Ito or Ayu or something. I really didn't expect anything as radically different as this. I can't imagine the amount of design work and testing that went into these rods and I hope this is a sign of new (real) innovation to come from the company. If there were a "Tenkara Gear of the Year" award for 2014, I would nominate the Sato and the Rhodo in the blink of an eye.
And in case you're wondering if I think these new rods are purple cows or not, my answer is simple.  Mooooooo!
For another perspective on these rods, check out Tom Davis' review on Teton Tenkara.
For pricing and more information on the Sato and Rhodo, visit Tenkara USA.