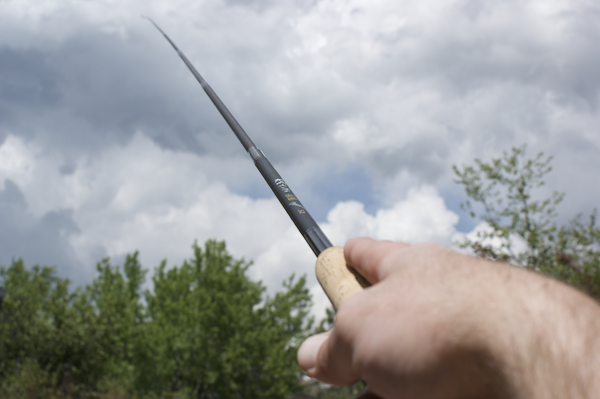 I was talking to a tenkara gear designer the other day about the problem of trying to accurately describe rod action. The conversation was especially interesting to me because this is a problem I face every time I write a tenkara rod review (and one I've often been criticized for). Part of the problem lies with the confusing ways in which rod actions are described, and part of the problem is that "action" is often in the eyes (or rather hand) of the beholder.
Our conversation began with the premise that the current system inherited from Japan that uses the 5:5, 6:4, and 7:3 designations is not only confusing, but usually inaccurate. These numbers only tell you where the manufacturer says the rod bends most easily–not how the rod actually feels. Notice I said where the manufacturer "says" the rod bends. This is because I've seen rods rated a 5:5 that were to me more of a 6:4 (for example) from several companies. And, I've seen companies change the rating, even though the design of the rod remained the same. They maybe came to the conclusion that the original rating they gave the rod was inaccurate.
And I can see why. Where do you really pinpoint where the rod flexes to settle on a number? With a heavy line and an aggressive enough casting stroke, I can get a 6:4 to bend into the middle of the rod (5:5). But it bends more easily into the 6:4 position. So is that a 5:5 or a 6:4? It seems like even some of the people who make rods have a hard time deciding.
Even if you could nail a 6:4 as a true 6:4, it still wouldn't tell you how the rod actually feels. It won't tell you how it's going to collaborate with you on the stream. The rating doesn't tell you anything about how the rod loads and unloads. For example, the Tenkara USA Iwana is a very different animal than the Tenkara USA Ito though both are rated 6:4. In fact, both are 6:4–just different 6:4s. The Iwana feels much "crisper" than the soft-tipped Ito and I imagine each would appeal to very different casting styles. Some might like the stiffer action of the Iwana and feel the Ito is too soft and vice versa.
There's another rod rating system that is used by Chris Stewart of Tenkara Bum called the Common Cents system. It's a little more objective since it measures the number of pennies it takes to bend the rod into 1/3 of its overall length–all of which is measurable. But I would argue (and I don't think Chris would disagree with me) that this still doesn't really tell you how the rod casts or feels. It basically tells you how stiff a rod is compared to others. Even though this system has its own shortcomings, I think it's probably more descriptive than the Japanese system.
In addition to numerical rating systems, you have the even more vague adjectival descriptions. "Stiff", "soft", "fast", "medium","slow", "tip flex", "midflex", "full flex", "crisp", "whippy", "noodly", "clubby", etc. are all commonly used to describe rod action. But these are even less objective than the two indices I mentioned above.
The main problem with adjectives is that they're subjective. What might feel "too stiff" to you, might feel "soft" to me. Every experienced angler seems to have their own preference in rod action. And not only that, interpretation of rod action is different for everyone. I've actually had someone purchase a rod based on the way I described it but they didn't like it because to them, it felt different that what I described. That's because we all experience haptic feedback in different ways.
It's even worse for beginners who don't even have any experience to even know what they like or dislike. Ok, so this rod is "midflex". Is that good? Is that what I want? No adjective can tell you that if you don't know what your preferences are yet.
A while ago, I wrote a blog post suggesting we come up with a better rod rating system for tenkara. But in retrospect, I feel that since the idea I proposed combines two systems that are inherently imprecise coupled with the fact that rod action preference is so subjective, that that system wouldn't be any better than any others.
So, what are we to do?
Getting back to my conversation with the gear designer…we came up with several very interesting ideas. Some of them were really out there and seemed like they might work, but as we explored them, we kept hitting a wall with each one. In the end, I think I came away from that convo with the conclusion that rod action cannot really be described. It can only be experienced.
That's not to say that some index, rating, or description can't help you narrow down your choices to help you find a rod you like. But until we become completely objective robots, I think the only way we can really tell if we will like a rod or not is to get it in our hands and actually cast it.
Which brings us to an even bigger problem (and one that if solved, would also solve the problem at hand): the stunning lack of tenkara rods in brick & mortar stores.
Before I fished tenkara, I wouldn't even have thought of buying a rod until I was able to test cast it first. This was for two reasons. 1.) the challenges I describe above also exist in western fly fishing. 2.) There was no way I would shell out $600 for a fly rod before casting it first. Granted, tenkara mostly doesn't have the problem of #2 because tenkara rods are significantly cheaper in general and some companies offer a very liberal return policy so you can buy the rod online, try it, and return it if you don't like it.
But I still think we need to get tenkara rods into people's hands. Not only will it make rod selection easier and overcome the whole action rating problem, but it will also bring more people into the sport. I know this because every time I've put a tenkara rod into the hands of a skeptic, the first word out of their mouth is always the same: "wow!".
So now I've come to terms with the fact that I don't really have a good way to describe rod action in my rod reviews. Will I stop doing them? No. But keep in mind that what I write is the way I experience and interpret the rod. And until someone smarter than me comes up with a better system, your mileage may vary. That is, until tenkara grows to the point where a system is no longer needed and you can head to your local fly shop to test cast one for yourself. I hope that day comes.