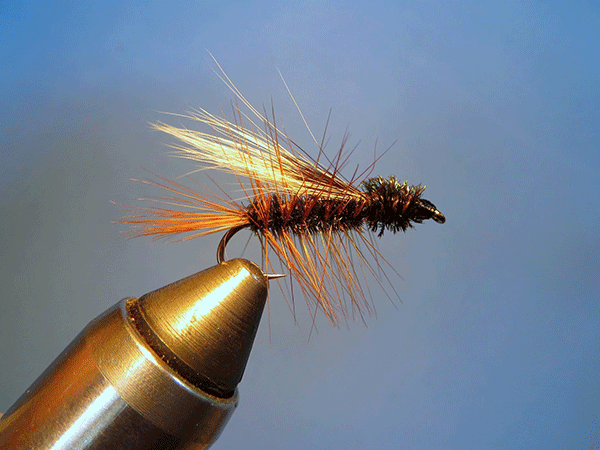 Over the centuries, countless fly patterns have been lost to history. Some have made brief resurgences in popular fly fishing culture, only to disappear and hibernate again, waiting for their next 10 seconds of fame. Still, it's fair to say that there are probably dozens (if not hundreds) of once-popular patterns that modern fly anglers have never heard of.
Perhaps it's because the allure of using patterns with high-tech modern materials is stronger that researching the classics. But there's one classic pattern that I think deserves attention–especially the attention of tenkara anglers. The Picket Pin.
The Picket Pin was developed in the early 1900s by Montana tackle shop owner Jack Boehme and while the style has changed over the years, its effectiveness has not. It's one of those very simple patterns that seems to have dialed in the right materials and design elements to be a fish magnet. I've used smaller size for stream trout, larger sized for trout in lakes, and have even landed steelhead on them!
Why is it good for Tenkara?
Like tenkara, the Picket Pin is highly versatile and instantly adaptable to different presentations without switching patterns. Like any good candidate for a "one fly", it can be fished in a variety of ways:
1. Cast upstream and fished in a dead drift like a nymph
2. Stripped in like a streamer
3. Fished on the surface as a stonefly or hopper
4. Swung downstream like a wet fly
5. Pulsed like a sakasa kebari
6. Skittered across the surface like a caddis
While the original version was intended to imitate a stonefly, its profile and materials make it buggy looking enough to be mistaken for a multitude of aquatic food sources–especially tied in various sizes.
Another reason I think this is a good fly is that it's fairly easy to tie and uses common, easy-to-find materials. If you're a fly tier, you probably have all the materials you need to tie one right now.
Recipe
Here are the materials for the most commonly used recipe.
Hook: Your choice (usually a standard or 2-3X long nymph hook)
Tail: Brown hackle fibers
Body: Peacock herl
Ribbing: Sm. gold wire
Hackle: Brown saddle
Wing: Grey squirrel tail
Head: Peacock herl
How to tie the Picket Pin
Here's an excellent video by Tim Flagler of Tightline Productions on how to tie the Picket Pin and a little more history on the fly.
While the version in the video above is probably the most popular, this pattern lends itself to a lot of experimentation. You could try peacock herl dyed in different colors (even use contrasting colors for the head and the body), use different hair for the wing and tail, different colored wire, etc. You can also tie it on shorter hooks to give it a more more robust appearance, or longer shank hooks to give it a more slender profile. I've even seen beadhead versions of the fly. With so many different possibilities, you're only limited by your imagination.
If you haven't tried a Picket Pin, you owe it to yourself to buy or tie a few up and give them a shot. I think you'll find this classic fits in very well with tenkara's philosophy and techniques.