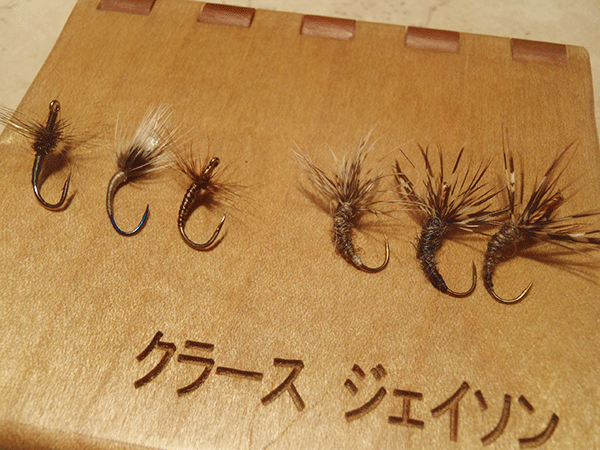 When I first started tying soft hackle flies, the conventional wisdom was that you should make the body as slender as possible. I practiced a lot to achieve perfectly smooth, anorexic bodies that were literally no more than a few silk strands thicker in diameter than the hook shank. They definitely worked great and were beautiful ties. But something seemed amiss. If "thinner was better", why did more robust flies like the Hare's Ear Nymph produce so well?
Imagine a typical soft hackle with a very thin body. It's got the hackle sweeping back over the body to the bend of the hook. Now when this fly is underwater, the hackle collapses a little, forming a football-shaped silhouette. There is negative space in between the hackle fibers where there is no material ("holes" if you will), but I believe an illusion takes place that betrays its slender physique. The brain "fills in" the negative space between the hackle fibers making the fly look more robust than it really is. There have been studies on this phenomenon of filling in empty space on humans, and while I'm not an expert on ichthyological vision, I don't think it's a stretch to say that it applies to trout as well.
Especially when you consider that trout in a rushing stream only have a couple of seconds to determine if something is food or not. They only have the luxury of forming an overall crude impression of the things incessantly floating by them before they decide to strike it or not. I think this urgency forces their brains to make a rush decision and "fill in the blanks" as fast as possible. So, a dainty-bodied soft hackle with a few hackle fibers running back actually looks like one robust mass rather than individual, sparse parts.
Try this: pull a soft hackle through the water and squint your eyes. I think you'll see what I'm talking about.
Now, years later, I've heard the same benefits of thin-bodied flies echoed by pundits in the tenkara chapter of fishing career–specifically, to make thread-bodied sakasa kebari as slender as possible. I started off tying my kebari this way and they worked too. But recently, I've been calling the theory into question. So, the last dozen or so times I've been out, I experimented. I replaced my thin-bodied flies with plus-size models. Rather than slim thread-bodied flies, I opted for patterns with much thicker, tapered bodies made of dubbing or yarn. And the results were interesting.
Overall, my catch rate did improve significantly–especially on dead-drift presentations. I feel that when moving a sakasa kebari with a downstream swing or pulse, the body is probably irrelevant as the motion of the opening and closing hackle is probably what gets the trout's attention. But on the dead drift, the thicker bodied flies seem to produce much better than the thin, thread-bodied flies.
So here's my theory of why "fat" flies are better. But beware…it's completely unscientific and based on empirical evidence, conjecture, and possibly too much beer…
Why Fat Flies are Phat
1.  Better Visibility. Trout vision isn't as good as we think it is. To compound that, they have lots of flotsam constantly jetting past them and only a split second to identify what's food and what isn't. A stouter silhouette is going to be easier to spot at a further distance as they look upstream and an easier target to hit as it approaches their lie. As a predator, an easy target is more desirable than one you have to scrutinize or anticipate. And this is especially true in fast, high, or stained water.
2.  Buggier looking. With the exception of midges and some species of caddis larvae or mayfly nymphs, many of the the aquatic insects in a trout's daily buffet have a fat profile. Most mayfly nymphs are flat and broad, caddis pupae are plump & juicy, and they occasionally get served up the underwater equivalent of a 17 oz. porterhouse steak (a big, juicy stonefly nymph). While tenkara tends to shun the whole "match the hatch" philosophy, it doesn't hurt if your flies at least resemble familiar menu items.
3.  Higher in protein. Unless they're in a lush tailwater or spring creek, many trout live in a poverty mentality. Especially at high altitudes, insect life is scarce and competition is fierce. Larger, fatter flies are simply going to mean more protein for less energy expenditure. Why do you think they attack grasshoppers so voraciously? One hopper is equivalent to probably 100 midges but with a lot less effort. Look at the first picture in this post. If you were a hungry trout, which would you rather eat? The 3 flies on the left or the 3 flies on the right?
4.  Mmmmm…chewy!  Chris Hendricks of Tenkara Norway recently posed this question to Facebook:
"I have a theory and would like to know what our experience is about it. Chubby flies from dubbing are soft and feel more bug-like when taken by the fish and are therefore less likely to be spit out by the trout. I have the feeling that slick tight flies from synthetics or just thread are more likely to feel like a stick in the mouth of the trout and will be spit out more quickly then a chubby flies. What is Your experience?"
I'll confess I don't know the answer to this but it seems to make sense. I remember some experiments my old fishing buddy George and I did years ago to try to address this topic. We felt that fish were being turned off by feeling the rigid hook shanks of our flies so we decided to make them bulky and "squishy" (the way a real insect might feel being crushed by the jaws of a trout).
So we tied some flies with open-cell foam as an underbody covered it up with dubbing. They sure felt more realistic in the hand, but back then, we didn't compile "data" the way we do today. We just fished and talked about our experiences later over a beer or scotch (or both)–meaning I can't remember if it actually made a difference or not.
It would seem to. I suppose it really depends on the timing between when the fish strikes the fly and when the angler finally realizes it and sets the hook. A more palpable, convincing, squishy feel might give you an extra second or two that could mean the difference between a landed fish and a lost fish.
Conclusion
I won't deny that there are situations where dainty flies will perform better than beefy ones in certain situations, but if you fish the types of streams I do, I'd say you should challenge the across-the-board wisdom that wet flies and sakasa kebari must have bodies thinner than a bulimic supermodel. Trout want to eat and you want to serve them a meal. So why not give them the best dining experience possible?
What are your experiences with thin vs. thicker bodies on your flies?
Like this article? You might also like these ...