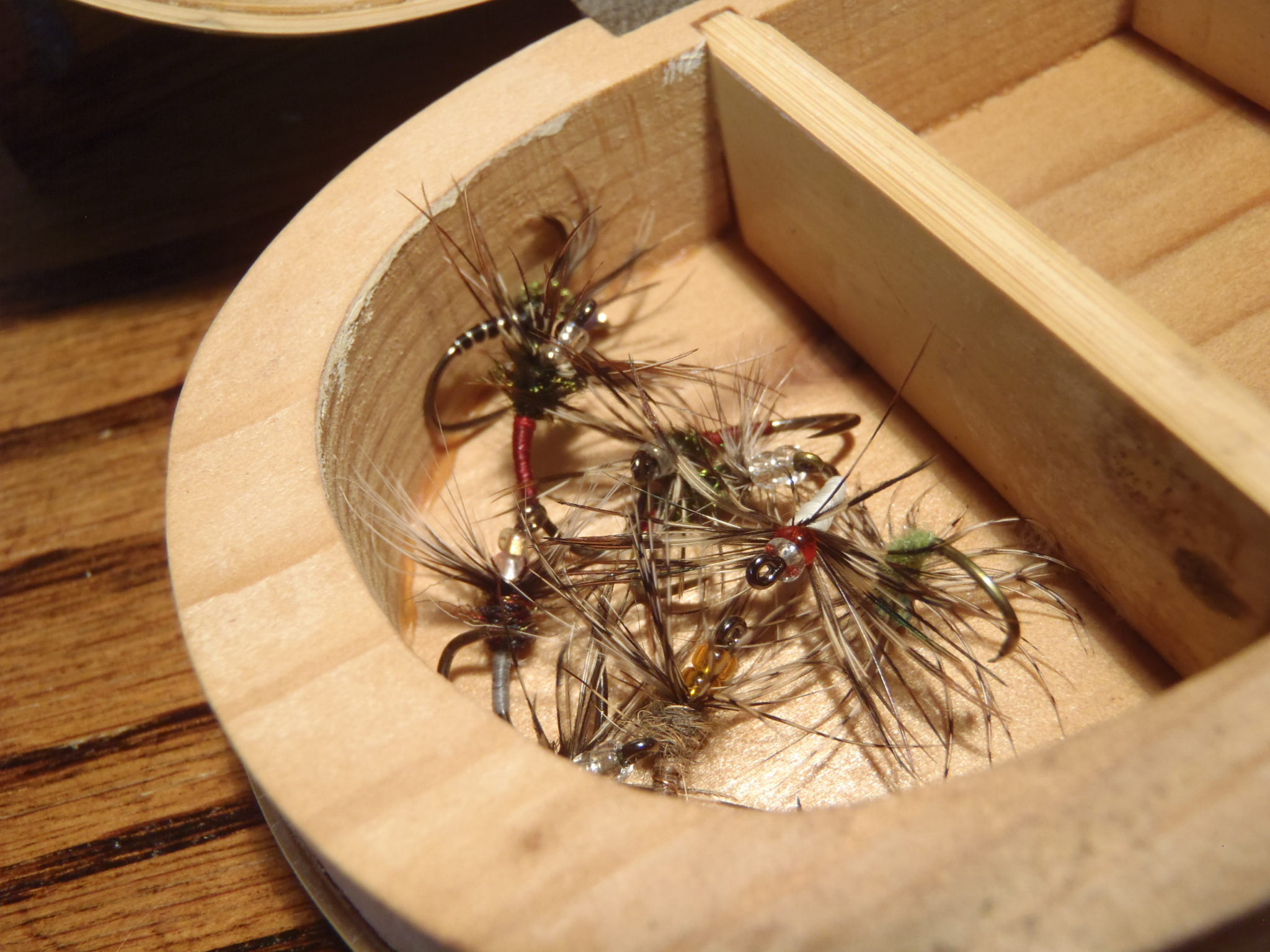 I'll preface this by saying that that I'm probably not the first one to have thought of this. Whether it's a new DIY alcohol stove design or a fly pattern I thought was original, it often turns out that someone else had already beaten me to it. But I came up with this design independent of any outside influence so I'm considering it "semi-original".
The basic idea is this: two small glass beads at the front of a sakasa kebari. Fly tiers have been adding beads to sakasa kebari for a long time but they're usually a size medium and are brass or tungsten. But this design is a little different. You might be asking, "why two small glass beads instead of one bigger one?" The truth is this was born (out of all things) a lack of inventory.
I had been experimenting with some sakasa kebari that incorporated brass and tungsten beads. But for the water I was fishing, I found they sank too well. I was getting snagged on the bottom too much and losing a lot of flies. So, my natural inclination was to try out the same patterns using lighter glass beads. I hadn't used glass beads in years. I used to use them a lot back when I tied a lot of minuscule midge patterns, but never for tenkara flies.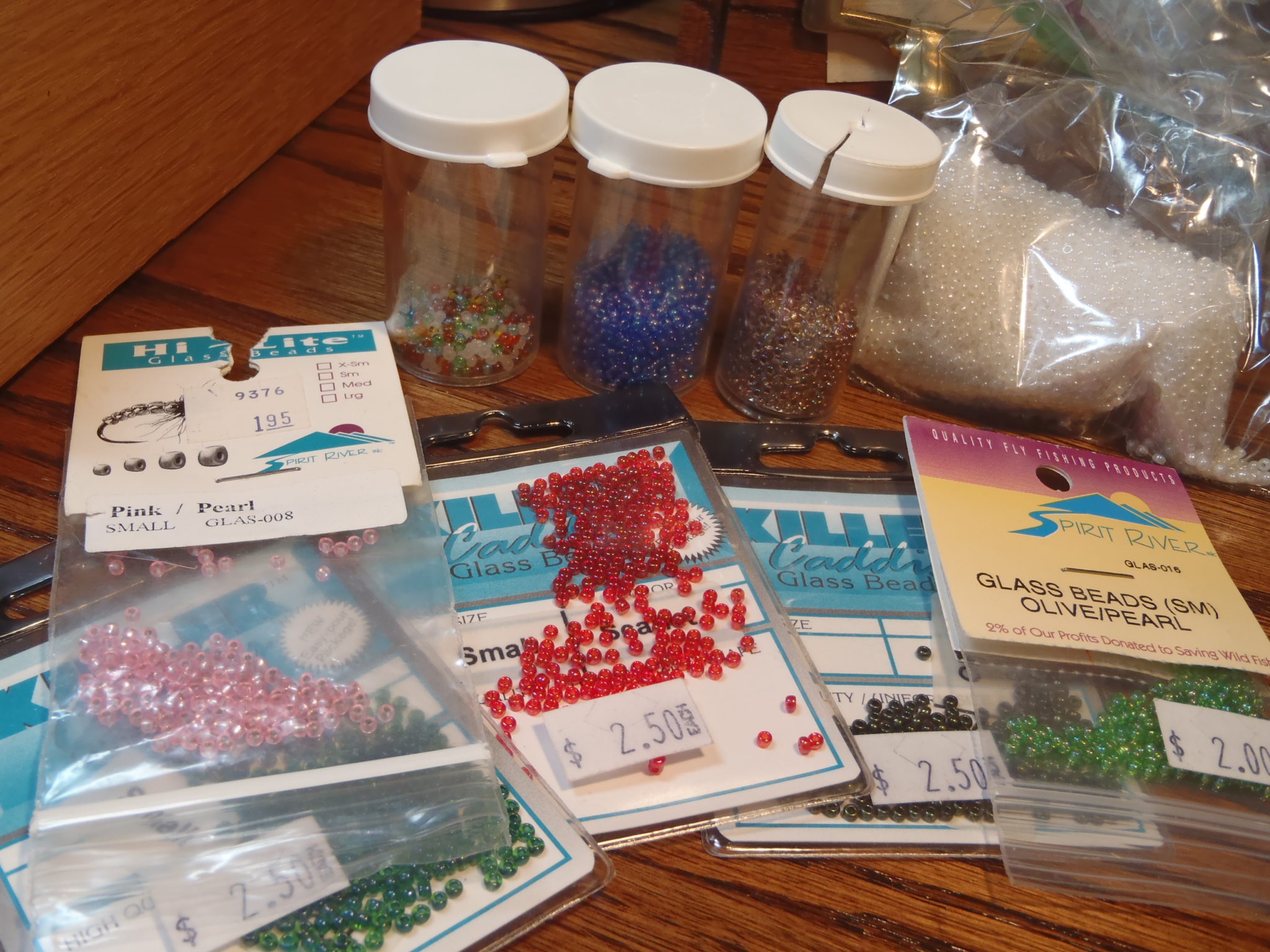 I headed back to my tying desk and started an archeological dig through my glass bead drawers. I discovered dozens of really tantalizing colors–some you can't even get from fly tying vendors (I used to work near a jewelry bead shop and would buy them in bulk). I was excited at the new possibilities–it was like handing an artist a new color of paint they'd never seen before. There was only one problem. All of them were size small or extra small–none like the size medium I was looking for to fit a #12 hook.
I didn't really feel like making a trip to the fly shop, so I figured I could just slide two small beads onto the hook, and that would approximate the same weight of one medium bead. And that's when I came up with the name, "Double-Pane Sakasa Kebari" ("double-pane" as in a double-pane glass window"). I never said I was good at naming flies.
Advantages
As soon as I tied the first fly, I recognized some design advantages:
Most sakasa kebari have an extended base of thread behind the eye which places the hackle more mid-shank (rather than right behind the eye like many western flies). The distance the two small glass beads take up is about perfect to achieve this–placing the hackle in the ideal position.
Being lighter than brass or tungsten, the fly will sink well, but not so much that it's getting hung up on the bottom all the time.
The humps created by the double beads create more sparkle and flash than a single bead increasing the attractor characteristic.
As you'll see below, you can even use two differently colored beads to achieve interesting effects such as contrast or visual blending.
Disadvantages
Probably the biggest drawback I've found so far is that not all glass beads will fit all hook styles. It all depends on the way they're drilled and the bend of a given hook. But in general, they will fit most popular hook designs.
They're inconsistent. Though manufactured, working with glass beads is almost like working with a natural material–they have anomalies that you have to account for. For example, the size of the bead can be inconsistent and you might have to scrounge a little to find two of similar size. Or the holes might be different sizes–one slides on perfectly and the other won't. Just keep in mind that not every bead will fit every hook. But if you find a few that won't make it past the bend of the hook you're tying on, don't throw them away! Save them for later use on other hooks.
They can crack. I've cracked more than a few by trying to force them past the bend. But they're so cheap (especially if you buy them at a bead shop) that I don't consider this a major disadvantage. I've been fishing glass beads for years and have never had one crack while fishing–only through my stubbornness at the vise.
Examples
Given the myriad of colors available today, there are nearly endless possibilities. If you use your imagination, you can come up with some really unique patterns that the fish have never seen before–something I think is a huge advantage to the angler especially on highly pressured waters. As a side note, the pictures don't really do the following patterns justice. The beads look much more vibrant and translucent in real life. But here are a few ideas to get you thinking …
A Takayama Sakasa Kebari with crystal/pearl beads (this is so far my most effective glass-bead pattern)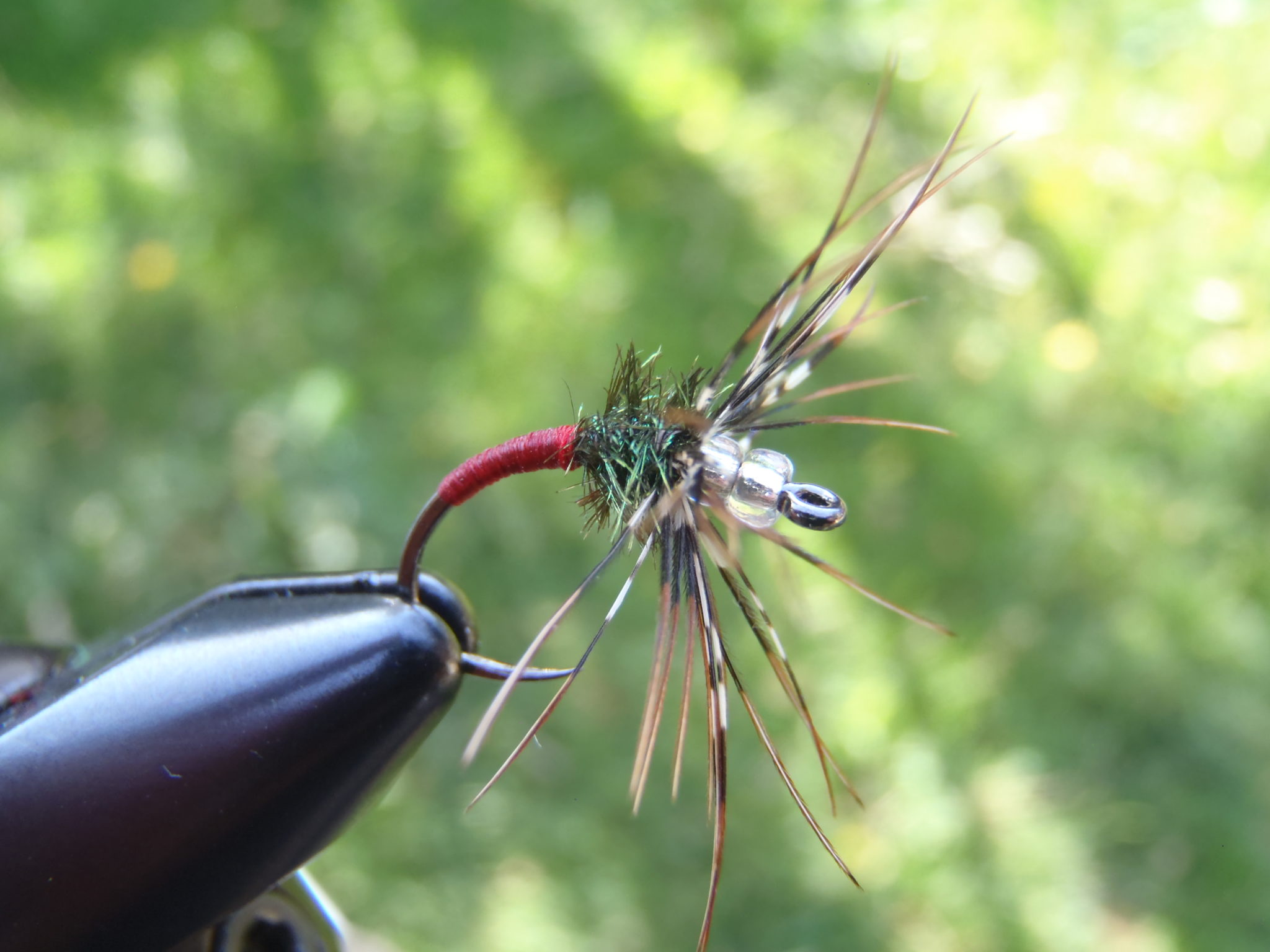 A dubbed caddis green sakasa kebari with blue beads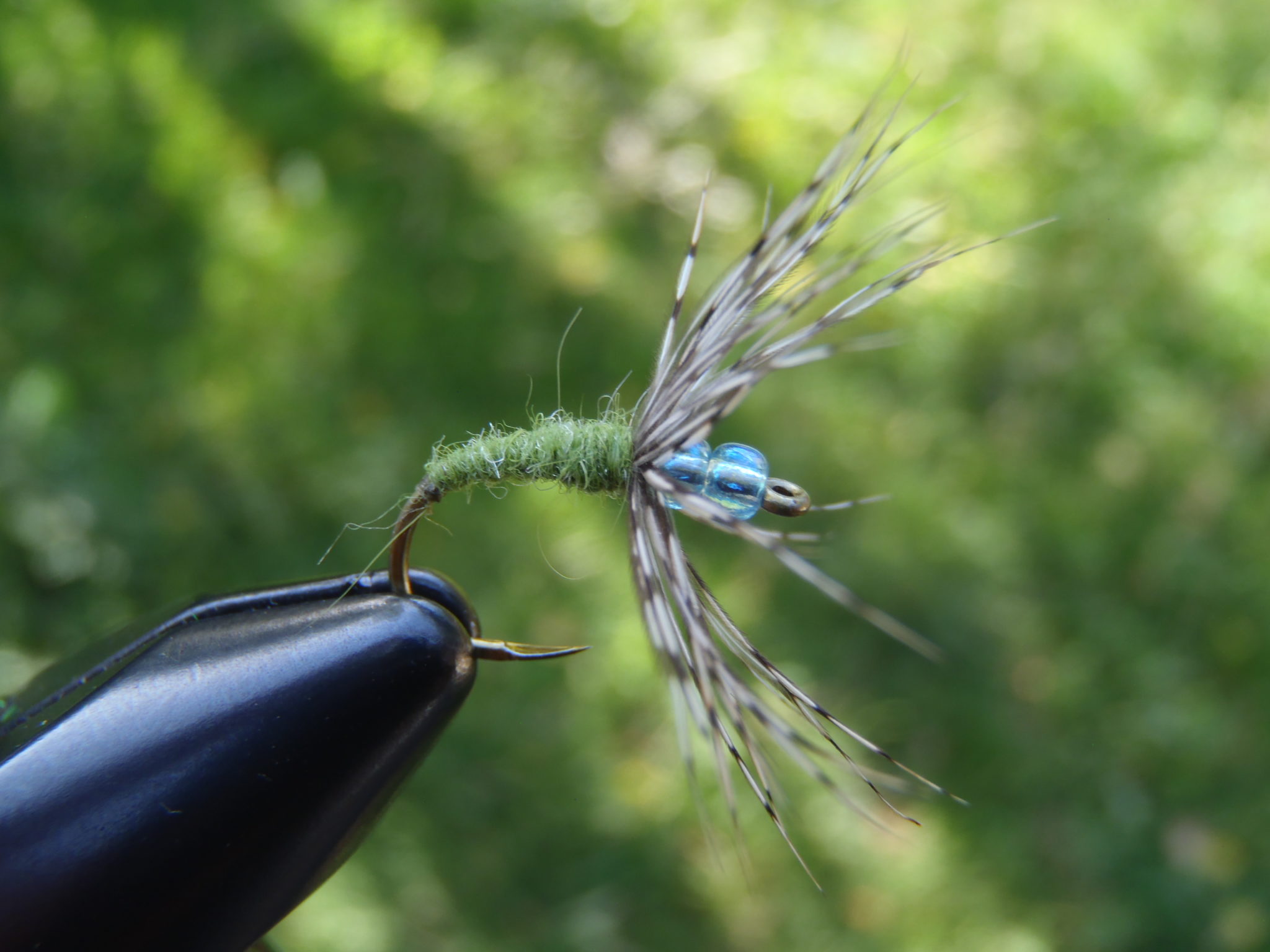 A stiff-hackle kebari with crystal/pearl beads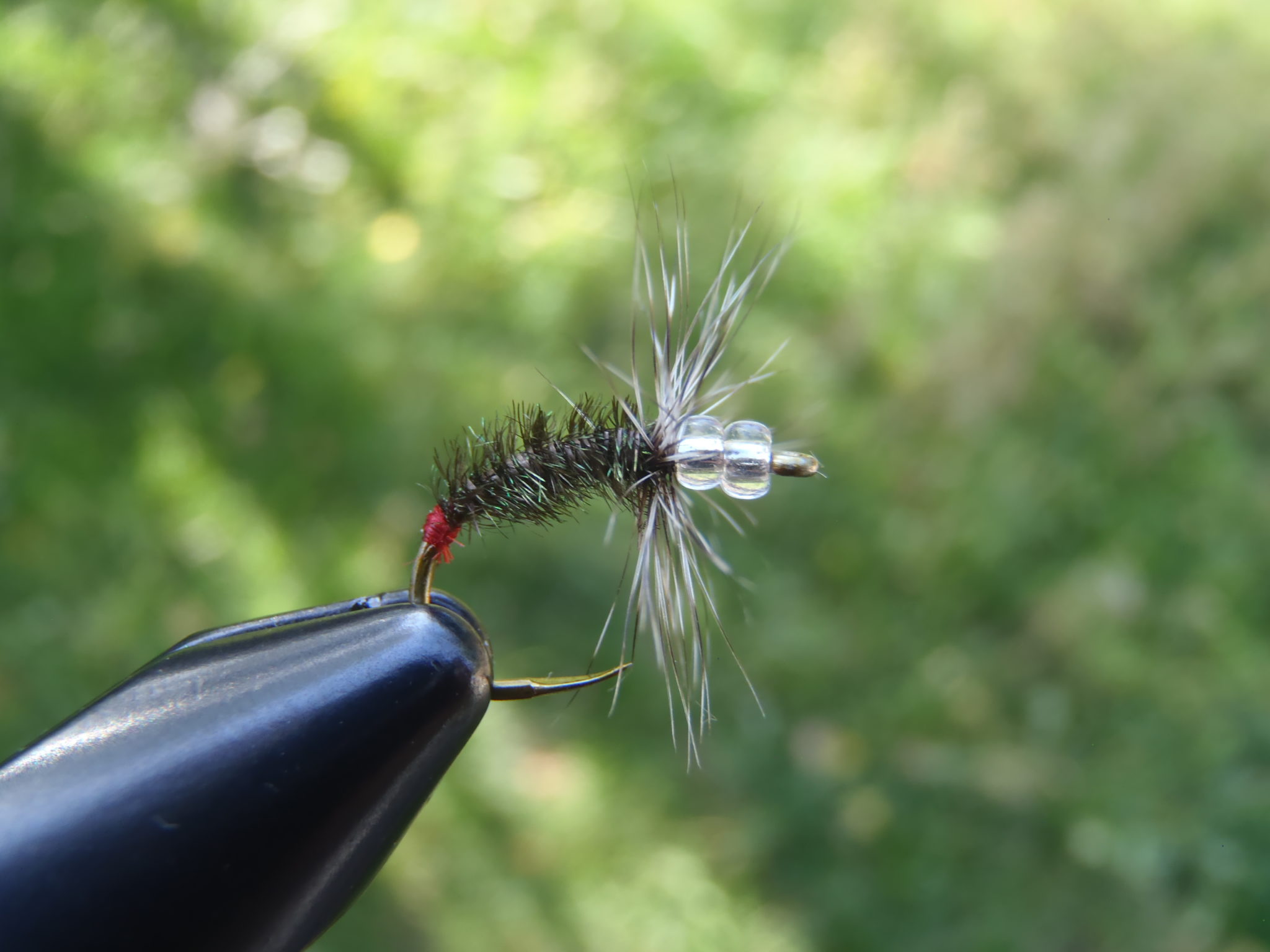 Partridge and orange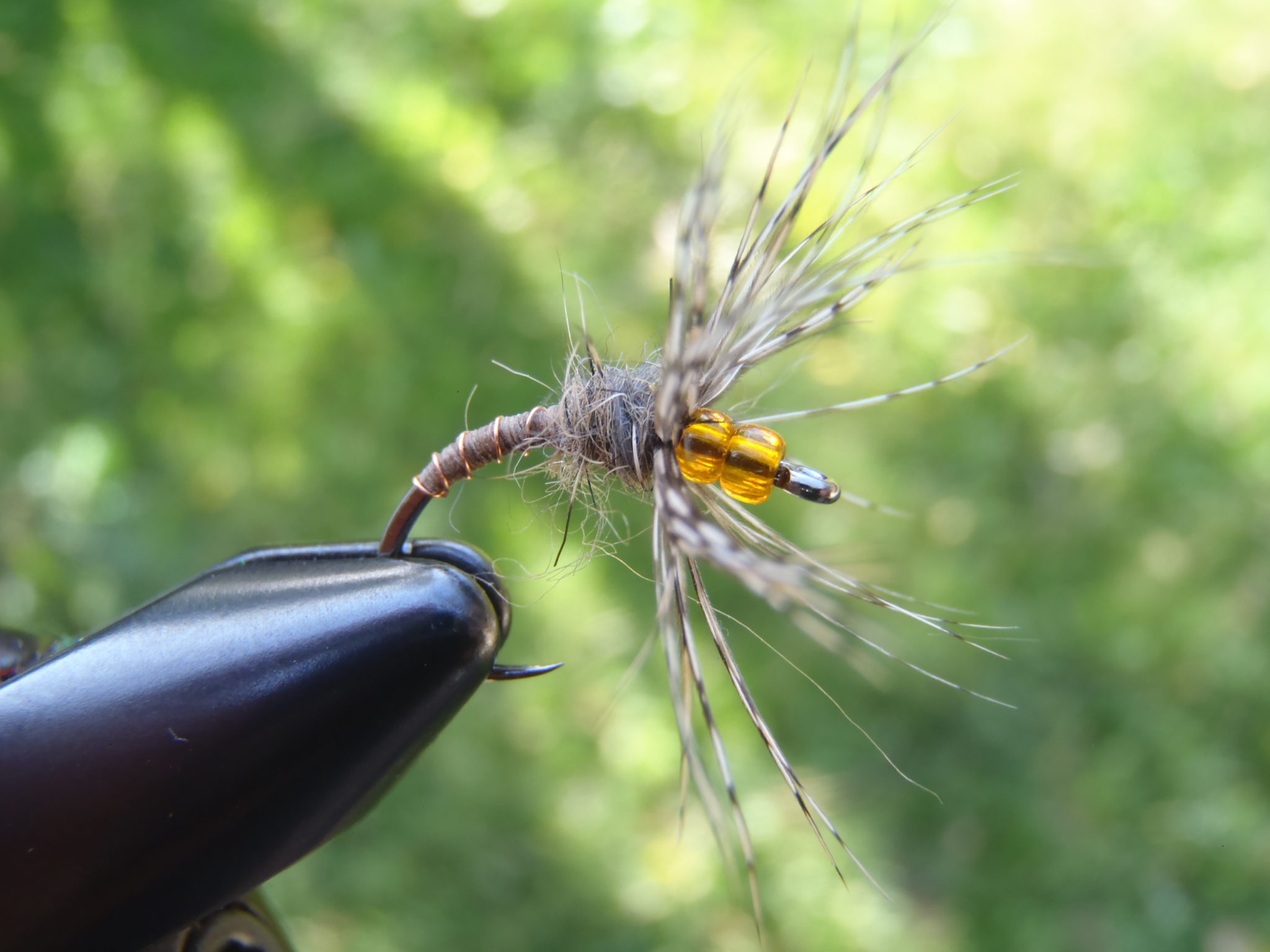 Starling and purple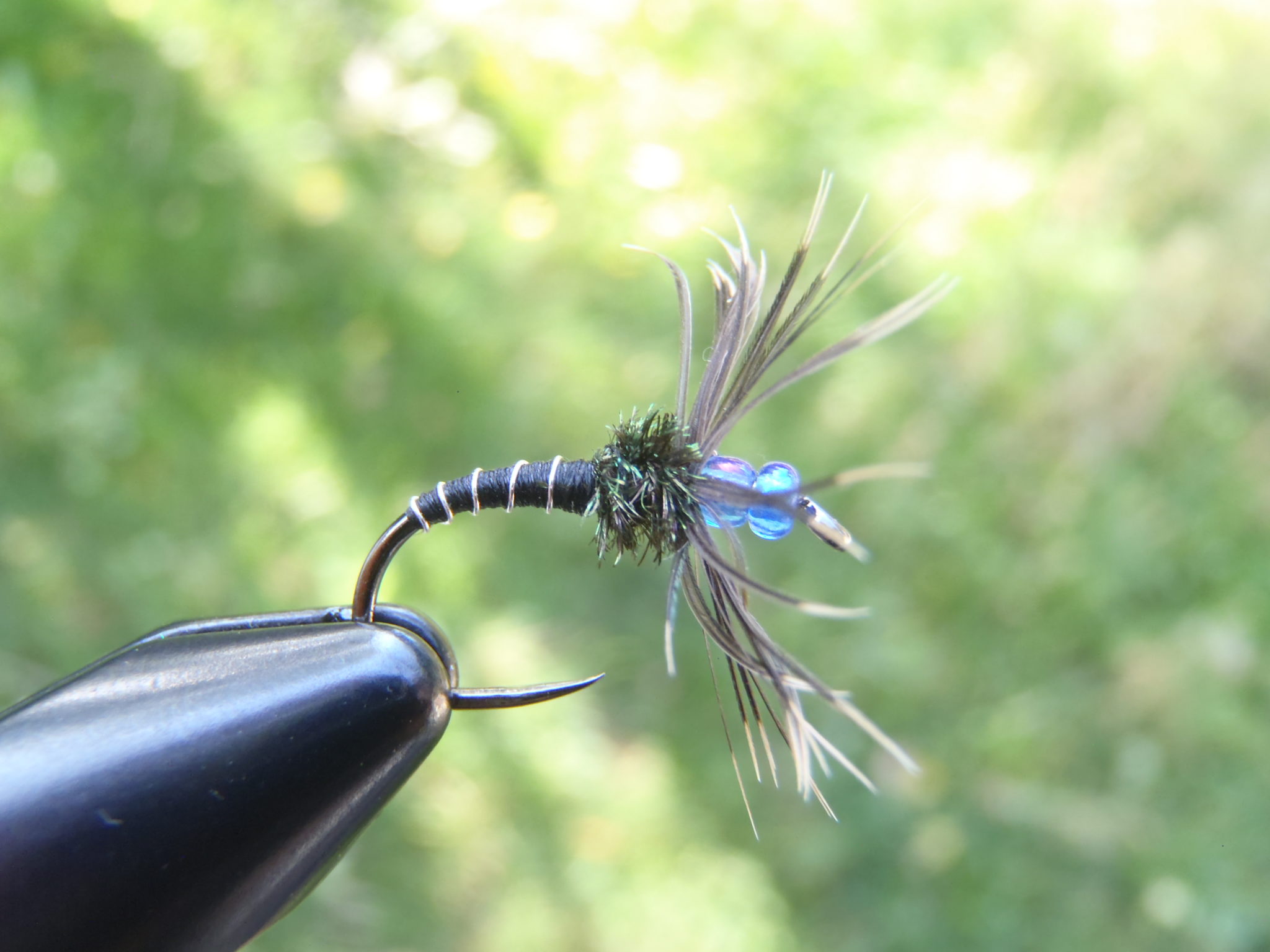 Brahma hen with one pink and one pearlescent bead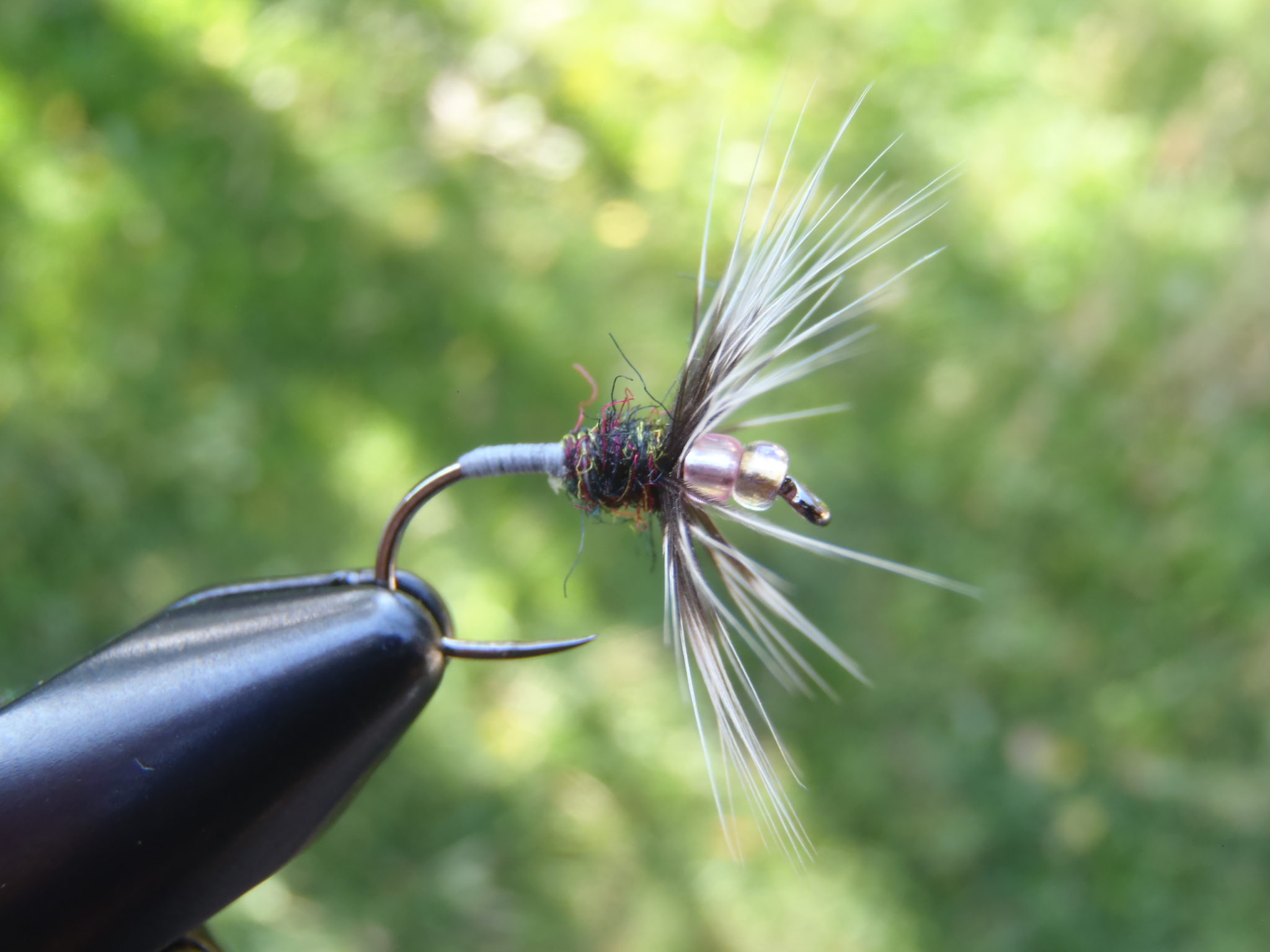 Amano Sakasa Kebari with one red bead and one crystal/pearl bead
Once you start exploring them, you'll see tying with glass beads creates not only very effective patterns, but allows for a lot of creativity at the vise. So put on your mad scientist lab coat and start experimenting! And please share your unique creations below.