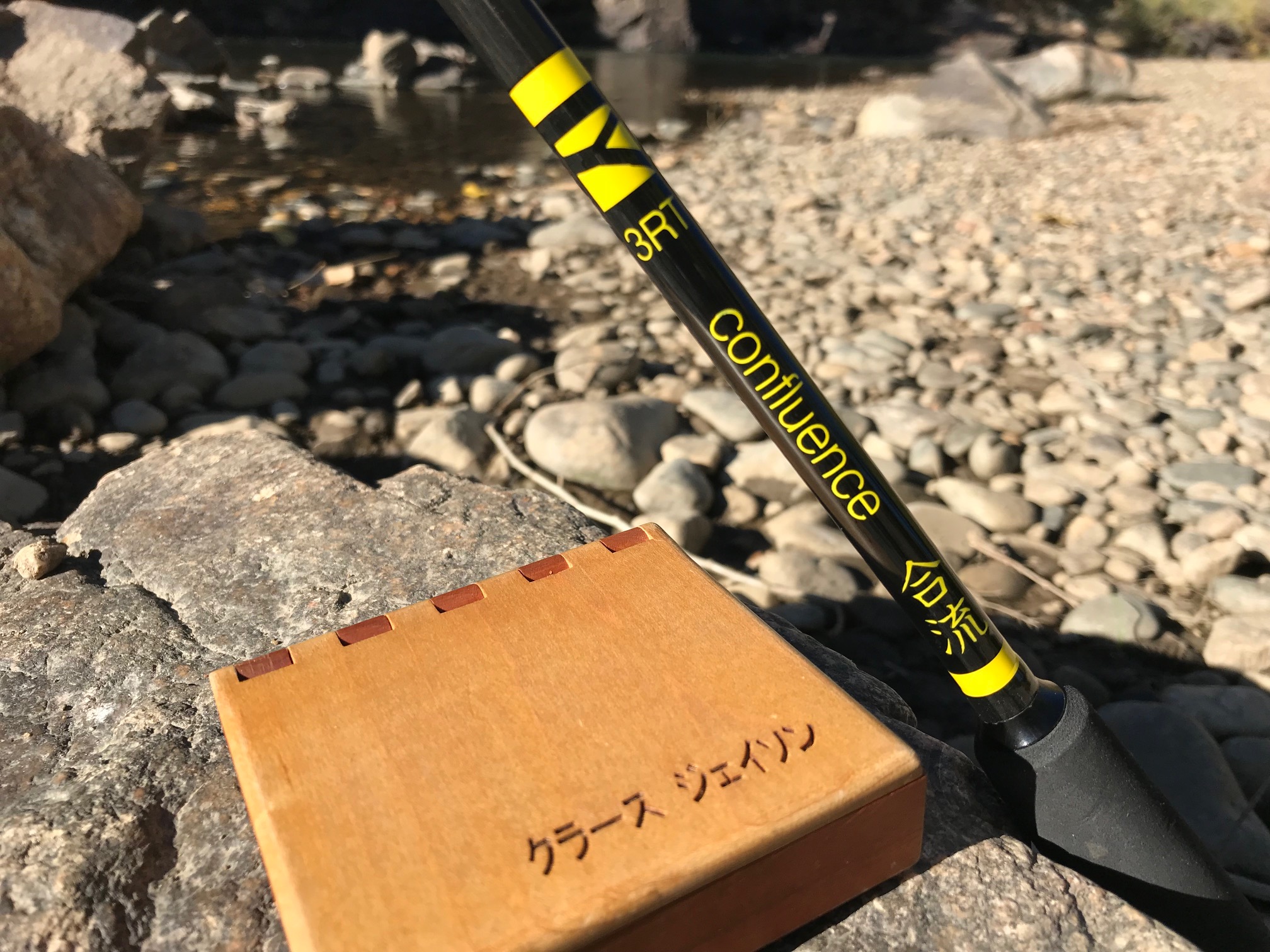 I'll admit it. I've been keeping a secret from you. I've had this rod for several months and am just now getting around to writing a review of it. It wasn't on purpose. Life just gets in the way sometimes. But if anything, it's give me a chance to really put through its paces and give you the most accurate review. So, here are my thoughts on the Confluence rod from Three Rivers Tenkara.
Specs from the Seller
Action: 6:4 Moderate Flex
Length: 12′ and 10.5′
Closed length: 23.75 inches (with cap)
Handle length: 11.75″
Weight: 92 grams (3.2 ounces)
Number of segments: 8
Note: tippet stronger than 5X (about 5-lb) should not be used
Action
The Confluence is a 2-way zoom rod with an efficacious 1.5′ spread between lengths. Unzoomed, the rod feels crisp and loads very easily–even with a lighter line. I've fished it with 2.5 and 3.5 lines and it handles both equally well. The main thing I noticed is that the rod is very accurate. I don't have to "work" to get the fly where I want it to go. It obeys my casting stroke naturally and with little tip bounce or wobble, hits the target as if it were reading my mind.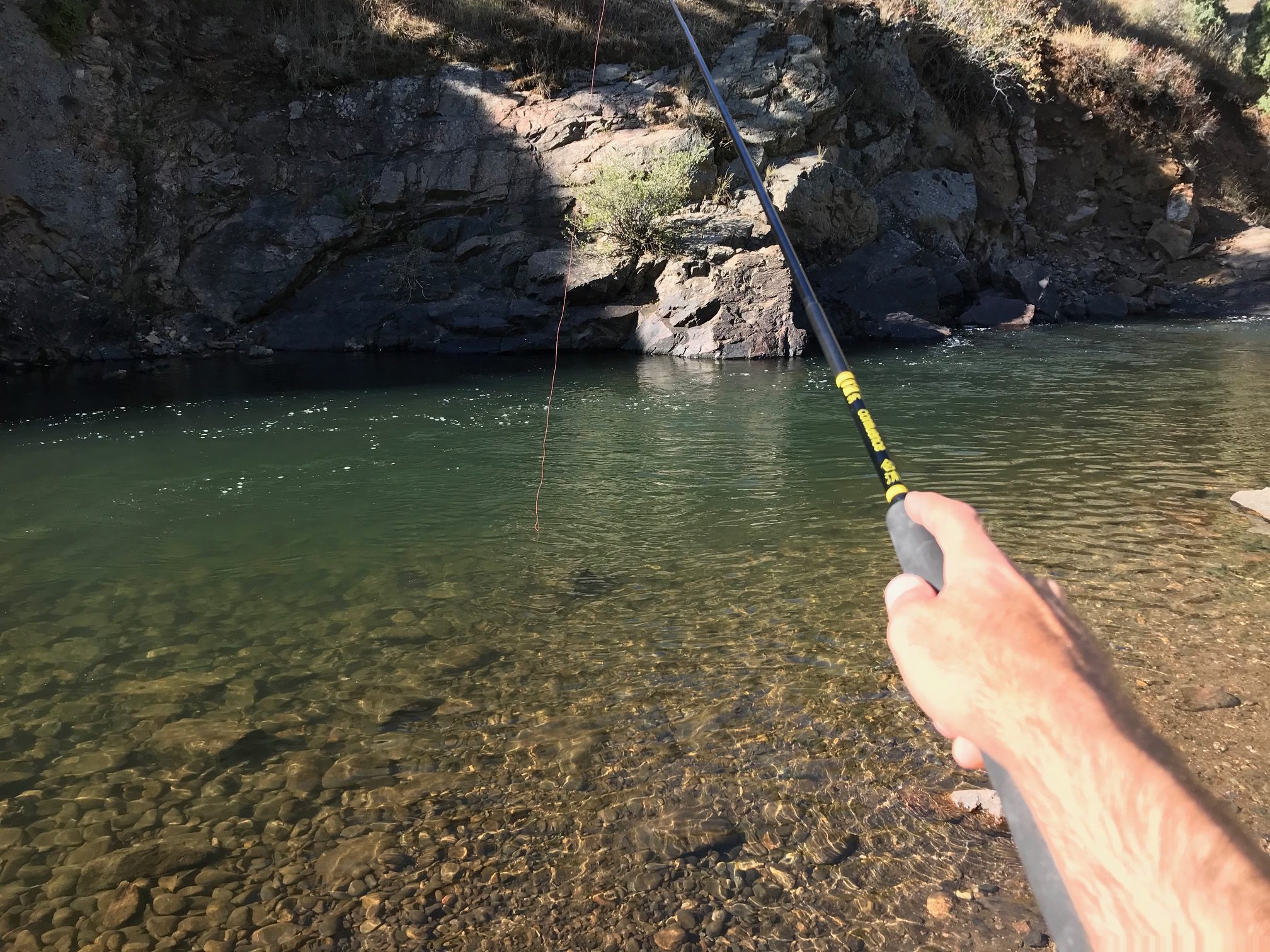 Like all zoom rods, the action changes noticeably when fully extended. In the case of the Confluence, this translates to a slightly stiffer feel with a little more weight off the tip. This is par for the course for zooms but the nice thing is that it doesn't make the rod feel "tip heavy" (it won't tire your arm out should you fish it fully extended all day). I prefer the action at the 10.5′ length but find myself actually fishing it at 12′ often just because of the rivers I fish.
On a visceral level, the Confluence reminds me of some of the high-end Japanese rods I've tried, which I wouldn't have expected given the price tag. But every so often, cognitive dissidence is a good thing.
Ergonomics
I love the handle on this rod! When foam-handled rods started cropping up in the U.S., I was a little reluctant toward them–mostly because of aesthetics. But I soon became a fan of foam just because they're so comfortable and durable. I prefer rods with a thinner diameter grip and the foam handle on the Confluence fits my hands perfectly. It's also contoured with two distinct bumps giving you a few choices to adjust your grip to your personal preference. And as I alluded to above, the rod feels very light in the hand and is a joy to play a fish on (even more so when unzoomed).
Hardware/Aesthetics
This is not a flashy rod. The overall look is simple, yet elegant with a stealthy gray/black scheme and yellow graphics. The lilian and rod plug are pretty standard, and the end cap is metal, with micro-knurling around its circumference and a slot to to lock it down tightly with a knife or coin. The inside of the end cap is rubberized to eliminate noise from the rod segments clanking together during transport. The Confluence comes with a rod sock and a plastic tube for storage.


Bonus!
As if it weren't enough to get such a great rod at such a great price, at the time of this post, all Confluence rod purchases will include a free line spool, 24 feet of level line, and three flies! I don't know if this is a limited promotion or not, so be sure to double check the website for the current price and offer.
Backstory
This rod was a collaborative effort between Anthony Naples of Three Rivers Tenkara and Oleg Stryapunin of Tenkara Times, both of whom I've known personally and professionally for several years. Some people may not know this, but I was the first person to import and sell Oni rods in the U.S. After a while, I grew tired of running the business but I wanted to ensure that American anglers could still get easy access to these spectacular rods. Anthony was my first choice and the only person I really trusted to take the reigns. He's not only an extremely experienced and savvy angler, but we share a similar philosophy on tenkara and design so it just seemed like a perfect fit. And having tested and reviewed several of Oleg's rods, I've long considered him to be one of the pre-eminent designers in the tenkaraverse. So it's no surprise that when the duo put their heads together, they came up with such a outstanding rod. With the Confluence, you're getting the benefit of many combined years of knowledge from two of the brightest minds in tenkara today, all compressed into a 24″ package.
Conclusion
If I had to describe the Confluence in one sentence, it would be, "a high-end rod at a low-end price." The moment you first get it in your hand, you'll feel its quality–both in materials and in its cast. In every outdoor sport, there's a short list of gear designs that give you amazing quality for a great price, and I'd add the Confluence to that list for tenkara. And if you ever need them, Three Rivers Tenkara has outstanding customer service so you'll be taken care of long after your purchase. Get more info and get your Confluence here.
Like this article? You might also like these ...