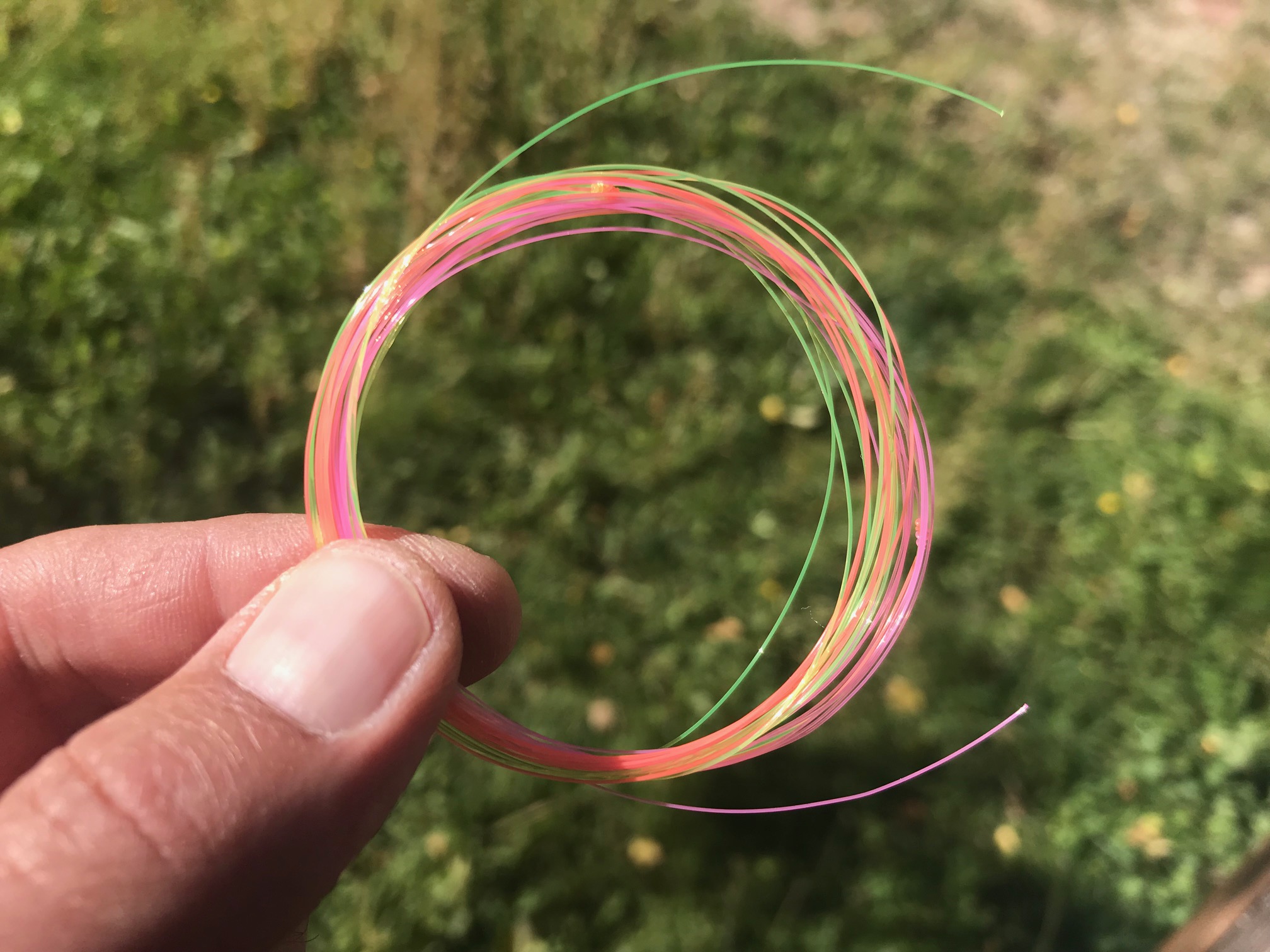 One of the advantages of having a diverse background in fishing is that there can be some interesting crossover among the different genres. I've borrowed many tips, tactics and techniques from spin fishing, bait casting, deep sea fishing and (of course) western fly fishing that I've been able to incorporate into my tenkara fishing over the years. A recent one was inspired from my saltwater fishing experience and I thought it was worth sharing as it's proved to be very successful for me.
I've done a considerable amount of fly fishing in saltwater for tarpon, permit, bonefish, stripers, bluefish, jacks, barracuda, and more (and still do whenever I can). With the exception of bonefish, I used a pretty hefty leader (sometimes with a wire bite guard) that would cover most inshore species. But buying pre-made saltwater leaders can be expensive since they don't last long against sharp teeth, rough scales, sandpaper-like coral, and stubborn mangrove roots. One day, I came across a simple leader formula in a magazine that worked for 90% of the fish I targeted and was quick, easy, and cheap to tie. I can't remember who invented it now, but it was three feet of 30 lb., three feet of 20 lb., and ten feet of 10 lb. Maxima which formed a multi-purpose nine foot leader. It turned over bulky Deceivers and weighted Clousers with ease and if it got torn up, was inexpensive to replace. It got me thinking about applying a similar principle to my tenkara lines.
In general, I prefer level fluorocarbon, but lately, I've been fishing some of the newer tapered nylon lines that have come out and I really like them. The nylon is light and easy to keep off the water, and the transfer of energy from the thicker butt end to the thinner tip makes for a great turnover. They're a pleasure to cast. I wondered If I could somehow replicate that turnover with level fluorocarbon and after a fair amount of experimentation, I think I've found a winning formula:
4′ 4″ of #4.5 – 4′ 4″ of #3.5 – 4′ 4″ of #2.5
This forms a 13′ leader (I typically fish a 12′ or 13′ rod) that turns over extremely well (even in wind), yet still makes a delicate presentation with the #2.5 end and is easy to keep out of the water. In the photo above, it's tied with various colors just because that's what I had on hand, but you could use any color combination you like. In fact, you could even use clear fluorocarbon from your local tackle shop. Whichever colors you use, I'd recommend making the last segment (closest to the tippet) a hi-vis color such as orange for easier strike detection. I use Tenkara USA level line, but you can use any brand you like. One piece of advice though … don't mix and match brands. Even though they may use the same numeric system to describe a line, the actual diameters can vary from brand to brand. So a #3.5 Sunline may not be the same diameter as a #3.5 Fujino. It's best to use the same brand for all three segments.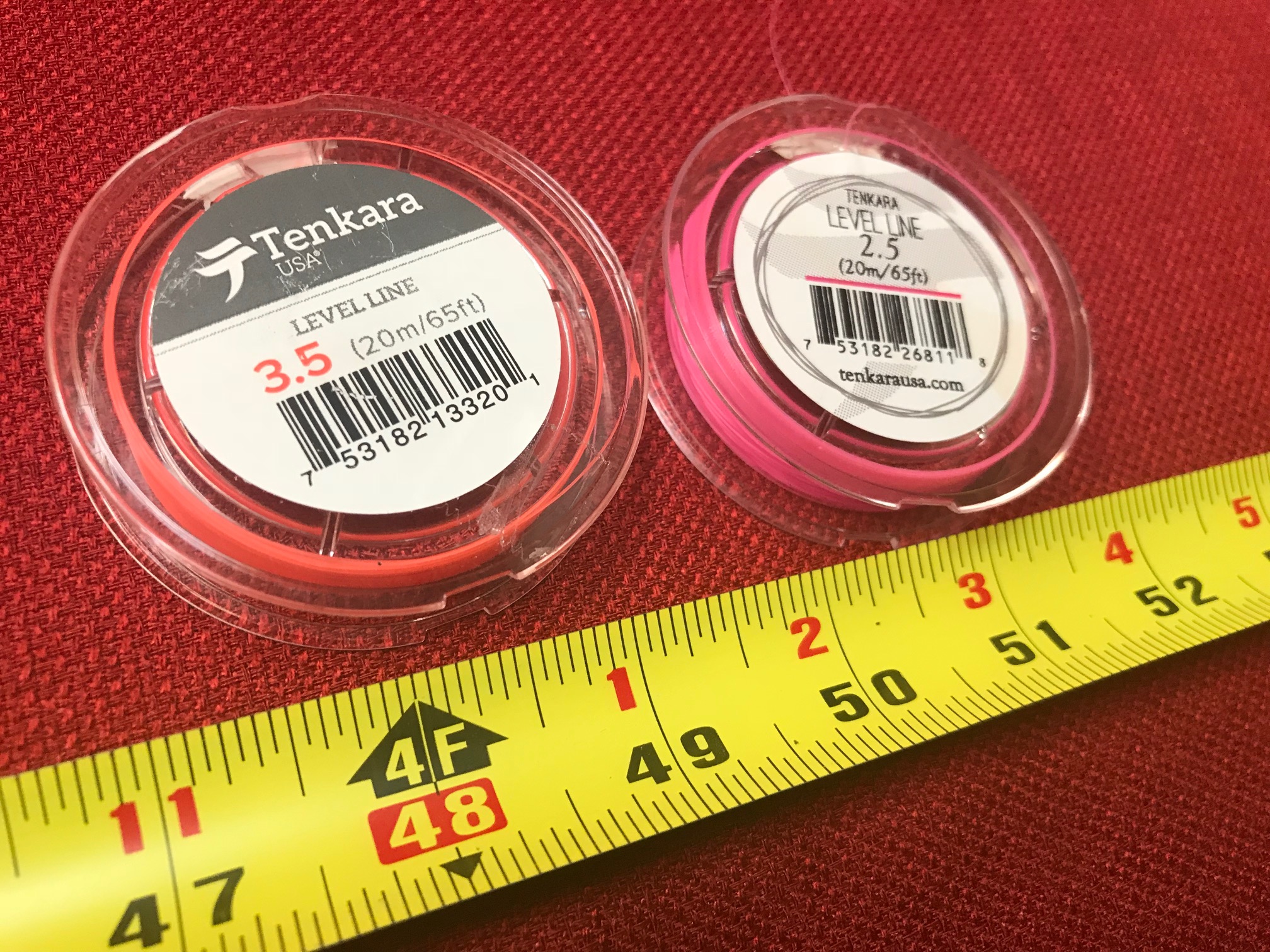 My tenkara line formula is simple, easy to remember, and easy to make with just two blood knots. It's also very cost effective–you can tie many lines with just one spool of each diameter. And by the way, if you're intimidated by the mere mention of "blood knots", don't be. They're easier than you think. Watch this video to see a simple method for tying them:
So far, I'm extremely happy with this line but it's open to interpretation. You could tweak the measurements to achieve different lengths, mix and match different colors, or pimp it out with some snazzy hardware like tippet rings or Dacron loops. But I fish it as described and it works perfectly for me without adding too much complexity. Give it a shot and let me know what you think. And as always, I'd love to hear your results, feedback, and suggestions.
Like this article? You might also like these ...