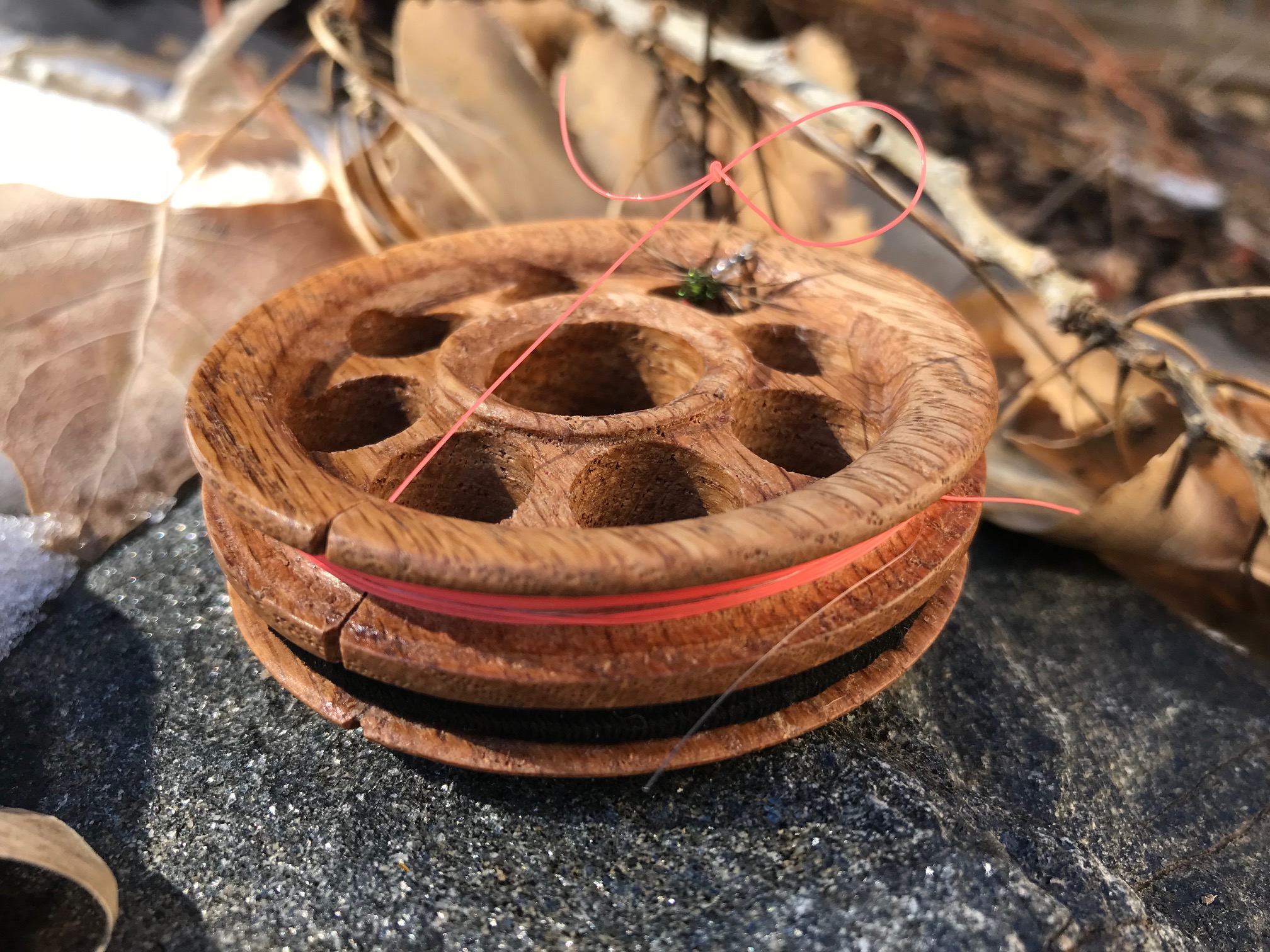 Yesterday, one of my closest friends and fishing partners, Dennis Vander Houwen, came over as he often does for coffee and our usual conversational acrobatics of politics, culture, art, science, domesticity, gossip, and, of course, tenkara. I posted a video we made about his handmade tenkara line spools the last time he visited, and this time, he brought me one of my own. And as a lover of innovative and unique design, I just had to share it with you.
Overview
The Tenkara Path spools are handmade by Dennis in his workshop out of various types of wood. Mine is oak, but he's always experimenting with new materials. Because they're handmade, each one is a little different with slight nuances as unique as a fingerprint. Aside from being aesthetically gorgeous with an earthy, rustic look and feel, they have two very interesting features.
The first is That the spools hold both a tenkara line and tippet material in one unit. The second is that there are eight holes drilled into the side with magnets that hold not only the fly that happens to be attached to the line you're storing, but at least seven more (depending on size). If you're going minimal, you could literally just carry this spool and your rod for everything you need: tippet, line, and flies. It's an ingenious multi-use design in an amazingly compact size.

Specs
Material: Solid Oak (other woods available)
Diameter: 7cm (2.75″)
Center Hole Diameter: 1.9cm (0.75″)
Width: 1.7cm (0.67″)
Weight: 1.0 oz.
Features
The Tenkara Path Spools (like most tenkara line spools) feature a center hole that will fit on any tenkara rod and make it easier to grip while winding and unwinding (both the tippet or the line).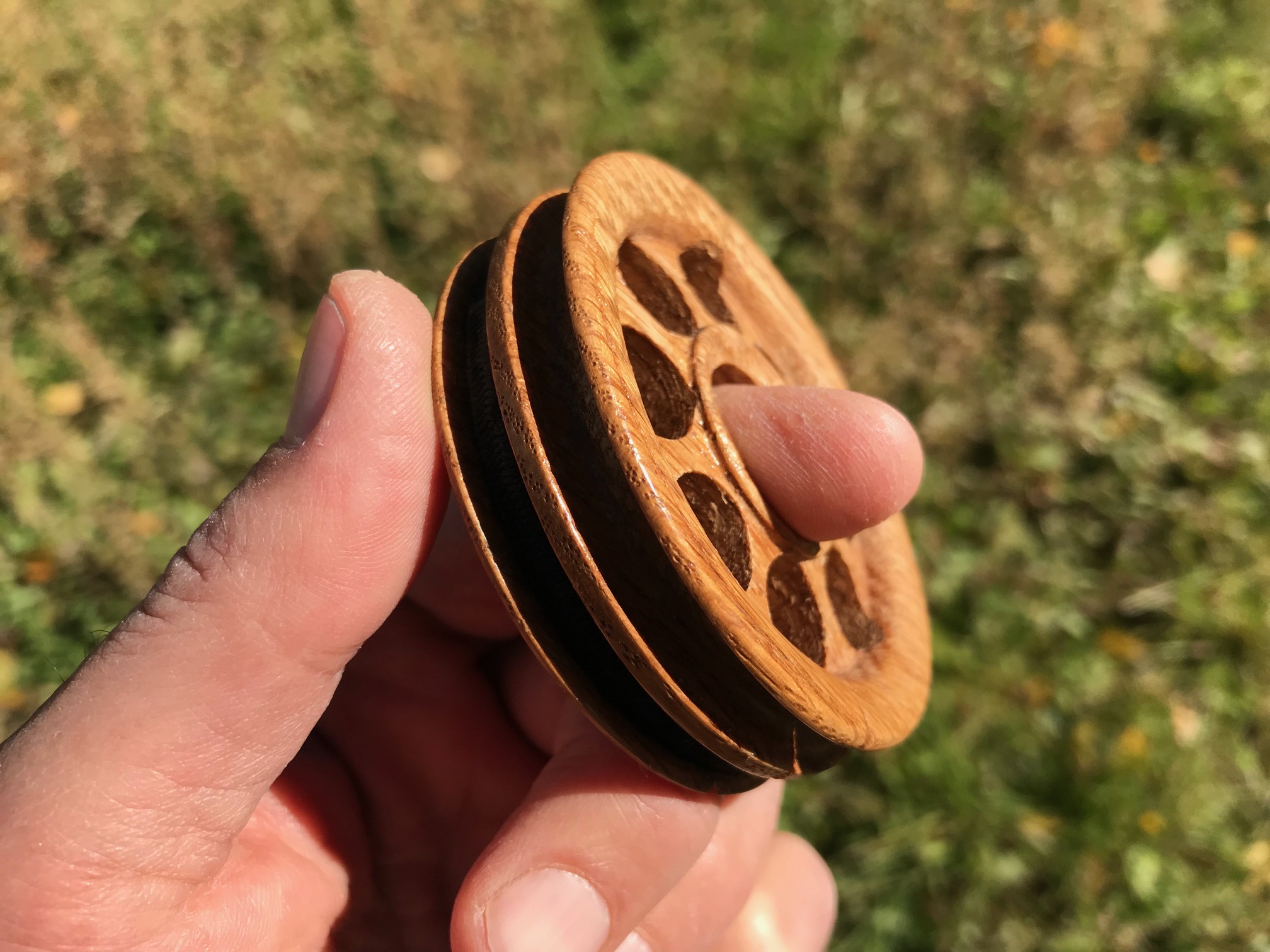 The line groove features notches in the rim to secure the end of the line. The notches are tight enough to hold even thinner 2.5 fluorocarbon lines without slipping.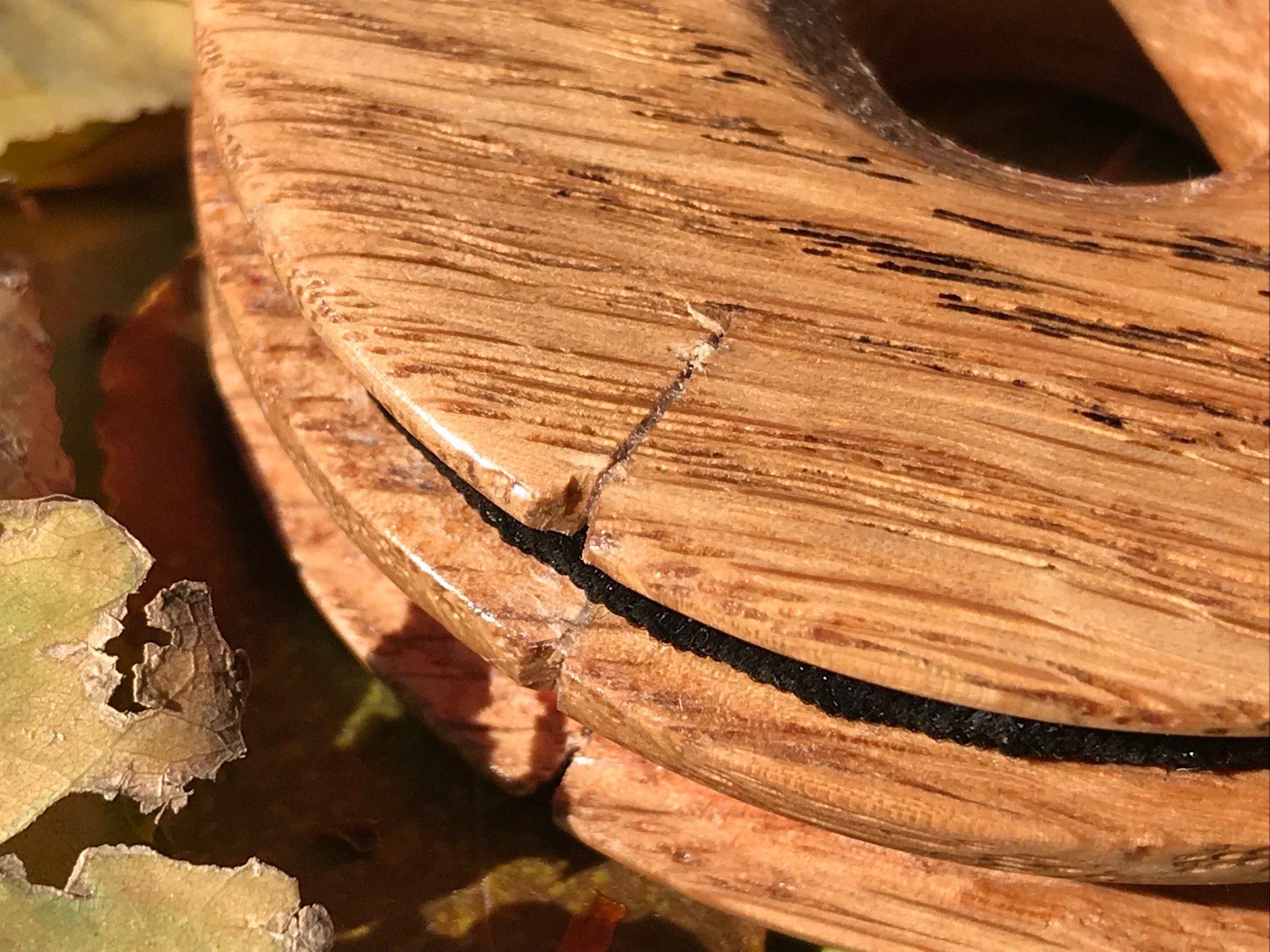 The tippet groove comes with an elastic band to keep it from unravelling while dispensing.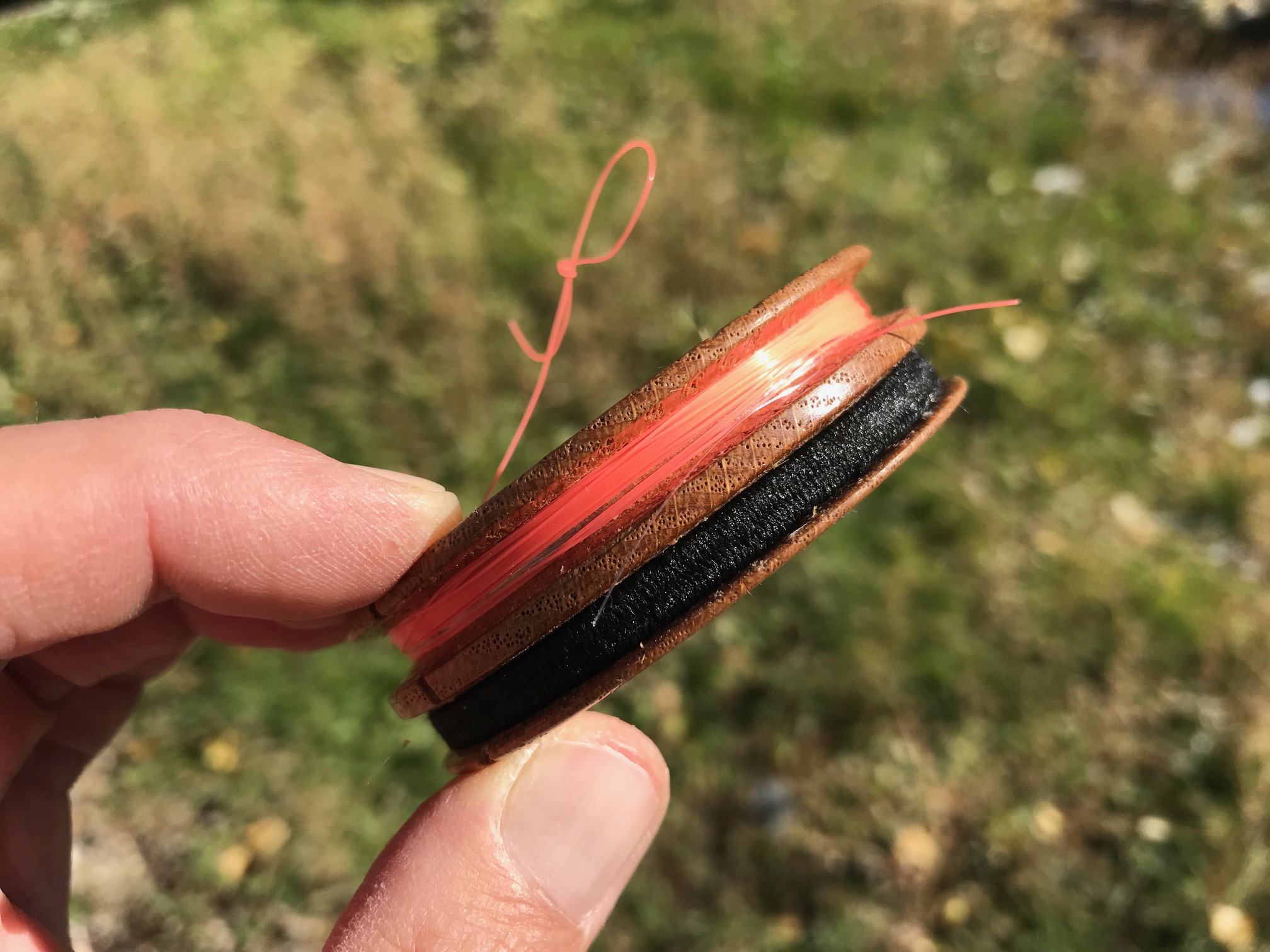 As I mentioned, there are eight fly compartments to store extra flies. And I know what you're thinking. "Won't they fall out?" I thought the same thing. But after purposely trying to make them go AWOL by shaking it, putting it in and out of my pocket, and even dropping it, I can tell you they don't. The magnets are neodymium, AKA "rare-earth magnets" and are REALLY strong. I was skeptical at first, but they proved me wrong. On a side note, I prefer the term "rare-earth" magnets–it's more befitting the organic, rustic personality of these spools. "Neodymium" sounds like something that fuels the Enterprise from Star Trek–something that's always failing Scotty at a critical moment. But unlike dilithium crystals, these magnets won't let you down.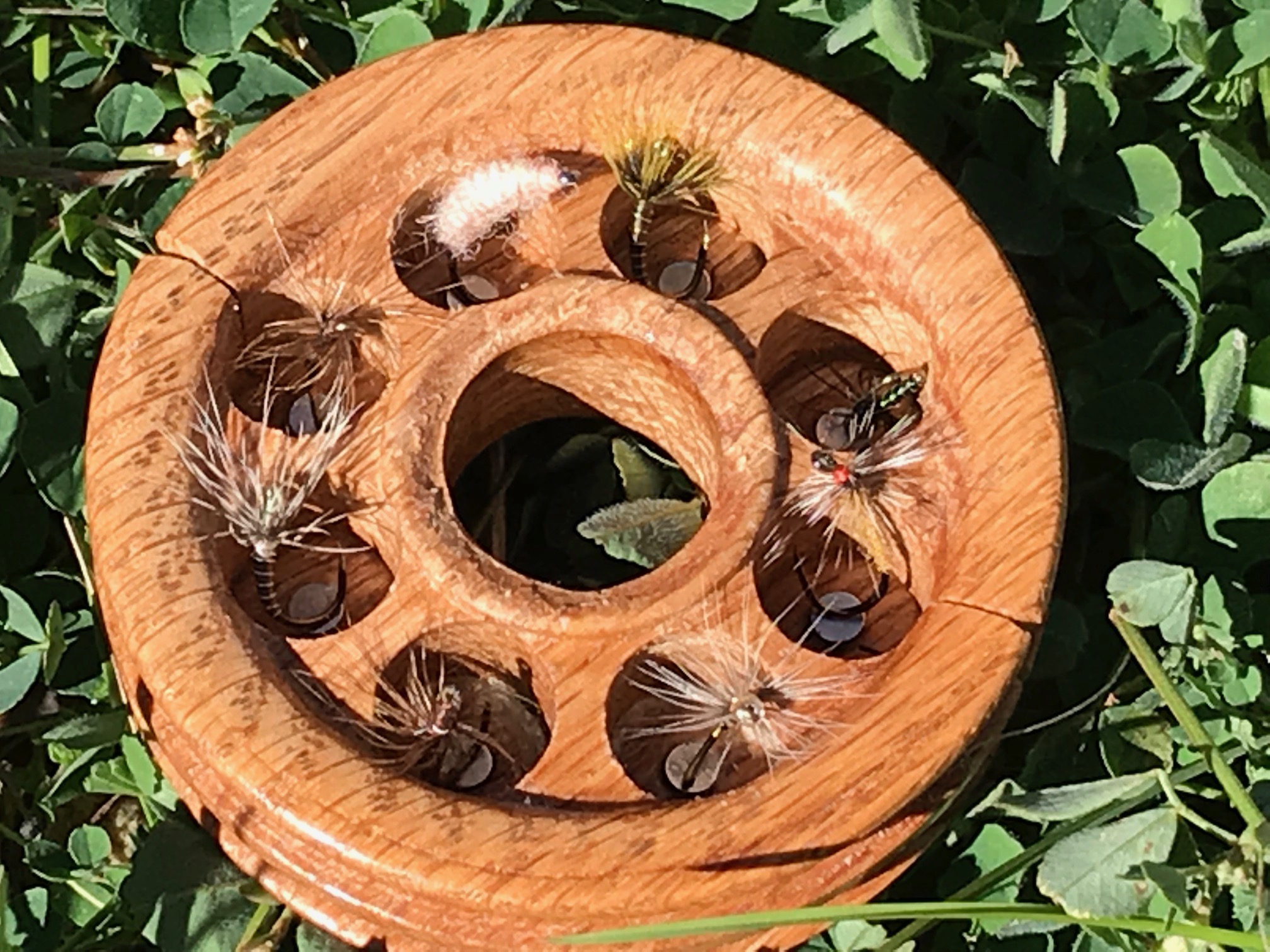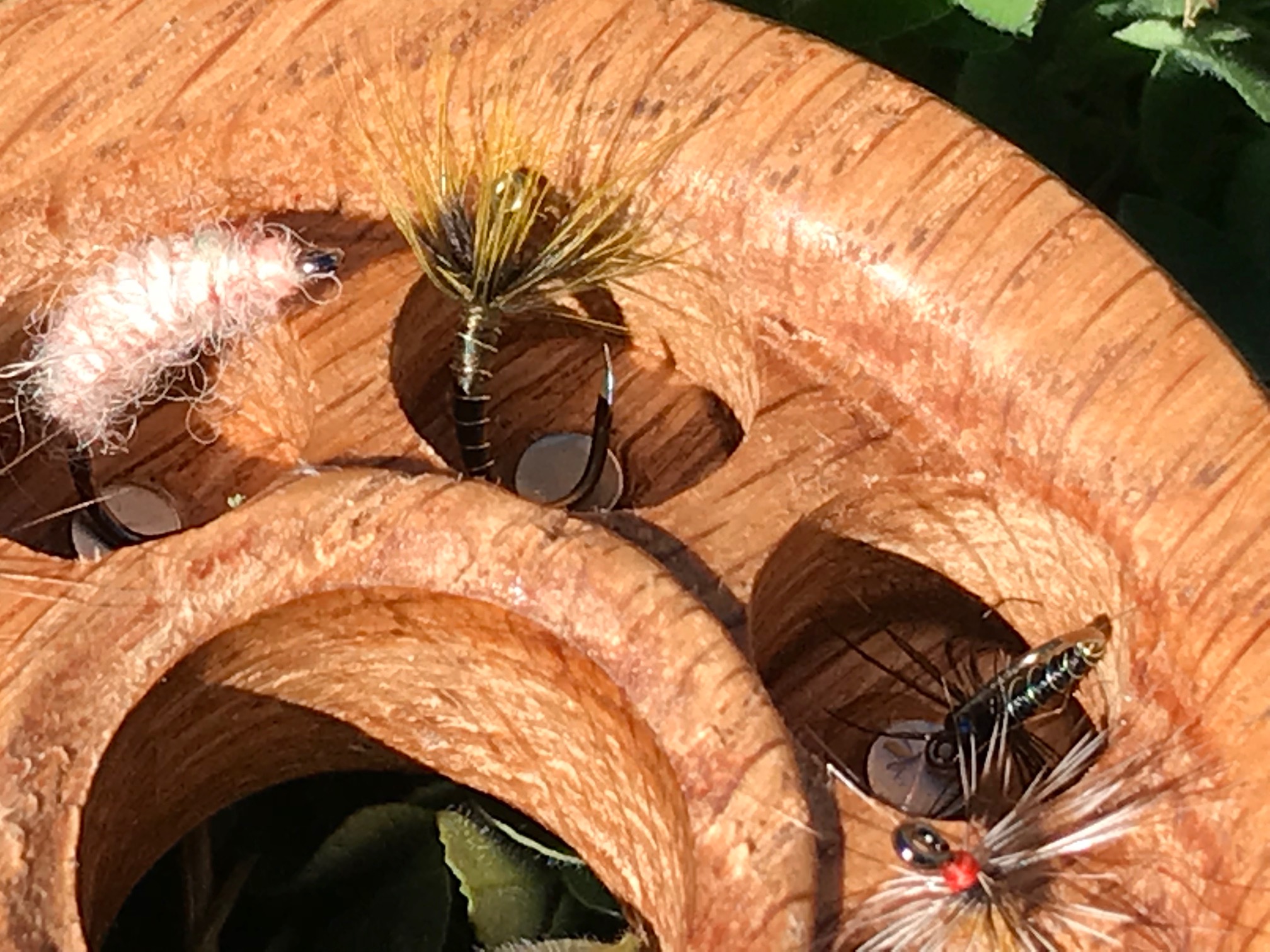 Note: The compartments will hold one larger size #10 or #12 comfortably, or two smaller flies. With the larger flies, you can easily grab them with your fingers, but with smaller flies, you'll want to use your hemostats to pick them out.
Another nice feature of the compartments is that when you leave your fly attached to the line, it's out of the way of the center hole, so it won't interfere with winding and unwinding (some spools like the popular "yellow" tenkara spools have this minor nuisance).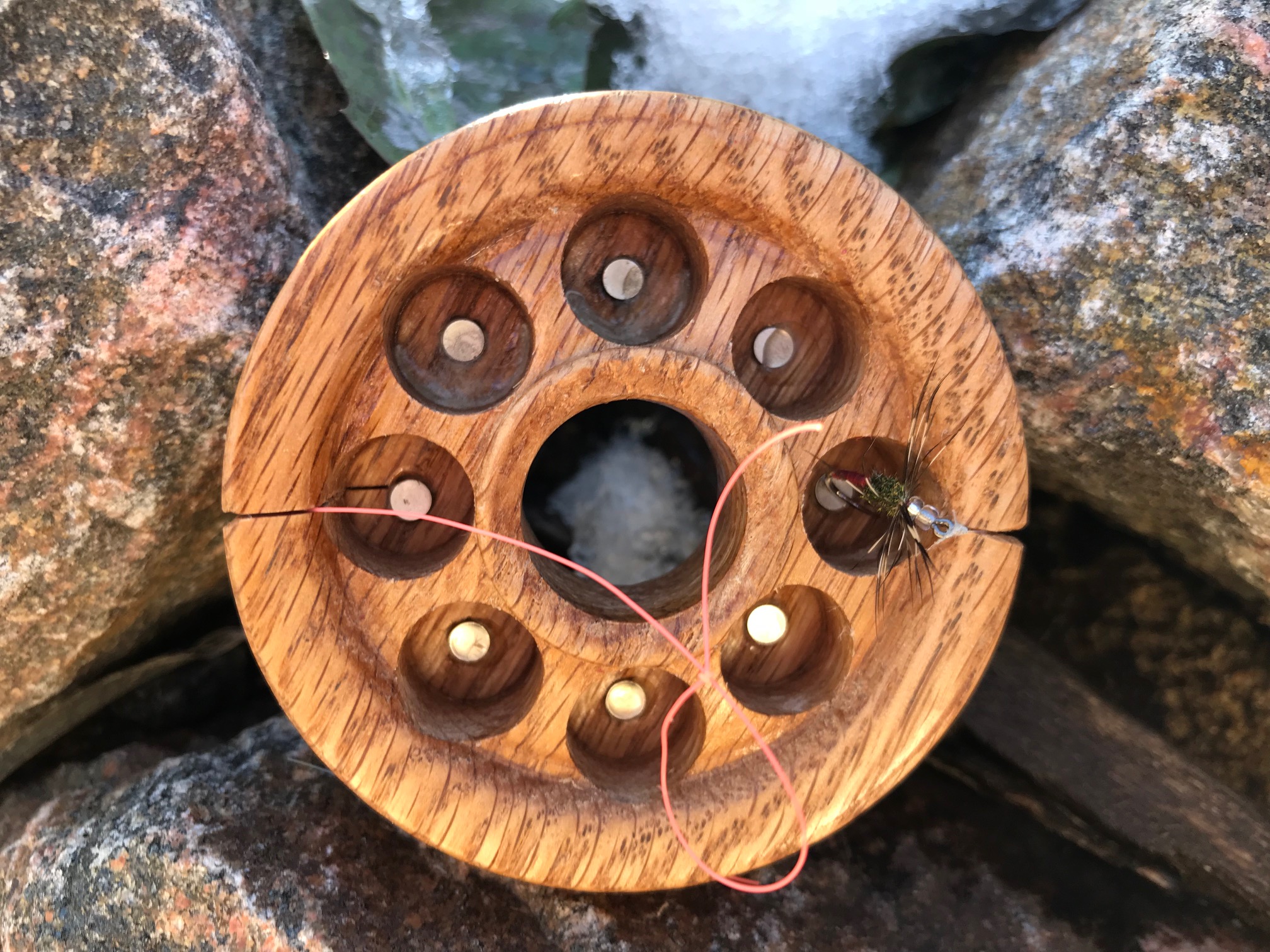 It's impressive Dennis could fit all of these features into such a compact space. With the same capacity, one Tenkara Path Spool is still thinner than a Meiho blue spool and a standard spool of Rio tippet material!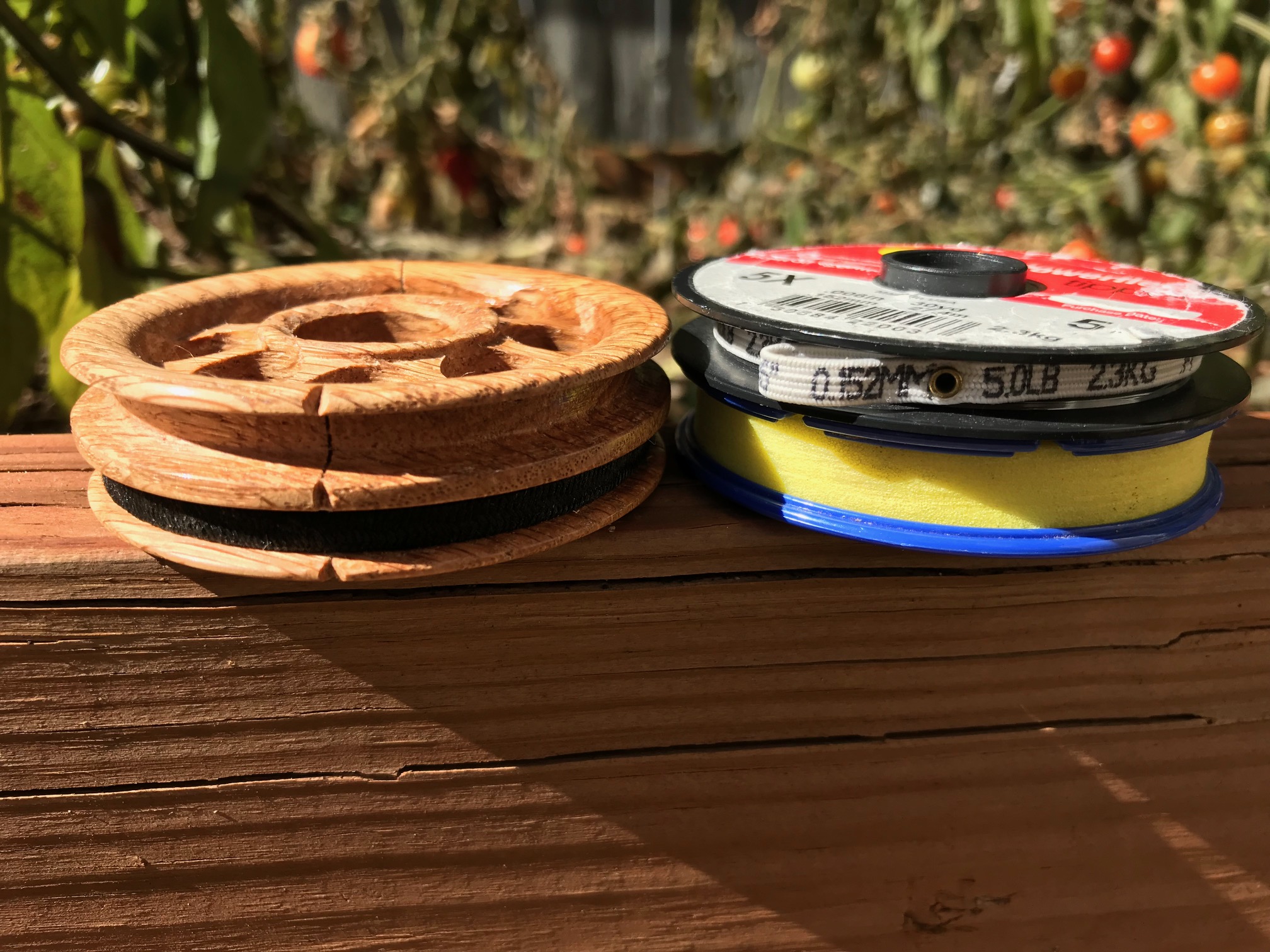 Over the years, I've owned a lot of "pretty" spools and they were fine to look at and play with, but not practical on the water. This one is both–one where for and function don't compete, but compliment each other. It's one I'll actually use, not just admire.
What more could you ask for in a line spool? The Tenkara Path spools are multi-functional, light, durable, compact, ergonomic, and sexy. And being totally unique and of heirloom quality, they'd make a perfect gift or stocking stuffer for any tenkara angler. To see which models are currently available and to check pricing, visit the Tenkara Path spool page. And be sure to follow Dennis's blog for some really fascinating insights into tenkara you won't find anywhere else.