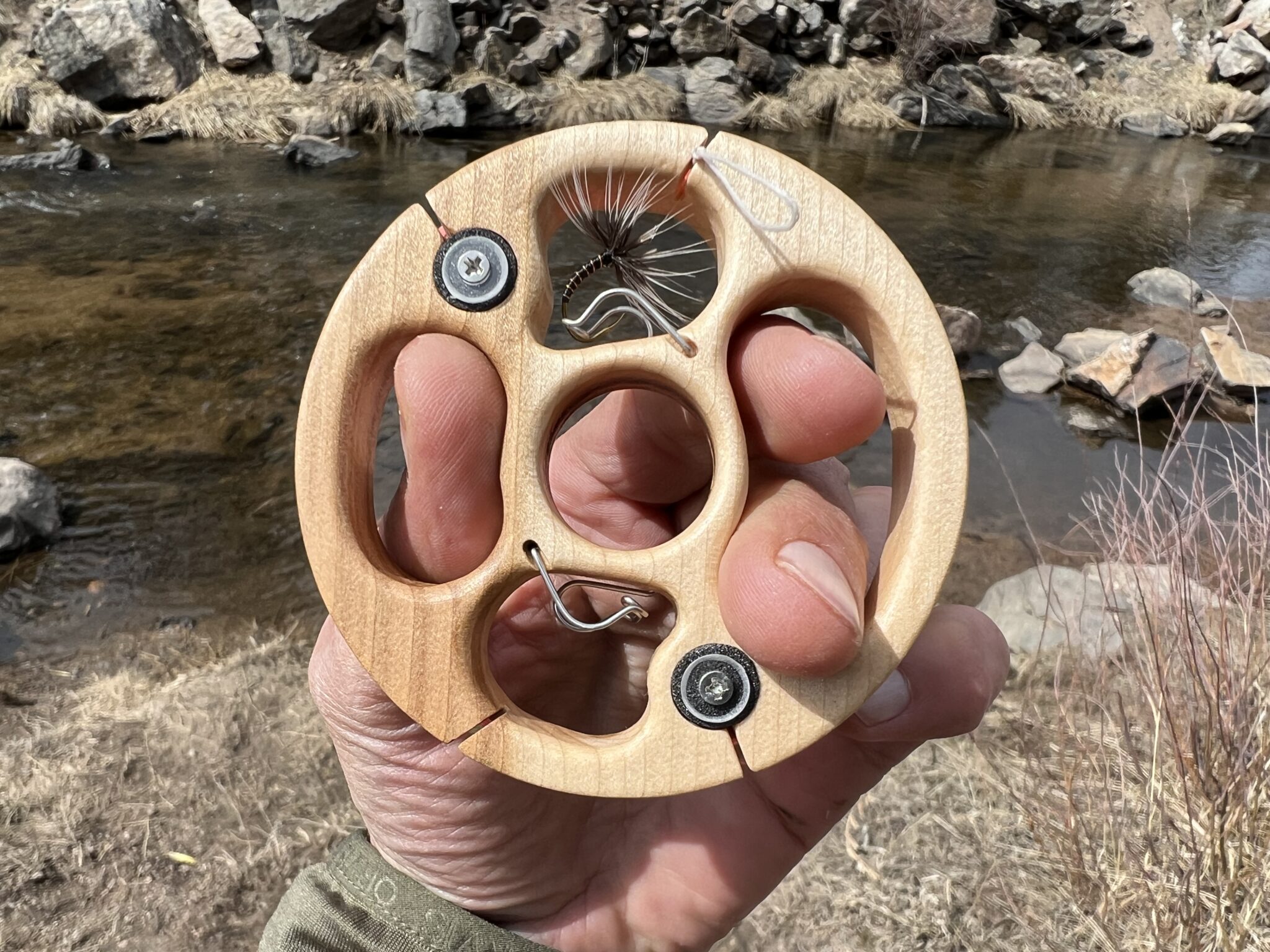 Anyone who spends 5 minutes scanning my site would probably diagnose me with a mild case of a wooden tackle fetish: fly boxes, tying tools, line spools–basically, if it's wood it's good.
I normally write about and carry wooden spools made by my friend Dennis from Tenkara Path. His designs have set the standard for me in terms of what makes a good spool. But one from Japan recently caught my eye and being ever curious, I had to get my hands on one.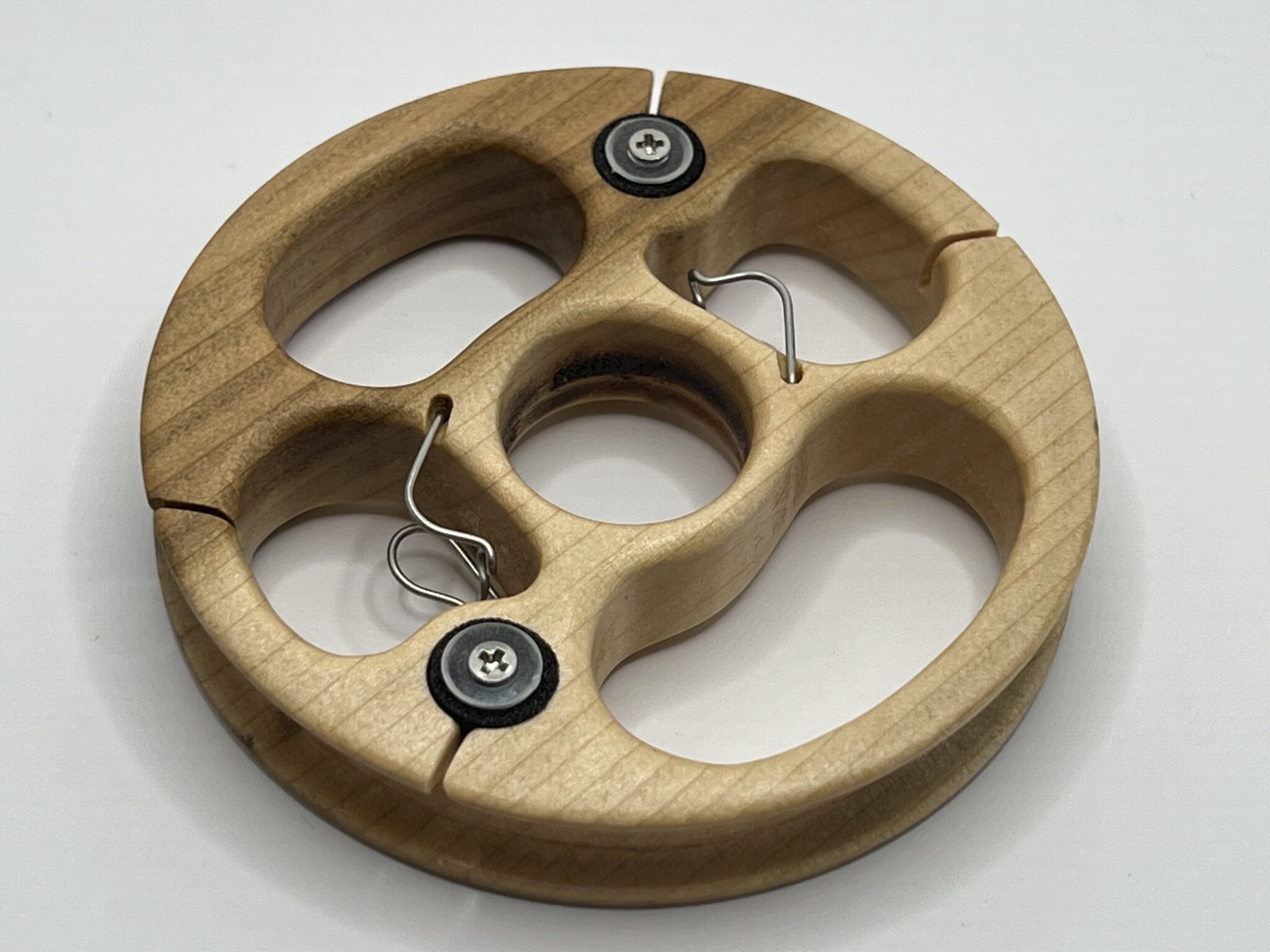 It's an ingenious wooden spool by Kazuo Kurahashi. If that name sounds familiar, I recently wrote about my hinoki wooden fly box which he also made. The spool is handmade out of katsura, a wood that is commonly used in carpentry and sculpture and while its natural beauty was what initially struck me, after looking a little deeper, I realized there were a lot of really clever features that weren't immediately obvious.
One of them was that while most spools have simple notches in the rim to hold your line, this one also has two sets of washer-like discs that you wrap the line around to make it secure. A common problem with notches is that they sometimes don't fit tight enough and the line pops out (always at the most inopportune time of course). These discs solve that completely.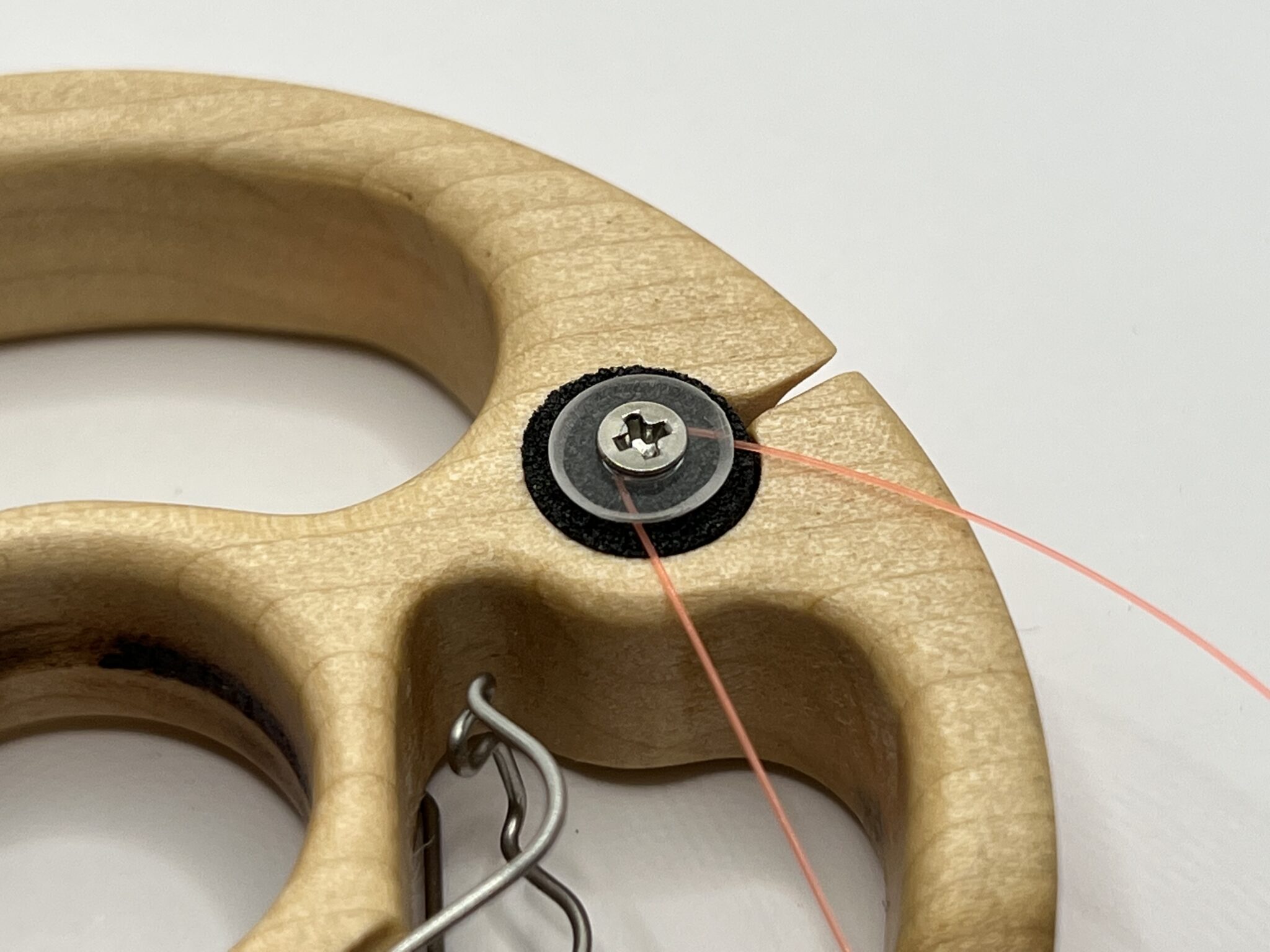 They're also tight enough to hold your tippet if you don't have a fly tied on.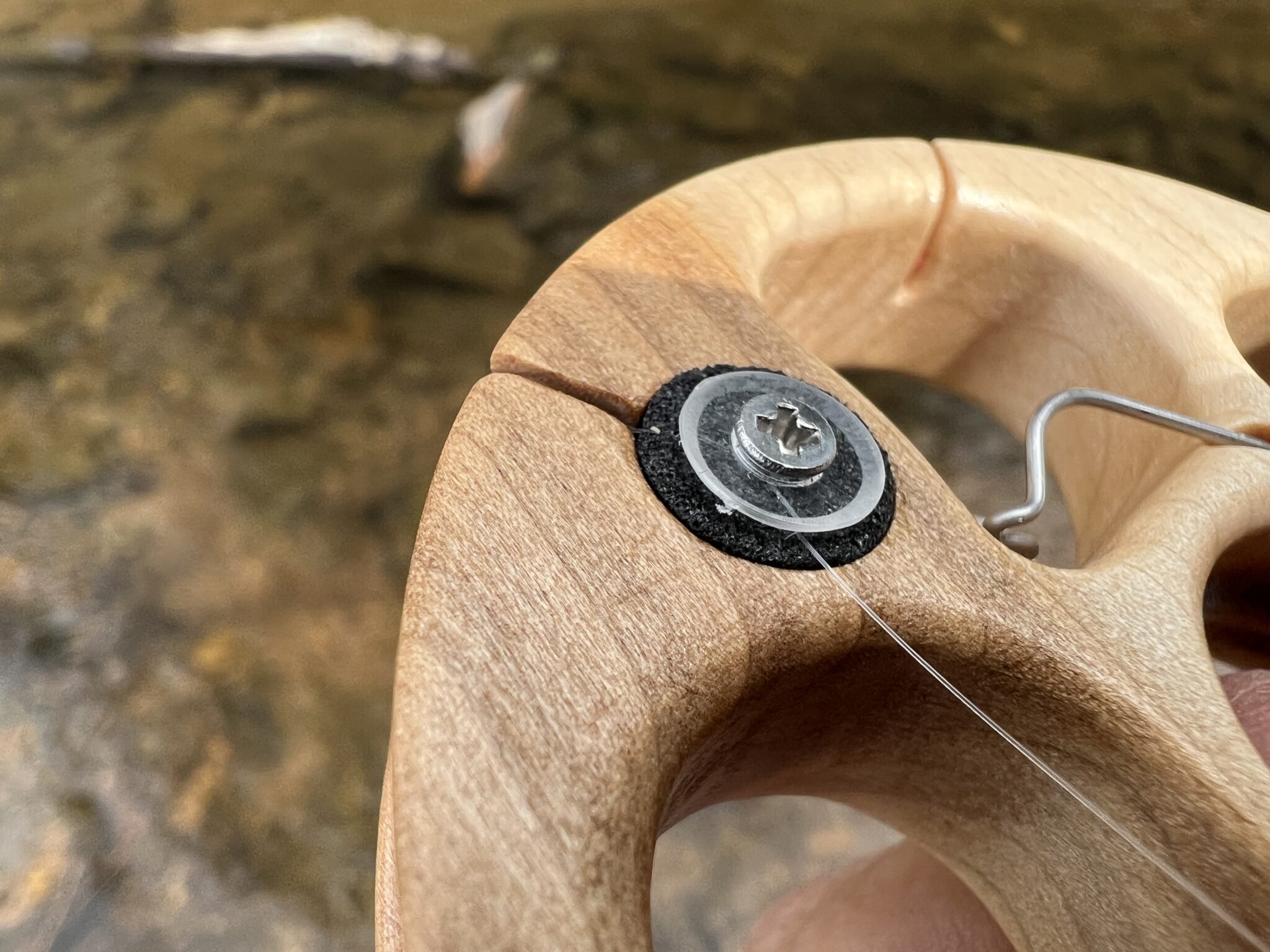 And here's a rarity today: the discs are removable via screws so you can replace them if they wear out or get damaged.
The spool still has standard notches though if you prefer to capture the line that way.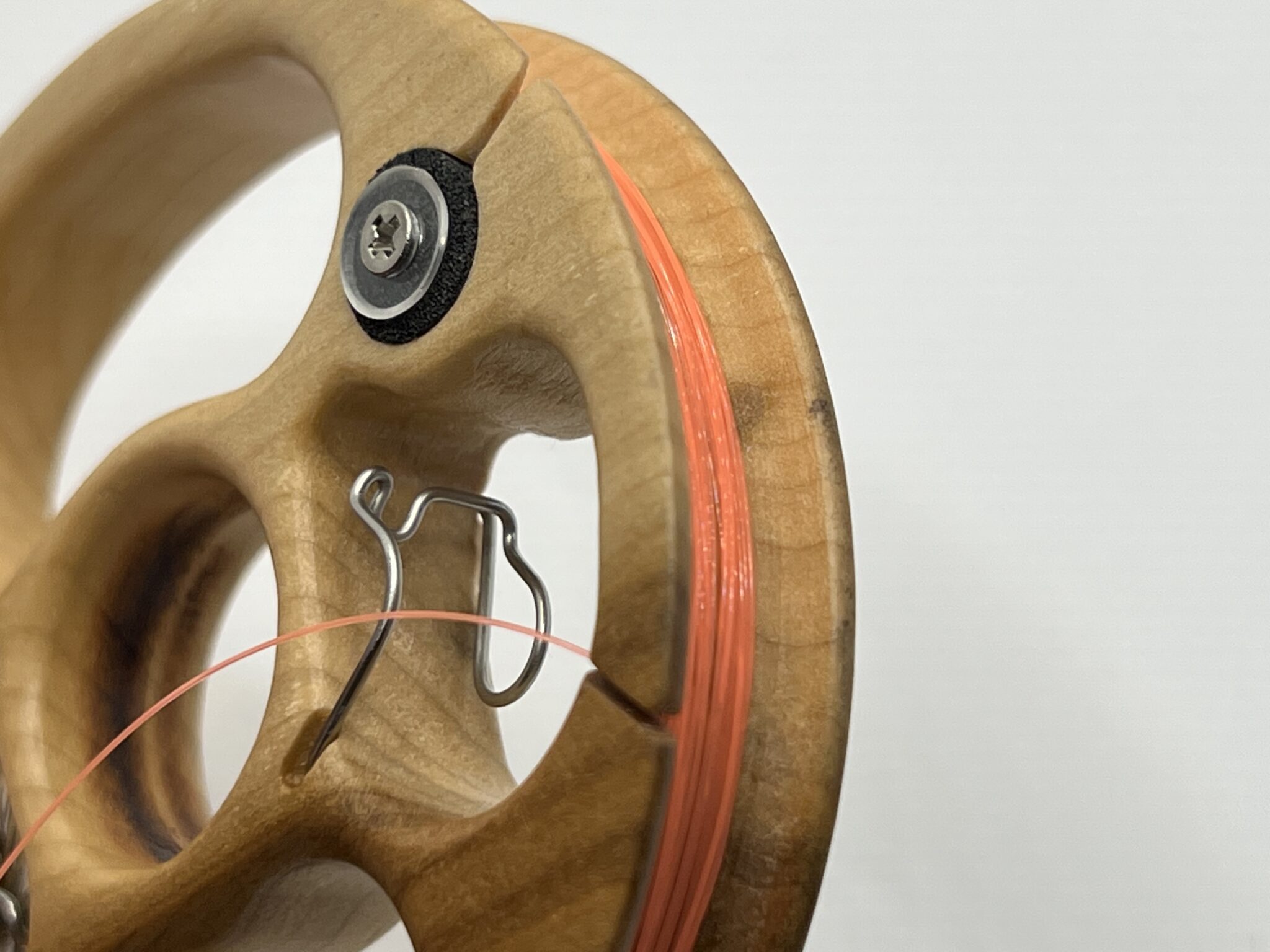 This is a brilliant design and after field testing for 3 days, I can say that it works perfectly.
But another interesting feature is that it has built-in fly holders. There are 2 wire holders bent into shape to snag a fly perfectly in the recess of the spool so it won't get crushed in storage. The attached tippet merely slides into a notch and holds everything tautly and in place to begin winding.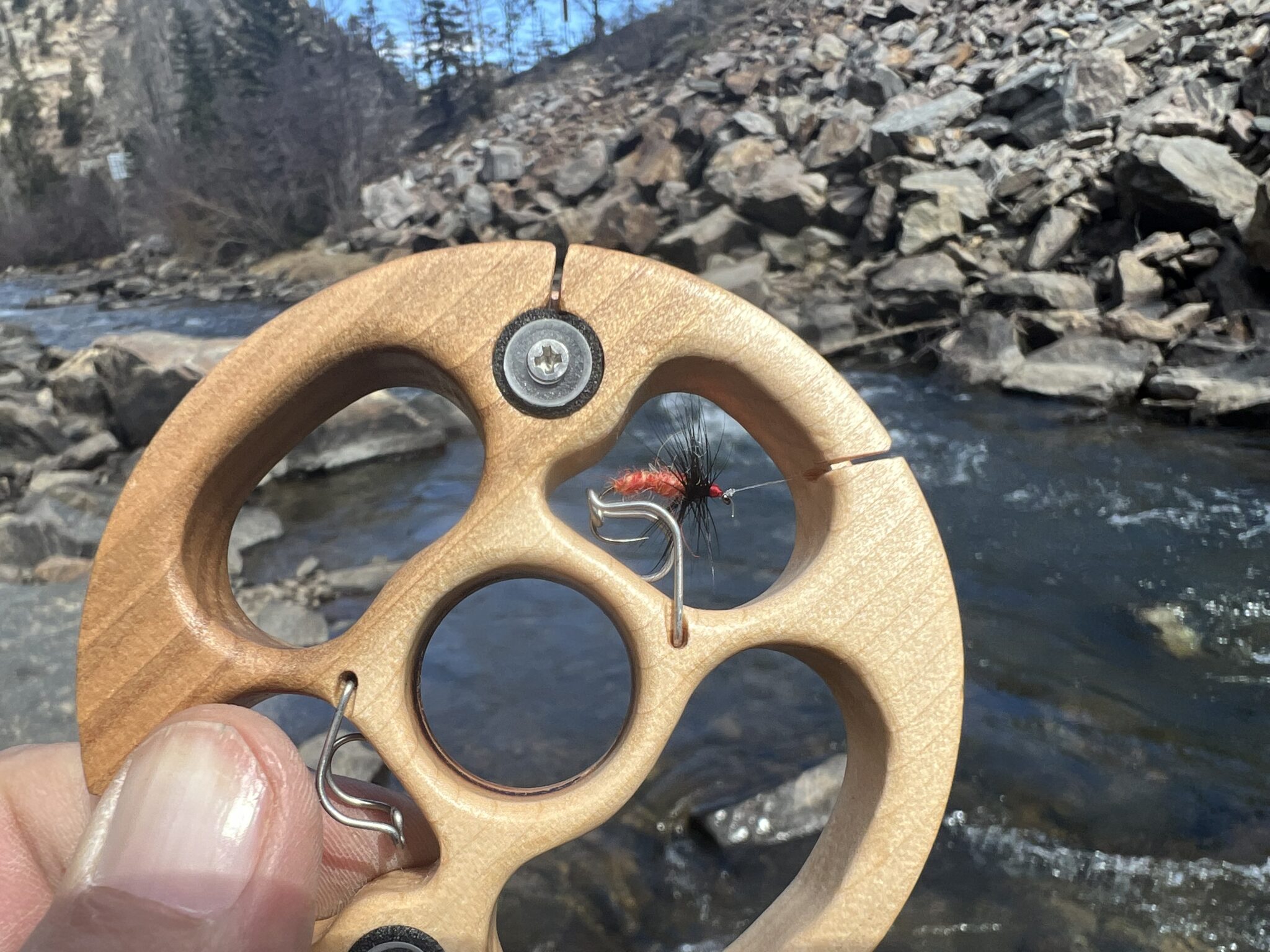 The center hole is large enough to slide onto the rod during transport.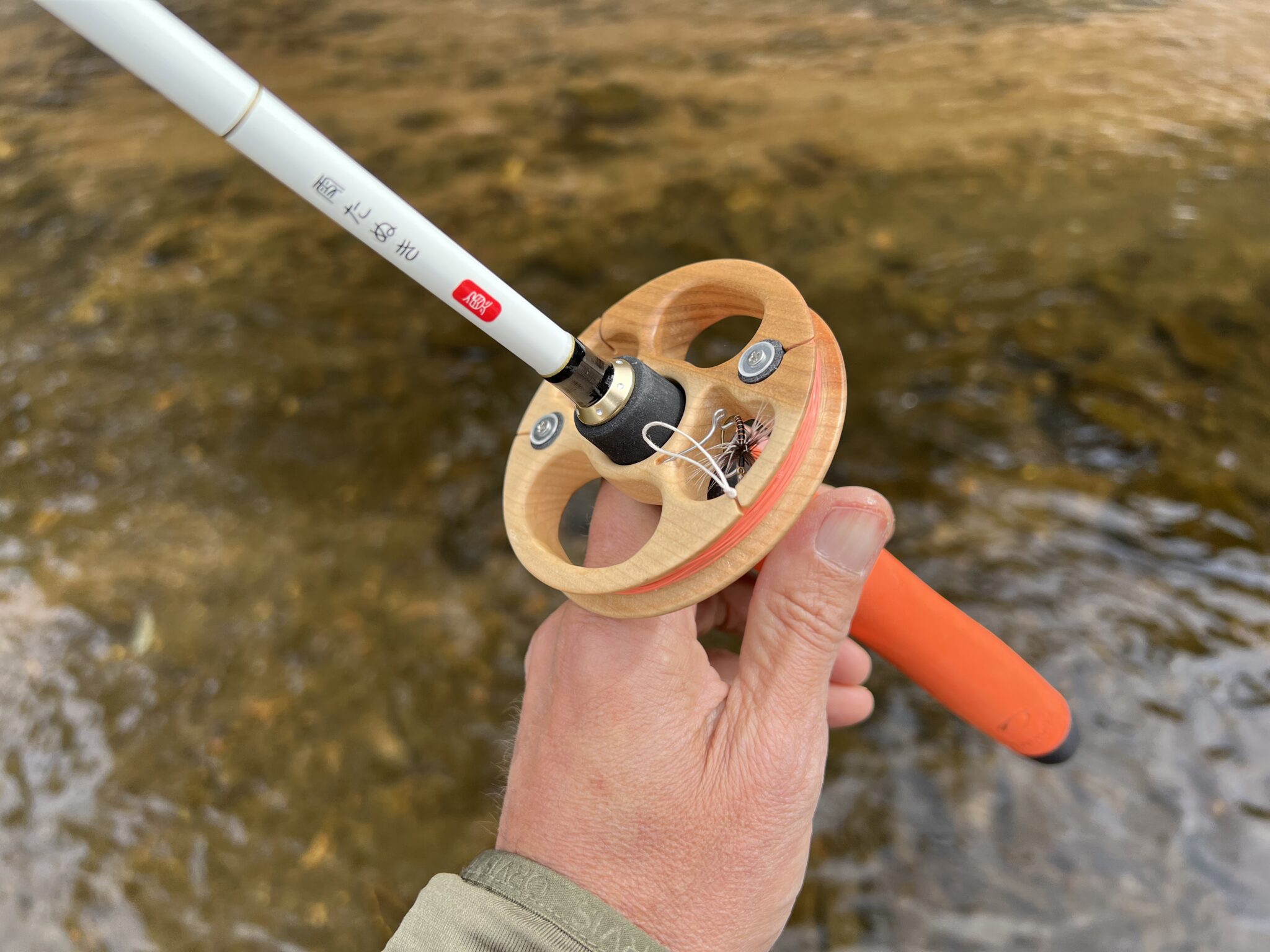 To facilitate winding, Kura-san incorporated two kidney shaped holes–one smaller one for your thumb, and one larger one for your index and middle fingers. This prevents the spool from accidentally being dropped–as can happen when you wind the typical way with your index finger in the center hole and thumb on the rim of the spool. But in addition to being a more secure grip, it just feels "right" ergonomically. It took a little getting used to but now it seems natural.

I love the light color of the katsura wood and it compliments my hinoki boxes well.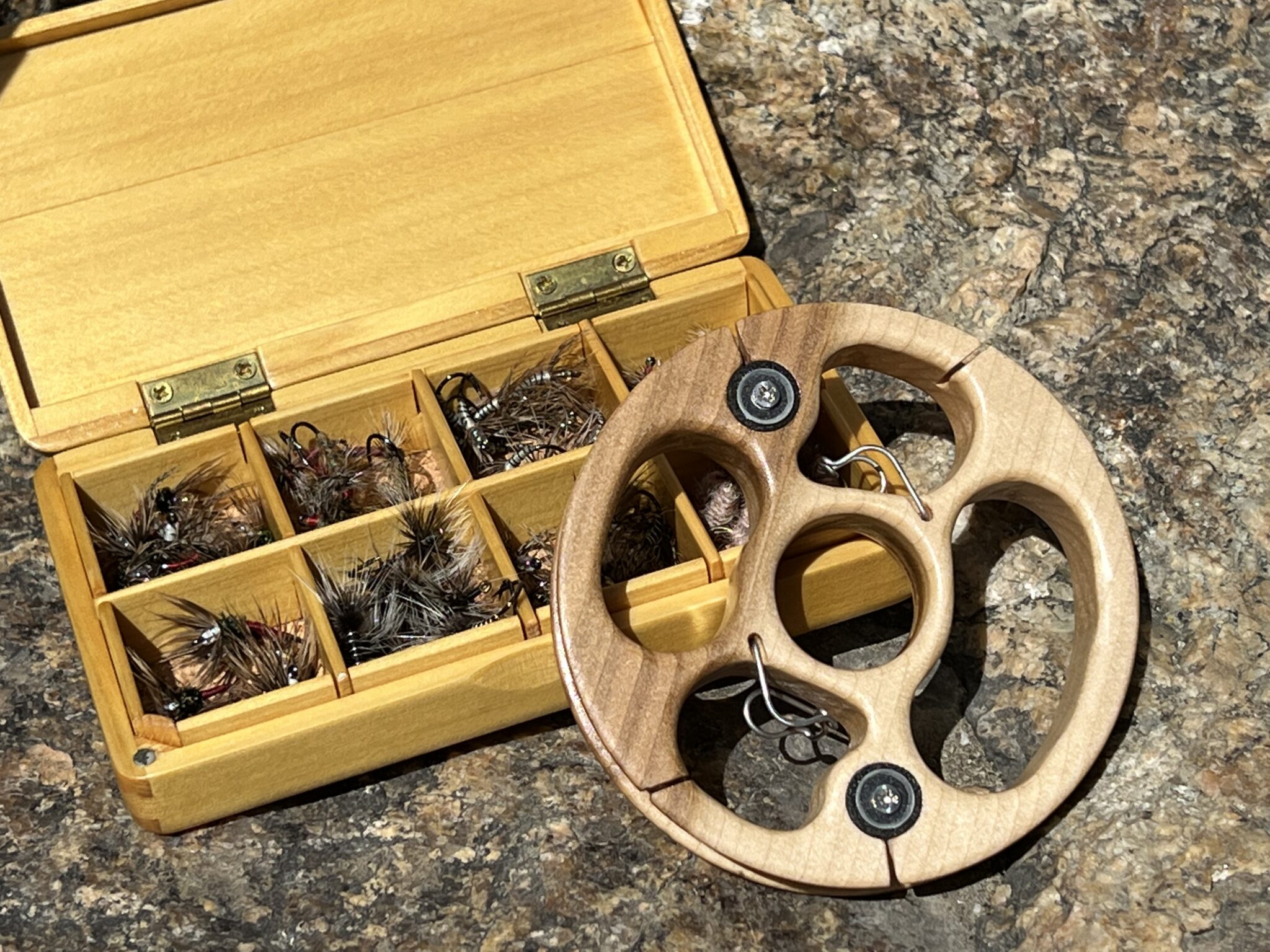 And I find the 3″ diameter to be just the right size–big enough to speed up winding, but not so big that it's awkward.
As a connoisseur of design, I'm thoroughly impressed with this. It's obvious Kura-san put a lot of thought and trial and error into it–you can tell the moment you hold it in your hand. Every feature is thoughtfully placed and implemented as only could be produced from the benefit of a true tenkara angler's vast experience.
I love using handcrafted gear when practical. So often, utility compromises art or vice versa. But Kura-san's creation is a happy marriage of both and it brings me joy whenever I use it on the water.
For more information, or to get one of your own, visit Tenkara-Ya.