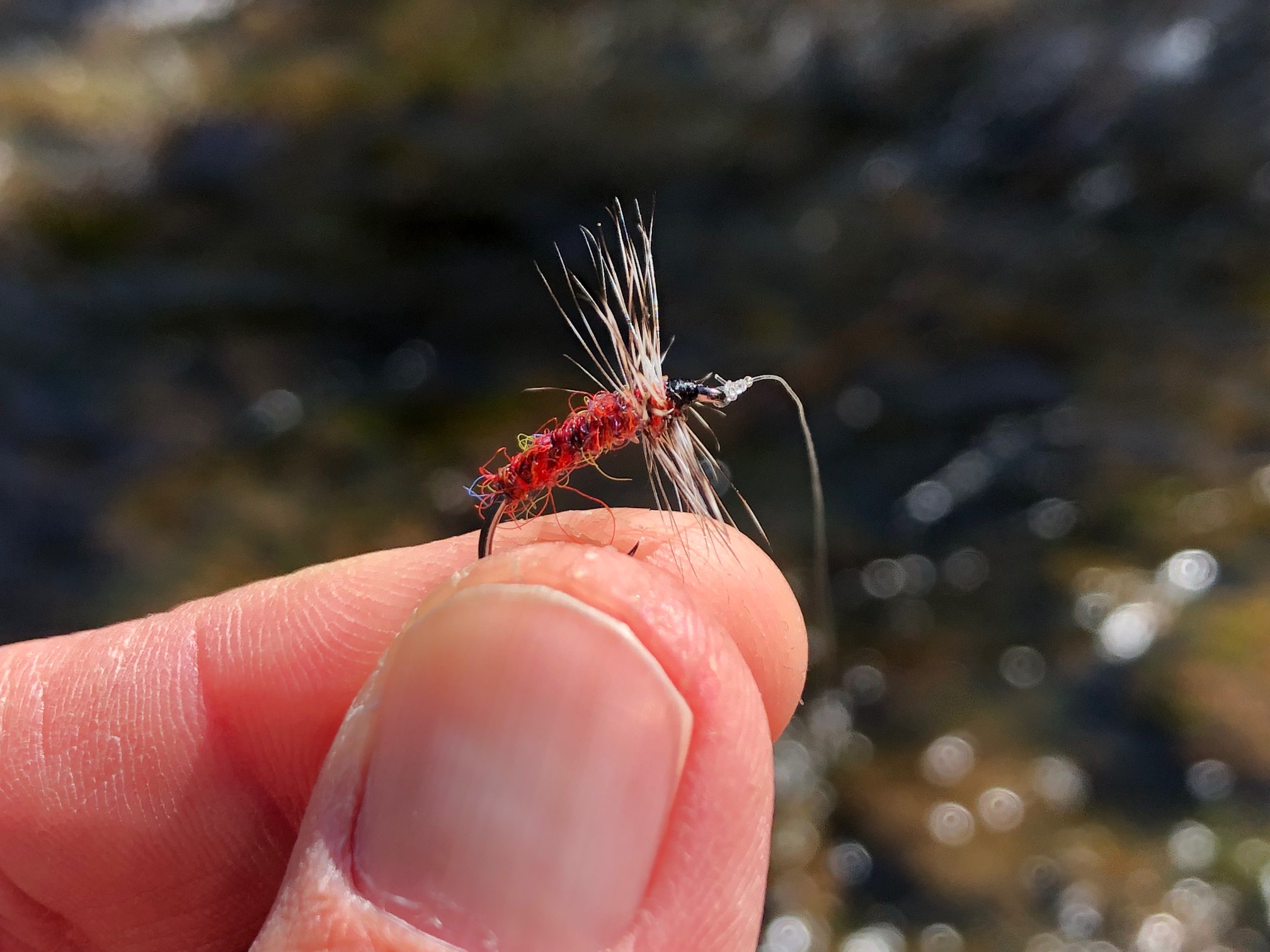 If I had to name one tying material that rivaled the versatility and universal fish-catching properties of the venerable peacock herl, it might be Jaimeson's Shetland Spindrift Yarn. And lately, I've been tying the majority of my "working" flies with it. Why?
It's fast and easy to tie with. Just a few wraps of yarn are enough to create a full body without the effort of dubbing or endless thread wraps.
Shetland Spindrift yarn comes in a wide range of colors that are variegated. The multi-colored variegation creates the illusion of complexity which I believe is a predatory trigger in trout. In addition, the diverse palette of colors in each yarn broadens your chances in matching whichever color the fish might be keen on under the present conditions.
It's scraggly, translucent, and just generally "buggy" looking.
Unlike peacock herl, it's intrinsically durable and does not require an extra step to reinforce with thread or wire.
It's inexpensive. One 113-yard roll will likely be a lifetime supply for the average angler and only costs a few dollars.
It absorbs water to help the fly sink, but retains enough buoyancy to facilitate depth control.
The 2-ply thickness of Jaimeson's yarn is perfect for fly tying. It's not so thick that it needs to be separated like other yarns and if more bulk is needed, it can either be doubled over itself or doubled wrapped.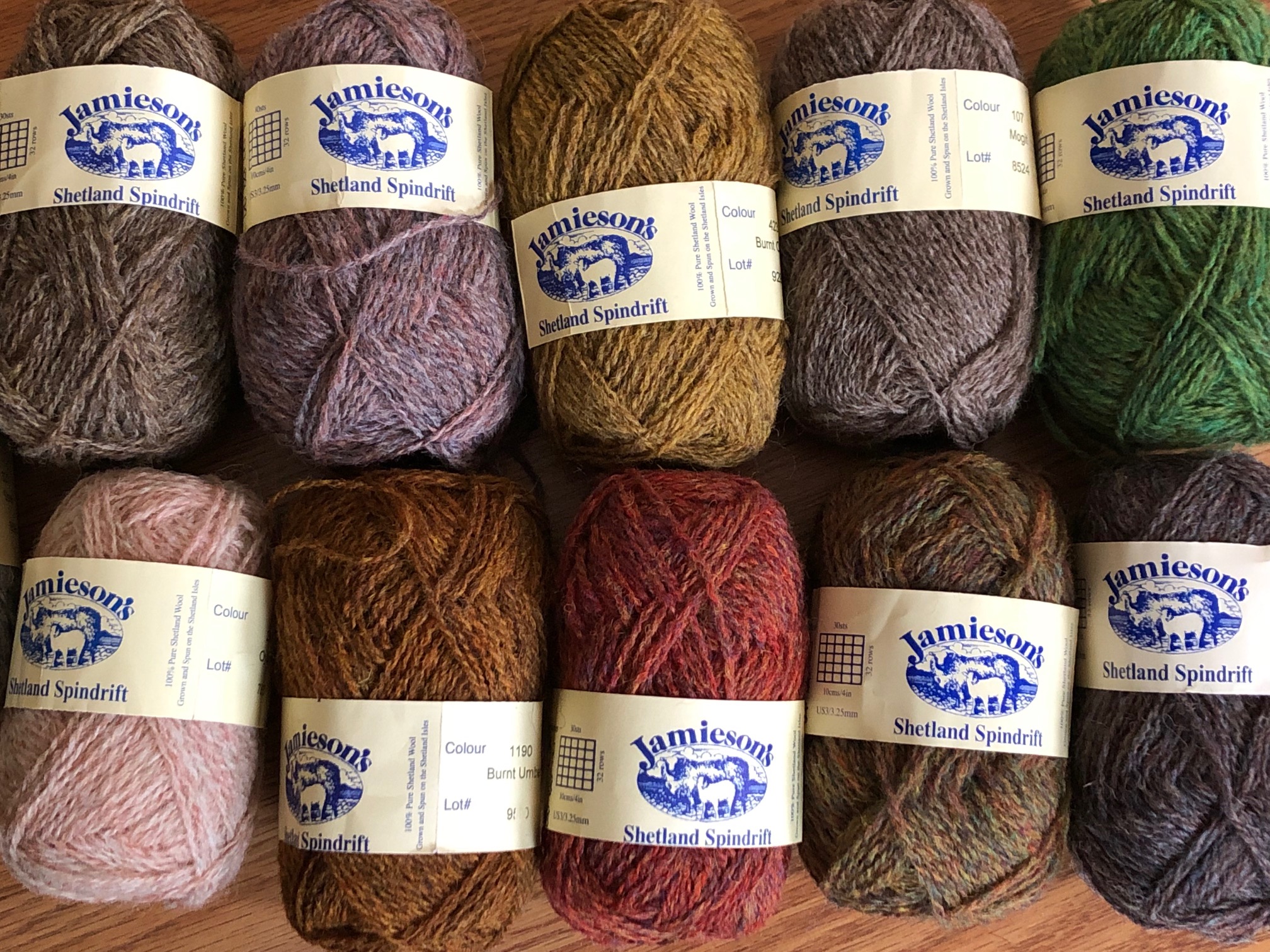 There are two main fly types I've been using the yarn for. One is the Shetland Killer and the other is the simple stiff hackle kebari I'm about to share with you. This is probably one of the fastest and easiest flies to tie, yet has proven itself to be one of the most effective. In fact, it flies in the face of the conventional wisdom that the more painstakingly tied and realistic a fly is, the more effective it is.
There are only three ingredients in this fly: yarn, hackle, and your creativity. I don't count thread or the hook as "ingredients". In fact, I find it strange that most people do, while failing to list the most important ingredient of all in any fly pattern: one's own imagination. I've let mine run wild, tying stiff hackles with all sorts of different colors, but I'll share a few of my favorites with you and show you how easy they are to tie.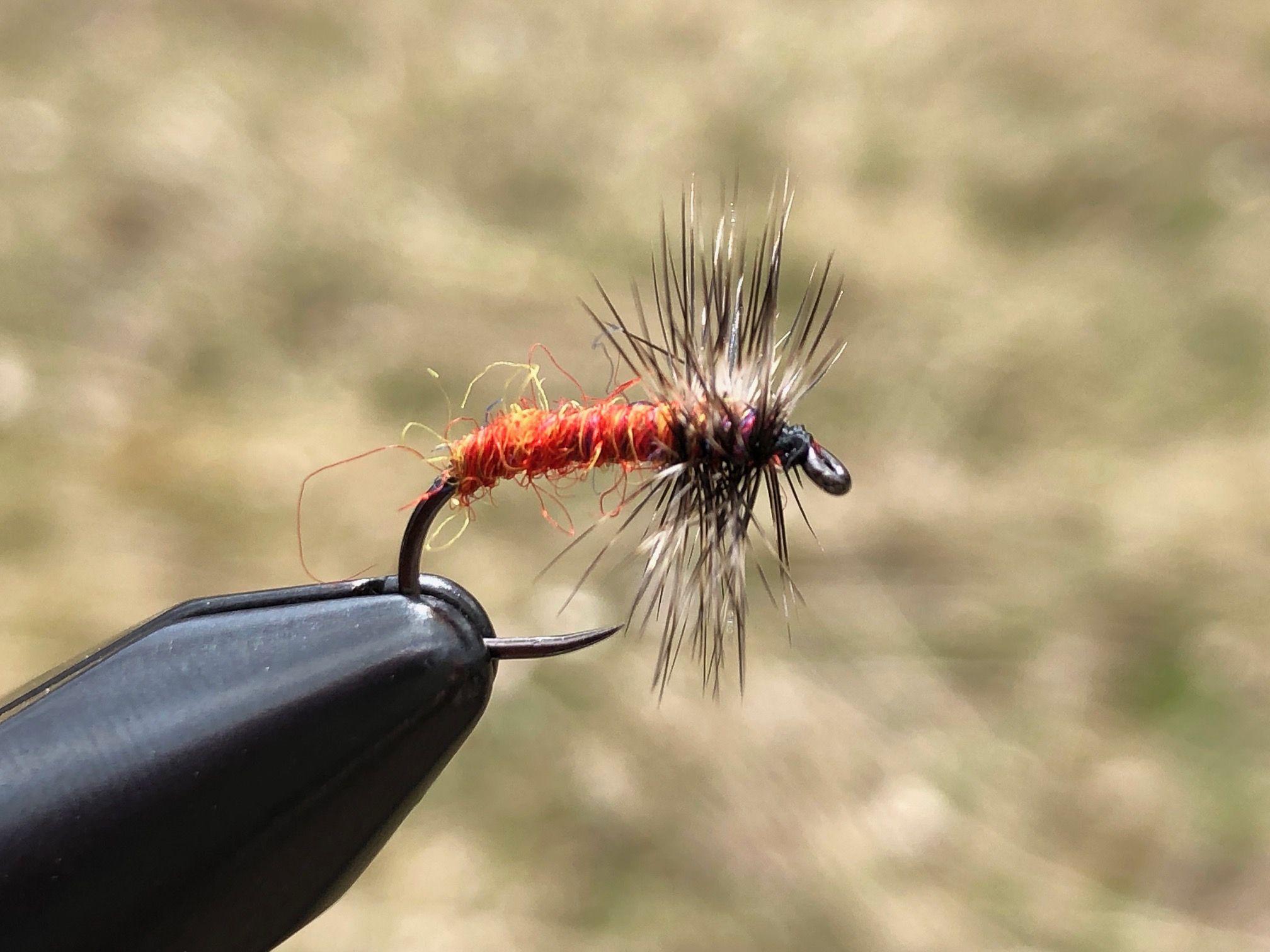 How to Tie the Shetland Futsū
I can tie this fly in 2 minutes and the cost of materials is next to nothing. The most expensive part is the hook which is about 5 cents. This means I can fish it in snag-ridden precarious lies without worrying about losing it and reach the fish others might shy away from for fear of losing their $3.50 fly.
Hook: Firehole Sticks 633 #12 or #14
Thread: Uni 6/0
Body: Shetland Spindrift Yarn (color according to your whim)
Hackle: Dry to match hook size or one size smaller, grizzly
Step 1
In this example, I'm using "Autumn" colored yarn. Start the thread and tie in the yarn along the hook shank. Advance the thread to about 1/3 shank length behind the eye.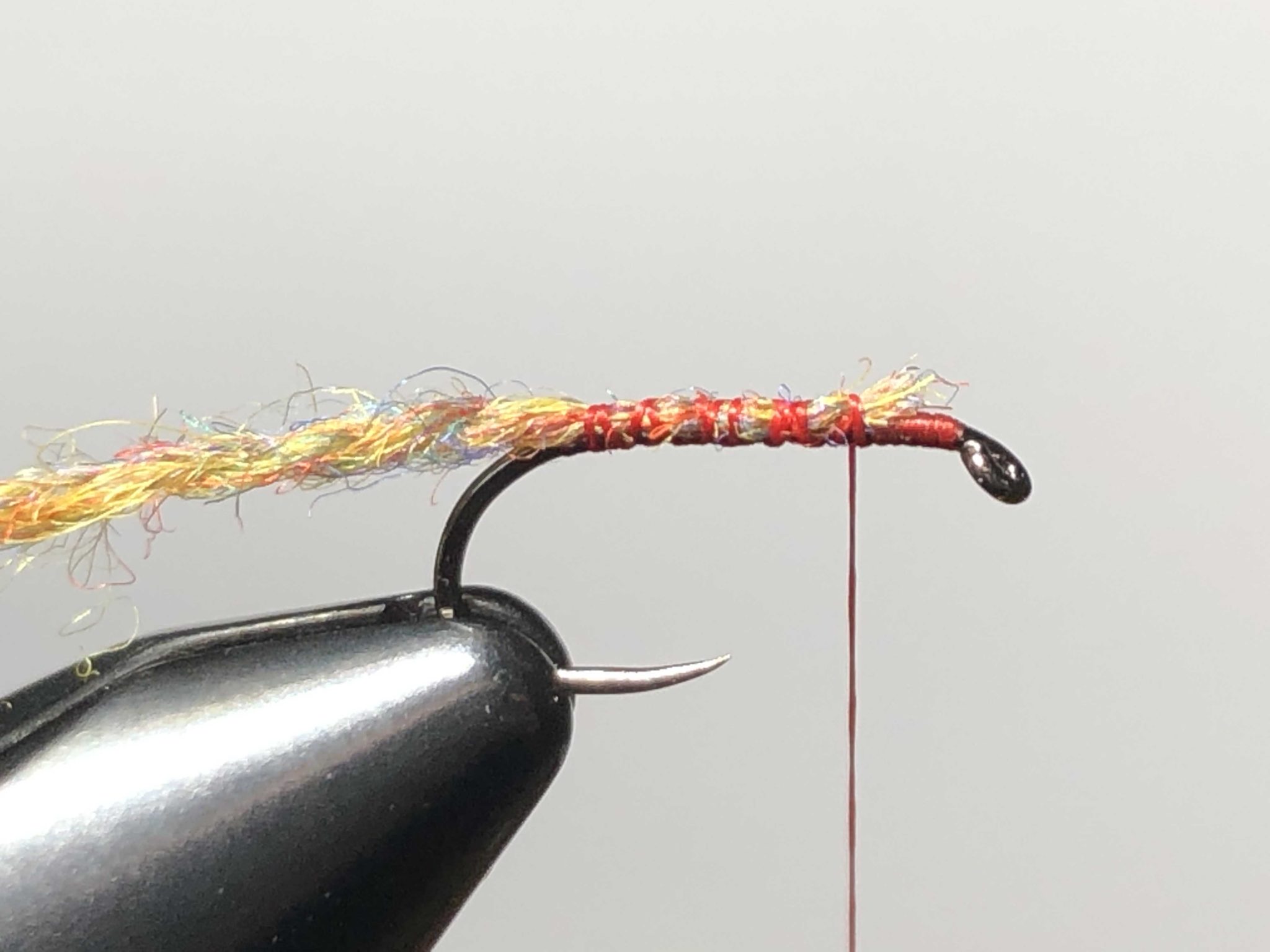 Step 2
Tie in the hackle with the curve (dull side) facing forward as you would if you were tying a dry fly. Advance the thread to just behind the eye.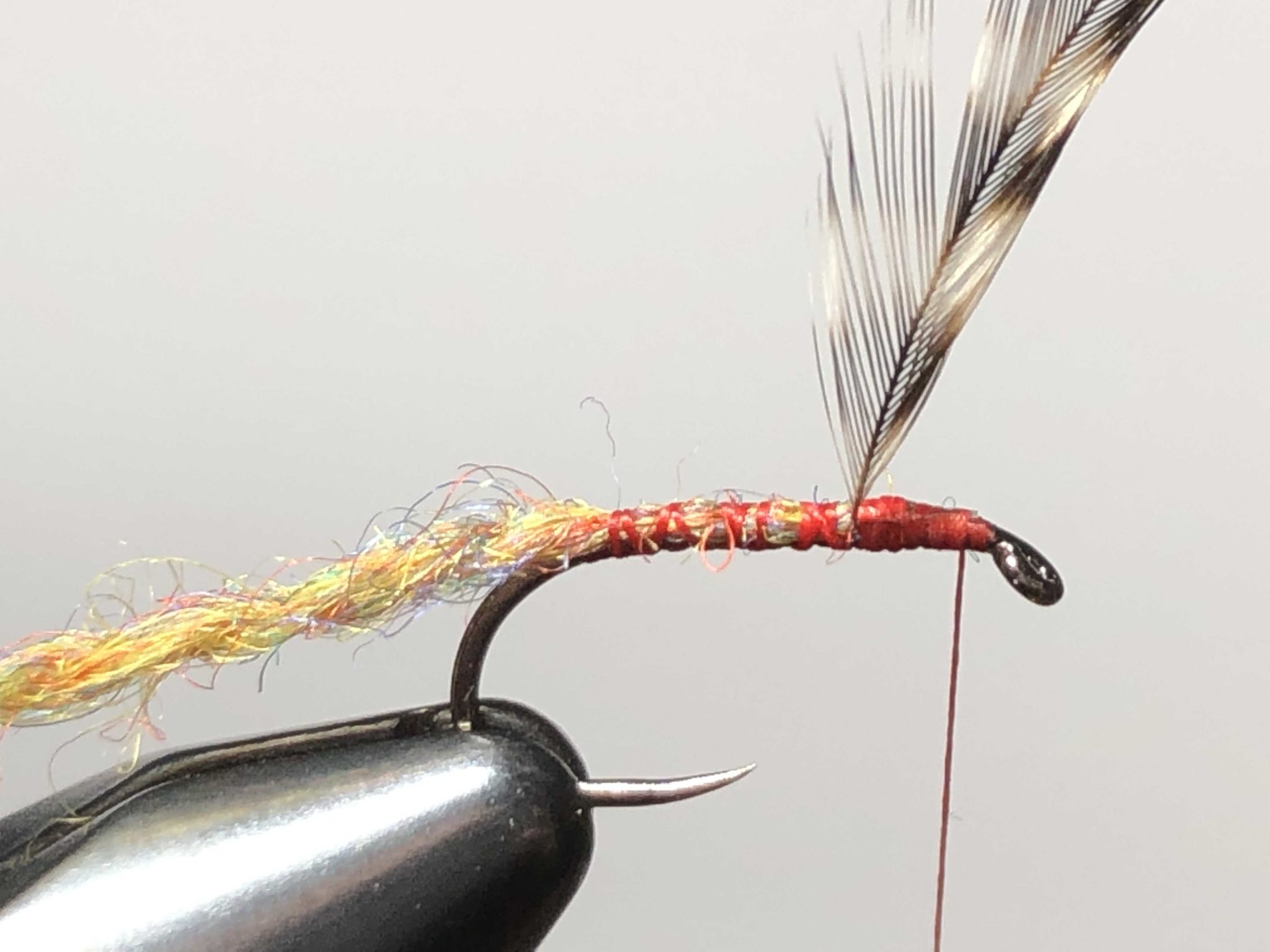 Step 3
Wrap the yarn for the body and one or two turns past where you tied in the hackle, secure it, and trim off.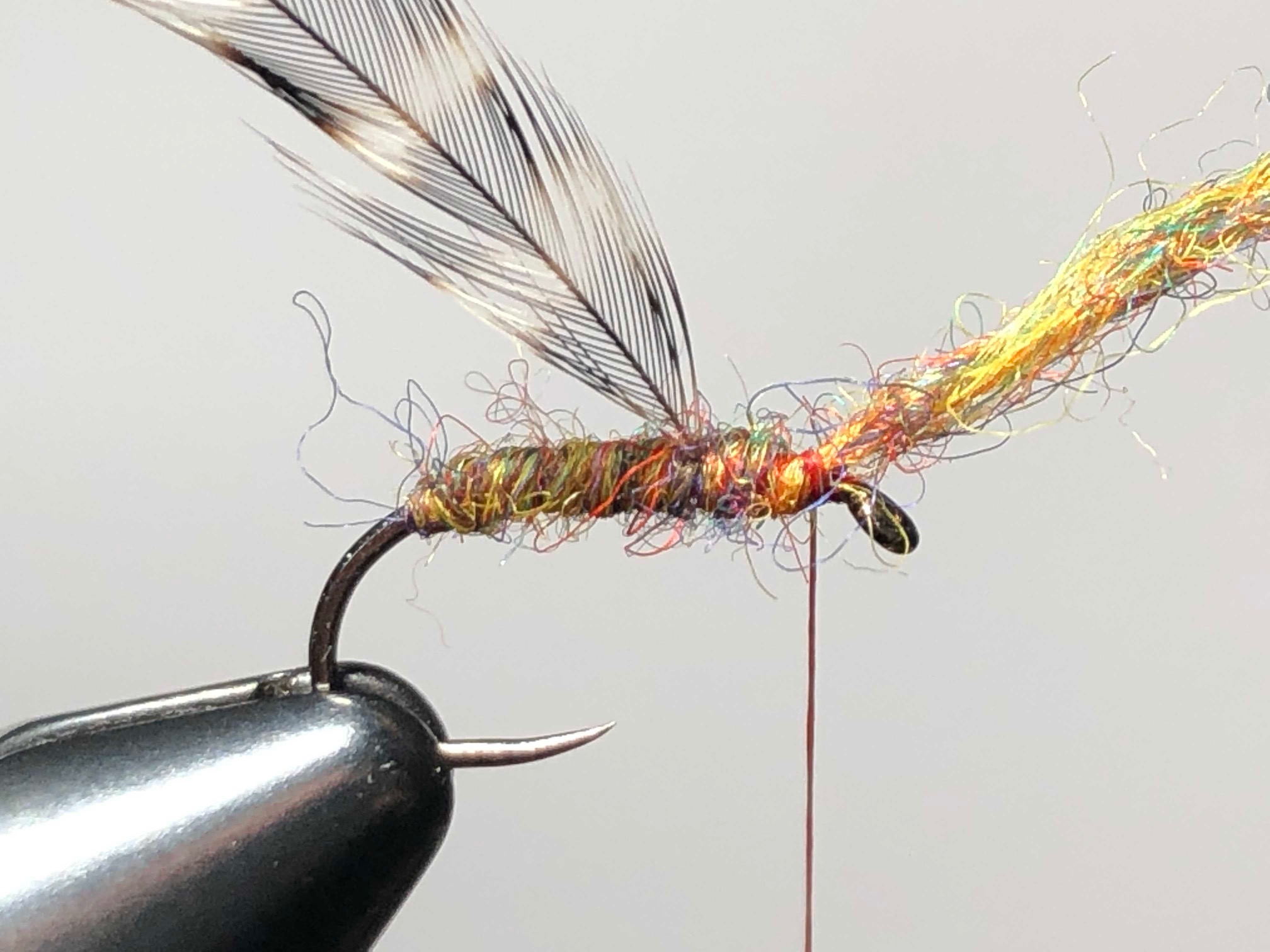 Step 4
Palmer the hackle toward the hook eye. I usually make about four wraps. Secure and trim.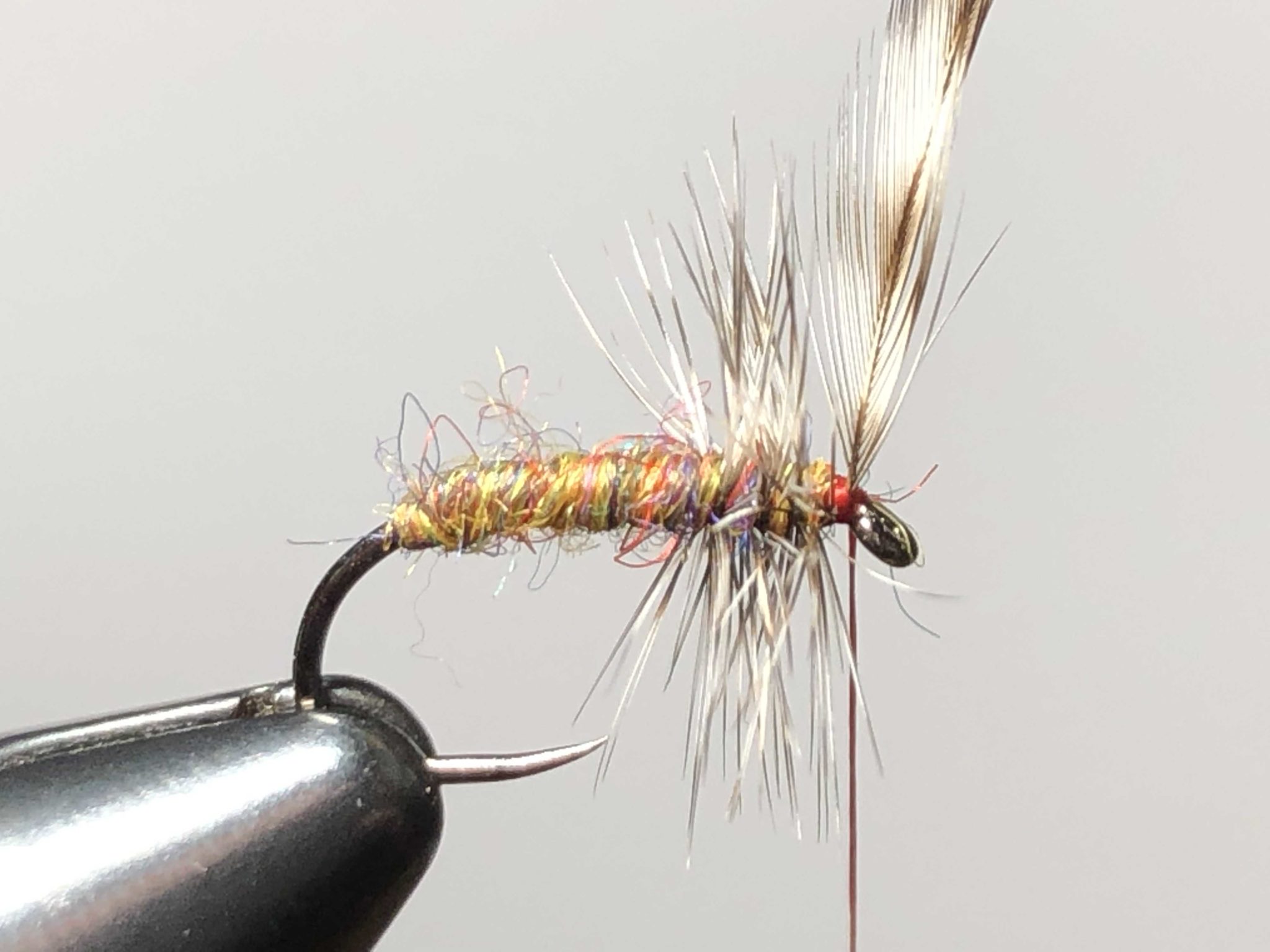 Step 5
Whip finish or half hitch the head and trim the thread.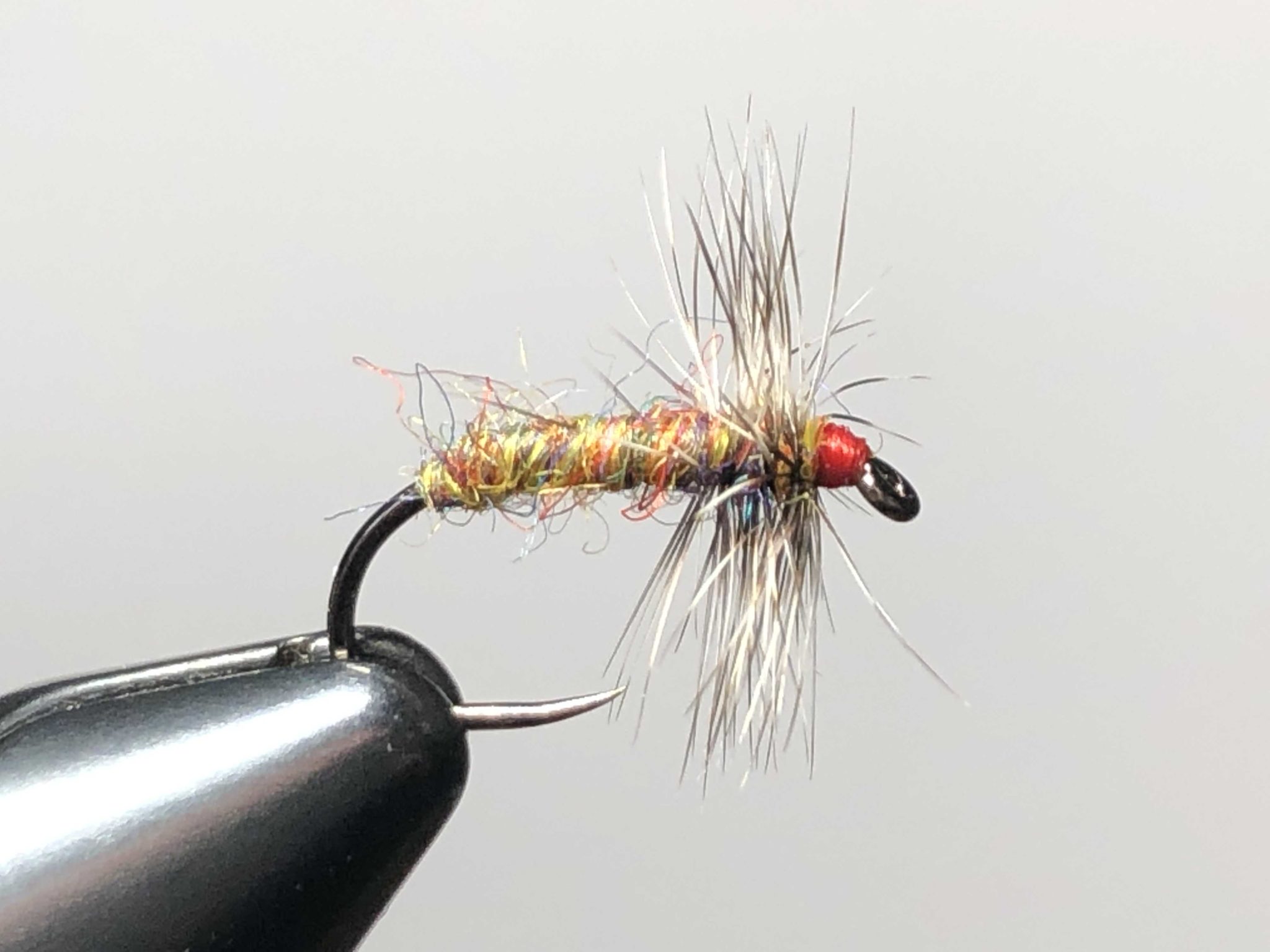 Color Choices
Shetland Spindrift is available in over 200 colors so you've got a nearly limitless palate to explore and experiment with. Here are some of the colors I have found to be most effective …
Paprika
This has proven to be the most effective color for me. Fish see the color red the best and that probably accounts for it.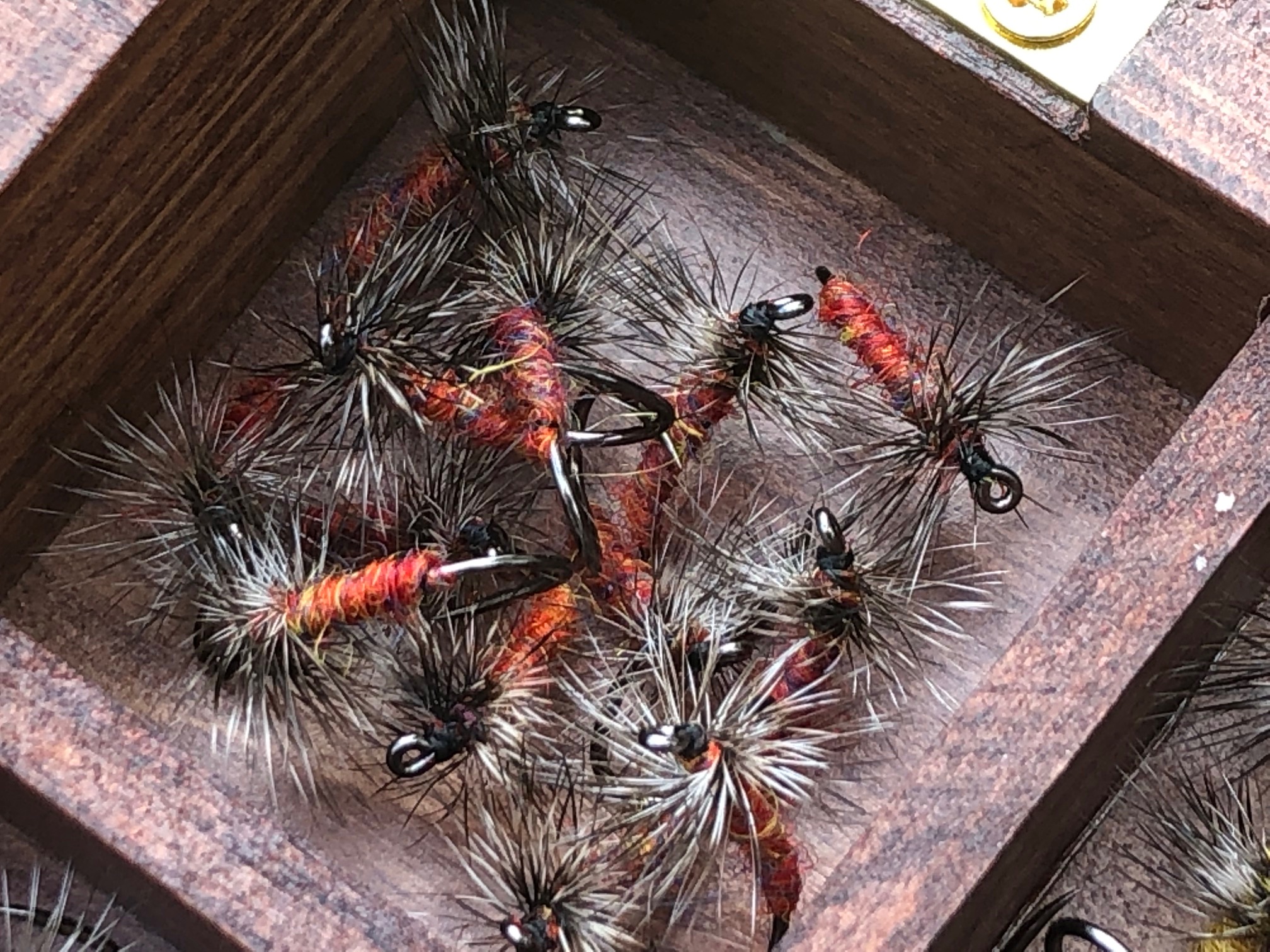 Wren
A good, drab all-purpose color.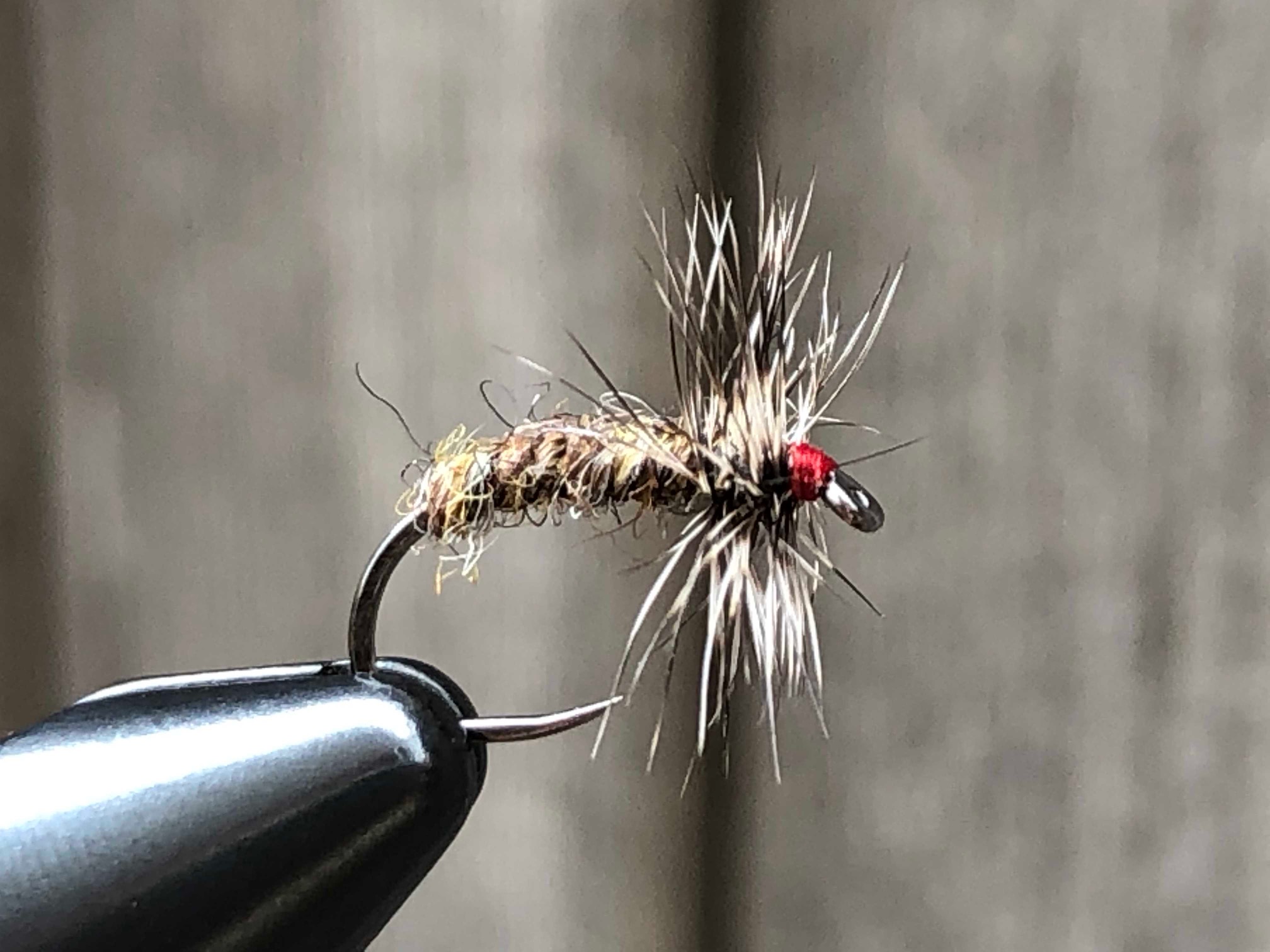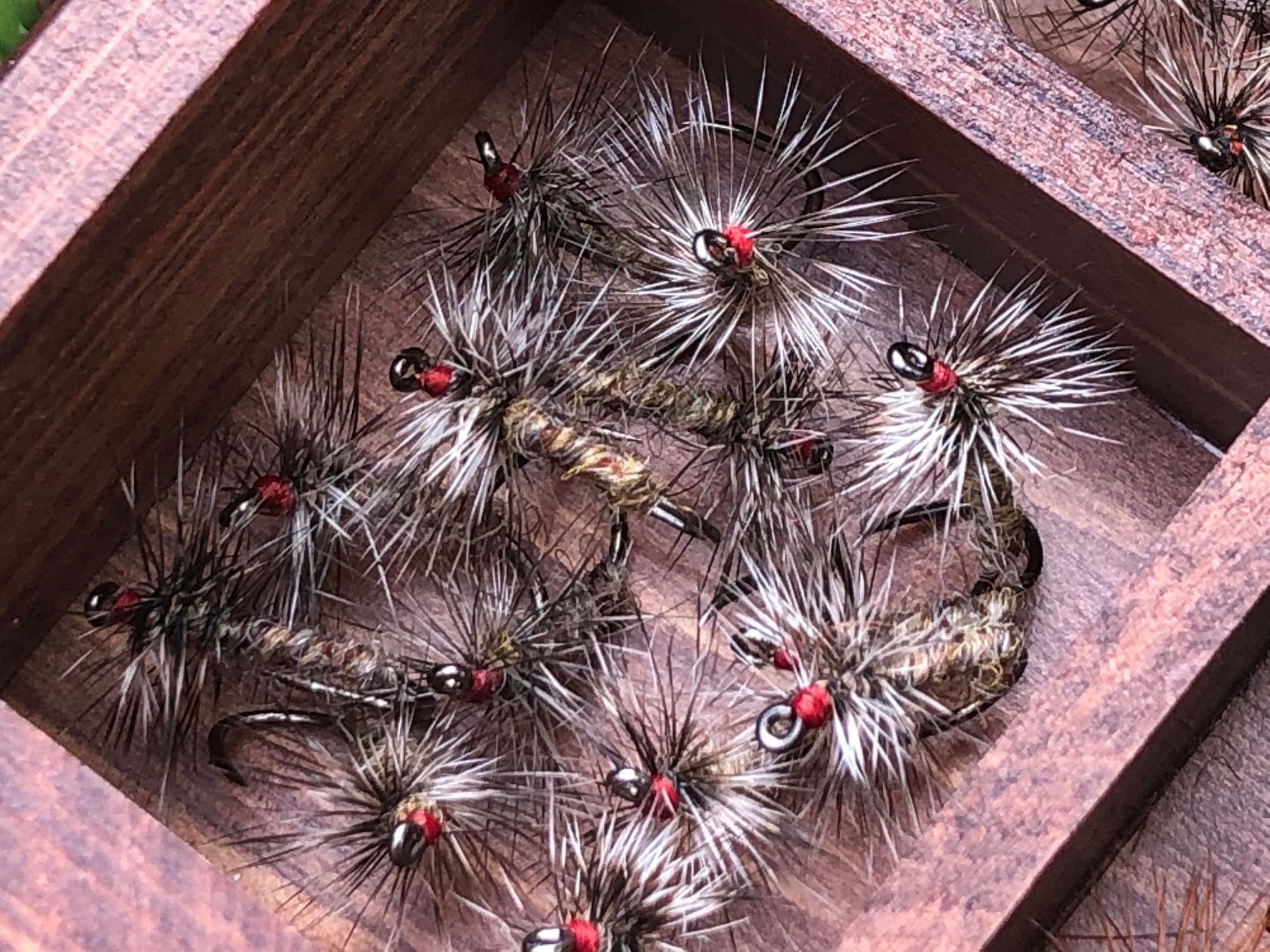 Shaela Moorit
A great dark pattern a la the Ishigaki Kebari.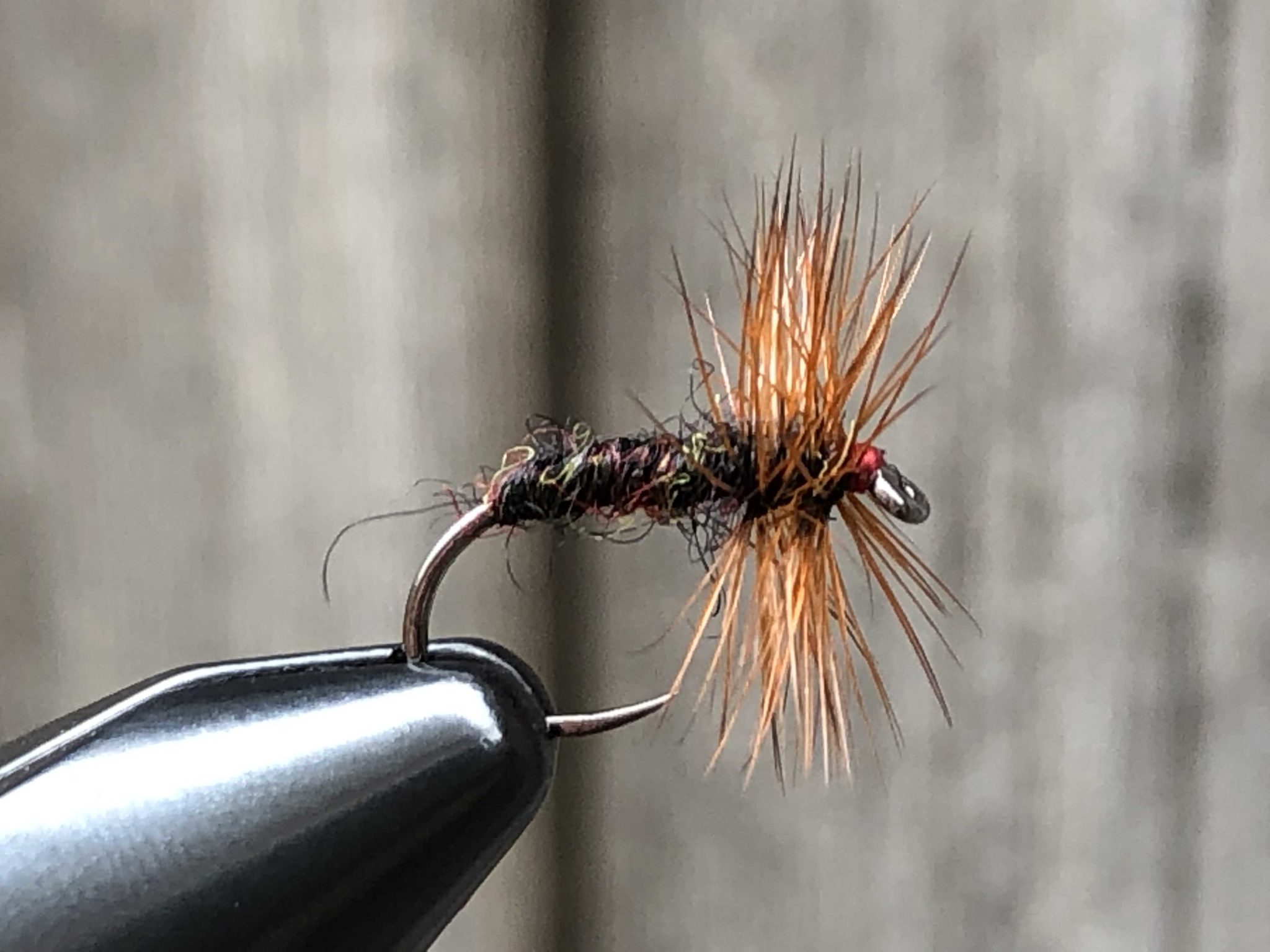 Burnt Ochre
A lighter-colored compliment to the Shaela Moorit pattern.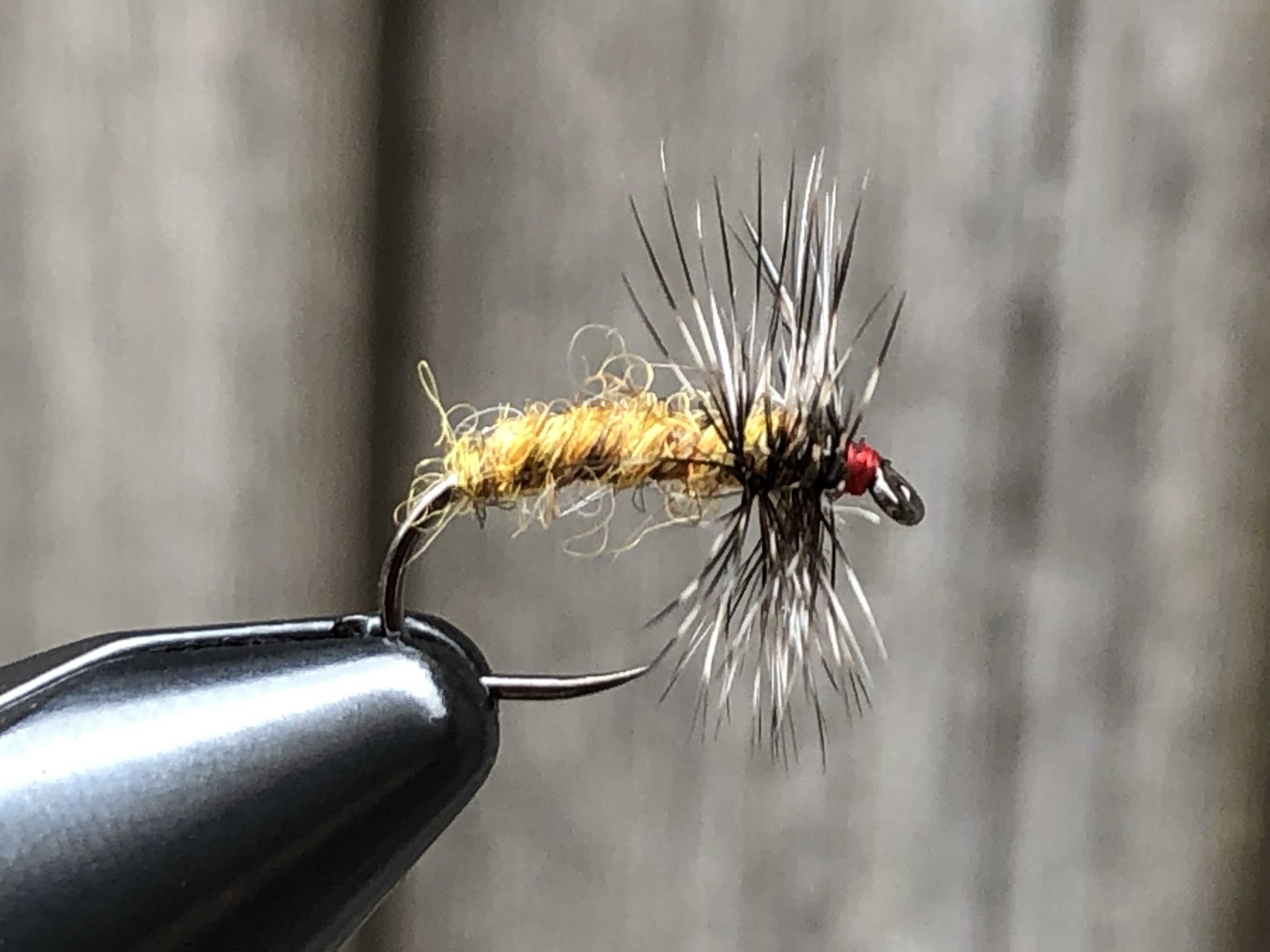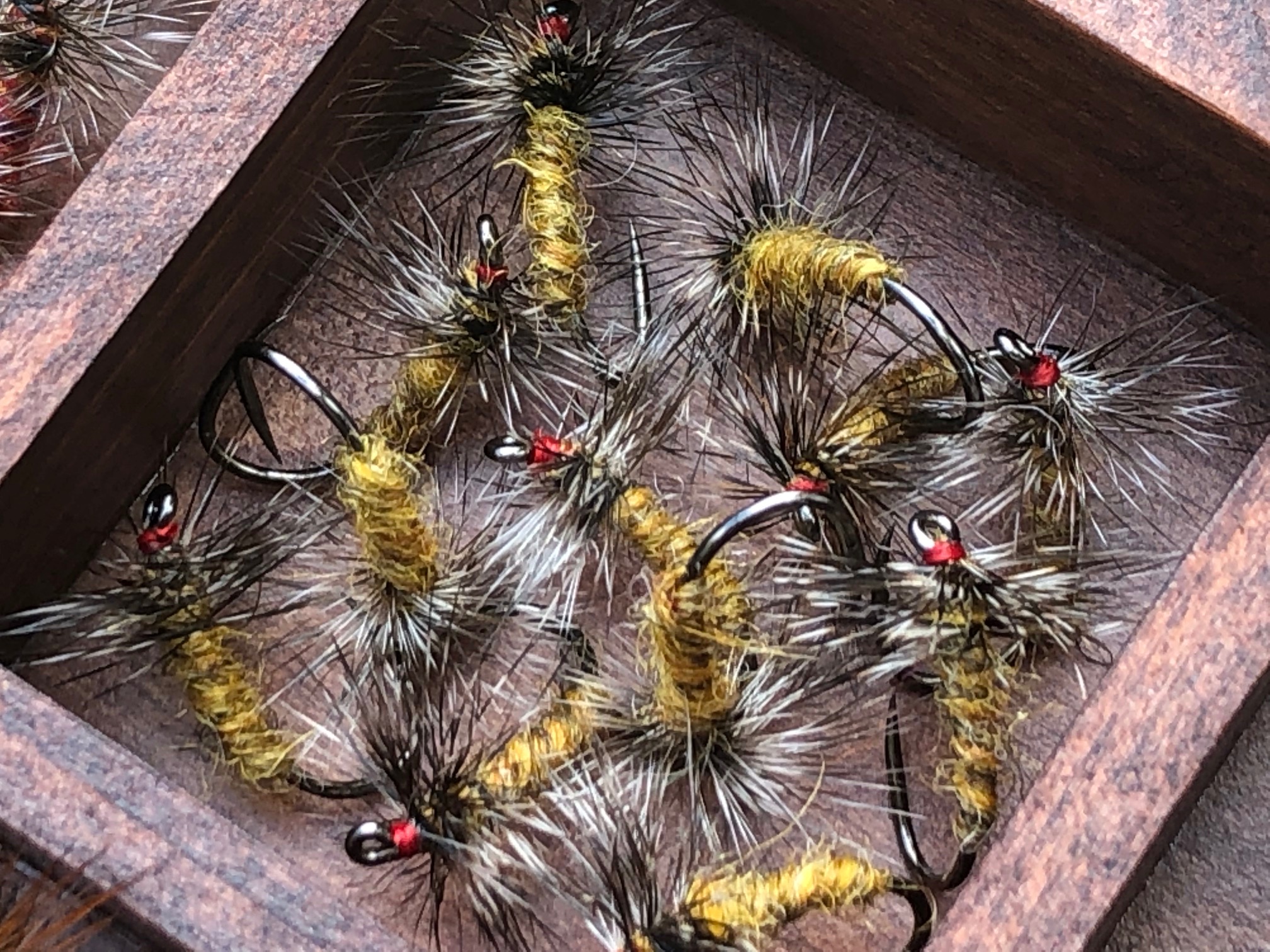 From bottom to top:
Autumn, Leprechaun, Burnt Umber …
If I showed some of my friends in the conventional fly fishing world these flies, they'd either think I had no clue how to tie or was playing belated April Fool's joke on them. Hardly would they believe that these simple ties will catch just as well as their over-engineered and self-aggrandizing "showroom" patterns.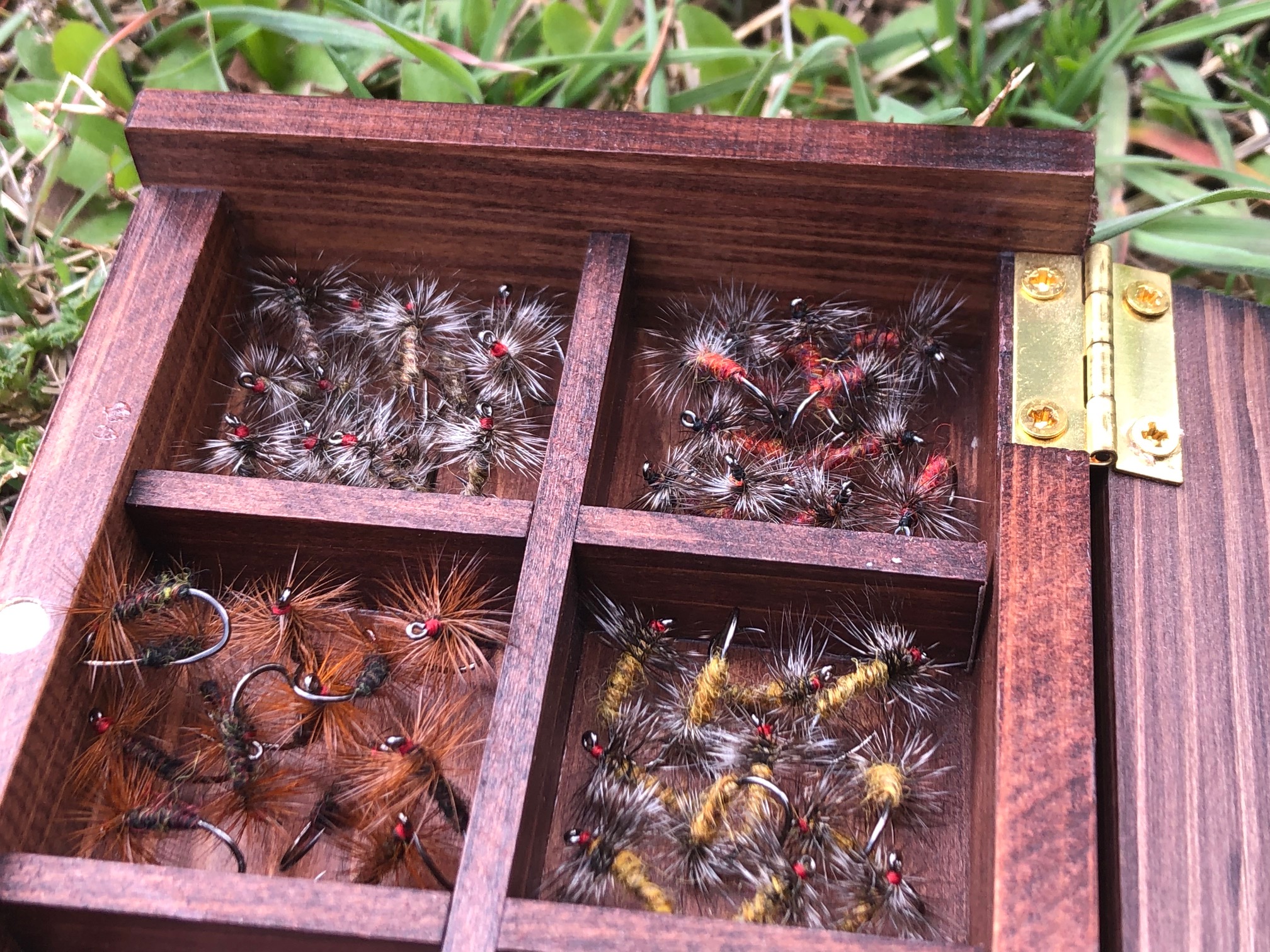 Of course, yarn bodies also lend themselves to soft-hackle sakasa kebari or other patterns. I just wanted to expose the virtues of Shetland Spindrift as a material and let you decide how to take advantage of it.
I get my yarn from The Websters, but there are many online and local dealers.
For all the reasons above, these are my go-to workhorse flies and are permanent residents in my fly box. And being so easy to tie, they're also perfect if you're thinking of getting into fly tying!