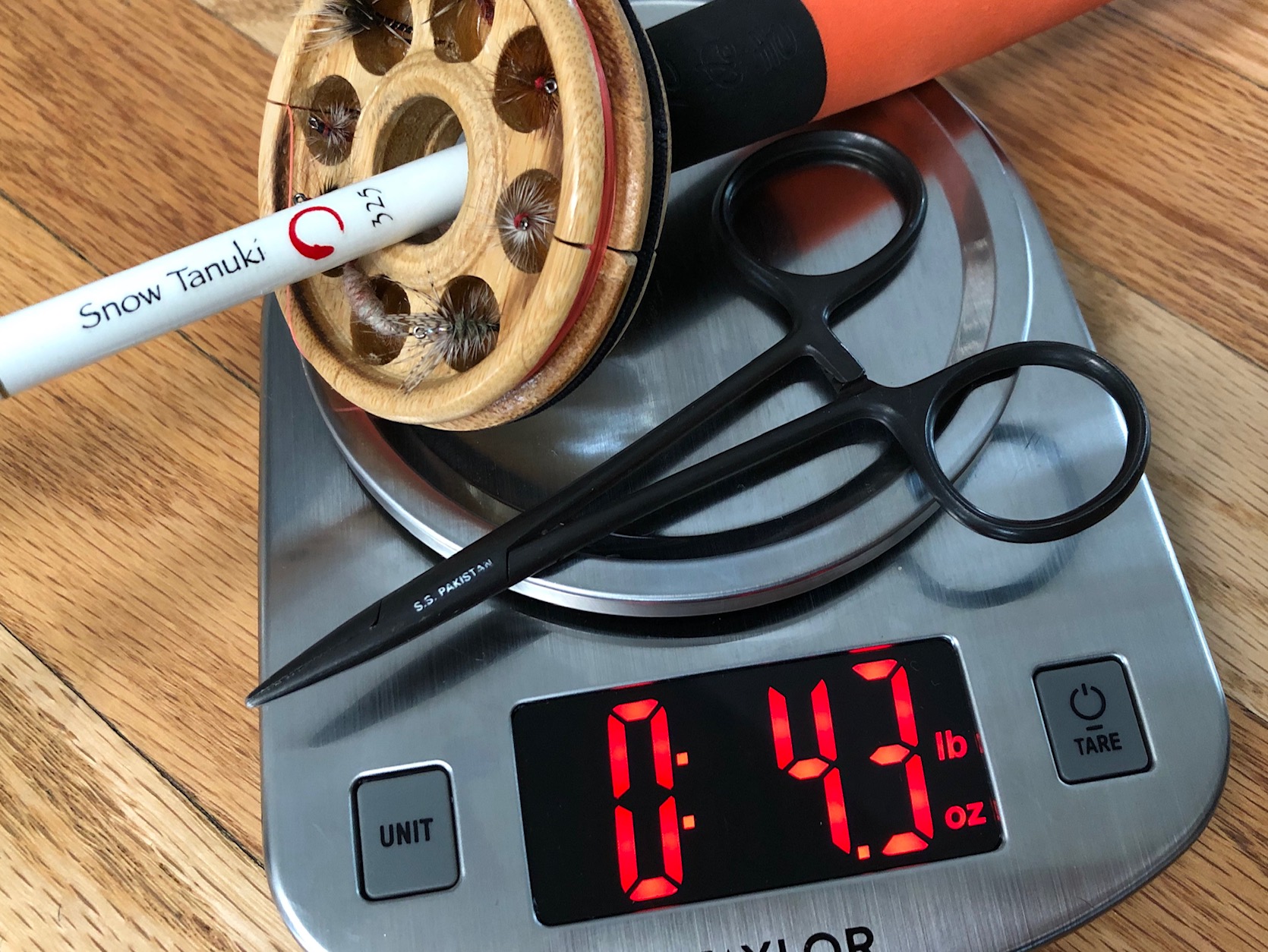 On a couple of recent fishing trips with my friends Daniel and Dennis, I was struck by something–actually, I was struck by the absence of something. While I was donning my beloved Yonah Tenkara Simple pack, they were carrying nothing. And I mean nothing (save their rods). No chest packs, no backpacks, no sort of carry system to speak of. Where was all their gear? To look at them, you wouldn't even know they were about to go fishing. They looked like they were about to hang out in Starbucks and check Instagram over a latte. While I consider my Yonah pack to be pretty minimalist compared to what most people carry, somehow, seeing them made me feel like I was still carrying too much.
Daniel had nothing more than a single fly box and I think a pair of hemostats and line cutters, carrying them in his pockets. I don't think Dennis even had a fly box. He just carried some flies in his spool (more on that below). I didn't really think I was carrying anything "excessive", but it made me wonder just how little I could get away with. So I decided to challenge myself and see how light of a complete tenkara kit I could put together using gear I already had. And here's what I came up with …
My SUL Tenkara Kit
Tanuki Tenkara Snow 325 Rod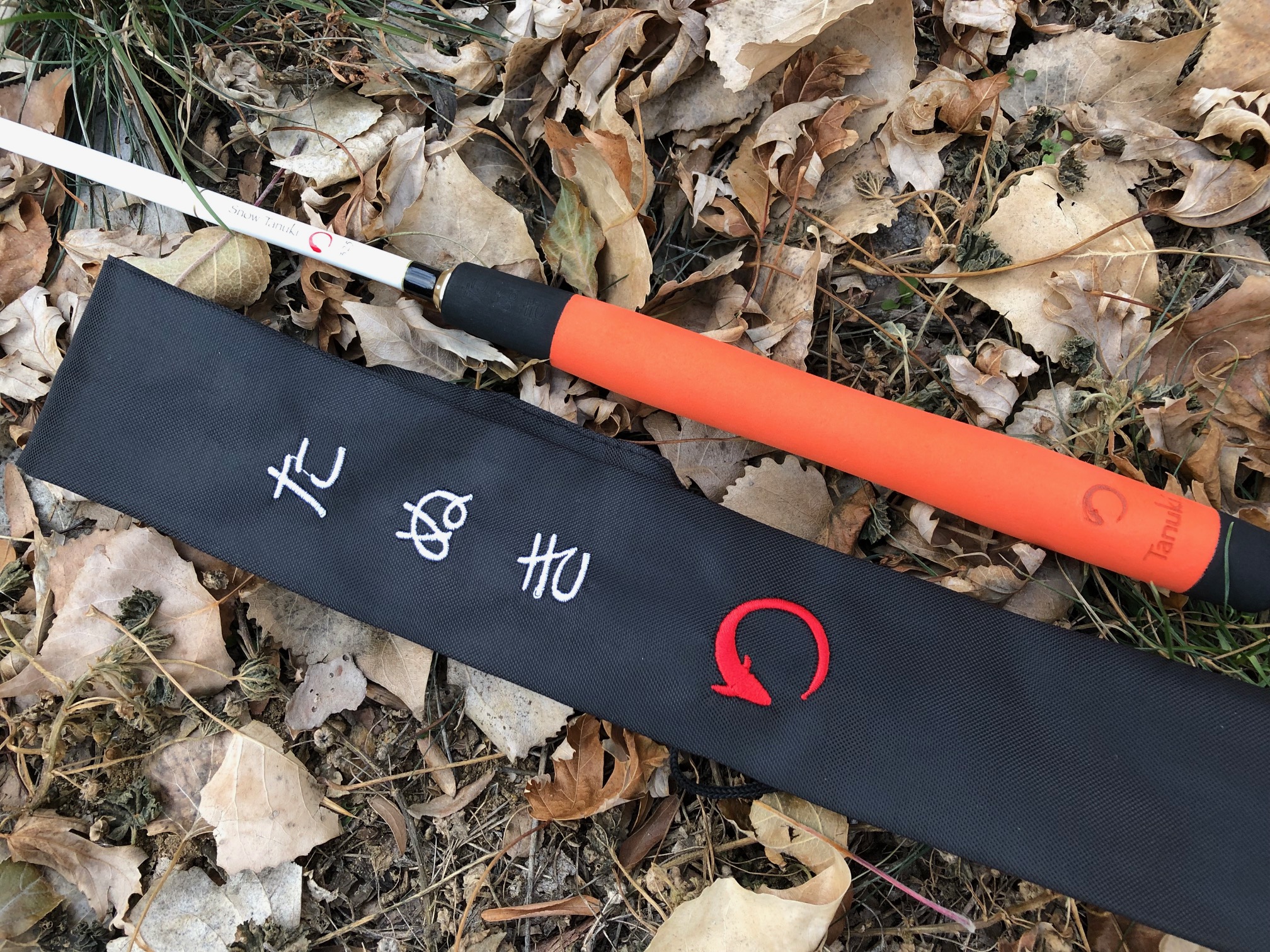 If you read my review of the Tanuki Snow 325, you'll know it's one of my favorite rods for my small, local streams–the places I'm most likely to use an ultralight kit like this. And at only 2.1 oz., it seemed like a logical choice to keep the weight down for a kit that I might also bring along on backpacking trips where fishing may not be the focus, but I want to be prepared just in case fishing opportunities present themselves along the way.
Tenkara Path Line Spool

Dennis' Tenkara Path wooden line spools are perfect for a minimalist kit like this because they're multi-purpose. As I mentioned above, you can carry your flies inside the drilled out holes of the spool which hold them securely in place with powerful dionysium magnets (no, they don't fall out).
My kit holds 8 flies which seems adequate given that I typically end up only using one or two flies on a short outing and at most, lose two or three. I don't think I've ever lost eight flies on a quick trip. The selection is an assortment of my confidence patterns such as my yarn stiff hackles, Shetland Killer, Kamikaze Kebari, and glass bead sakasa kebari.
Line & Tippet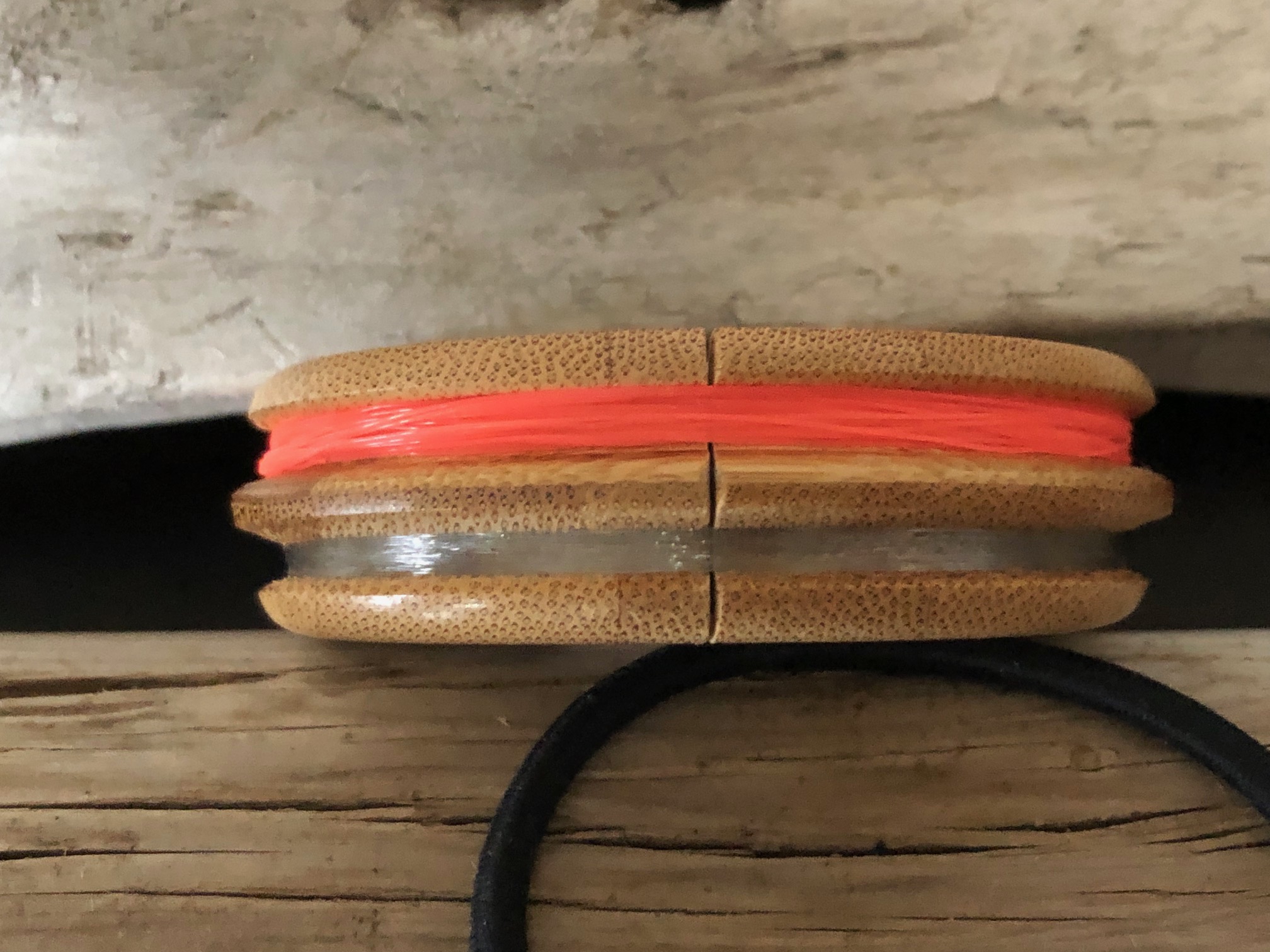 The Tenkara Path Spool holds both line and tippet, so for my SUL kit, I strung it up with 13′ of Tenkara USA 3.5 Fluorocarbon level line and 5X Rio Powerflex tippet which is about the best all-around combination for any condition I'm likely to face with this kit.
Hemostats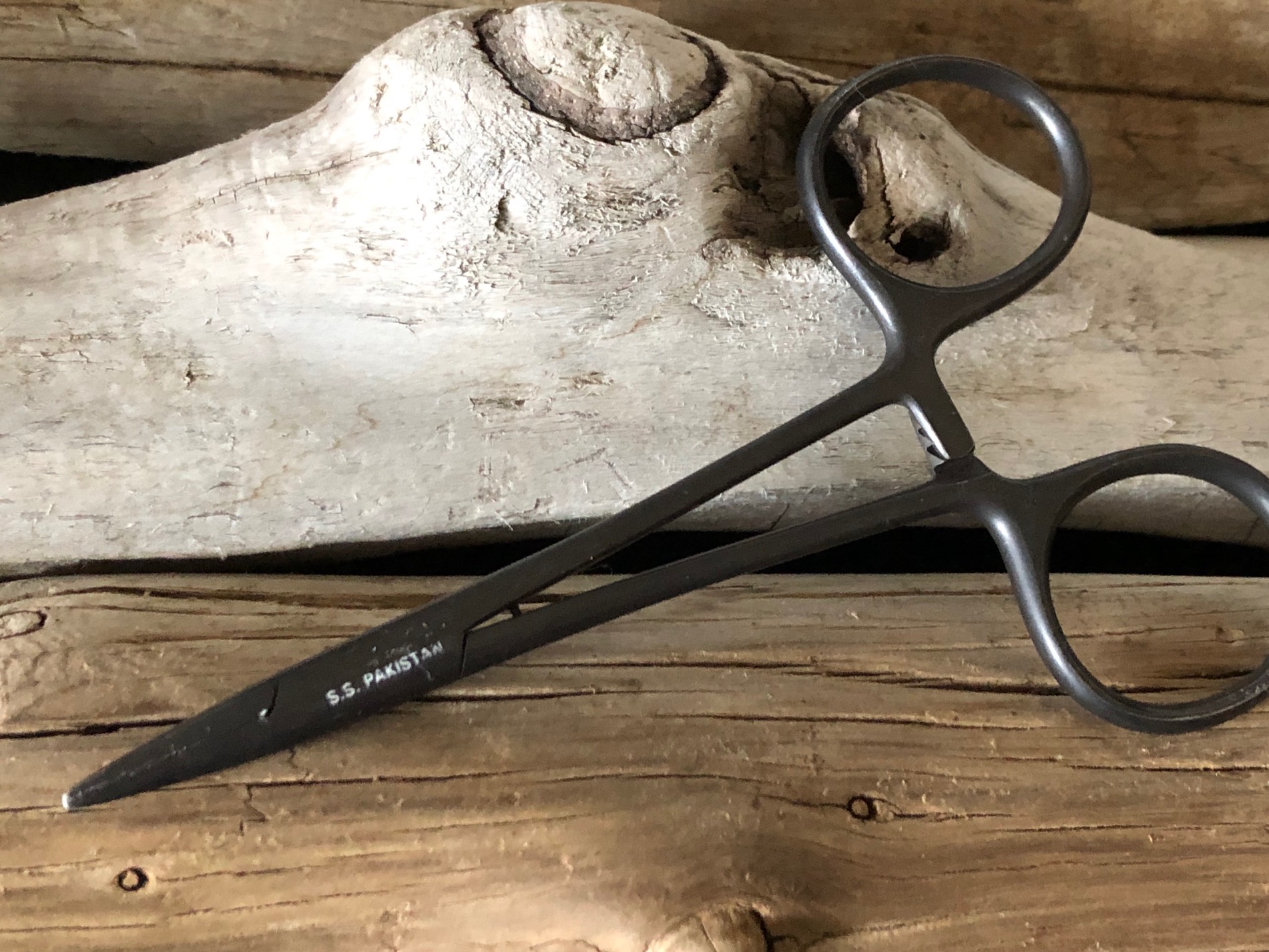 I could shave off 1.2 oz. by leaving the hemostats behind, but for the safety of the fish, I consider them necessary in case they swallow a fly and you can't remove the hook with your fingers.
And that's it! The total outfit comes in at a mere 4.3 oz. That's less than some fly rods weigh by themselves! Now it might seem like there are some things "missing" so below I'll give an explanation of what I left out and why.
What's Left Out
Nippers. On the stream and off, I'm never without my pocket knife, so since I'm carrying it anyway, I just use that to cut tippet rather than adding another piece of gear.
Net. While a net is nice, it's not necessary and I consider it more of a convenience if I want to let the fish relax and catch its breath while I get my camera out to take pictures. But truth be told, I can land fish and return them to the water just as quickly and safely by following C & R best practices without one. I may have to sacrifice a few photo ops, but that is not a priority when using a fastpacking kit like this.
Rod Plug. I just leave the line connected to the lilian and the spool on the rod. It would just be one more thing to keep track of.
Fly Box. As mentioned above, the spool holds as many flies as I need for cases where I'd use this rig.
Extra Line. For a long time, I carried several spools of extra fluorocarbon line with me "just in case". Well, I can only remember one time where my line became so damaged that I had to replace the whole thing. And even then, I was within easy walking distance to the car so it was unnecessary.
Rod Case. I never use them anyway. Tenkara rods become their own "cases" when collapsed so they're just superfluous to me.
Going SUL: Does it Work?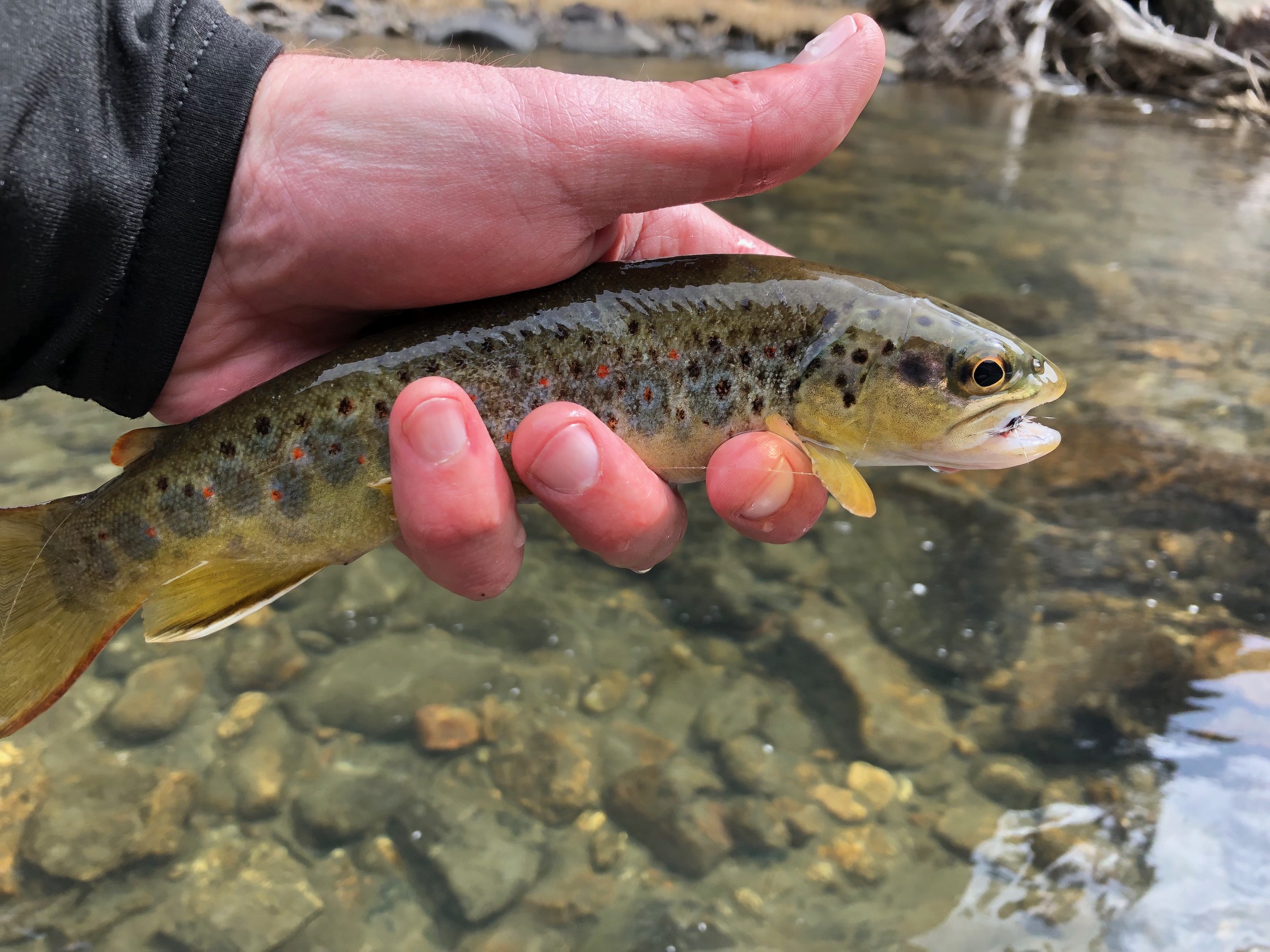 Yes! As someone who works in a fly shop, every day I see lots of anglers who carry an entire fly shop with them on every outing. Their vests are stuffed with a dozen fly boxes and they have every gizmo, gadget, and gimmick you can think of hanging from their bodies like a haphazardly decorated Christmas tree. And they catch nothing. Conversely, I see my friends like Daniel and Dennis who carry nothing, yet consistently catch fish. Why? Two things: confidence and skill.
To go truly minimal, you have to have confidence–in the flies and gear you've chosen and in your ability to read water, present well, and know fish behavior. All the gear in the world won't help you catch fish if you don't know what you're doing. The marketers at tackle companies would have you believe otherwise–that gear can replace skill and breed confidence. But what I've seen is that gear breeds a false sense of confidence and the delusion that it can somehow replace skill.
Whether you want to shed weight for backpacking, leave a ready-to-go car kit in your car, or just eliminate clutter and the fuss factor of carrying a lot of gear, assembling an SUL tenkara kit is a great exercise to challenge yourself and your skill as an angler. The kit above won't replace my EDC setup, but I did learn a lot about who I am as an angler by using it. If you want to look in the mirror and test your mettle, give it a try and see how little you can get away with.
How minimal have you gone and what did you carry?