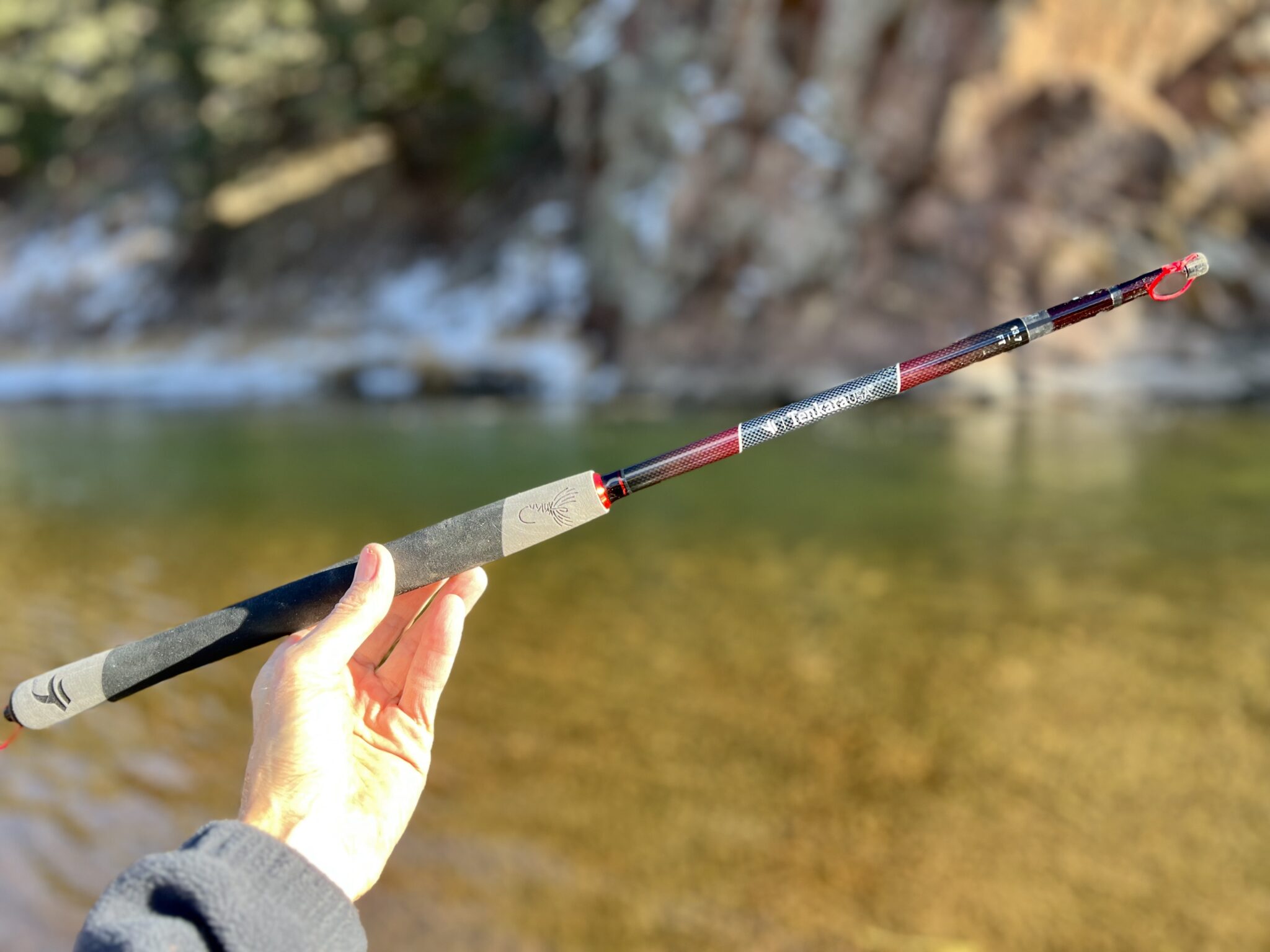 Over the last few years, it's been rare for Tenkara USA to release a new rod. For a decade, they relied on their same tried-but-true rods like the Iwana, Ito, etc. to carry their lineup and built a following around it without really developing new rods or innovating their existing ones. But all that changed in 2013 with the release of their Sato and Rhodo. Those two rods were a real game changer for Tenkara USA–using higher-modulus graphite, higher-tech components, and crispier actions, they built their own following immediately and reclaimed TUSA's place as a company that can innovate and really address the issues faced by the modern tenkara angler.
So when I heard they were coming out with a new rod before the end of the year, I was extremely curious. What would it be? A short rod? Long rod? Zoom? What will it look like? But I was also concerned. Would it be as good as the Sato or Rhodo? If not, it would be a pretty big disappointment. I was secretly hoping it might be something of a "big brother" to the Sato and Rhodo–something with the same inherited design sense–just a little longer. Well lo and behold, I got exactly what I asked for!
Tenkara USA has taken the design principles they developed with the Sato and Rhodo and has applied them to their newest rod to create an all-around powerhouse: the Satoki.
CLICK HERE TO GET YOUR NEW SATOKI!
Specs
Rod Type: Triple Zoom
Fishing Lengths: 10′ 8″ – 12′ 2″ – 13′ 7″
Closed Length: 22.5″
Weight: 3.5 oz.
MSRP: $230 USD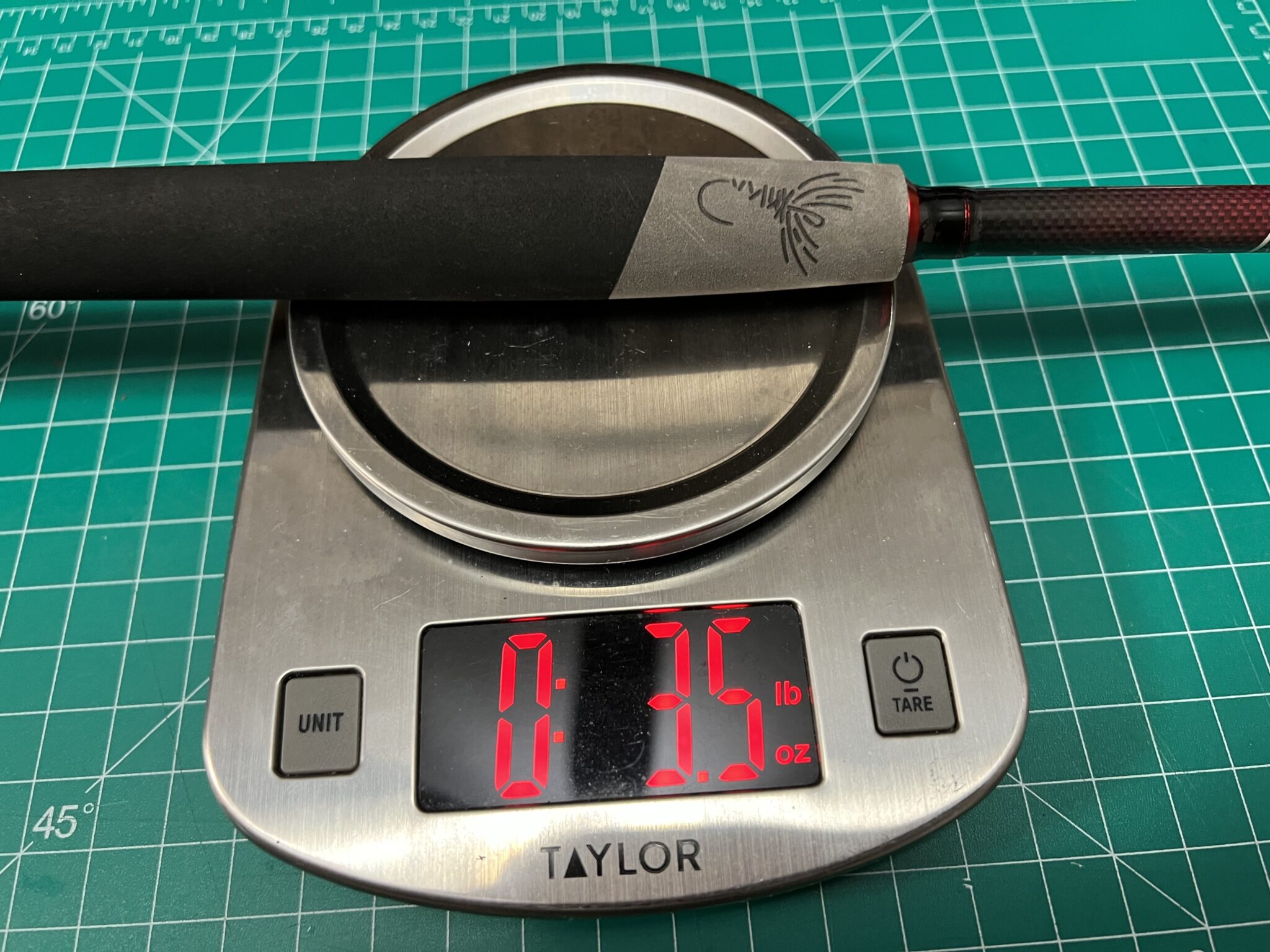 Personality
Note: In my opinion, trying to describe rod action verbally remains a problem in fly fishing in general, but especially in tenkara. There have been many systems developed over the years to accurately describe action, but they all fall short. Explaining my philosophy of why is beyond the scope of this article, but let's just say I've decided to start describing rods in terms of "personalities" rather than numbers. Rod action can only really be understood empirically. So I contend it might be better to describe things this way–to personalities we can all relate to.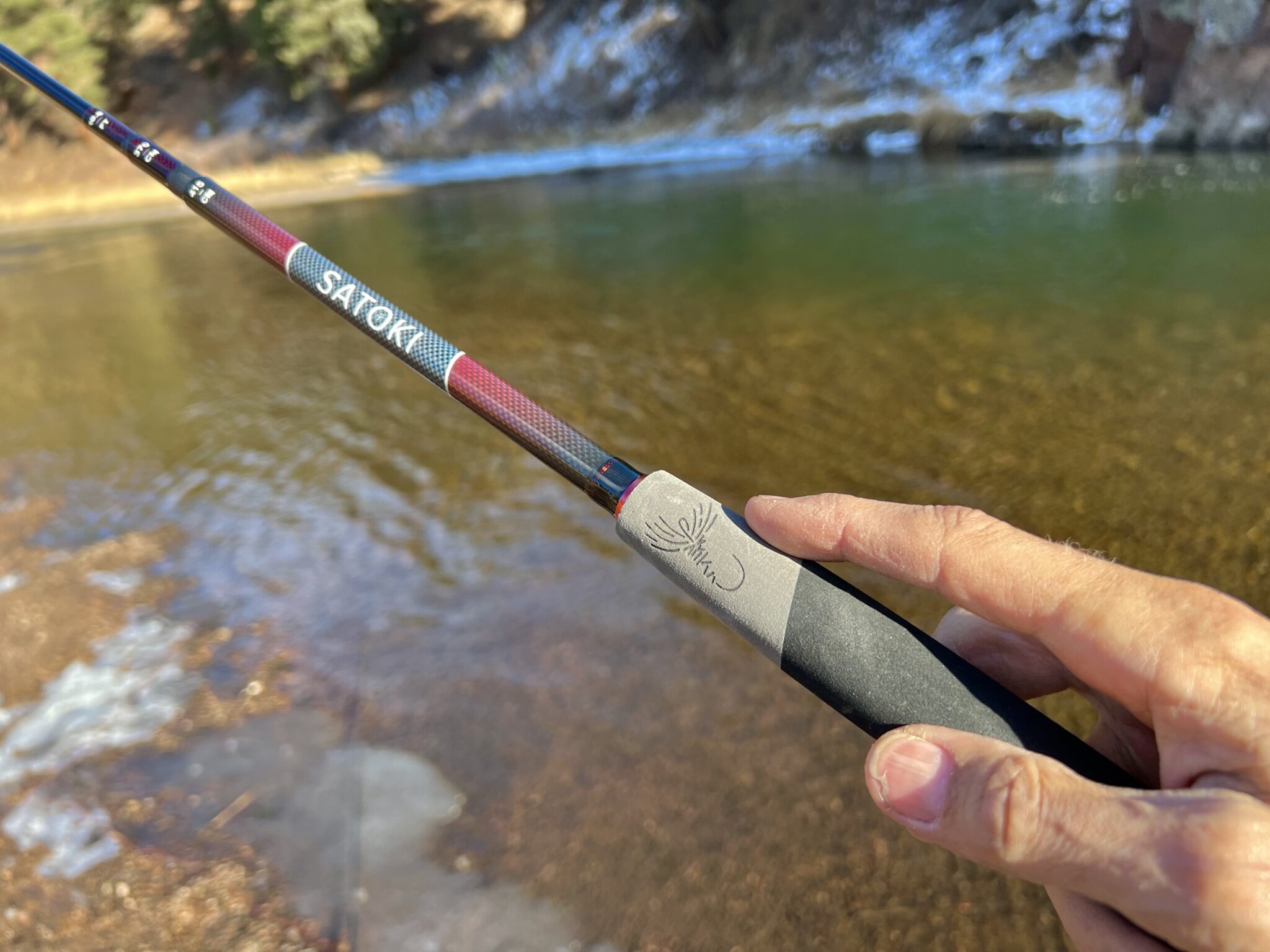 Like most zoom rods, the Satoki has multiple personalities …
At the 10′ 8″ length, it's a nimble, spry and carefree teenager who throws caution to the wind for the sake of pure fun.
The shortest length feels like a weightless wand in your hand and really telegraphs every movement of even small fish. This is the "fun" setting and makes playing each fish feel like magic. It's also a great length when you find yourself under a canopy and just need a shorter rod to avoid snags.
At 12′ 2″, it's more of an early-thirties professional (who still knows how to let their hair down), a bit more serious and hardworking colleague that is driven to meet the challenge of any situation without trepidation.
This middle setting is where the rod gets a little stiffer and a little tip-heavier, but also more powerful and has further reach. It's better in the wind and I consider this to be the "all-around" setting. For most of the streams I fish, I could just leave it at this length and fish all day. And since I fish 12′ – 13′ rods anyway, the 12′ 2″ length is the most comfortable for me.
At 13′ 7″, the Satoki is a older, wiser, pugilist who is all business and no-nonsense.
Now, the Satoki is a formidable stick that you'll be confident in battling larger fish (16″ +) with. At it's fullest length (like all zoom rods) the Satoki becomes noticeably tip heavy. That's just that nature of the physics of changing the fulcrum point. For this reason, I never really fish the full length all day. I only extend it when needed for distance or when I hook a bigger fish. So for example, with my Tenkara USA Ito, I usually fish it in the shortest lengths, but then extend it fully out when I hook a substantial fish. This accomplishes two things: 1. gives you better leverage and 2. absorbs some of the length of the line so it helps reduce how much you have to hand line in. To me, this is one of the best features of zoom rods.
Overall, fishing the Satoki is like having a trusted fishing partner by your side who brings a wealth of experience and diverse skill set to the table. You can trust it to handle nearly any tenkara situation the river can throw at you.
CLICK HERE TO GET YOUR NEW SATOKI!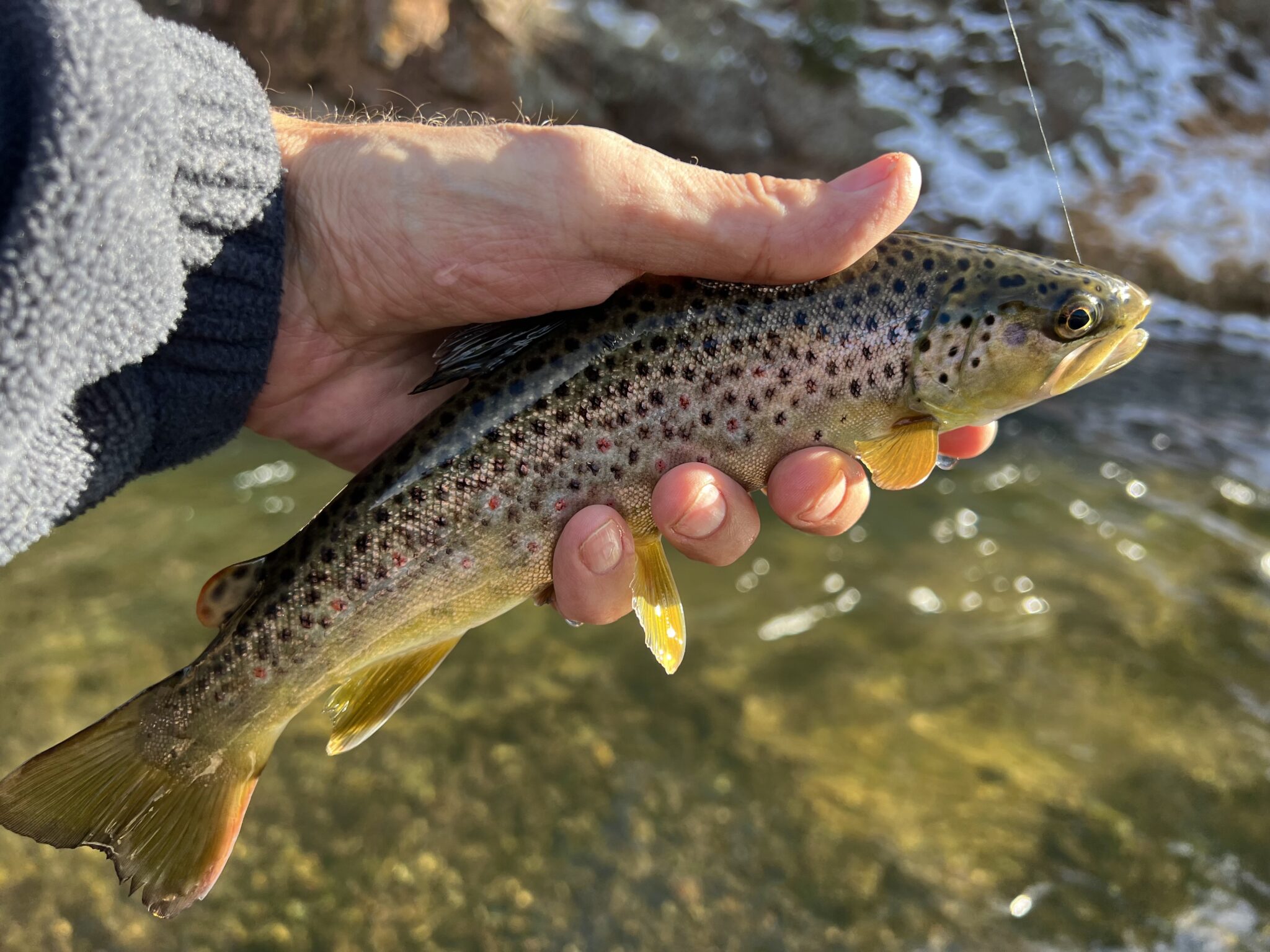 Hardware & Cosmetics
The Satoki is beautifully appointed with a few design details that are somewhat of a departure for Tenkara USA.  Let's start with the blank …
As far as I know, this is the first Tenkara USA rod which has a woven graphite blank. Their other rods all have been either un-sanded sprial or painted blanks. But the effect is a beautiful, textured graphite grey with dark maroon, red, and gold accents. It's a striking rod and very different from other rods the company has produced.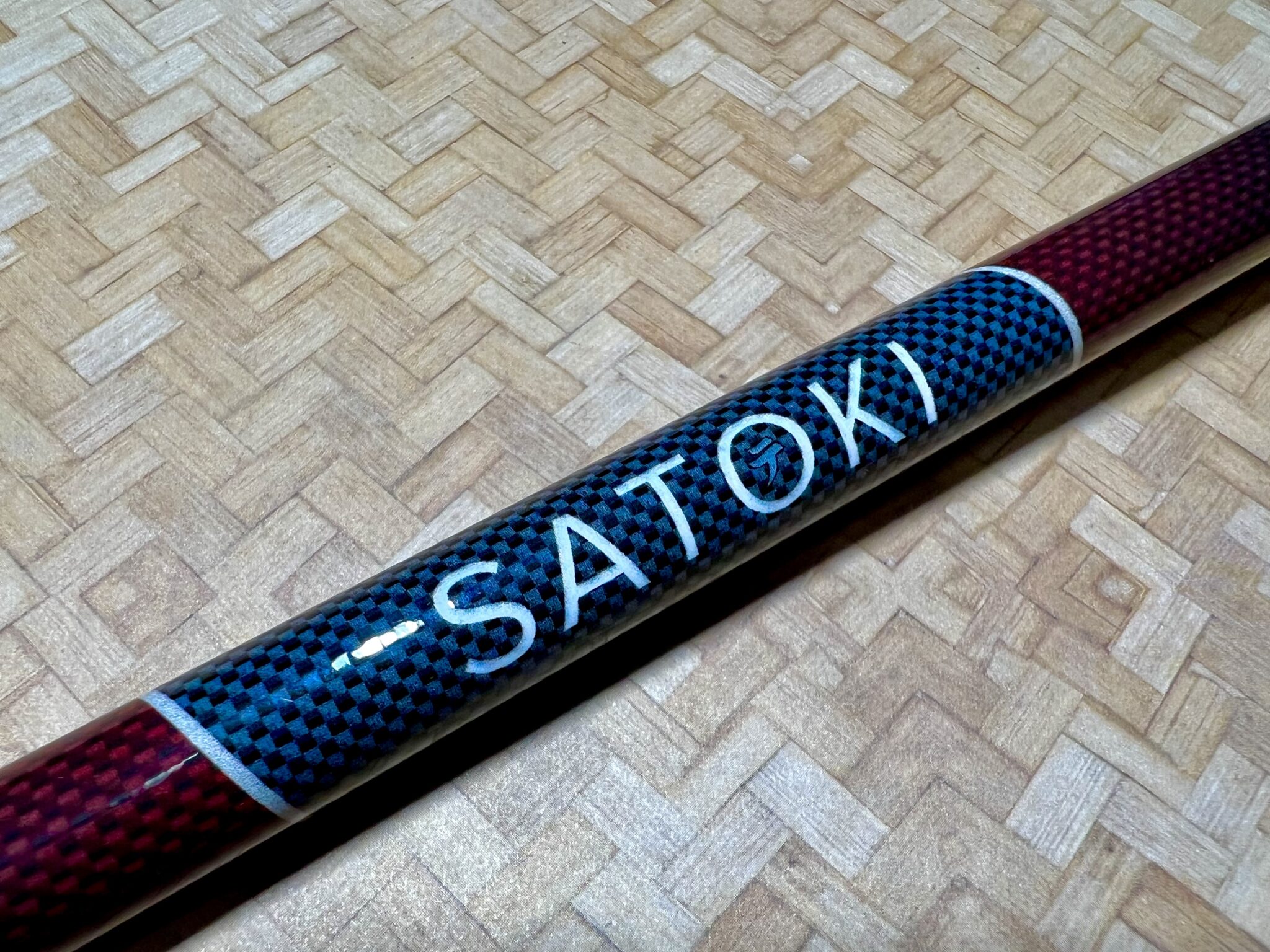 There's also a nice winding check at the handle and little aesthetic details Tenkara USA doesn't normally do, such as a Sakasa Kebari graphic at the tip of the handle …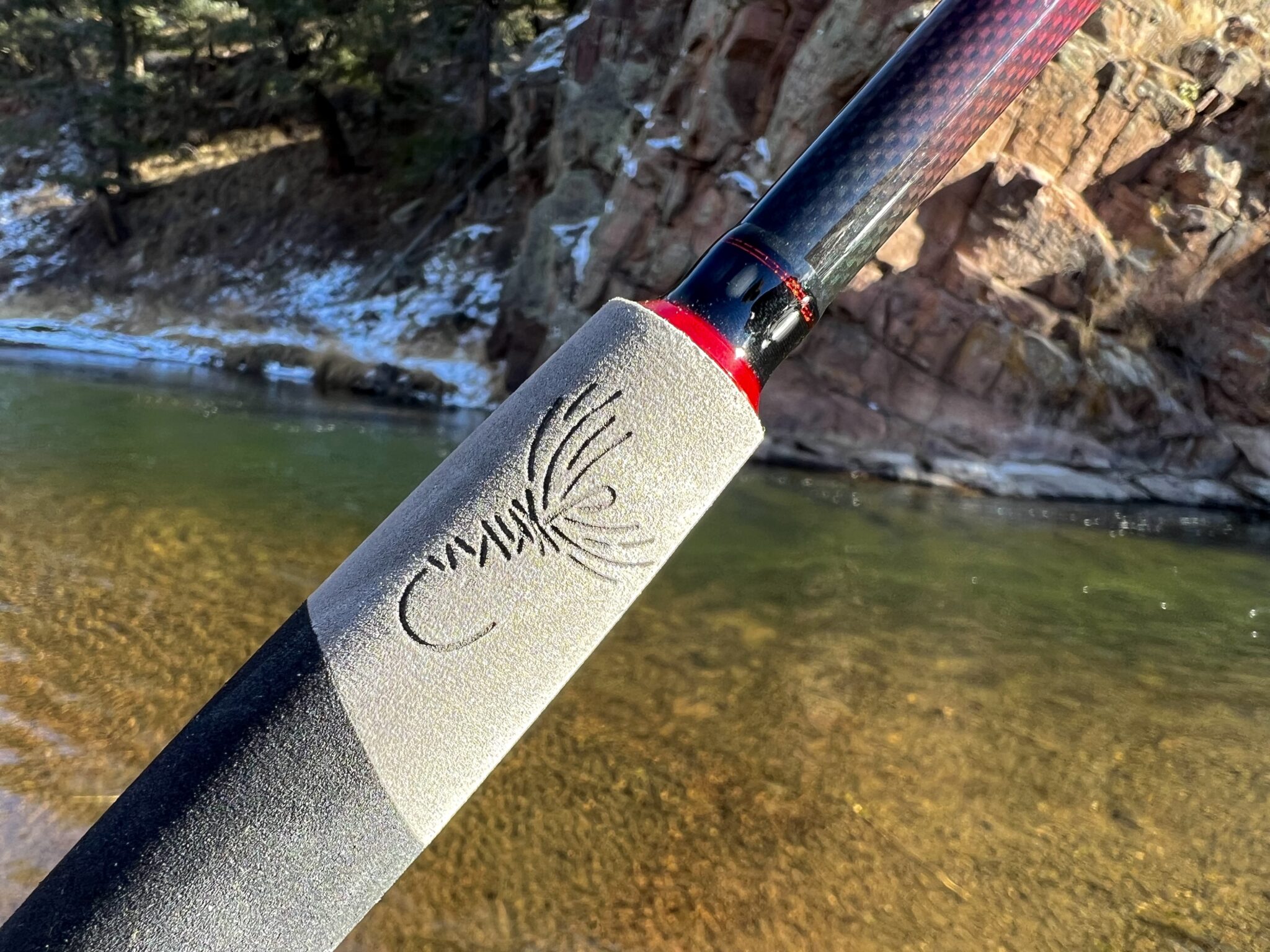 And the company's logo at the butt. Of course they add nothing to performance, but just make the rod look a little more unique and "finished".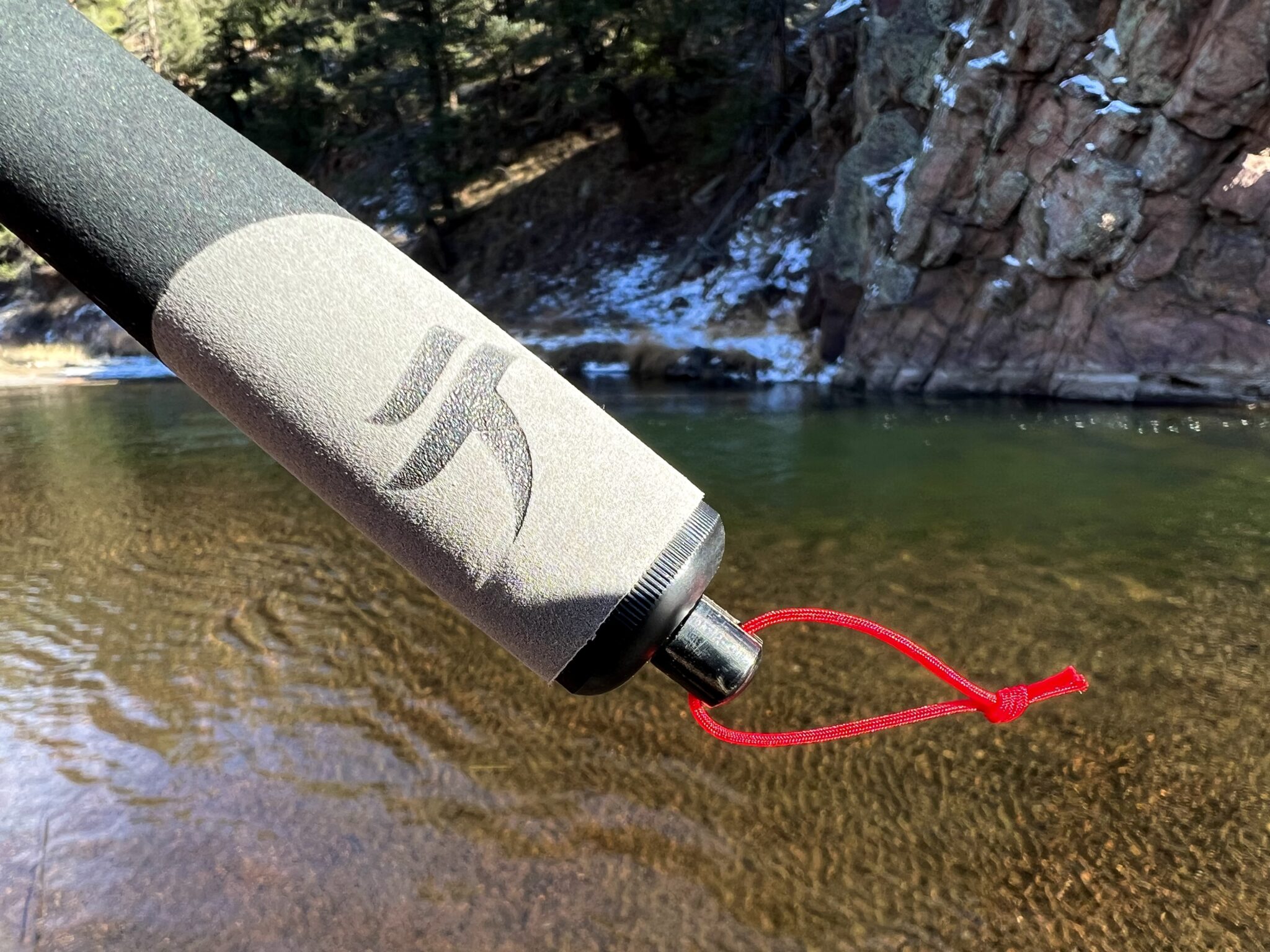 Earlier Tenkara USA rods have been pretty spartan so it's nice to see them add a little flair to their rods.
CLICK HERE TO GET YOUR NEW SATOKI!
In terms of other hardware, the Satoki follows some the same design principles as the Sato and Rhodo–as mentioned above, there's a nice aluminum winding check between the blank and handle …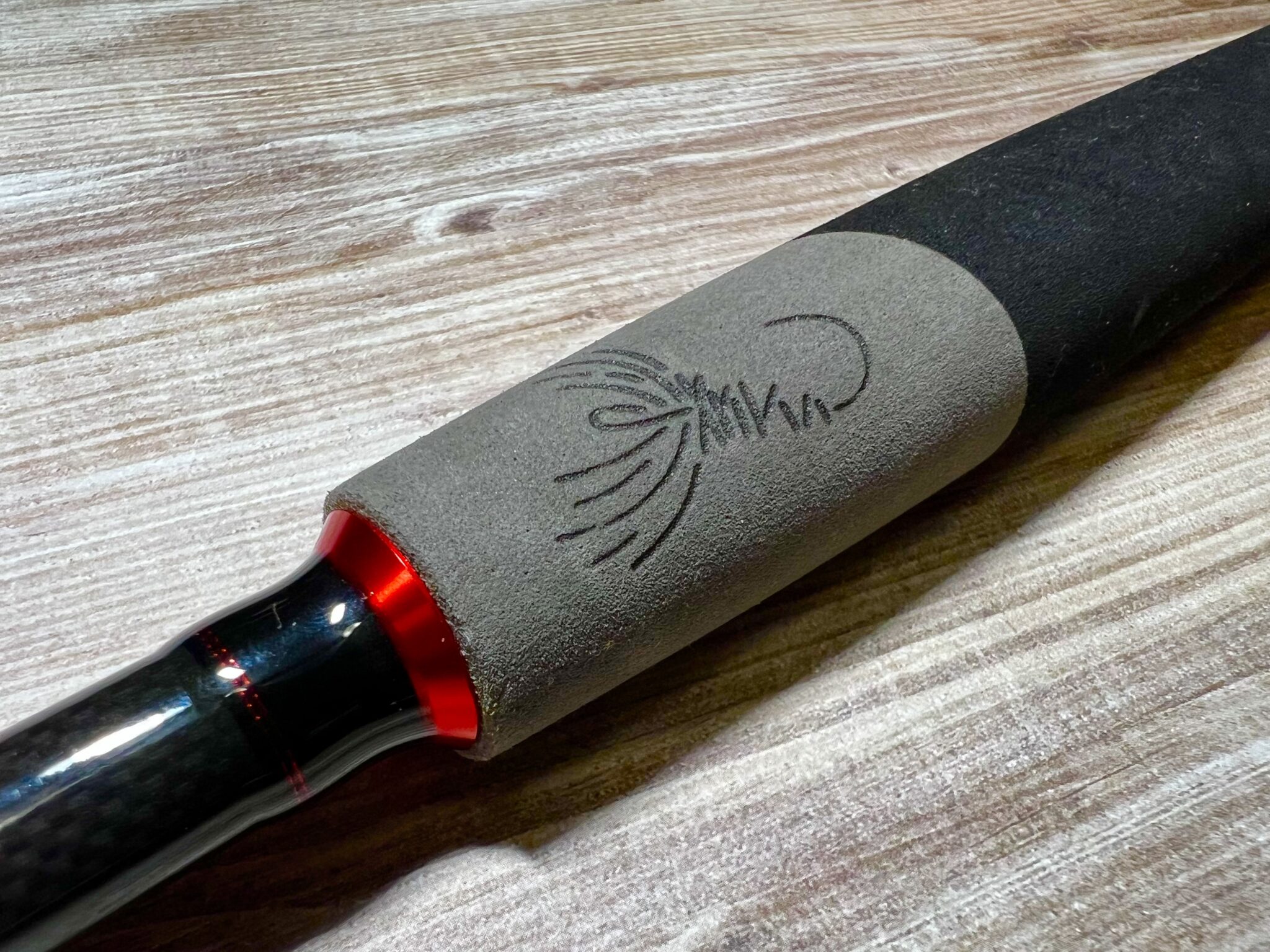 And the end cap is the same …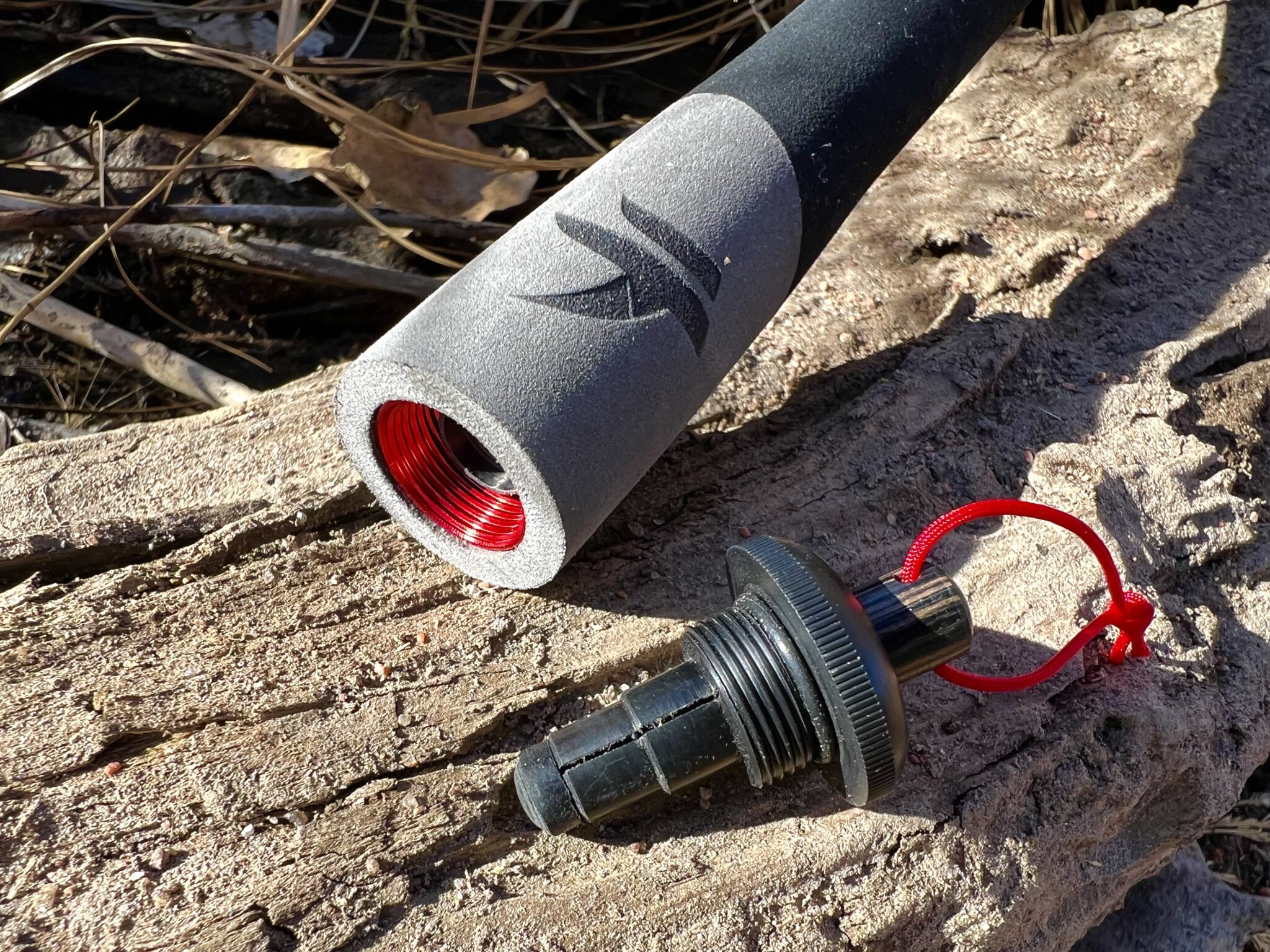 So is the addition of an extra rod plug stored in the end cap and 2 spare lilians. So you've always got two spare lilians in case you break one, and two rod plugs if you lose one. The bright red color of the lilian might help you recover it from the forest floor, but if not, it's reassuring to know you've got backup. This is another idea I wish all tenkara manufacturers would adopt though I imagine it's protected by intellectual property law or something.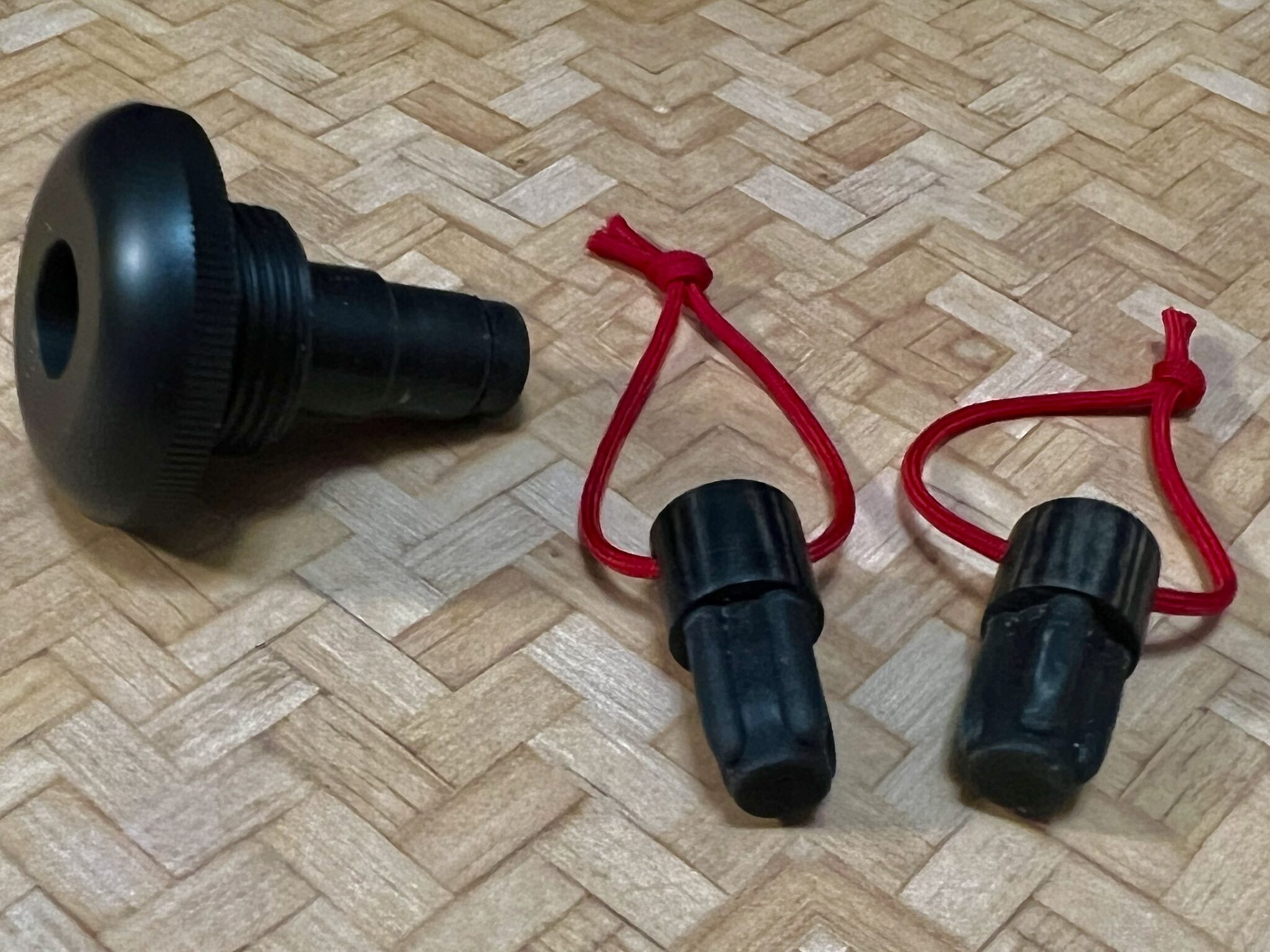 Traditionally all Tenkara USA rods had cork handles. It wasn't until the release of the Hane many years ago and then the limited-edition re-release of the Ebisu that they started employing foam. Foam is quickly becoming the status quo and the Satoki is no exception. It sports a hard-foam handle that is contoured and is comfortable (for someone with my sized hands at least).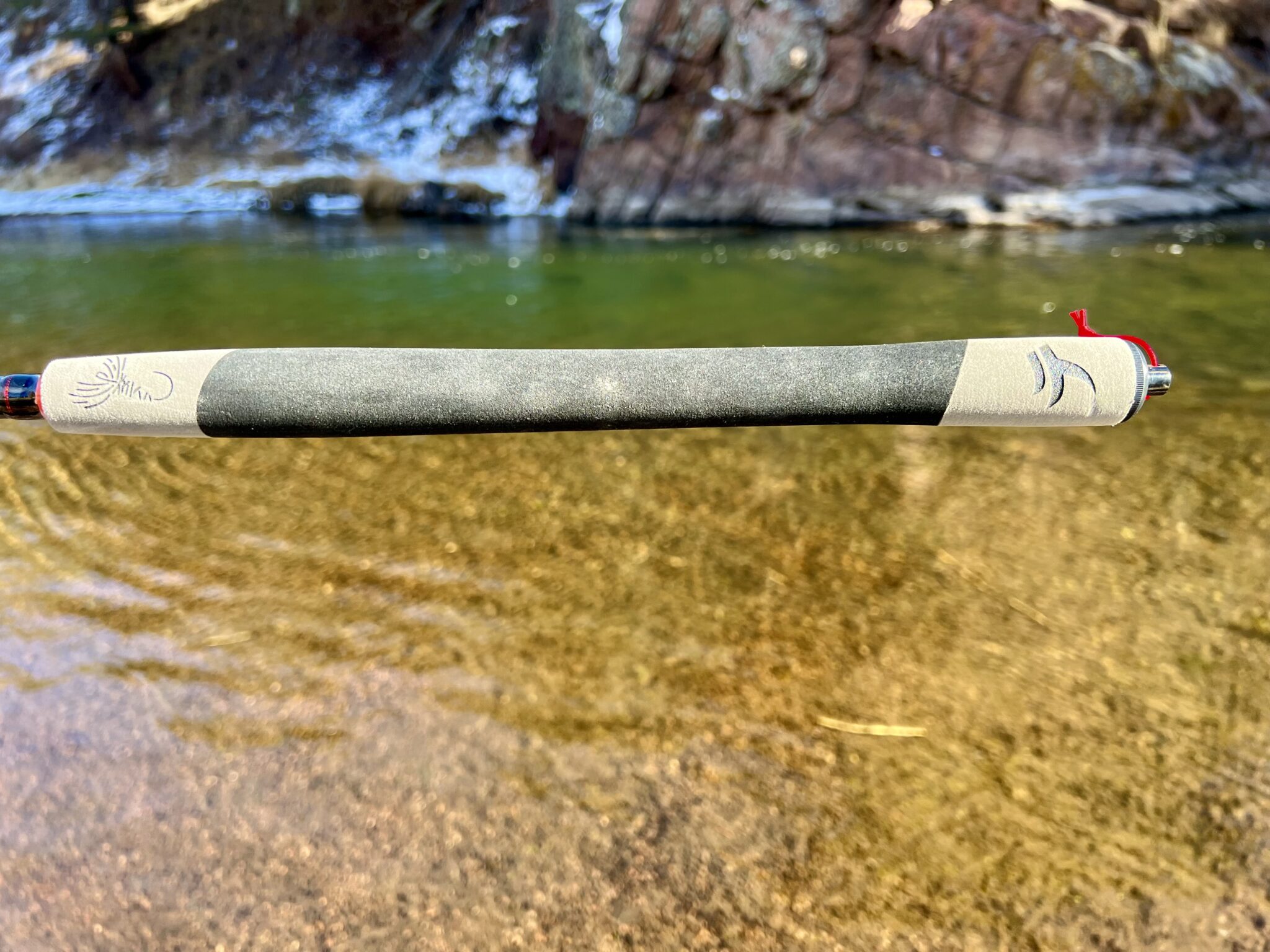 The argument for foam stems for the idea that it's more durable than cork. I disagree with that contention, but again, that's a discussion that's beyond the scope of this article. But I see foam as the way of the future for tenkara rods. Most manufacturers are offering them and I don't see it going away anytime soon. What I wish would happen is that companies would offer you a choice between cork and foam for the grip. But that gets expensive and adds more complexity to inventory so I can see why they don't do it. But for all intents and purposes, this is a good grip–just nothing special. You probably won't even think about it and will be focused on enjoying the Satoki's action instead.
CLICK HERE TO GET YOUR NEW SATOKI!
A nice touch …
All of the marking on the blank to indicate which length you're zoomed out to are marked with both metric (cm)  AND imperial measurements! As someone who still struggles with the metric system sometimes, I truly appreciate this. In fact, if it weren't for tenkara and all the drugs I did in college, I wouldn't know the metric system at all. This just makes it easier–no more asking Siri or pulling out the calculator to do conversions!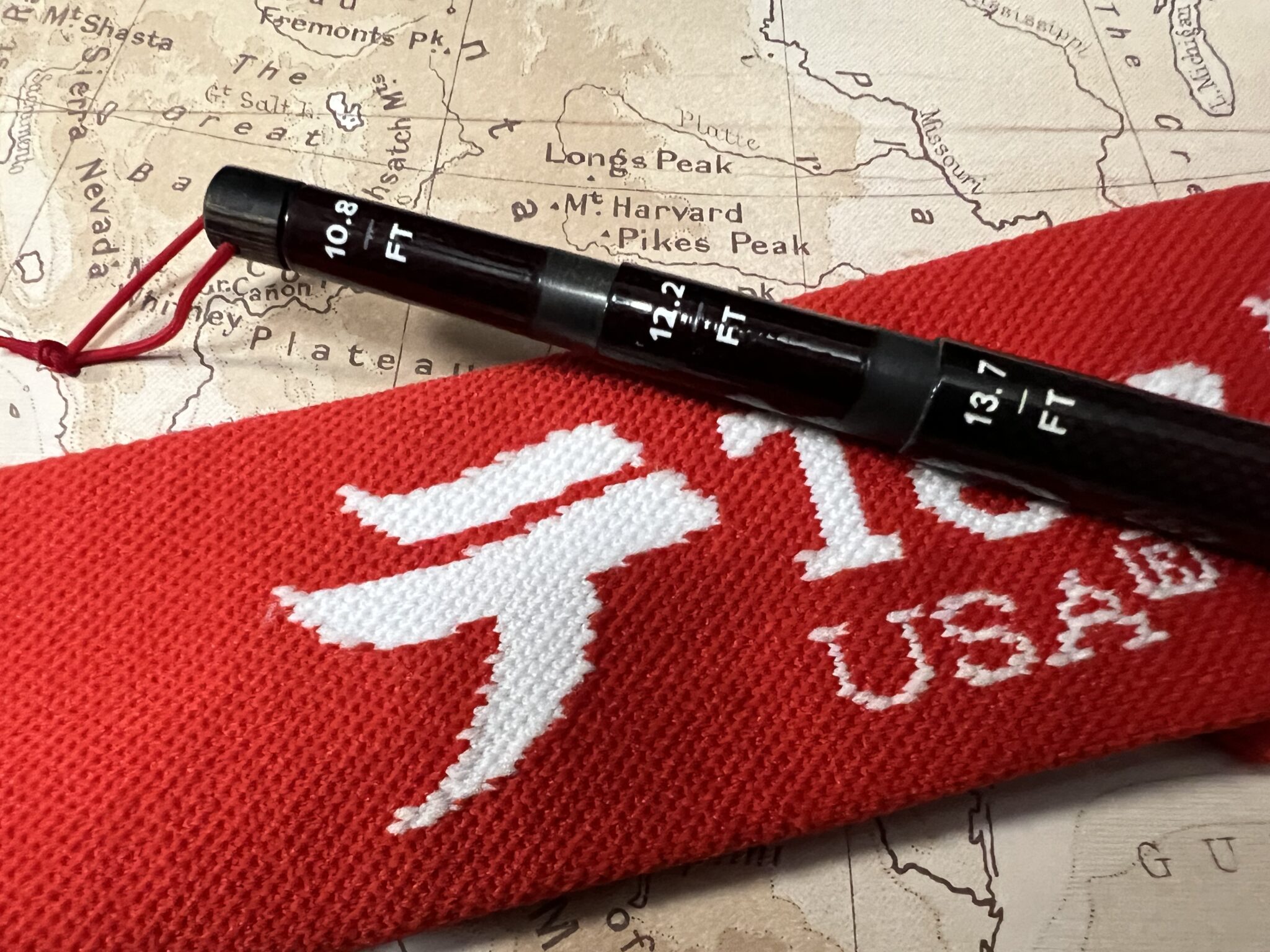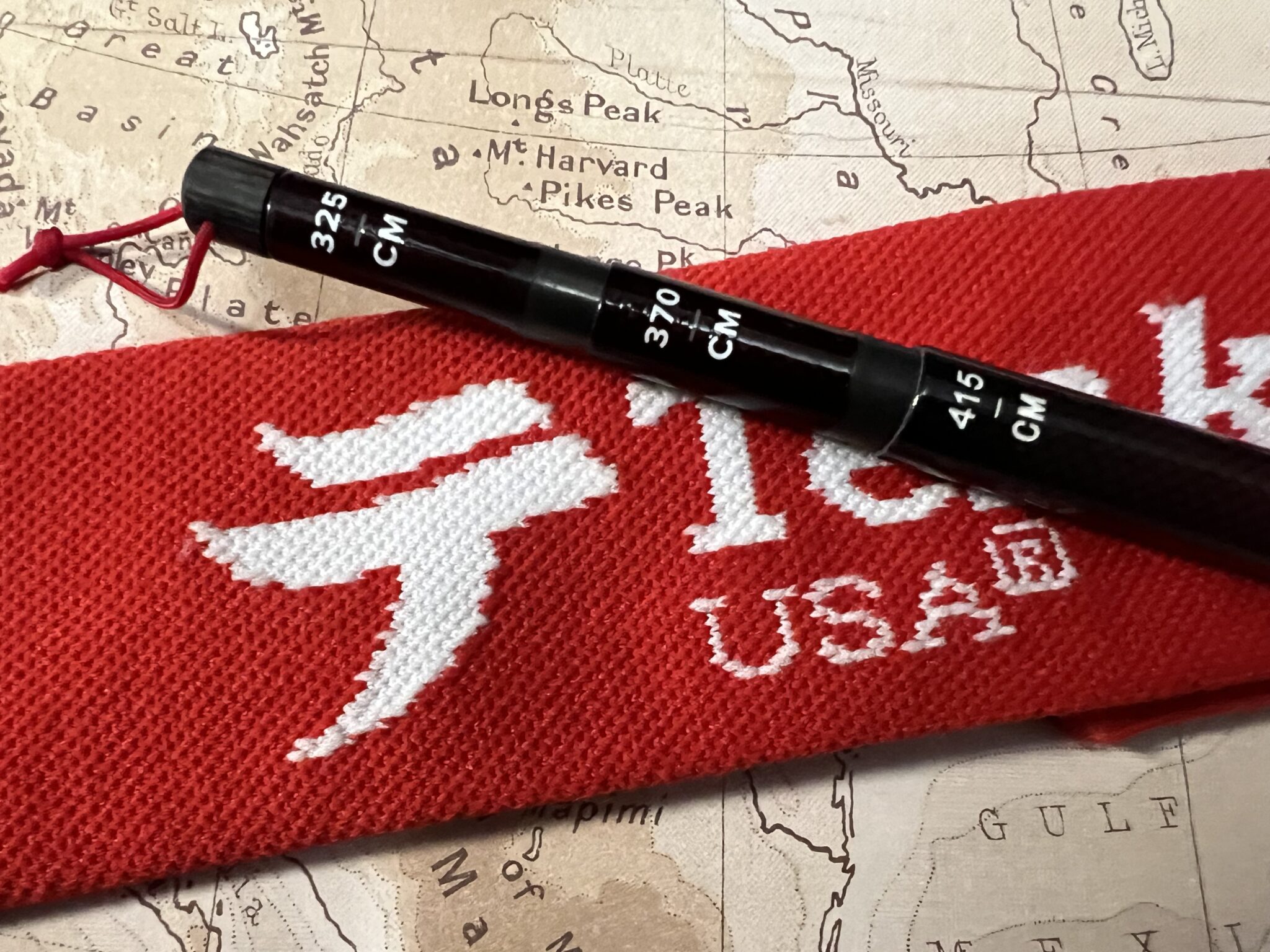 What's in the box?
Each Satoki comes with the rod, a beautiful aluminum rod tube, and a rod sock (the new stretchy type, not the old annoying drawstring bags).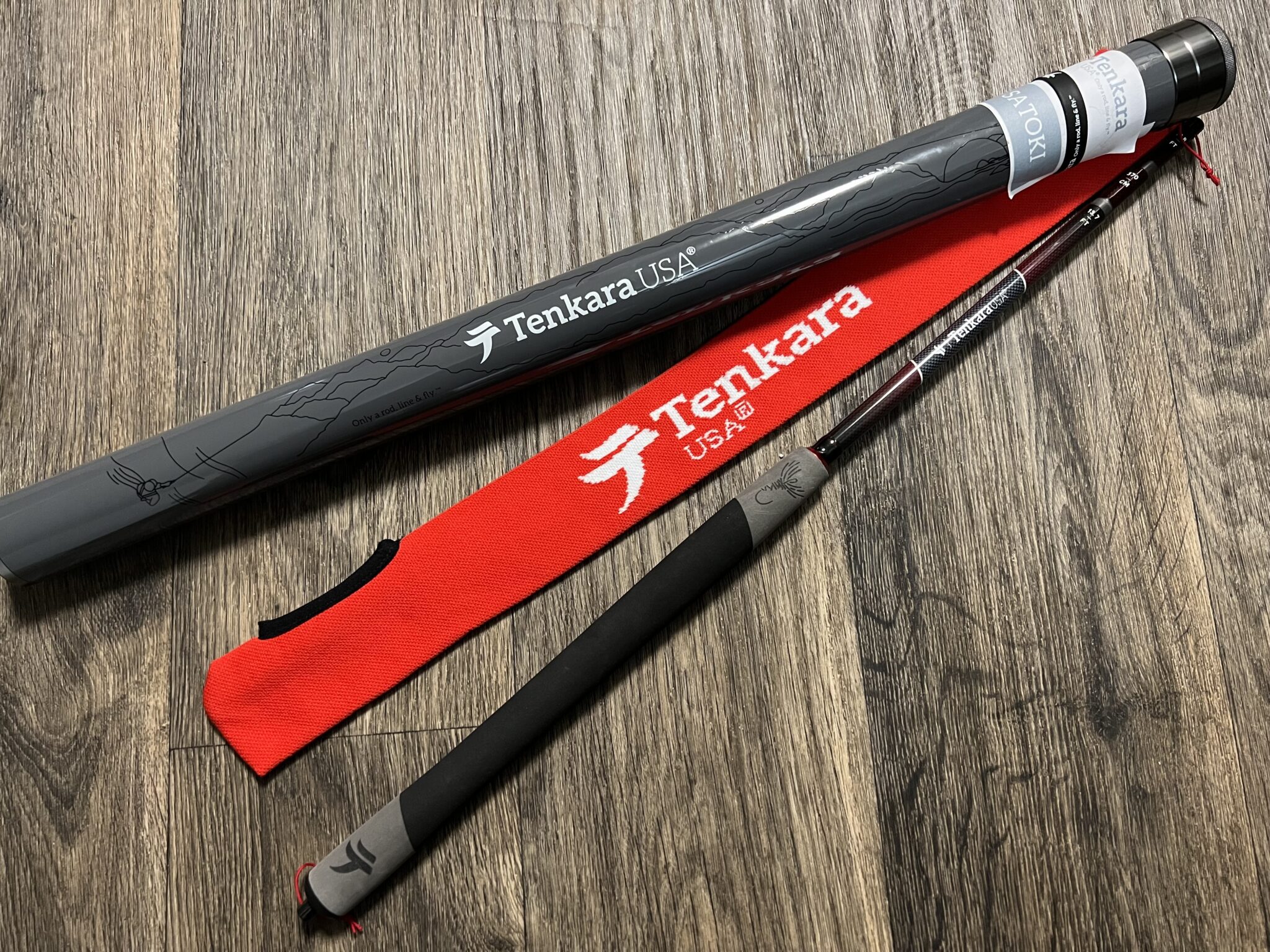 Will we get along?
The Satoki is for anyone who wants a versatile tool that can address a variety of changing situations on the stream without having to change rods or re-rig. I can tell you this: if you like the Sato and the Rhodo, the Satoki will be a match made in heaven. It completes the trio of Tenkara USA's most advanced rods, giving you the ability to handle every tenkara situation you're likely to face. Add to that Tenkara USA's proven track record of excellent design, customer service, and warranty, and the Satoki is a winning choice.
Where to get one
CLICK HERE TO GET YOUR NEW SATOKI!
*There will be an initial limited run of 200 rods reserved for early adopters and I anticipate these will sell out quickly. And for a limited time, they're offering an introductory price of $199 USD ($31 off MSRP). Please note: the cutoff date for Christmas delivery is Dec. 16th.
(Click to download the official Tenkara USA PDF)