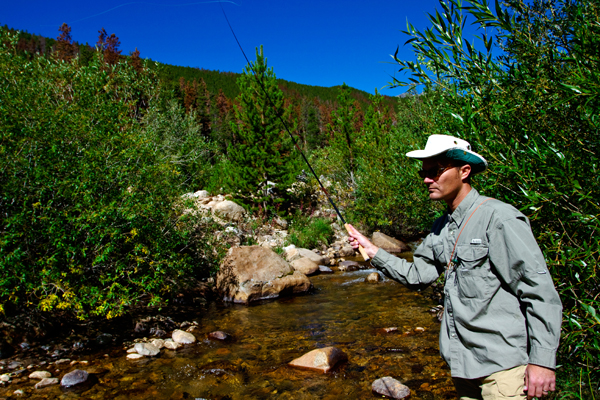 [/caption]
Tenkara fishing is gaining (OK, exploding) in popularity in the U.S. and around the world, yet there are still some misconceptions that many people seem to have about this unique method of fly fishing. Here are a few that I commonly hear and my responses:
1. Tenkara is not "real" fly fishing, it's basically just dapping.
While the length and relatively slower action of Tenkara USA rods might appear to be reminiscent of cane poles or whip rods, Tenkara fishing is not dapping. One certainly could dap with a Tenkara USA rod, but to call it a dapping rod would be pigeonholing a fishing tool that is much more versatile and practical.
Tenkara USA rods are meant to actually be cast—not just to dangle a fly on the water's surface. The stroke is shorter than a 10 O'clock 2 O'clock cast but I can assure you that it is a "real" fly fishing cast (not just dapping) that would be familiar to any Western fly angler. The rods cast accurately and basically do everything you could want from a "real" fly rod (read on to learn more).
2. Telescopic rods can't have a good taper or cast well (not as well as my $700, 2-pc. Western rod anyway).
When most people think of telescopic rods, they probably think of cheap $15 travel rods from K-Mart or Crappie rods that are meant to sling bait and a bobber. Very little design goes into such rods and they are indeed "cheap", so it's easy to see why people might have this perception. "Telescopic" has come to be equated with low performance in many people's minds but it would be a mistake to judge Tenkara USA rods this way just by nature of being telescopic.
In fact, it's quite the opposite. The founder of Tenkara USA, Daniel Galhardo, has spent years designing and testing the tapers and overall design of his rods with input from the most revered Tenkara experts in Japan. The design behind the action, feel, and finishing touches of these rods rivals anything from top Western fly rod makers and I would argue that anyone who claims that no telescopic rod can cast well has never cast a Tenkara USA rod. As someone who used to work in the fly fishing industry and has cast hundreds of different Western fly rods, I can say with confidence that a lot of thought and design went into each Tenkara USA model and it's immediately evident the moment you first put one in your hands.
3. The tip is so thin and delicate that it will break easily.
I have sold (and own) many Tenkara USA rods and (so far) I have never broken a tip nor have I had a customer break a tip. In my opinion, there are only 2 reasons you would break a tip and both are easily avoidable:
Carelessness:
Yes, the tip is thin. No, you won't break it (if you use common sense). When closing the rod, only apply downward pressure (never sideways pressure). Only use tippet that is 5 X or less. That way, you can easily break off a snagged fly or too-big fish without breaking your rod tip. Also, collapse the rod when walking from spot to spot through heavy brush to avoid breaking the tip on a snagged branch. These are simple tips, but if you follow them, they will greatly reduce the possibility of breaking your tip.
Using a Tenkara rod in an application for which it wasn't intended:
Tenkara USA rods were designed for small fish. You wouldn't use a putter to hit a golf ball 100 yards so why would you try to use a Tenkara rod to catch a 30 lb. Salmon? It's not the right tool for the right situation. They're each designed for specific tasks. Breaking the tip of a Tenkara rod while using it to target large fish is not the rod's fault. But if you use it as intended, you will not break the tip on a fish (just remember to follow the 5X rule above).
4. You can't land a fish without a reel
When Tenkara first started becoming popular in the US, the first question many people asked was, "can I add a reel?" The emphatic (and correct) answer was no. Aside from ruining the purity and simplicity of the Tenkara style, adding a reel doesn't make sense (and I'm not even sure how it would be technically possible since there are no guides and the rods are telescopic). Keeping in mind that Tenkara is meant for small fish, ask yourself how many times you've actually needed to use a reel on a 10 or 12 inch Brook Trout. I can't conceive of any situation where I felt a reel was more than an overly expensive line holder when small stream fly fishing. Even when I have a reel at my disposal, I find myself landing small fish Tenkara style anyway so why would you unnecessarily complicate it?
5. Tenkara is extremely limited and I won't catch as many fish with it as I would with my Western fly rod because I can't shoot line.
While it's true that you can't boom out 60 ft. casts or dredge a conehead streamer in 20 ft. of heavy water, if you use them for their intended purpose, I find I actually catch more fish with Tenkara rods. If you think about it, having a fixed line setup on small streams has many advantages. For one thing, you're not distracted with line management (eg. stepping on your slack line or letting it drift into snags, etc.) meaning you can concentrate on getting the fly to the fish more effectively. With less line in the water and a more supple line, you can also achieve a better, more natural dead drift presentation.
Because I can't shoot line with a Tenkara rod, I am forced to move myself strategically closer to the fish. Some may see this as a limitation but I see it as a "forced" advantage. If there's one thing I've learned in my experience it's that the closer you can get to the fish, the better the presentation you can make. And a better presentation translates to catching more fish! Plus, getting my body involved gives me a sense of a closer connection to the overall experience and skill I'm using to catch fish.
There are other misconceptions people have about Tenkara fishing but these are a few of the big ones that come to me off the top of my head. Even with the extremely successful introduction of Tenkara in the U.S., I think we still have a long way to go before the general fly fishing population really understands it. But learning about new styles and techniques is what makes our sport so fun and interesting.
What Tenkara myths have you encountered or busted? What myths were busted for you when you started Tenkara fishing?
Like this article? You might also like these ...