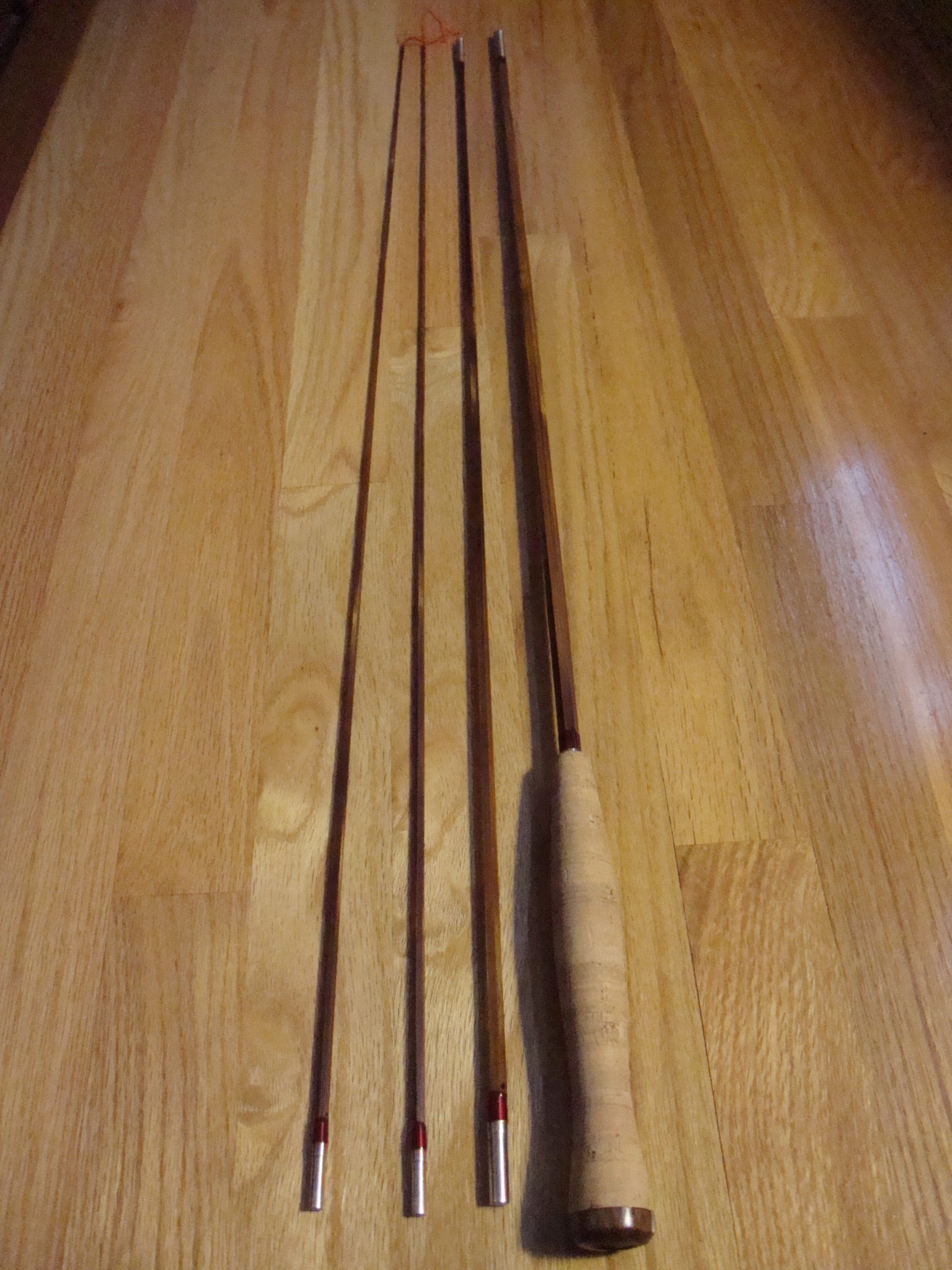 Today, I got something in the mail that has been in the works for months:  my bamboo tenkara rod.  A while back, I contacted Chuck Ledgerwood from Prize Catch Inc. and asked him if he could make me a tenkara-style rod in bamboo.  He was really enthusiastic about the project right from the start and in the following weeks, we started putting all the pieces together to see what such a rod might look like.  It should be noted that this isn't a traditional hollow tenkara rod–it's spit cane.  Also, it's only 9 feet in length so some will surely call into question whether it really is a true tenkara rod or not (which is why "tenkara" is in quotes in the title of this post).  Of course, some call it to question whether tenkara is truly "fly fishing" or not (I happen to think it is).  But, that's another story. Whatever it is, it's something unique and hopefully a contribution to the evolution of tenkara fishing that is already taking place in the West.
My goal was to create a rod that combined my love of bamboo with my passion for tenkara that would work well for very small, brushy streams where the rod and line lengths need to be short enough to be cast under overhead foliage.  With that in mind (and the fact that split cane had the potential to be fairly tip heavy) I decided on a 9 foot length as a good compromise.
We ordered the blanks from China and Chuck put together all the components according to my specifications.  Here are some of the features:
It's a 3-section, 2-tip design with a half-wells grip.  For those unfamiliar with bamboo rods, you have two tips so you can alternate them between fishing trips to minimize warping.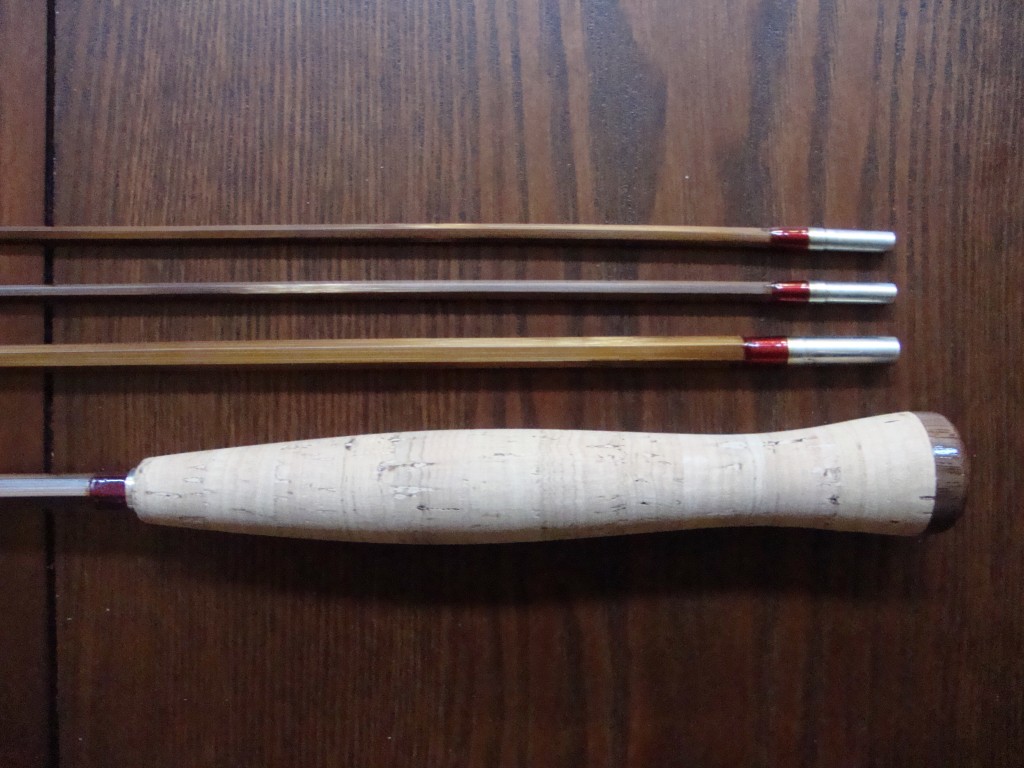 The cap on the butt of the grip is walnut and features a laser-engraved tenkara reverse hackle fly.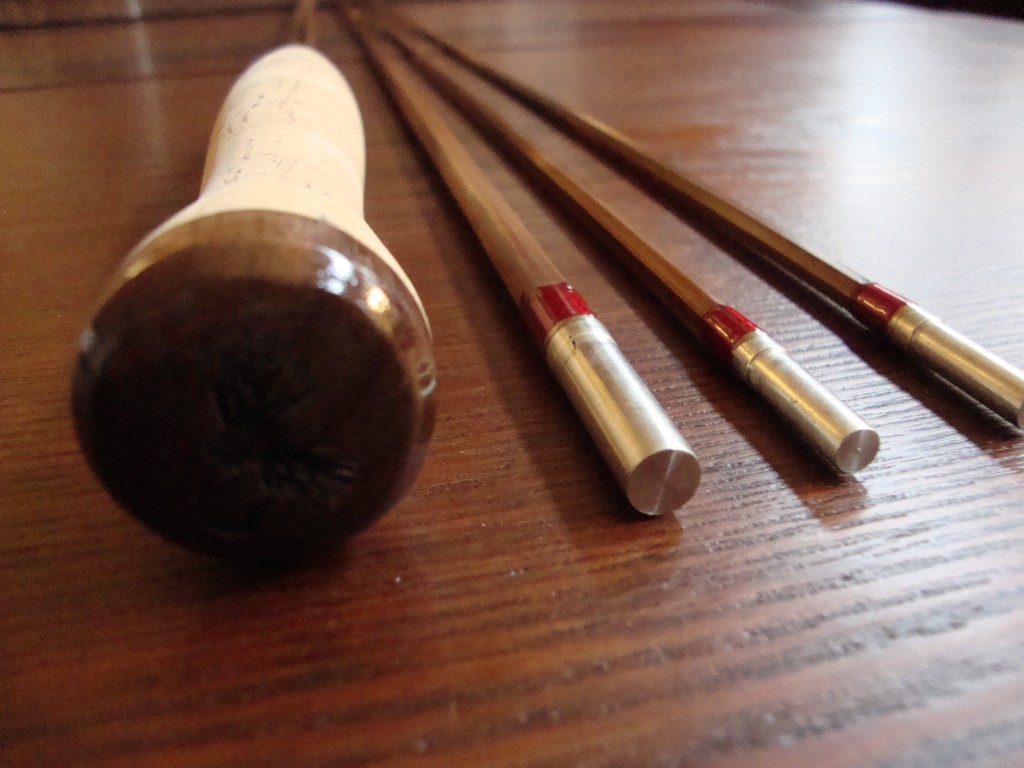 The ferrules are standard metal ferrules found on most Western Bamboo rods.  Each tip has a lilian cord that is secured with a few wraps of rod winding thread and some rod varnish.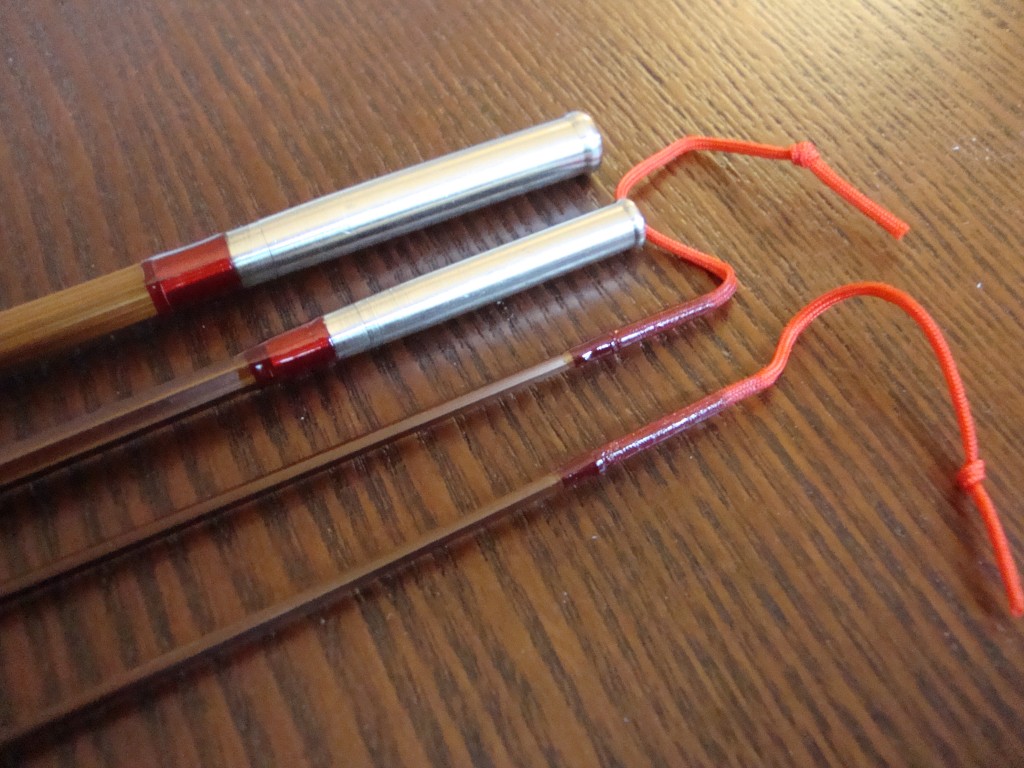 Just above the grip, is the rod and maker information.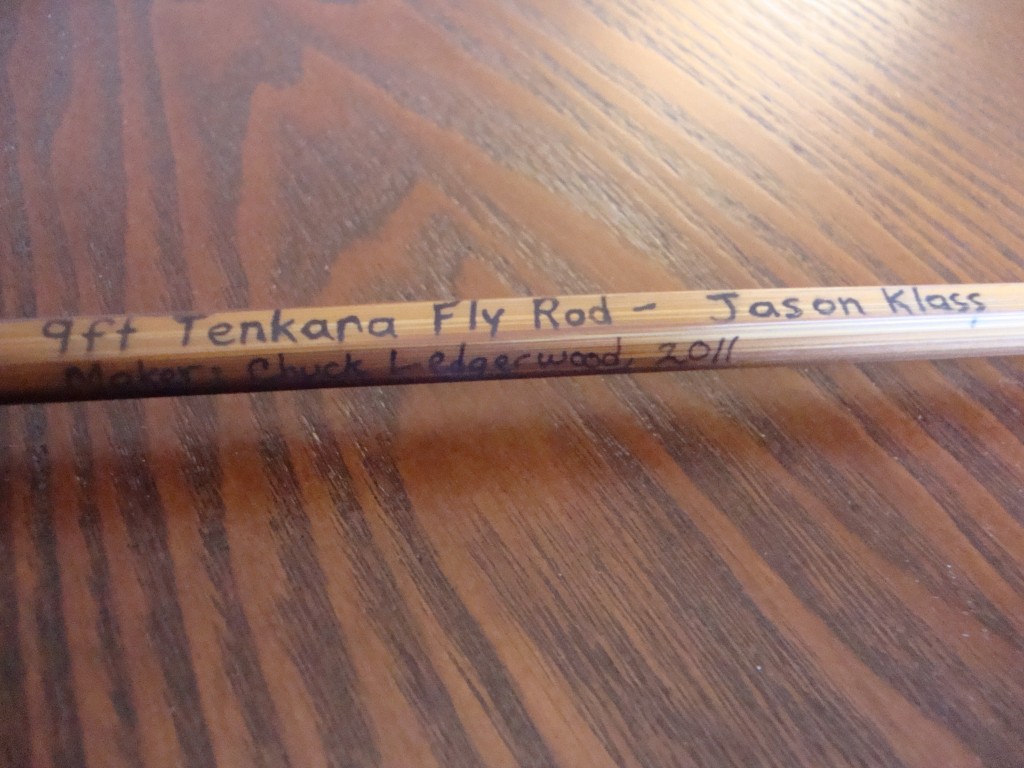 A nickel silver winding check makes a nice transition from the grip to the blank.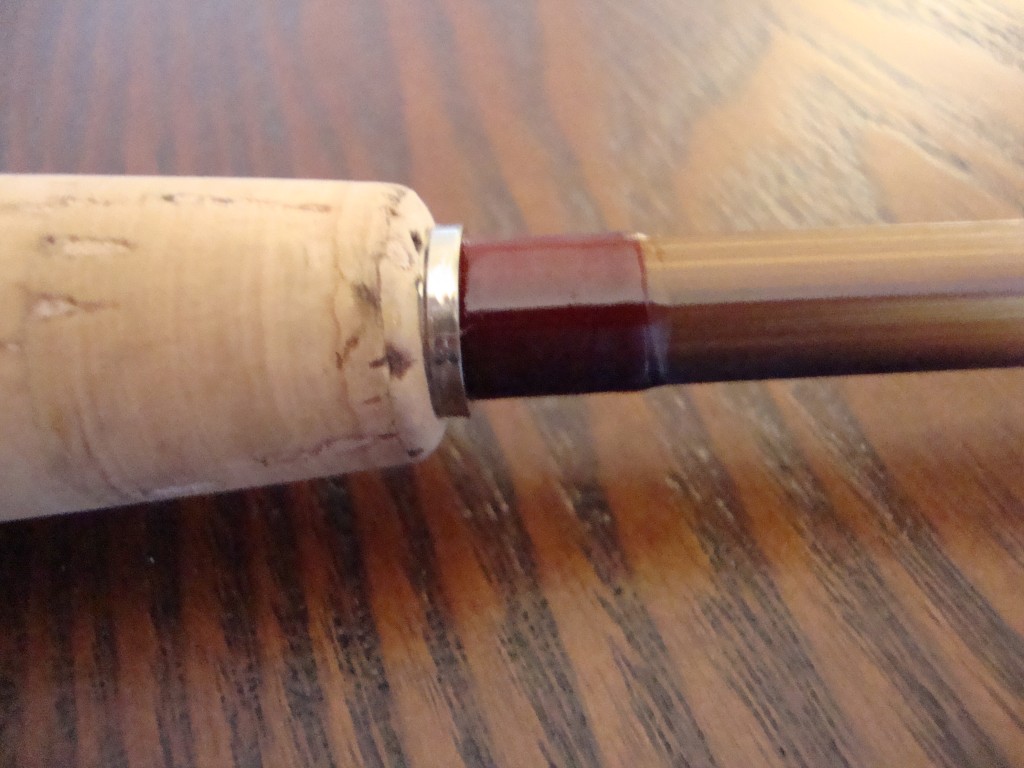 By now, you're probably asking yourself how it casts.  The answer is beautifully!  It's a very crisp action that throws a furled line well.  I haven't fished with it yet or tried level lines but I cast it in the backyard today with both 9 foot and 10.5 foot lines and it worked great.  If I had to translate the action into tenkara terms, I'd say it's probably closer to a 7:3 than a 6:4 but I'll have to do more testing to make that determination.
What This Rod Is
An experiment.  As far as I know, this is the first rod built in the West using split cane to try to emulate a tenkara rod.  There are probably a lot of other design paths that could/should be tried out if split cane becomes a viable strain in the evolution of tenkara fishing.
A fun piece of gear.  There's just something that feels good about bamboo.  It's a rod I'll only take out on special occasions when I want something more traditional or nostalgic in my hands than graphite.
A beautiful piece of art.  Just like any hand made bamboo fly rod, this one is worthy of a wall.  In fact, I might find a special rack to hang it on the wall of my gear room/office.  It's definitely a conversation starter and the ultimate niche within a niche.  I appreciate unique things and it doesn't get much more unique than this!
Light (considering it's bamboo).  The weight is 3.8 oz. which is a little heavy compared to graphite tenkara rods but light for a 9 foot bamboo Western rod (the lack of a reel seat and guides helps).
What This Rod is Not
A practical rod for backpacking.  By it's very nature, bamboo takes a little more care than your average graphite rod so I doubt I'll ever take it on a backpacking trip where it might get broken.  But as stated above, that was never it's purpose.
At any rate, I'm happy with this first step and am excited to test it on the stream.  As people that are drawn to tenkara, I feel that we are an inherently innovative tribe always trying to push the envelope. This concept had to be tried and I will be interested to see if it sparks other ideas.  And to be clear, when I say that tenkara will evolve in this country, it's not a knock against tradition and simplicity, rather it's with a passion for innovation with an appreciation for tradition (and how they can blend together).