I've been making a lot of my own Tenkara level lines lately and I've noticed small problem: they all look the same.
At first, I tried putting them on Tenkara USA blue spools and marking the spool with a Sharpie marker to indicate the line's diameter and length. Of course, I ran out of spools pretty quickly and found that I didn't like permanently marking the spools because I don't want to dedicate one spool to a specific line.
I could use the usual small ziplock bag and slip in a card marked with the line's info. but I often carry lines in the field without the bags so I wanted a system that would mark the line directly so it could always easily be identified.
Line Marking Solution
The system I came up with is pretty simple. It basically involves just marking the line with a Sharpie marker and using different colored dacron for the braided loop connector.
The different colors of dacron indicate the line's weight/diameter as follows:
Yellow = Size 3  (0.285mm)*
Orange = Size 4  (0.330mm)*
White = Size 5  (0.370mm)*
This allows me to visually identify a line's weight quickly.
* Note: there is some leeway on which size corresponds to which diameter.  These diameters are based on the Tenkara Bum lines and other lines may vary.  This is meant only as a rough guide and you can come up with your own marking system.
Next, using the Sharpie marker, I use a Morse Code-like system to indicate the line's length. The marks are as follows:
Simply add up the marks (kind of like Roman numerals) to determine the line's length.  Here are some examples to show you what different line lengths would look like:

I find it's best to mark the line where the marks will be visible while the line is coiled up or wound around a spool. Generally, this means on the braided loop since this is always sticking out when the line is stored.  Of course, you could also mark the line at the end where the tippet connects but I find it's easier to read on the braid.
Tip:  Use an older, "dried out" Sharpie marker.  The ink from new ones will run between the braids of the dacron and make it difficult to make make clear marks.  Believe it or not, the lower ink flow of a well-used Sharpie will allow you to make more clearly delineated marks.
Here are two different lines that would normally look identical.  Can you tell which different lengths and diameters they are using my marking system?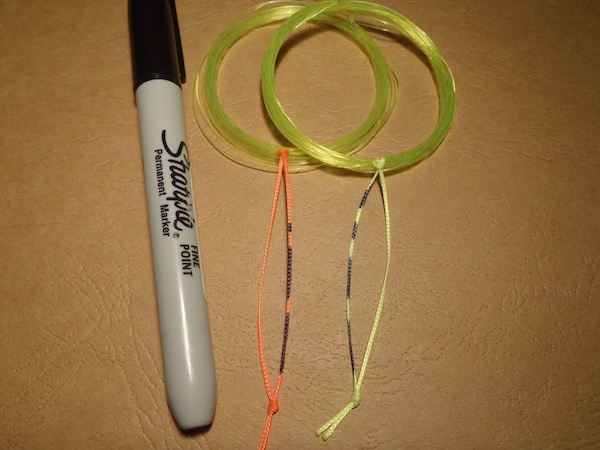 Now, I never have to worry about confusing lines again.  Whether they're wound up on a spool or simply coiled up in a pocket of my fishing pack, I will always be able to tell which line is which.
What system do you use for identifying your lines?