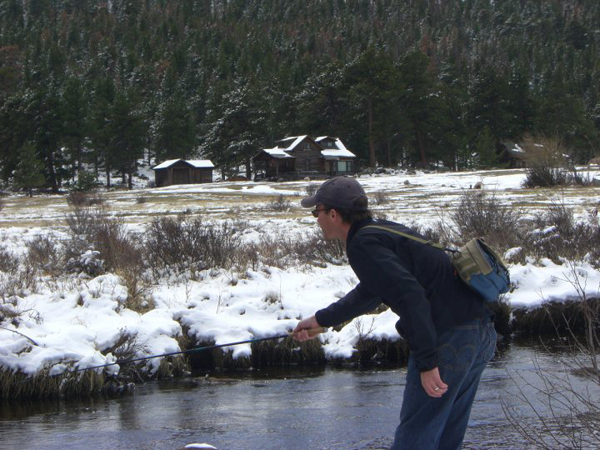 Today was our first snow here in Parker, CO– a foreshadowing the long winter ahead.  For many, winter means the end of trout season.  Many will wait out the next few months tying flies or by turning to other winter sports until spring.  But some will embrace the madness of winter fishing.
[/caption]
When I lived in Western New York, I did plenty of winter fishing for Salmon and Steelhead and, occasionally, some spring creek fishing.  Fishing to me was a year-round sport.  But I haven't done much in the last few years.  I plan to change that this year.
While winter fishing poses some unique challenges, it also has one huge advantage:  crowd control.  Even streams that are shoulder to shoulder in the summer can be totally empty in the winter, giving you all-day solitude.  If you want a stream all to yourself, winter is the time to go.
Now that I fish tenkara exclusively, I have realized some of it's advantages for winter fly fishing.  It solves a few of the frustrations I had when using a western rod and reel.  These realizations have prompted me to put on the long underwear, fleece pants, fingerless gloves, and take up winter fishing again.
Advantages of Tenkara for Winter Fishing
1.  No guides to freeze up.  Anyone who's ever fished a western fly rod in winter knows the frustration of frozen guides.  They can accumulate so much ice that the line can't pass through, making it impossible to cast.  And clearing the ice not only cuts into fishing time, but runs the risk of breaking a guide on your $600 fly rod.  Since tenkara rods have no guides, this annoying ritual is completely eliminated.
2.  No line to strip in.  In winter fishing, cold hands can spell doom.  Not only do you lose the dexterity to accomplish simple tasks like tying on a fly, but it can send you running back to the to warm up, losing even more fishing time.  One of the worst culprits for cold hands in winter fly fishing is stripping in line.  This makes your hands and/or gloves wet and wet = cold!  Without any line to strip in, your hands can stay warm and dry in their gloves.  And if you use a net and forceps, you'll most likely never have to get them wet at all by avoiding touching the fish or the water.
3.  Less line freeze.  To be clear, if it's cold enough, any line will freeze.  But since tenkara allows you to keep more line off the water and do less false casting, your tenkara line will freeze less often than a traditional western plastic fly line.  Line actually freezes in the air when you're casting so the less line you get we to begin with and the less casting you do, the less your line will freeze.  Like the frozen guides, the line de-icing ritual is not much fun either.  Luckily, you'll be doing less of it if you choose tenkara fishing.
Fly fishing in the winter isn't for everyone.  You'll probably catch less fish than you would in the spring or summer and did I mention that it's damn cold?  But for those who prize on-stream solitude and are up for a challenge, tenkara can take some of the headaches out of winter fishing.
Are you getting out this winter?
Like this article? You might also like these ...