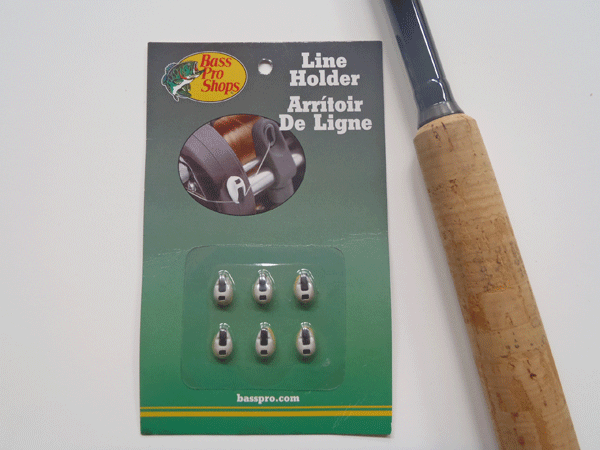 [/caption]
Ever wonder what to do with your line when you're moving from spot to spot?  If you need to go through brush, the best thing to do is collapse the rod and either remove the line and wind it around a tenkara spool or around your EZ Keepers.  But sometimes, you don't need to collapse the rod and just want a way to hold your line while you scout out the next spot.
While at my local Bass Pro Shops, I discovered some pretty neat line clips that are really designed for baitcasting and spinning rods, but I think might be of some interest to tenkara anglers.
The line clips attach to your tenkara rod with an adhesive backing.  The adhesive is strong enough to remain secure on the rod, yet still removable without damage to the finish.
You simply clip your line into it and move on.  On caveat:  notice I say "line" instead of "tippet".  I find that these clips will hold the thicker tenkara furled or level lines well, but they're not so great on thinner tippet. Something like a 6x tippet is just too thin and the clips will not hold it very tightly.  I suppose some might still find it better than holding the tippet with your hand which could lead to potentially hooking yourself.  But I would only recommend these clips for holding your line.
While these line clips may or may not work for you, I thought I'd just throw the idea out there.  At only $3 for a pack of six, most of us could probably outfit our entire tenkara arsenal for less that a Starbucks latte.  It just might be worth a try.
How do you stow your line when moving between spots?
Like this article? You might also like these ...