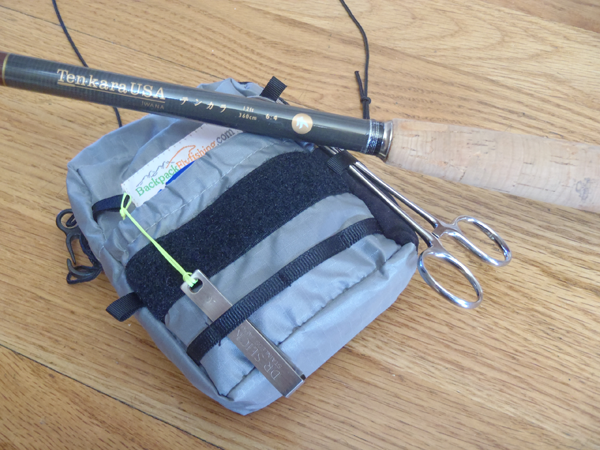 After a recent discussion with Karel from Tenkara on the Fly, I finally decided to sit down and do something I've been meaning to do for a long time:  put together a tenkara kit to leave in my car for when those unexpected fishing opportunities present themselves. The conversation went something like this…
We were having lunch at the fly fishing show and Karel was talking about how he's filled up his tenkara rod rack.  He had one rod more than the rack would hold and was debating whether it was worth it to buy another rack just for the extra rod or not. Remembering that I had been meaning to do it for a long time, I suggested that instead of buying a new rack, he assemble tenkara kit for his car. That way he wouldn't have to worry about buying a new rack and he'd always have a tenkara rod with him just in case of a fly fishing serendipity.
I started thinking about the idea about a year ago.  My wife and I were passing through Georgetown, CO on a non-fishing related trip.  Just for the heck of it, we decided to stop by the lake and check it out.  It was one of those rare days with absolutely zero wind. The lake was like a mirror and to my horror, there were hundreds of trout rising just a few feet from shore.  I use the term "horror" because, of course, I didn't have a rod with me.  It was a non-fishing trip after all.  But if I had had a rod, I could have easily caught a lot of fish–even if I only spent 15 minutes.  Lesson learned.
So, the conversation with Karel in combination with a recent post by Chris Kuhlow over at the North River prompted me to finally get down to it and just put the kit together so I never find myself in that situation again.  It was fairly simple and I already had all the gear I needed.  I just had to figure out my criteria for what it would consist of.  Below is a list of the gear I settled on and why I chose it:
1.  Tenkara USA Iwana 12 ft. rod.  To be honest, the main reason I chose this rod is the fact that I have three of them so it's no biggie if my car gets broken into and it gets stolen.  Plus, the slightly stiffer action works well in the windy conditions common in the lakes I'm likely to pass by, yet is still good for small streams.
2.  Trico Pack.  This was a pack I designed for my former company backpackflyfishing.com and I had this prototype laying around I wasn't doing anything else with so it was a perfect candidate to hold all my gear.  It's small, yet holds all the basic gear I would need for an impromptu fishing session.
3.  Cliff's Day's Worth fly box and flies.  I used to sell these boxes and had some leftovers laying around so I figured I might as well put one to use.  For flies, I stocked it with a pretty basic selection of sakasa kebari and some good all around dry flies like the Japanese Hammer, Elk Hair Caddis, Adams, and Griffith's Gnat in the lid. In the magnetic bottom, I threw in some larger dries like Stimulators and Hoppers, and some woolly buggers in case I stumble into some bass and panfish ponds.  I think it's a good selection that could tempt just about anything that swims along the Front Range in a pinch.
4.  Trout Hunter 5.5X tippet.  Not wanting to pack multiple spools of tippet, I thought the 5.5X size was a versatile choice.  It will cover a variety of fly sizes and still hold a decent sized bass if need be.  Not to big, not to small.
5.  Lines.  I threw in a Tenkara USA line spool with a #3.5 level line because I consider that to be a good all around line (remember, this is for an emergency, not a technical fishing scenario).  I also put a backup line in the inside pocket of the Trico just in case.
6. / 7. Tools.  On the outside of the Trico, I tied an old line clipper (6.) with a length of backing and clipped on an old, cheap pair of hemostats (7.). I used to know a veteranarian who would give me as many (used) hemostats as I wanted for free so throwing one of these in from my stockpile was a no brainer.
So that's basically it. I consider all of the gear in my car kit expendable so if it gets stolen, no biggie (my car actually has been broken into before so I know what it's like and think carefully about what I feel comfortable leaving in there or not).  With all the extra gear I have and the compact design of tenkara, I've had no excuse to not put this kit together and there have been plenty of times where I have kicked myself for having not.  Now, I am ready to fish anywhere, any time.  Plus, as a tenkara ambassadeur, if the occasion should arise, I will always have a rod and line to whip out and convert yet another angler to tenkara.
Is your vehicle tenCAReady?
Like this article? You might also like these ...