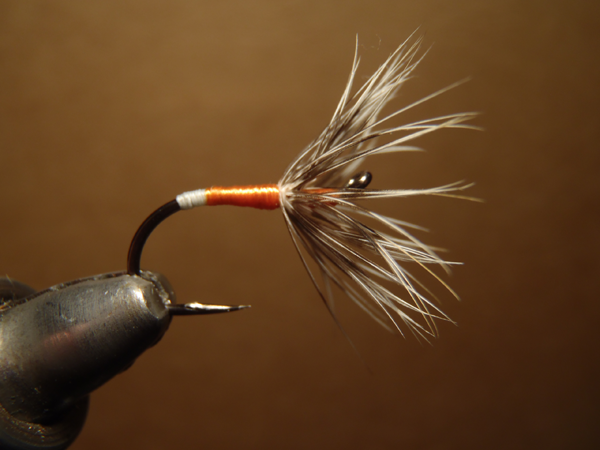 [/caption]
Even though I already posted about my general experience at this year's Denver Fly Fishing Show, I left a lot of loose ends.  So, over the course of the next couple weeks, I will probably have a few posts here and there telling you about some of the gems I found there. One such gem was the Allen Fly Fishing Octopus Hook.Allen Fly Fishing was giving away an assortment of hooks at their booth and these octopus hooks immediately stood out as potentially good ones for sakasa kebari.  The first thing I noticed was that these hooks are heavy!  This makes them ideal for helping to sink your fly in the absence of split shot.  I like that a lot.
Upon closer examination, I noticed that not only were the hooks very sharp, but the point is off set for better hook ups.  And the up eye is very large, which will make threading flies a breeze.
They come in 2 finishes:  a gorgeous black nickel (which is what I got) and red–for those of you who swear by the fishing catching magic of red hooks.
But the real shocker is the price.  If you read my post about my favorite hook for tenkara flies, you know that I complained a bit about the price.  When I went to Allen Fly Fishing's website, I was pleasantly surprised to see that a package of 25 of their octopus hooks is nearly 1/3 the price of my beloved TMC hooks!  Nice!  They're not barbless, but the barb crushes very easily and because the wire is so heavy, you won't run the risk of breaking any hook points in the process.
A quick note on size.  You may notice that these are a size #6 which might seem large.  But the size designation is deceiving because of the hook style.  In reality, these hooks are rated about 2 hook sizes up.  So, for example, my #6 octopus hook is similar in size to the #10 TMC 2499SPBL I would normally use:
Allen only makes these hooks down do size #8 (equivalent of a #12) and I'd say the size #4 – #8 would be a good range for sakasa kebari in the #8-#12 range.
Overall, these hooks impressed me with their quality and value.  Many tenkara anglers in Japan tie their flies on octopus hooks so it was good to find an inexpensive source that has some interesting qualities and color options beyond standard bronze Mustad octopus hooks.  My first pack was free, but I will have no problem shelling out the pocket change to get more as soon as they're used up!

If you went to the show, what gems did you find?
Like this article? You might also like these ...