[/caption]
Today, I got my long awaited Nissin Prosquare tenkara rod in the mail (review coming soon).  A friend in Japan who bought and sent the rod to me was kind enough to also include a 20 ft. furled line he made himself and one of his flies.  Thanks Eiji!  The line looks a lot like the horse hair tenkara lines I recently made, with different snoods knotted together.  After reading Daniel's article on long line tenkara, I am really excited to try it out.  I was a little surprised to see that he sent it on the same Meiho mini line spool Tenkara Bum sells.  But upon closer inspection, I noticed an even better surprise.
He made a very interesting modification to the spool that really grabbed my attention.  Basically, it looks like he added a metal rod to the inside hole of the spool by heating it and melting it into the plastic to secure it.  This is to hold the fly.  I can immediately see the advantage of this.  The fly is protected from being crushed by being inside the hole.  I've had plenty of flies get pretty matted down in storage when I stored them on the outside of the spool so I thought this was a really clever idea.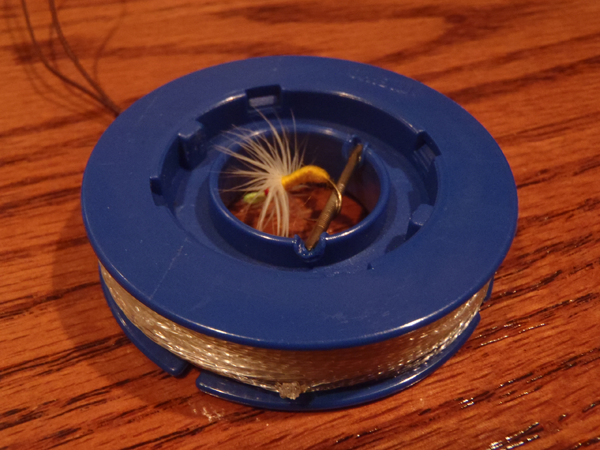 And in case you're wondering, he offset the metal rod so there is still enough space to thread your rod though.  I think this is a great DIY mod and it looks pretty easy to do.  I'm imagining you simply grab the metal rod with pliers, heat it up with a lighter, push it down into the plastic and when it cools, it's secure.  Just wanted to pass it along in case anyone wants to try it.