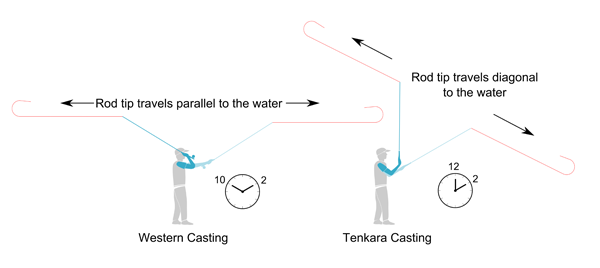 A lot of people that come to tenkara are already western fly anglers familiar with the 10 O'clock/2 O'clock casting stroke.  While this may be a comfortable casting style, it doesn't really translate well to tenkara and some wonder why they can't cast a tenkara rod well with their normal casting style.  There are some fundamental differences between western and tenkara casting that one should be aware of in order to cast a tenkara rod well.  Let's take a closer look at one of the most important.
In the diagram above, you'll notice that in the western 10 O'clock/2 O'clock the rod tip travels in a straight path that is more parallel to the water.  The fly stops above the water and is "landed" on the surface after the line straightens out.  In many cases, the fly and line land on the water at the same time.
With a tenkara cast, the fly hits the water first and the line is suspended out of the water.  This is achieved by making the tip of the rod travel in a path more directly targeted at the water (instead of above it).  Notice in the diagram how the rod tip travels in a more diagonal path that is angled down at the water.  The backcast is stopped at 12 O'clock while the forward cast is still stopped somewhere around 2 O'clock.
For beginning tenkara casters, it's tempting to bring the back cast back too far.  Of course, there are other differences with western casting the I will go over in future posts.  But understanding this basic concept will help you transition to the less familiar tenkara casting style.
Here is a good video demonstrating the tenkara casting stroke:

Special thanks to Anthony Naples for making this graphic for me.  Though if that western fly guy were casting that close to me, there'd be trouble!